How often do you check your email inbox? Probably more than once per day. Most consumers check their emails regularly. As a result, email marketing stands out as one of the most cost-effective and powerful promotional strategies. Email marketing, thus, enjoys widespread preference among various age groups.
The most common uses of email marketing are creating awareness, generating leads, engaging customers, retargeting, and educating your audience. You can also use email marketing to target specific segments, make announcements, send event invites, share customer rewards, and request customer feedback.
To help you use email marketing effectively, let's delve into each of these uses in detail.
10 Most Common Uses of Email Marketing
The effectiveness of emails sets them apart from other digital marketing platforms. Email marketing has a higher deliverability rate besides being autonomous from algorithm controls.
Here are ten ways you can use email marketing.
1. Creating Brand Awareness
Having a prospect's email address means they are interested in your services or products. Therefore, you can use the contact information to increase brand knowledge.
But does this mean you should send ten emails daily to keep your brand at the top of their mind? Not really. In any case, this will create undesirable results, like unsubscriptions from your list.
You should maintain a balance between practical and spammy email marketing strategies. Sending one or two emails weekly is a good start for most businesses.
Although some fields, like news companies, may need more regular engagements.
Brand awareness doesn't mean sending emails trying to close sales every time. It is advisable to share information that showcases your engagement beyond your company.
Disseminating news about your company's social responsibility initiatives within the local community can foster trust and establish credibility.
By doing so, potential clients can better connect with your business and the values it upholds.
Consent is an essential part of creating brand awareness. Instead of harvesting emails everywhere and sending mass messages, you should allow people to subscribe and unsubscribe from your list voluntarily.
Apart from that, you should be consistent. Your business should have constant brand identifiers like logos, colors, and design.
Consistency helps potential customers recognize your business with every encounter.
2. Generating Leads and Sales
The primary objective of every marketing campaign is to generate leads and close sales.
But like a courtship journey, email marketing can be used to lead prospects through the journey.
Just like you can't make a marriage proposal on the first date, you can't bombard potential customers with buy now buttons.
One of the most effective techniques in generating sales from email marketing is the AIDA (Awareness, Interest, Desire, and Action) model.
At the initial stages of the engagement, you should focus on creating your brand awareness and interest.
After that, you can take your potential customers to the desire and action stage. In the action phase, you close the sale, but that doesn't mean you discard the customer contacts.
You can get repeat buyers, and that is how you build brand loyalty. Although not all your customers will go through all the stages of the model, most won't be willing to buy on the first day.
Some may take months to move from one stage to another, while others will go through all the phases in a day. Therefore, understanding your potential customers will help you reduce friction.
Email marketing is the most effective and inexpensive method to increase your sales. The return on investment is unmatched by other platforms, like social media or paid adverts.
If you need another great option to increase your sales, then consider deploying a sales funnel or a sales pipeline which work well with email marketing. Do read my article on sales pipeline tips to know more!
3. Retargeting
While not everyone will take the desired action from your call-to-action, you can use email marketing to reach out to non-converted prospects.
Probably someone visited your e-commerce store and added items to the cart but never checked out. This process shows they are interested in your products. Therefore, you can follow them up.
Retargeting is a tailored marketing approach because you already have considerable information about the customer's interests.
This makes retargeting emails one of the most effective, and the click-through rate is usually high.
Behavioral marketing is an essential part of email marketing retargeting. You can use website cookies to understand how the prospect interacts with your website and their level of engagement.
Remarketing pixels for email marketing are also gaining popularity in tracking customers' engagement. Unlike cookies, tracking pixels can't be blocked.
This additional information helps businesses to better tailor their marketing strategies and improve overall customer experience.
However, it is essential to note that this approach is becoming trickier because of privacy issues and cookie-blocking options. There is a level of monitoring that can make customers feel intruded.
That said, you should avoid taking your retargeting too far. Timing your retargeting determines the effectiveness of the emails.
For abandoned carts, you can email an hour after the abandonment. This ensures the purchase idea is still in the prospect's mind, and they haven't opted for competitors.
4. Engaging Customers
How you interact with your potential customers has a way to their hearts- in a bad or good way. Making prospects feel special means they are getting closer to taking the desired action.
Email engagement feels professional. You can build trust and credibility by sharing newsletters about your impact as a business.
Constant updates urge potential customers to interact with your products or services. You are more likely to convert if your email list is engaged.
You can use email marketing to direct your audience to other platforms. For example, you can share links to your social media pages or websites. With that, you create a sense of community and belongingness.
Apart from that, your audience can interact with other like-minded individuals. This allows those not interacting with your products to hear from customers.
Keeping your contact list engaged needs creativity. You should identify what interests your audience and leads to the most conversions in the long run.
Engaging inactive contacts is an excellent gesture to show you care about them. A simple message with a discount to revive the relationship can give you loyal customers.
5. Educating Your Audience
Establishing yourself as an authority in your industry is one step closer to increasing your customers.
To do this, you should create content that equips your audience with relevant information about the industry.
Email marketing is an efficient platform for distributing educational materials. The channel will come in handy if you want to share videos, infographics, or blog posts.
You can create how-to guides and share them with customers to help them know how to use your products or services.
These materials make it easy to understand how they can make the best out of what they buy from you. Another way you can use email marketing to educate your audience is by sharing helpful tips.
For example, if you are in the digital marketing industry, you can share tips to help your prospects improve their traffic.
Your educative content should have a call to action. The CTA should be relevant to the information you have shared.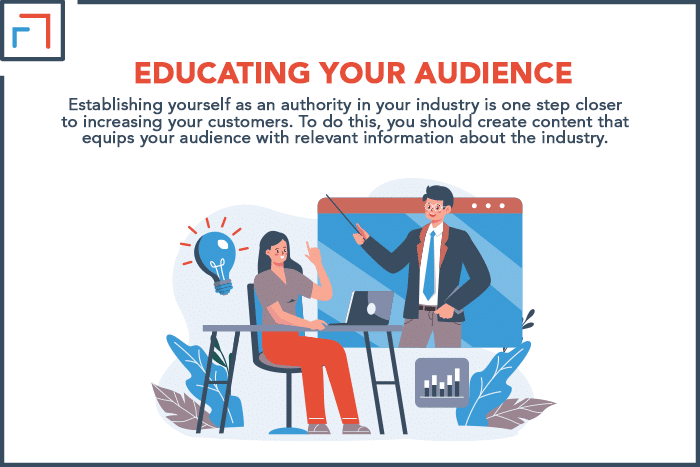 6. Targeting Specific Segments
There is no other platform that you can use to filter the people you want to reach to the specifics. Email marketing helps you target specific contacts in your email list.
For example, you can email inactive contacts on your list. You can filter or add specific groups of audiences and tailor the message to their behavior.
This segmentation is impossible on other digital platforms because the message is broadcast. Therefore, the message might get to people it was not intended for.
Email marketing segmentation enhances relevance, engagement, and deliverability. People are more likely to open messages that address their needs than generic messages.
Most email management service providers help you segment your contact list into categories. You can create qualifying criteria to move a contact from one list to another.
For example, you can move a prospect from awareness to desire if they open and click on 3 or more emails. The approach helps you to tailor your marketing message to the customer journey.
You can also segment your email list according to demographic when sending a message to a certain region or gender.
7. Making Company Announcements
Once in a while, you need to make important company announcements to your audience. Email marketing comes in handy when relaying official information to the stakeholders.
Whether you want to notify your audience about a change in your policy, new management, product launch, adjusted rates, or change of location, emails are the most effective.
You should go straight to the point when writing email announcements to avoid losing your readers. After that, you can elaborate on the information and include a CTA.
Using visuals can improve the visibility of information and encourage sharing. Apart from that, you should make the information scannable, in case the readers don't have all the time to go into details.
Showing the relevance of the announcement to the reader is important. The receiver can decide the action they should take regarding your email.
Unlike social media, where people can miss important announcements, email marketing allows the receivers to get the message at their convenient time.
Even if you are offline, you will get the notification when you access you go to your inbox.
If you are sharing sensitive information with your readers, email marketing can be used to target the intended contacts.
For social media, this level of privacy is only achievable if you inbox your audience. Social media inboxing can be time-consuming compared to email marketing which needs a single click.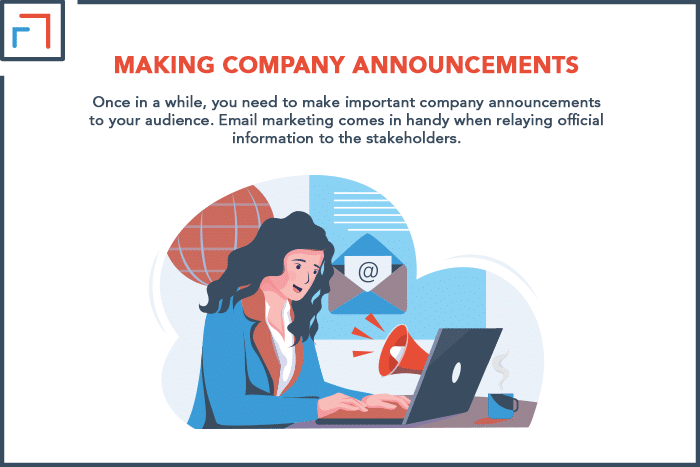 8. Sending Event Invites
Email marketing plays an integral role in the success of any event. The channel is ideal for event announcements, promotions, confirmations, and ticketing.
In an era where virtual events are becoming a thing, you need to keep your email list close. Does it mean emails for virtual events?
You can use email marketing to promote your event from the initial stages to post-event follow-up.
Because of the competitive nature of event invite emails, you should be creative. Millions of emails are sent to invite people to webinars, online meetings, virtual expos, and physical events.
Therefore, you need some ideas to stand out in crowded inboxes. Here are some ideas that can help you create an event invite that stands out:
Make it short
Make the invite engaging
Give discounts for early registration
Include a video invite where possible
Show the value of attending the event
Encourage receivers to share with their circles
Create some excitement and fear of missing out (FOMO)
Add an infographic with crucial details like the theme, date, time, and venue
Your email list gives you a list of people who are interested in your events. Therefore, attendance is likely to be higher than on other platforms.
Email marketing also encourages direct post-event feedback. This can be helpful information in organizing better vents.
9. Sending Customer Rewards
How often do you reward your customers, and how do you do it? You can use email marketing to share special offers, discounts, competition prizes, or other incentives.
There are two primary types of rewards in email marketing; promotional and appreciation. Promotional emails include discounts and coupons when you want to push a particular product or service.
The intention is to close sales by providing an incentive.
Appreciation rewards are sent to customers to celebrate your business milestone or their anniversaries. These rewards show your audience that you care and create loyal customers.
Email marketing is an effective way to share rewards with customers. Creating limited-time offers can be a great way to encourage immediate action from the target.
The most common types of rewards are discounts for abandoned carts and inactive audiences. The emails are effective in encouraging purchases and reviving customer engagement.
Although sending rewards through emails is effective, you should ensure they provide value to the target audience.
10. Requesting Customer Feedback
You can use email marketing to get positive and negative feedback. The message you get gives you first-hand information on how customers feel about your products or services.
You can use questionnaires to get feedback from customers and prospects. The technique is quite effective, especially when launching new products and entering new markets.
Offering an incentive to the respondents is a great way to encourage more responses. However, the incentive should maintain honest feedback from the customer.
The survey should be short to avoid taking a lot of time.
Another element of customer feedback request emails is making the intention of your request known. They should know how you will use their information and ensure data privacy protection.
After the survey, sharing the data with the customers is essential. This makes them feel they are part of the process. If you need more information, they will gladly provide it.
Key Takeaways
Email marketing is an essential part of any business worth its salt. You can use the channel to promote your products or services, engage your contacts, invite your audience to events, or request feedback.
If you're an e-commerce or a small business owner, then my articles on email marketing for e-commerce and email marketing for small businesses will help you out.
Email marketing is also an effective method to educate your customers, make company announcements, send rewards to customers, and target specific segments.
The acceptability of emails across generations makes it an ideal marketing channel for most campaigns. Emails are also free from the controls that come with platforms like social media.