Increasing sales seems like an impossible challenge, especially if you're an entrepreneur or a small business owner. You don't always have the budget and the manpower that big companies do to multiply their profits. Even so, there are ways to streamline and improve your sales pipeline.
To improve your sales pipeline, investigate the customer intent of your leads and then give them exactly what they need. Next, create a user-friendly purchase experience with customer support throughout the whole process. Use data, automation, and optimization to help your leads move forward.
If you're not sure about how to improve your pipeline, you've come to the right place. We'll break down the different stages and discuss methods that increase efficiency.
What To Include In Your Pipeline?
There are some key stages that your sales pipeline should have in order to move potential customers closer to purchase.
These elements will also help you increase sales.
1. Customer Intent
Imagine your pipeline starts with a bunch of leads that the marketing team has sent your way.
These leads may be interested in something, but the subject of their interest will vary. Hence, you should start off your pipeline by understanding the customer intent.
This includes figuring out how the lead reached this stage and what they are looking for in the brand. The reason for their interest will define your sales strategies.
Since a lot of leads have varying intents, you should be able to connect with each one individually by identifying the customer intent.
The customer intent is why the one-size-fits-all strategy is often ineffective.
2. Persuasion
Use the information from the previous stage to determine how to convince your lead to move forward. This is the lead qualification phase.
You are preparing the customer to make some kind of commitment to the company.
The customer intent and user persona will allow you to suggest the right product or service to the consumer.
For instance, if your customer suffers from hair loss, your anti-hair fall shampoo would be a better product for them instead of a shampoo that fights frizz.
You can also offer valuable freebies to the consumers at this stage. This could be a free ebook or webinar on how to start a business.
These strategies help your potential customers see that you understand their needs and problems.
Most importantly, you make it evident that you have the solution to their problems.
3. Purchase Experience
If you don't deliver a smooth and professional purchase experience, you risk wasting all your previous efforts.
Therefore, ensure that what you're offering is actually in stock, available in their region, and has the same price that you advertised.
Most importantly, be prompt and polite when someone requests customer service.
If you told them that this is the brand or product for them, then show it through your consistent support. If possible, offer refunds and the option for product exchange.
This lets customers know they can trust you and eliminates any skepticism about investing in a new brand, especially if it is a big purchase.
For a salesperson, the purchase stage is the critical point of the pipeline. This is when your customers are looking at you to deliver on your promise of value.
For instance, you can show them how the brand offers value in the form of customer support and first-purchase coupons.
4. Building Customer Loyalty
If you incorporate this stage into your pipeline and give it enough attention, you won't have to repeat all those previous steps to increase sales.
Your existing customers will be convinced to make repeat purchases (provided that you keep offering value to them).
A strategic post-purchase approach would be to send relevant demos and how-to guides to the customer.
By consistently providing valuable solutions and maintaining your brand identity, you are helping your customers build their trust in you.
As a result, they will choose your business frequently because they know they can rely on it to provide value.
Adding a reward system for multiple purchases is also a popular method that promotes customer loyalty.
5. Referral System
Encourage your existing customers to refer your products to their friends and family. You can add incentives to this referral system in the form of points or coupons.
This method targets two critical sales and marketing goals: Making a customer feel good about themselves and increasing your consumer base.
How To Make Your Sales Pipeline Efficient?
1. Design Strategies Based On Data
There is no such thing as putting in too much time and effort to research your market, competitors, consumer base, and technological innovations.
This is the pre-planning stage of designing an effective sales pipeline. In this way, your business can make informed decisions while also developing creative strategies.
A professional business doesn't need to be fancy looking. Instead, it needs to demonstrate an expert understanding of what it offers and how it affects the end user.
Besides this, a data-backed pipeline is more reliable and can be used to predict the end results.
2. Prioritize High Potential Leads
If you are aware of the importance of customer segmentation, then you need to replicate that step within your sales pipeline.
Consider the varying levels of potential that your leads offer. Select the leads with the highest potential to help you reach your sales goals.
By categorizing your potential customers, you can decide how frequent your follow-ups should be and even offer exclusive incentives, such as discount codes.
Your engagement time with these high-potential leads will also be more than the rest of your prospects.
Treating everyone with equal care and consideration is impossible and results in the loss of valuable potential consumers.
Focus on the leads who are most likely to convert first.
3. Remove Dead Leads
Just because you have a lot of leads does not mean that they will all become your customers.
Therefore, you need to use metrics to identify when a lead is a dead end or when it has expired. This will make your sales process and overall pipeline more efficient.
You can then adjust your attention to leads that show promise. It's important to realize that letting go of irrelevant leads does not signify a waste of your previous efforts.
You are actually saving your resources by filtering out dead leads. This will open up more opportunities to develop relationships with valuable customers.
4. Test & Adjust the Pipeline
Regularly check on your pipeline performance by reviewing the data from set metrics.
It's critical to make timely evaluations so that you can change your focus or approach in response to the data.
For instance, if your customers respond positively to a strategy around a certain part of the day or month, you can create a specific schedule for that strategy.
By catching trends in consumer behavior and market changes, your sales pipeline can become more updated and efficient.
Remember that you are supposed to optimize your pipeline, and so its initial design will change countless times.
Consider designing targeted questions for evaluating and improving your sales pipeline, such as:
How long does it take for a lead to move through different stages?
Out of your total leads, how many are high potential leads?
What is your cart abandonment rate?
What is the rate of repeat purchases?
5. Perform Timely Follow Ups
By scheduling your follow-up calls or emails, you can track the consumer attitude, receive insightful consumer data and increase your chances of making the right offer at the right time.
Timely follow-ups make good use of the possible touch points so that the lead gradually becomes familiar with the brand.
For instance, you might place an ad in a place that your potential customer frequents, such as a cafe or an online blog.
This strategy is even more valuable since it allows an individual to associate your brand with something they enjoy.
This way, you're entering their daily routine and creating positive connections.
6. Organize Lead Data
In the end, it doesn't matter if you actually scheduled a follow-up but then missed your chance because your lead data is all over the place.
Since you want to optimize your sales pipeline, this also means decluttering your information. It's useless if you can't access it when you need to.
This is why CRM platforms are so popular. Make good use of a CRM tool that suits your business budget and needs.
With most CRM software, you can set filters for your contacts, add notes to them, set timers for follow-ups, and call/text within the application.
7. Compare Costs With Revenue
This point isn't merely about sticking to the budget; it's all about maximizing it.
Consider how much a single strategy costs you, how effective it is and how much it contributes to your sales.
Replicate this for all of your strategies to make your sales process more efficient. This will also present alternative approaches that might be cheaper or more effective.
Your cost-benefit analysis will also support your business in becoming more data-driven.
This way, you can develop your pipeline to be more suited to your specific business and customers rather than merely following popular practices.
8. Increase Automation
Automating dull and repetitive tasks will accelerate the processes of your pipeline.
For instance, email autoresponders simplify the follow-up stage by sending out trigger-based emails to your leads.
Automation can help you prioritize your high-potential leads. They can also notify you about developments in low-potential leads.
Hence, your sales performance will improve while your prospects increase.
For instance, using chatbots on your website can deliver basic customer support and qualify leads.
You can also include automated bookings if you have a consultant agency or a B2B model.
Chatbot conversations are more effective when they have targeted and customizable elements.
So after designing chatbot prompts and responses, you can sit back and focus on qualifying leads as they mature due to your automated strategies.
9. Use Upsells, Downsells & Cross-sells
Upsells are product combos that offer greater quality at a higher price than the original product.
For example, if your customer was buying a vacuum cleaner, your upsell could be the latest model with more advanced features.
Upsells can be placed at the checkout stage, so your customer can easily switch to the upsell without entering their billing details a second time.
Similarly, downsells offer products together at a cheaper price so that your customers feel that they're gaining more value without a lot of investment.
This is a helpful strategy for pushing first-time customers to make a purchase.
Cross-selling is more grounded in data and uses your customer's cart items or previous purchase history to suggest relevant products.
For example, if the cart contains a toothbrush for sensitive gums, then you can recommend a toothpaste that targets gum sensitivity.
These are proactive yet simple measures that increase order values and strengthen brand-customer relationships.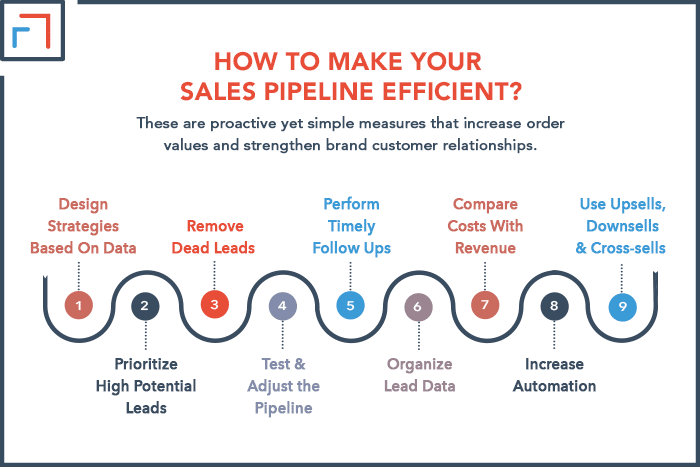 Designing Different B2B & B2C Pipeline Strategies
If you are solely a B2B or B2C company, or even if you cater to both business and individual consumers, your sales pipeline will look different.
This isn't a one-size-fits-all game, so it's essential to design your pipeline for the correct purpose.
1. Why Should They Be Different
A business and an individual consumer are two distinct types of customers with their own needs and customer journey.
For instance, in a B2B model, the client is more focused on practical data, such as the quality and results of a product.
B2C users are less bothered about the product and instead expect a valuable experience. Similarly, there are varying budget and buying patterns.
Businesses buy in bulk, but consumers usually can't afford large purchases and make single transactions.
2. B2C Pipeline
For your B2C pipeline, your company or sales representatives might never need to directly engage with the customers for them to make purchases.
They could come across the brand while researching products for their problems or hear about the company on social media through user-generated content.
As such, your pipeline would focus more on word-of-mouth and third-party recommendations.
Since these consumers are looking for an experience, you can use storytelling in your copy or sales pitch to evoke emotions.
Discounts and beneficial products are also popular selling points for end-users, so make sure to include these in your pipeline.
3. B2B Pipeline
Your business clients need statistics and multiple product demos or briefings to make a purchase.
Design your pipeline to include case studies and testimonials from other businesses.
The sales message needs to be customized for different members of the client business since multiple stakeholders are involved in the purchase decision.
Each stage and strategy within your pipeline must be grounded in data and targeted according to the business goals.
You can't replicate one strategy for another business client because of the varying organizational needs and priorities.
Since the consideration process is longer for B2B clients, you need to allocate more resources here to convince the client to create a relationship with your business.
Points To Remember
A sales pipeline needs to be grounded in research, whether your company follows a B2B or B2C model.
In addition, sales strategies should be relevant to the customer you are targeting.
By being more informed, you can make decisions that would optimize your sales pipeline.
The easiest way to offer value is by delivering professional customer support to all types of customers.