The success of any copywriter depends on their ability to craft original, high-quality and relevant copy. However, heightened competition, demand for huge amounts of data and the shortage of time and energy has made it strenuous to produce quality copy continuously. AI copywriting tools can make it easier.
ChatGPT is the best free AI copywriting tool. It is conversational and easy-to-use thus eliminating the need to learn how it works. It is trained on a huge database to help you produce converting copy in almost any niche or industry. ChatGPT also integrates with other apps and has plugins to save you time.
Choosing a suitable AI tool can be difficult due to the abundance of alternatives on the market. So to help you out, we have analyzed several AI tools so you can find the best one for your needs.
Best Free AI Copywriting Tools
A Comparison of the Top Free Copywriting Tools
Detailed Analysis of the Best AI Copywriting Tools
After comparing the above tools, ChatGPT topped the list. It is easy to use, offers a wide variety of use cases to produce a wide range of content.
It also integrates with other apps to make copywriting easier and faster.
1. ChatGPT

Overall Score: 90
Advantages
It is easy to use
Fast and efficient thus minimizing the time needed to research and write copy
It is versatile making it easy to write copy regardless of the industry you want to write for
Disadvantages 
Its use is still limited. For instance, it may provide inaccurate information on recent news or facts after 2021.
It is prone to bias
a) Ease of use
ChatGPT is an easy to use tool that does not need any training to handle. After signing up for a free account, you log in to your account.
Upon logging in, you'll be met with a simple and intuitive user interface. To get ChatGPT to write for you, simply key in your instructions in the chat bar.
b) Use cases
Although ChatGPT has no specified use cases, it can write a wide range of copy items ranging from social media ads, blog posts, and product descriptions to YouTube and podcast scripts.
Generally, this tool can adopt to almost any use case you need.
c) Templates, tools and frameworks
Being an AI language model, ChatGPT does not use specific tools and templates. However, the tool is trained using vast databases of data based on areas such as marketing and advertising.
Subsequently, it can produce compelling copy that resonates with the target audience.
d) Integration with third party tools
ChatGPT integrates with several tools to make your work seamless.
You can integrate it with a variety of tools such as chatbots, content management systems such a WordPress, virtual assistants, marketing automation tools and more.
e) Free plan benefits
Below are some benefits of the free version.
Generate up to 2048 tokens or 400 words
Generate copy for various industries and niches fast
Create various types of copy ranging from ad copy to blogs
2. Writecream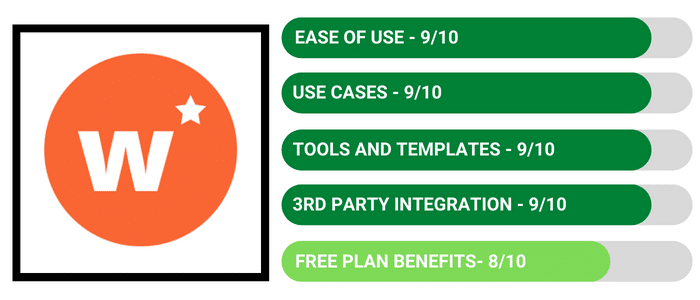 Overall Score: 88
Advantages
Easy to use interface
All its tools are available for free
Grant the ability to write personalized emails with email templates
Disadvantages
Content is limited to 40,000 characters per month, hence the need to upgrade if you need more characters
You are limited to four short articles, podcasts and YouTube voiceovers
a) Ease of Use
Writecream is an easy to use program. After registering for a free account, you will be taken to the dashboard where you will choose from a variety of tools.
For instance, if you choose the long form editor, you will see a screen like the screenshot above.
To use the editor, simply select a use case, enter product/brand name followed by a blog topic and tone, then click on write for me. The AI will take it from there.
b) Use Cases
Writecream allows you to create various forms of content to meet your marketing needs. Below are some content types you can create with the tool.
YouTube voiceovers and podcasts
Blog articles
Icebreakers in the forms of images, audios, cold emails and Linkedin outreaches
Social media copy
Ads for Facebook, Instagram, and Google
c) Templates, Tools and Frameworks
Writecream has more than 40 copywriting templates to make your writing process easier.
Some of these templates include a social media goals template, email personalization, LinkedIn personalization, pitch an angel, and SEO templates.
In addition, there are plenty of tools you can leverage to speed up the workflow. Some notable tools include product description, tagline, slogan acronyms and bio generators.
You may also enjoy using the article writer, paraphraser, and re-writer.
Some of the outstanding frameworks we noted in Writecream include BAB, PAS, value propositions and listicles for copywriting.
d) Integration With Third-Party Apps
Writecream supports various browser extensions including Google Chrome, Microsoft Edge, and Opera. This means you can write, edit and publish your work from anywhere on the web.
For instance, you can use your work in online based text editors such as Google Docs, WordPress, Grammarly, etc.
e) Free Plan Benefits
Below are the benefits of using Writecream for free
20 free credits
Two 5000-word articles
Four 1000-word articles (short)
All templates
Access to all tools
Four podcasts
Four YouTube voiceovers
Access to the Writecream copywriters community
3. Rytr
Overall Score: 82
Advantages
Simple to use
Comes with project management tools
Can generate content in over 30 languages
Disadvantages
Does not offer a full editor for blog posts
May generate irrelevant content from time to time
a) Ease of Use
The Rytr platform is very simple to use right out of the gate. You can immediately start creating content when you sign up.
To create a free account you simply need to provide an email address and a password. Once you do, your account is set up and you are ready to go.
From the screenshot above, the writing process entails three simple steps.
Select the kind of content you wish to create (ad copy, email, etc) , give the AI some information for context, and then Rytr will create the content for you.
To make your work even easier, Rytr provides project management features so you can work faster and avoid the stress of switching between projects.
You can also organize and keep your projects in one place, create a team account for member management, and download work in formats such as docx and html.
b) Use Cases
Rytr boasts of over 40 use cases so you can create almost any kind of content with this tool. Below are some forms of content you can create with the AI tool.
Generate blog ideas, outlines and write blog sections
Write catchy and engaging emails for marketing in seconds
Write original and compelling ad copies for various platforms like Linkedin, Facebook, Google and Twitter
Write persuasive copy for your landing page or website
Make compelling product descriptions
Generate video ideas and write catchy descriptions of your YouTube channel and videos
c) Templates, Tools and Frameworks
Rytr has over 40 templates to help you generate content for your desired use case. Rytr also comes with several tools that make work easier, such as the inbuilt plagiarism checker and the image generator.
The tool uses popular copywriting frameworks including PAS and AIDA.
d) Integration With Third-Party Apps
Rytr integrates with several apps to help you get your content on the fly. It integrates with plugins so you can work inside your desired apps such as SemRush, SERP analysis, Shopify, and WordPress.
In addition to the use of plugins, you can use Rytr API to integrate with apps that you regularly use so that you can access your content on the go.
Rytr also has a Chrome browser extension to help you access your work from anywhere on the web be it in WordPress, social media, or email.
e) Free Plan Benefits
For free, you can:
Create up to 10,000 characters monthly
Access over 40 forms of content, write in 30+ languages and enjoy over 20 tones
Use the inbuilt plagiarism checker
Generate 5 images per month
Enjoy premium community access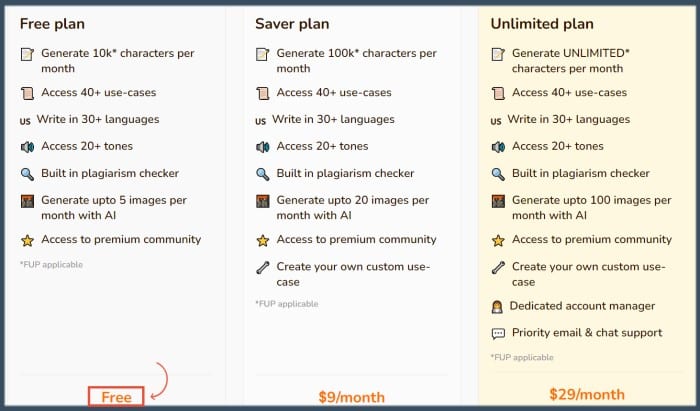 4. Anyword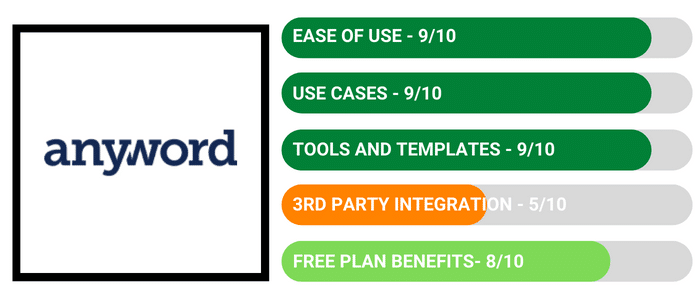 Overall Score: 80
Advantages
A wide range of options and features
Makes it easy to generate high conversion copy
Can produce keyword-based content
Plagiarism checker saves you time and money
Disadvantages
You need to pay more to access more features
You are limited to 5000 words per month
a) Ease Of Use
The Anyword platform is fairly easy to use. Upon registering for a free account, you will be redirected to an easy to use dashboard.
From the dashboard, you will need to select from functions like a data driven editor, a blog wizard, and website targeted messaging.
The things you choose will depend on the kind of projects that you need to complete.
For example, if you want to create a blog post, select the blog wizard and then click on "Create a new blog post".
Next, help the AI by describing the post you wish to create, then choose an industry or topic. Finally, generate a title or use your own and the tool will create an outline for you.
Once it's done it will create an introduction paragraph and redirect you to an editor where you can fill out the rest of the body copy.
b) Use Cases
Anyword is a perfect solution for a variety of marketing projects. It allows you to create almost any kind of copy. Below are some of the types of content you can write with Anyword.
Various forms of ad copy such as LinkedIn ads, Facebook ads and Google ads. You can either generate new ads using the AI or you can customize your own ads to improve them.
Landing page copy elements such as product titles, compelling calls to action, meta descriptions and product titles.
Audience-based blog posts with well-written introductions titles and outlines.
Compelling email subject lines that convince people to click and read emails.
Generating appealing SMS for promotional marketing.
c) Templates, Tools and Frameworks
Anyword works to deliver the right message to the right audience because this task is a huge struggle for most marketers.
The tool gives you access to the new customer avatars templates to help you create customer-specific copy.
Currently Anyword supports four copywriting frameworks including AIDA, PAS, and BAB. Also, there is the use of engaging questions, which is a framework they added recently.
In addition to these options, you can utilize other modes like 5th grader, confident, conversational, playful and hardsell.
d) Integration With Third-Party Apps
Anyword does not currently integrate with other apps.
e) Free Plan Benefits
Below are some of the advantages of the Anyword free plan:
Access all tools, templates and frameworks
Write up to 5000 words per month
Access an inbuilt plagiarism checker
Use an inbuilt paraphraser
5. Smart Copy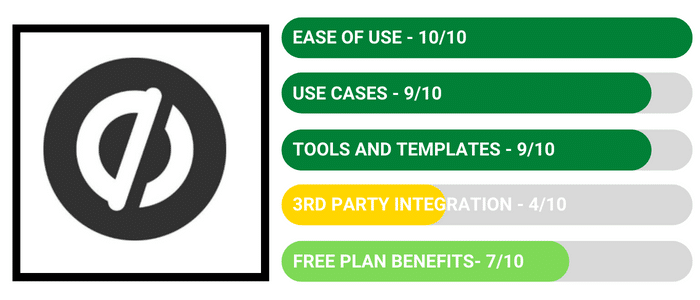 Overall Score: 80
Advantages
This AI was created by Unbounce, a famous page builder
Utilizes GPT-3 language
Excellent for landing page and website copy
Disadvantages
Limited copywriting frameworks
Mainly designed for landing page copy than other forms of copy
a) Ease Of Use
One of the best attributes of Smart Copy is its ease of use. There are no lengthy learning curves you must complete before you can produce outstanding copy.
All you need to do is pick a template, provide a headline and context, then let the AI do the writing for you.
b) Use Cases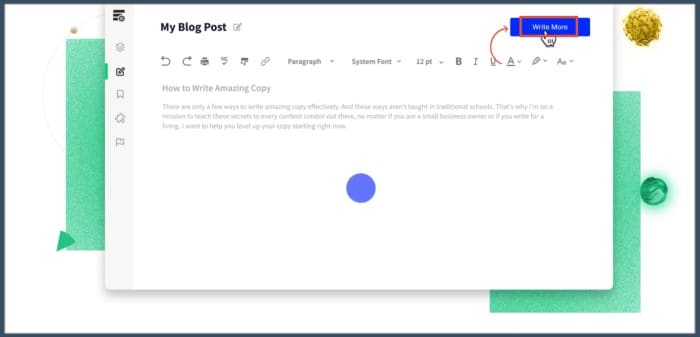 Termed a one-stop shop for content creation, Smart Copy enables you to create over 45 forms of content.
Some pieces you can create with Smart Copy include catchy taglines, landing page copy, TikTok video ideas, ad copy, emails, and product descriptions.
c) Templates, Tools, and Frameworks
Smart Copy has over 45 templates and tools that help you create any kind of copy fast.
Some of these templates and tools include the Google ads generator, Facebook primary text creator, taglines creator, and landing page copy generator.
d) Integration With Third-party Apps
Being a product of Unbounce, Smart Copy integrates with 100+ tools. For instance, you can work with popular tools like Mailchimp and Hubspot directly through the integrations.
e) Free Plan Benefits
For $0, Smart Copy allows you 40 credits per month to complete one project. You will also access community and support. Other benefits include:
Access to 45+ templates
Use over 30 languages
Inbuilt plagiarism checker
Use a desktop app and/or a Chrome extension
6. Copy.ai
Overall Score: 78
Advantages
Access over 90 copywriting tools
The tool is easy to use and easy to learn
Complete unlimited projects
No credit card needed to use the tool
Disadvantages
You are limited to 2000 words a month
Access to the newest features is denied in the free plan
Number of languages are limited in the free plan
a) Ease of Use
One of the most outstanding aspects of Copy.ai is its ease of use. Getting started is as easy as signing up for your free account.
Once your account is set up, you will be met with an intuitive dashboard that is simple and easy to navigate.
To use the tool for a writing project, you only need to go through four steps. First, select the kind of copywriting project you wish to write.
Next, give the tool some context by sharing more details about your brand or product. Once done, pick a tone and click on create copy.
In a short while, you will get back multiple versions of the campaign. Pick your favorite version, edit it, and publish.
The tool also offers a help center that is rich with information that will help you get the most of the tools functionalities. The section includes details such as tutorials, tips, and FAQs.
If you still have an unmet need, you can talk to the team via email, facebook or twitter.
b) Use Cases
Copy.ai allows you to create multiple forms of content. Below are the content types you can create using the suite of tools in Copy.ai.
Optimized blog content in a short amount of time
Compelling digital ad copies with a few clicks
Excellent product descriptions for ecommerce
Sales copy that drives conversions
Engaging social media copy
Website copy to revamp your website
The ability to create multiple forms of content under one roof makes copy.ai an excellent tool for a wide variety of businesses.
This way, you save time because you won't need to juggle between different tools to get work done.
c) Templates, Tools And Frameworks
Copy.ai has developed numerous templates and tools to make your work easier. It boasts over 90 templates and tools. Below are a few notable ones.
Inbound sales emails templates
Warm lead email templates
Business plan templates
Cover letter templates etc.
All templates come with a how to write guide and an example in each case.
Free Ai tools include an Instagram caption generator, paragraph generator, paragraph rewriter, meta description generator, slogan generator, call to action generator, and hook generator among others.
Copy.ai also supports two of the most popular copywriting frameworks: PAS and AIDA.
d) Integration With Third Party Apps
Copy.ai does not support integrations with third party apps at this point.
e) Free Plan Benefits
The free plan allows you to access Copy.ai's features to a certain point. Below are the benefits you'll enjoy at no cost.
Write up to 2000 words per month
Access over 90 copywriting tools
Try pro plan for 7 days free
Access the blog wizard tool
Final Thoughts
The comparison above is a great place to help you get started in your use of AI tools.
However, you should remember that you need high-quality copy and there's still a need to write your own content alongside your chosen tool.
Even the best tools require some editing and fine-tuning to ensure that the final product meets your needs. Ultimately, AI copywriting tools are a copywriter's greatest assistants.
They can help you beat writer's block and save time, money and energy. Therefore, the best tool is the one that meets your needs.