Social media is a powerhouse for customer acquisition. However, the competition is fierce, and users are picky, so your copy has to be top-notch. To craft great copy, you need copywriting ideas that inspire you and spark your creativity.
To help your copy stand out in the world of social media, you should employ creative ideas like the use of irony, value propositions, high-quality visuals, and a strong call to action. You can also get inspiration by studying the copy that successful brands create.
Copywriters must make content that resonates with viewers and falls within word count limits. In this article, we have compiled examples from successful brands. These will help you see real-life examples of social media copywriting.
5 Social Media Copywriting Ideas To Spark Your Creativity
Studying other people's social media copy will not only inspire you, but it will also give you insights into why some copy converts better than others.
We have scoured various social media platforms to find examples of excellent social media copy.
1. Samcart – Use of Irony
Samcart is software that simplifies online selling through a one-page funnel system and an easy-to-use shopping cart. Their copy is humorous, yet it's also conversion-based. The idea behind it?
The copy begins with a touch of irony, describing that it is an ad whose purpose is to get the reader's attention. While this is true, no one has to tell an audience that they are running an ad.
As obvious as it is, it successfully grabs attention. Once they have your attention, they keep it by cleverly mentioning that they hope you are among their target audience.
In this case, it's people who have marketable skills and want to launch their own course. Naturally, visitors who fit this description will become more interested and are more likely to engage with Samcart.
The copy clearly highlights a pain point about making $1k a day. They proceed to offer an irresistible solution that involves a free 4-step process that will enable you to launch your course in one week.
Who wouldn't love that? The only thing you need to do is share your email address with Samcart in order to access the training. There's no pressure, but it's an easy trade-off for most people.
The copy uses a language akin that feels natural to social media users. For instance, "if this bugs you, I'm sorry. I don't want to annoy anyone so please scroll on by and have a lovely day".
It also includes a video, which helps to improve engagement. Finally, the copy closes with a bang. The call to action is not only hilarious, but it is also unique and intriguing.
The bottom of the post reads, "RIP 17-page funnel; you won't be missed."
2. Fenty Beauty – Use of Value Proposition
Launched in 2017, Fenty beauty is a popular brand that was created by Rihanna. Inclusion and diversity were major focuses. Initially, the brand started with 40 skin tones but has now grown to 50.
With over 11 million followers and 8000+ posts, it's clear that they have an effective marketing strategy. Here is a sample Instagram copy by Fenty.
Fenty's target audience is anyone who wants to improve their makeup game. This is clear from their feed which is full of ordinary people who used Fenty's products and achieved various looks.
The copy used in the above post is succinct. It describes how the product works and who it is for. In addition, it shows the user how to achieve a desired look through the same brief copy.
An appealing photo of a user who has achieved great results from using the product backs up the claims.
After the product description, there is a list of the products used, along with embedded links leading back to the order page. There is a clearly communicated value in this copy.
3. Uberall – Traditional Copywriting (Benefits Proposition)
Uberall specializes in helping brands build a robust online presence regardless of whether they operate online or through a physical storefront.
Their copy states the core benefit of their offer clearly and concisely. The offered guide will help businesses turn online feedback into sales.
This brand knows that most businesses struggle with managing reviews, so they offer a solution. The copy ends with a strong call to action.
The reader simply needs to hit the download button to access their copy of the guide. It also uses the official logo to make it easy to identify. This makes the copy more authentic and trustworthy.
Finally, the copy speaks directly to the target audience. Notice how they use 'your' to address the audience.
This helps the reader personally identify with the copy, thus increasing their chances of taking action.
4. Starbucks – Visual and Sensory Language
Starbucks is a multinational coffee and roastery reserves corporation with a chain of coffeehouses in 80 countries worldwide.
In addition to other social media channels, the brand has a LinkedIn presence. LinkedIn is primarily meant for professionals, so the copy here reflects that.
Starbucks' page copy revolves around jobs, community programs, staff recognition, offers, and other informational pieces. Below is a sample copy.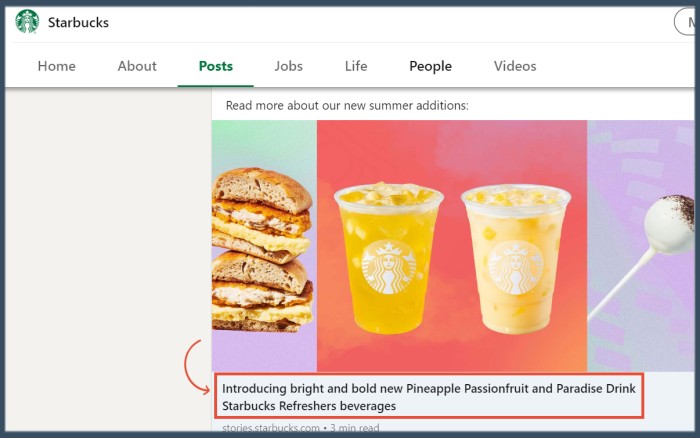 In the copy above, Starbucks is not selling to its audience directly. The copy is meant to let the audience know ‌Starbucks has their back, and they have treats prepared for them during the summer.
To keep the copy clear and concise, Starbucks simply mentions the summer additions and leaves it at that. This piques the reader's interest.
To find out more about the treats, the reader must follow the link at the bottom of the copy. The copy is also written in a visual and sensory language.
For instance, they have a Paradise drink which makes the reader feel as though they are in paradise. Also, the bright and bold new pineapple passionfruit is bound to have a similar effect.
5. Victoria's Secret – Strong Call To Action
Victoria's Secret is an American-based retailer that specializes in lingerie, fragrance, and clothing. The retailer is known for its top-notch marketing and branding.
On Twitter, Victoria's Secret posts about its products, awareness podcasts, and more. Below is a sample copy from its Twitter page:
The copy uses charming language that paints a vivid image of the product experience in the user's mind. The copy opens by telling the reader to let the sun shine and likening the scent to a summer experience.
The reader can not only imagine the scent, but they can also feel it. This copy also triggers a sense of urgency, but not so much that it incites panic or anxiety among the audience.
For them, using 'limited edition' suffices to get readers to take action. It also makes the product seem more valuable.
To get readers to action, i.e., make a purchase, they conveniently provide a link to the order page so the buyer can go there directly. This reduces friction and increases the chances of conversion.
Wrapping Up
If you want to cut through the noise on social media and make conversions, your copy has to be high-quality. But copywriters sometimes find it difficult to consistently write fresh and original copy.
Besides, the copy has to be well-crafted and suited to its platform. We hope that our examples above will give you some ideas and inspiration for your next social media campaign.
Armed with these examples, you can now confidently turn scrolls into sales.