If you have created a sales funnel and receive disappointing results, your funnel isn't working as intended. This can be frustrating, considering all the money and effort you put into it. So why do sales funnels sometimes fail?
The main reason sales funnels fail is insufficient traffic. Other factors at play include targeting the wrong audience and using a complex conversion path. Failing to engage leads is also a problem. Additionally, inadequate customer support and interaction may hinder conversions.
This post will explore possible reasons why your sales funnel is failing. We'll also provide some quick solutions for each problem! Furthermore, you will learn about the best practices for optimizing your sales funnel.
Reasons Why Your Sales Funnel isn't Working
In theory, sales funnels can bring in a ton of traffic, engage your audience, and lead to increased sales.
However, this ideal is pointless if your actual sales funnel is underperforming. Every business is different. Thus, there is a need for customized funnels.
If you want to increase conversions, determining why your funnel is not working is vital. Let us walk you through some insights to help you make your sales funnels viable.
1. Your Sales Funnel isn't Targeting the Right Audience
Do you have a clear picture of who your audience is? A sales funnel directed at the general public has a slim chance of succeeding.
It is impossible to satisfy your customers if you don't understand them or their needs.
Being able to resonate with your target customer is what draws the thin line between your funnel soaring and flopping.
To understand your target customers, let your sales team conduct in-depth research.
Try to understand their pain points, behaviors, fashions, tastes, age, location, cultural inclination, and preferences.
Here are some things to consider:
What are the challenges pestering your audience?
Which social media channels do they use?
Which devices (i.e., desktop, mobile, or tablet) are they most likely to use?
Which operating system (i.e., android, windows, iOS, macOS, etc.) do most of them use?
Which web browser do they usually use?
What are their primary areas of interest?
Ultimately, understanding your target audience will help you to solve their problems. In turn, your sales funnel works more efficiently.
2. Your Sales Funnels Don't Have a Target Buyer Persona
When did you last take a look at your customer base? If you can't recall, then that might be why your sales funnel isn't leading to conversions.
The modern customer is an empowered person, so if you don't know them, then you can't help them either.
Therefore, targeting specific buyers' persona is a crucial ingredient for a successful sales funnel.
To build your buyer persona profiles, here are some questions to guide you:
What is the reason for purchasing your product?
What factors affect them when making a purchase?
How will they consume the product after buying it?
What is their age?
What challenges were they facing when they came to you?
What are their job titles?
3. You Aren't Working on Generating Traffic
A sales funnel cannot work on its own if you are not generating any traffic.
Check your traffic statistics because the number of visitors you are receiving may not be sufficient to lead to conversions.
If your numbers are minimal (less than 1000), then work on getting more people to join your funnel.
This step is crucial because no matter how excellent your product is, it won't sell if people are unaware of its existence.
Create a robust digital marketing strategy to attract more customers. With this tactic, you can increase awareness through things like:
Search Engine Optimization (SEO)
Paid per click campaigns
Guest posting
Social media marketing
Landing page optimization
4. Your Sales Funnel Fails to Engage Your Audience
Unattended leads can contribute to the failure of an otherwise great funnel. Leaving them unengaged will create a leak in your funnel.
You can engage with them by educating them about your product and services.
Communicate regularly about your recent products and discount offers and request their feedback. To engage your audience:
Create high quality, engaging blogs
Look for reviews from influencers
Do email campaigns
Market your content on social media
5. Poor Customer Support and Interaction
You might wonder why you should focus on customer support before they have converted.
Nowadays, customers need support throughout their journey and not just as an aftersale service.
They need to be able to contact you when they need information, when they have questions, and even when they have doubts.
They need to feel that they can interact with you freely without being bombarded by sales pitches. Here is how you can integrate customer support into your funnel:
Provide warm ways for leads to reach you. If the process of contacting you is long and tedious, prospects may feel intimidated, which may lead to dropouts. Make it easy for prospects to reach you by offering live chats, providing email addresses, and inviting people to ask questions on your website.
Strive to offer immediate feedback. It is easy to get caught up on this one, especially if you get tons of questions. Sadly, if leads don't get timely answers, they tend to leave.
Respond to emails if you are using an email sales funnel. You can also allow interactions by using reply-supported emails.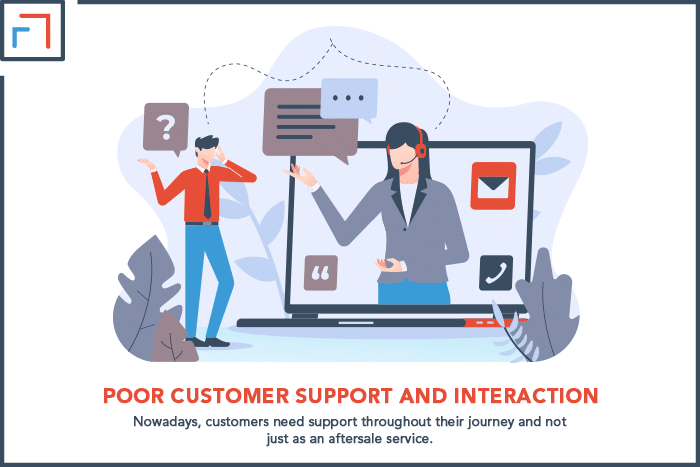 6. Your Lead Conversion Stage Isn't Friendly
The ultimate goal for creating your sales funnel is to increase conversion rates. Lead conversion is the concluding stage of the sales funnel.
Unfortunately, you may miss out on conversions if your purchasing stage is tedious and troublesome.
For example, if a customer struggles with a complicated check-out section, you will experience lots of abandoned carts instead of conversions.
So, yes, adding an extra form field will help you collect important data, but at what expense? Make the process smooth by:
Making the purchase process easy and short
Shortening the sign up/in process
Shortening forms
7. Your Funnel May be Experiencing a Technological Issue
Sometimes, a glitch in your tech could be preventing your funnel from working well.
Since the funnel is made from so many components, each part must work for smooth conversions. Check if:
Your emails are getting delivered
Your lead magnets are getting delivered
Your links are working
Your videos are working
Your pdfs are readable
Technology can get complicated and tricky. Consult an expert if you are experiencing issues that have no easy fix.
8. Your Funnel Does Not Have Call to Actions (CTAs)
Let's go back to the top of your sales funnel. You have provided amazing, free content, including blog posts, social media content, videos, and podcasts.
But did you tell them what to do after watching that video? Did you tell them how they would benefit if they took action?
Do they understand that they will miss out if they don't follow up? If the answer is no, then your great content just went to waste.
Your leads probably dropped out due to a lack of further steps to take. Fortunately, making calls to action is simple yet powerful.
To fix the lack of CTAs, start by clearly outlining the features of your offer and what the benefits are for your subscribers.
Furthermore, tell them what they will gain when they reach the end of the video/ebook. Better yet, communicate what you need them to do.
For instance, you might ask them to subscribe to your channel, follow you on social media, or sign up for your email list.
Stories, surveys, and personal studies are often better calls to action compared to just listing benefits.
In addition, personal stories make more impact because they resonate with your audience's challenges on a human level.
How Do I Optimize My Sales Funnel for Success?
The best way to optimize your sales funnel is by discovering the main points of interaction throughout a lead's journey. You must commit to consistently tracking these points and improving them. Optimization is not a one-time thing but an ongoing process and lasts till the life of your funnel.
If you are ready to start optimizing your funnel, here are the best strategies to start with.
1. Analyze Your Landing Pages
Your landing page is a special asset because it might be the first part of your brand that a lead interacts with.
Imagine how much of a disaster it would be if your page did not address their interests.
First things first, check whether or not your landing page is relevant to your prospects' interests.
Be sure to create quality, engaging content for your landing page.
By doing so, you can keep prospects on the page for longer, thus lowering bounce rates. Other landing page elements to improve include:
Headlines: Choose attractive headlines to encourage your audience to stay and read more.
Color: Humans are visual beings. Test and choose an attractive background and text colors. For example, putting dark gray buttons on a black background will make them hard to see. This will lead to fewer clicks.
Font styles and sizes: Keep trying and testing different font types and sizes to find one that converts and keeps your audience for longer. Make the most important stuff big and easy to read.
Purchase process: Analyze your purchase path and fix any obstacles in the way. For instance, slow loading times may lead to cart abandonment. You can fix slow loading by using Google's page speed insight tool. You could also run a usability test.
2. Create Goals Using Google Analytics
What better way to visualize your funnel and work towards a target than by setting up goals? If you haven't created your goals yet, you can do it now.
Once you have optimized your landing page, your leads are now developing interest.
The best way to know why they stayed is by tracking them using Google Analytics. Similarly, you will be able to pinpoint leakage points and fix them.
For example, if you discover leads bouncing off of a page with prices, you could consider delaying the mention of prices.
To get started on goal setting, you can choose a Goal Template, Smart Goal, or make a customized one. Next, you will need to:
Name your goals for easy identification when analyzing data.
Define your funnel since you can add several pages. This way, you can identify which page is not converting and fix it.
Assign values to completed goals to calculate your return on investment.
3. Analyze Your Trust Elements
Trust directly impacts your conversion rates. People are more likely to buy from brands they trust instead of those they don't. So, does your sales funnel communicate trust?
From the landing pages to the bottom of your funnel, pages should show your brand is trustworthy.
Here are some elements to help you build trust:
Offer guarantees. People get skeptical, especially when large amounts of money are involved. Will you give their money back if your product doesn't serve them as promised? How long will it take to get a refund? 30 days? 60 or 90? To know which one works best, try out different versions.
Get a Better Business Bureau logo to help your customers feel at ease.
Acquire a VeriSign logo to signify a safe and secure checkout page.
Use reviews left by previous customers to increase trust.
4. Analyze Your Email Conversions
Collecting email addresses is essential to the success of your sales funnel. With addresses, you can form a relationship with your leads and nurture them along the path.
Besides, you can build an email newsletter to keep in touch with your clients.
To get the most out of your email campaigns, here are the essential elements you should test in your emails:
Email open rates: Your campaign will survive or wither depending on the number of opens your emails get. Increase open rates by crafting irresistible subject lines. Additionally, ensure your email copy is compelling to readers.
Test various lengths of your email copy: Try long versus short copies and see which one converts better.
Plain text emails or HTML emails: Test these kinds of emails and discover which one your audience prefers.
5. Run Your Funnel Through a Quick Online Optimization Test
The modern audience has a limited attention span, making it easy to lose them. As such, you don't want to bore your audience to death.
Go through your funnel and eliminate all complexities and distractions.
Keep it simple and to the point. You can easily simplify your funnel by running it through a 5-second online optimization test.
The 5-second test was created to prove to executives that slides with excessive information fail.
And truly, the results showed significant information retainment when shorter slides were used. You can achieve the same results by simplifying your funnel.
6. Provide Quality Content
Offering free content isn't enough if the content does not impact the lives of your leads. Providing valuable content cements you as an expert in the field.
In turn, it sets you apart from the crowd and attracts more leads to your brand.
Furthermore, research shows that consumers are more likely to convert after accessing educational content.
In Summary
A sales funnel may fail to convert due to various reasons like targeting the wrong audience, failing to build your buyer personas, failing to engage your audience, and not including a call to action.
You can avoid the frustrations of a failing funnel by optimizing it. Through regular testing, you'll get actionable insights for more conversions.
If you are not optimizing, then you are losing money. You can improve your funnel with a few thoughtful steps while fixing existing problems.
Hopefully, you will identify, fix issues, and boost your funnel conversions by applying the tips above.