Copywriting is gaining popularity as a career and by now, you have probably at least heard of it. Subsequently, you may be considering becoming a copywriter and may wonder why copywriting is so valuable.
Copywriting is valuable because it is a highly demanded skill across the globe and every business with a web presence needs it. Also, copywriting is a creative process, and it enables the copywriter to cover new topics and further their skills in marketing. In addition, it can be done remotely.
If you're considering pursuing copywriting as a career, you're not alone! This article will cover exactly what makes copywriting so valuable in the modern world.
Top 7 Reasons Why Copywriting Is A Valuable Skill
If you are considering a career in copywriting, then you are probably looking for reasons why it's useful and how this practice will benefit you.
Although copywriting is certainly valuable to businesses, it's also worthwhile for those who do it!
1. It Allows You To Be Your Own Boss
Although you could work for a brand or agency as an employee, many copywriters are ‌freelance or self-employed. This means that you can also choose to become your own boss.
This is great for those who loathe the 9-5 routine. You can choose to work during the hours when you are most productive and do other things with the rest of your day.
You can also dress however you please, unlike in an office environment where you must adhere to a strict dress code.
The best part is that you can usually set your own deadlines and make them flexible enough to suit your timeline. You also get to choose your work days and days off.
This way, you enjoy the freedom of starting and growing your copywriting business on your own terms.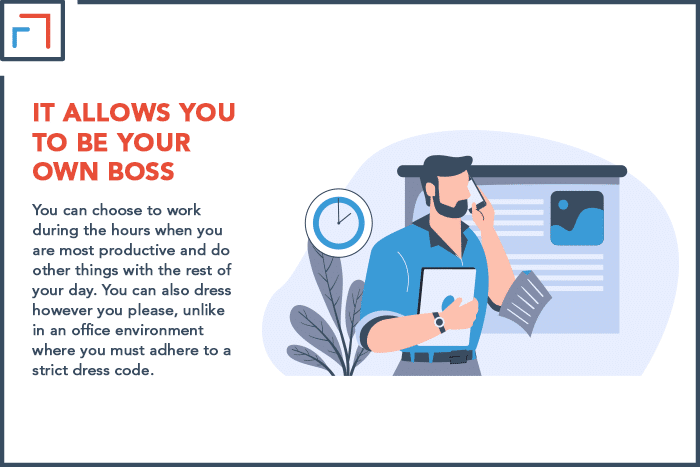 2. Quality Copywriting Cannot Be Automated
We live in an era where content is king, and at the same time, the attention spans of readers are shrinking.
Although most businesses know that content is important, the internet is still full of boring content.
Because of the huge demand for content, there has been a surge in the invention of AI tools to make the writing process quicker. Unfortunately, machine copywriting can only go so far.
Writing compelling content requires a deep understanding of the target audience. It also needs lots of creativity which is only possible through a human mind.
A copywriter can write copy that empathizes with a reader's pain points. AI technology is currently incapable of doing this, so copywriters enjoy job security even in an unstable economy.
Any serious business knows that emotions are a huge selling point, so they are willing to pay a human copywriter to do the job.
For these reasons, copywriting will remain an evergreen field even in the AI-saturated future.
3. Copywriting Can Be Fun
Unlike office work where you have to handle any task whether you like it or not, copywriting allows you to choose the specific areas you wish to tackle.
As a copywriter, businesses will expect you to craft terrific copy around new products, services or ideas.
Although it is exciting to write about new products each time, it can quickly get overwhelming to learn across multiple industries.
Therefore, choosing a specific niche can help you reduce the learning curve. This way, you will learn new ideas in the same industry, making you an expert in the ‌area.
Better yet, you get to choose who to write for and (sometimes) what to write about.
Subsequently, copywriting is a fulfilling career that allows you to enjoy learning and writing content for topics you are passionate about.
4. There Is A Huge Demand For Copywriting Skills
Now more than ever, there is a high demand for seasoned copywriters. This demand will continue as more new businesses keep popping up.
Similarly, companies are moving away from the old-fashioned hard-sell techniques and are switching to copywriting. As a result, every business needs a copywriter.
Without a copywriter, many businesses (and especially startups) would drown in the sea of competition. For instance, to be seen by prospective customers, businesses need to rank highly on the SERPs.
To rank higher, a business needs the services of an SEO copywriter.
Ultimately, copywriting skills like ad writing, crafting emails, boosting SEO and more will always be in demand because every business strives to improve its web presence.
5. Formal Education Is Not A Prerequisite For Becoming A Copywriter
While some copywriters may have degrees in marketing and other related fields, formal education is not a requirement to become a copywriter.
In fact, most copywriters with formal education possess degrees that are not related to writing. This means you will not need to spend years chasing a degree to become a copywriter.
You could simply take an online course or teach yourself using multiple free resources available online. So if you are a freelance copywriter, you can start a blog and use it to practice your copywriting skills.
Additionally, it helps you get feedback from successful industry gurus. With continuous improvement and persistent practice, any serious person can rise through the ranks and become a great copywriter.
The secret is to practice and keep up with industry trends. Otherwise, one cannot polish their skills in this industry.
6. Copywriting Pays Well
Whether you choose to venture into copywriting as a freelance career or work for a business, the returns can be lucrative.
However, the amount of money you make from your copywriting depends on several factors. First, it depends on the size of your client's firm.
Obviously, small and medium firms may not ‌pay top dollar rates like established companies. Large firms have a higher demand for copywriting services and thus the capability to pay premium rates.
Second, the pay depends on your skill level, which can vary from beginner to advanced. The greater your experience and niche specialization, the higher the rates that you can set.
If you can prove to your client that you understand their customer and deliver conversion-oriented copy, you can charge hundreds or even thousands of dollars for a sales page.
7. It Enables You To Travel And Work Remotely
Most jobs do not offer the luxury of travel. But as a copywriter, you can work from anywhere, anytime.
Although there are other jobs that allow a nomadic lifestyle, there aren't many that provide the flexibility that copywriting does.
For instance, you do not need to move from place to place with a heavy set of equipment. With just a laptop, you are good to go. The same can't be said for designers and video editors.
Traveling also presents additional opportunities. Copywriters are able to network and interact with industry experts as they travel.
This helps them to learn the latest trends and tricks in copywriting and stay productive.
Moreover, a change in surroundings helps break the monotony that results from working in the same environment all the time.
In turn, it sparks creativity and helps copywriters to come up with original ideas that help a brand stand out and sell more.
Final Thoughts
If you are considering a career in copywriting, then you already know it is a valuable skill.
Aside from the many benefits copywriting offers to businesses, it can also help copywriters to achieve their career dreams.
Copywriting is a highly demanded skill, yet it's somewhat rare to find a professional copywriter. As such, it pays well. It is also fun since you get to work on topics you enjoy and learn new things each day.
If these features sound worthwhile, a copywriting career is worth a shot.