ClickFunnels has a lot to offer businesses so they can reach their customers and make sales. One of its most prominent features is the autoresponder/email marketing. Though you may be familiar with the concept of an autoresponder, it's easy to be confused about the actual value they provide.
ClickFunnels simplifies marketing for its users with an autoresponder. With it, businesses can send repetitive and periodical messaging at a large-scale while maintaining effective timing. By using an autoresponder/email marketing strategy, business owners can achieve their goals.
To use the ClickFunnels autoresponder effectively, you should learn about everything it can do for you. There are also a variety of marketing challenges it can tackle for you. Let's look into it!
Benefits Of Having Email Marketing Autoresponder In ClickFunnels
One of the main features of ClickFunnels is the autoresponder that is offered as part of its plans.
Businesses can use the in-built autoresponder (known as Follow-Up Funnels) as well as integrate third-party responders into their funnels.
Because there are different autoresponder options available on ClickFunnels, let's break down how having an autoresponder will help your business:
1. Trigger-Based Responses
It can be challenging to target every potential consumer and send them timely messages before they lose interest or forget about your product/service.
By using an autoresponder on ClickFunnels, you can create automated trigger messages that are sent to website visitors or customers based on their behavior.
So, if a potential customer has abandoned their shopping cart, they will instantly receive a targeted email or message.
This might be about other relevant products or serve as a reminder about the product(s) they wanted to purchase.
2. Building Relationships With Visitors
Though your website may be receiving a lot of traffic, it may be wasted if the audience leaves without providing an email address or forming a direct connection with the brand.
Since you are carrying out your sales and marketing through ClickFunnels, having an autoresponder helps convert anonymous traffic into potential customers.
This can be accomplished through email subscription of newsletters, product releases, and weekly updates.
3. Directing Traffic
For potential customers who have not reached the conversion stage of your funnel, you may have strategies to increase their interest and engagement.
This may include blogs, social media platforms, newsletters, and webinars that offer content about your business.
An autoresponder can help you direct your premature consumers to content-rich avenues that you have designed.
4. Increased Brand Awareness
Autoresponders are prompt and efficient for the purpose of attracting and directing traffic.
By giving you an extended reach, autoresponders encourage brand recognition.
Moreover, constant and personalized messages rejuvenate the brand's image in the eyes of the targeted audience.
This helps strengthen the position of the business in the market, helping it to stand out from competitors.
5. Measurable Results
By targeting anonymous traffic as well as customers, autoresponders highlight the avenues for frequent consumer interactions.
You can also discover the most effective time for sending emails and updates. Sometimes you can even see the number of messages that are being opened.
The autoresponder is constantly monitoring website traffic and the number of email subscribers.
Using this information, you can adjust your strategies within ClickFunnels to reach your goals.
6. Consistent Brand Experience
You can provide a consistent brand experience across various stages of marketing and for every type of customer.
Since autoresponders have triggered responses with comprehensive audience accessibility, your business can maintain a relationship with the consumer base.
This level of consistency promotes trust and loyalty among potential and existing customers. As a result, your business will be able to develop a strong brand identity.
7. Saving Expenses On Hiring
By using an autoresponder with ClickFunnels, businesses can regularly deliver messages to their consumers.
This removes the need to hire extra employees to reach out and follow up. This also saves time and finances that would otherwise be spent on training staff.
Instead, you can efficiently allocate your resources to areas that may require professional involvement.
8. Increased Repeat Sales
Existing customers are targeted by autoresponders even after their purchase is complete.
Constant communication ensures that you maintain a direct relationship between the customer and the business.
When you use promotional offers and upsells, previous consumers are encouraged to buy again. Autoresponders periodically send these offers.
In this way, a business can continue to benefit from existing customers without exhausting its resources.
Since you would already be aware of the demographics of past customers, you can continue to target them and predict their responses.
9. Avoiding Spam Traps
An autoresponder filters out inactive email addresses to avoid sending emails that will end up in dead inboxes or the spam folder.
This ensures email deliverability and increases the chance for recipients to respond positively.
As a result, your company can develop a strong email sender reputation. You can reduce bounce rates this way.
How Are Follow-Up Funnels Better Than Third-Party Autoresponders?
Though ClickFunnels supports integration with other third-party autoresponders, it offers advanced tools and features through its Follow-up Funnels.
1. Smart Lists
This exclusive feature categorizes the consumer base into groups based on their behavior and information.
Using Smart Lists, different types of consumers are highlighted and filtered depending upon your chosen strategy.
2. Custom Responses
Follow-up Funnels allow personalized automated messaging for specific scenarios.
This sort of customization encourages conversion since the particular problem or situation of the consumer would be targeted through email.
These messages are designed using the information curated by Follow-up Funnels' Smart Lists feature.
For instance, companies can offer promotions based on the personal milestones of customers.
This might include birthdays, weddings, anniversaries, and job promotions. This is an effective way of strengthening trust and attracting loyal customers.
3. Multi-Dimensional
Follow-up Funnels help you reach your audience using avenues other than email.
By being multi-dimensional, customers that use social media or view text messages and desktop notifications can be reached.
This allows for a deeper level of customization by targeting consumers on all platforms.
4. Detailed Statistics And Reports
You can assess the performance of your marketing strategies by checking out the data provided in the statistics section.
This lets you understand how a customer is responding, when they are opening emails or messages, and who is accessing your website and other landing pages.
You can also see details regarding purchase behavior.
5. Easy Integration
By being an in-built feature of ClickFunnels, the autoresponder allows for seamless integration with other tools you may be using on the platform, such as the sales funnel and landing page builder.
In addition, because it's a direct part of ClickFunnels, bugs will be quickly reported and resolved.
It is also fairly easy to set up because you don't have to leave the platform.
6. Comes With A Package
Since Follow-up Funnels are included in the plan offered by ClickFunnels, businesses can use other tools and features along with this autoresponder.
This could be cost-effective compared to integrating an external autoresponder that you may need to pay for separately.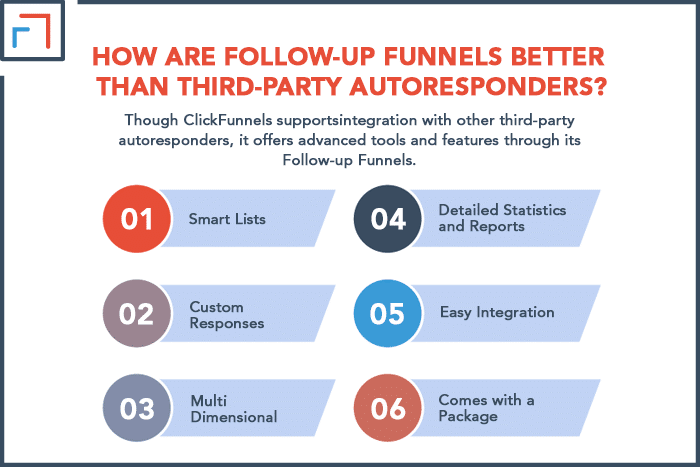 Bottom Line
ClickFunnels offers autoresponders because they help businesses target multiple areas and customers seamlessly.
As a result, business owners have the opportunity to improve customer relationships, unify brand identity, and increase conversion rates.
By maintaining direct and active communication with customers, you can establish your company as a committed brand while simplifying the process of marketing.
Hopefully, this article has given you enough idea about how ClickFunnels autoresponders can help businesses thrive.