All copywriters start their careers with the intention to succeed. Unfortunately, some end up failing for one reason or another. Studying why some copywriters fail can help you avoid making similar mistakes. So, what are some reasons why copywriters fail?
Many copywriters fail because they lose focus and commitment and are unwilling to do whatever it takes to attain success. They may also fail due to the fear of failure, inability to learn new skills, or a lack of a support system. Others fail because they can't find clients on a consistent basis.
In this post, we'll break down some common reasons behind copywriter failure. Learning about these reasons will help you navigate various stumbling blocks in your career. It's best to learn from others' mistakes so you don't repeat them.
13 Reasons Most Copywriters Fail
1. Unwillingness To Learn New Skills
Acquiring the necessary skills for the career is crucial to the success of any copywriter. However, some copywriters are reluctant to learn new skills.
This is especially true for those who believe they simply need superior language skills and they are good to go.
Unfortunately, a know-it-all attitude rarely gets anyone anywhere. There is more to writing converting copy than just language skills.
Any copywriter who forgoes training or the opportunities to improve cannot go far in their career. Regardless of experience levels, all copywriters need to constantly refresh their skills.
Copywriting is a dynamic career which makes it necessary to stay up-to-date so you can remain relevant.
Successful copywriters are willing to upgrade their skills to continuously deliver value to their clients and succeed in the market.
Ultimately, any copywriter who is unwilling to learn new skills and utilize available tools is doomed to become irrelevant over time. Eventually, they are likely to fail.
2. Lack Of Focus, Determination, And Commitment
Getting a copywriting career off the ground is no easy feat. In fact, this is the most challenging phase of copywriting.
But at the same time, it's the foundation to achieving success as a copywriter. As such, you must stay focused and determined through the initial phases, even if it's hard.
Working as a copywriter comes with its fair share of challenges and benefits. To reap big rewards, you need to overcome those challenges.
For instance, you'll be faced with plenty of distractions, especially if you opt for the freelancing route. Some distractions may take your focus off copywriting, thus increasing your chances of failure.
You need to stay laser-focused by setting goals and staying on track. Another common challenge that leads copywriters to fail is rejection. Not all clients and projects are created equal.
While you may ace some projects and satisfy some clients, there will be other projects that are tougher to write and clients who are harder to please. As a result, occasional rejections are to be expected.
If you look at rejection as an opportunity rather than a stumbling block, you're more likely to find success in the future.
Ultimately, copywriters who fail often lack total commitment to their work in the long term.
Additionally, they are unwilling to put in the extra hours or the determination that's necessary to carry them through tough days.
3. Poor Positioning
How you position yourself in the marketing world determines your success as a copywriter. Since there are plenty of copywriters out there, you need to stand out to succeed.
If no one knows you exist, no one will hire you, and you won't make any money.
Successful copywriters know what they do, who their target clients are, what sets them apart and why their uniqueness makes a difference to their clients.
With proper positioning, it is easier for clients to figure out what you offer, hence fostering their confidence to reach out to you.
On the other hand, weak positioning leaves a loophole in your branding. It portrays you as a copywriter who does not offer value to their clients.
As such, you will get lower hire rates leading to a cycle of low earnings and boredom, which may result in you giving up.
Weak positioning also leads to massive time wastes. It forces you to keep selling to prospects each time they approach you. You'll have to start from scratch, explain what you do, and so on.
This cycle eats into the time you might have spent landing a new client.
4. Failure To Take Action On A Consistent Basis
Another difference between successful copywriters and those who fail is the ability to take action when necessary.
Excelling at copywriting sometimes means forfeiting any other activity that is not related to your career until you get it right.
Unfortunately, some copywriters are unable to take action to push their careers further. For many, procrastination is the major action hindrance.
They keep procrastinating on essential activities, thus failing to succeed in a timely manner. Others are unwilling to prioritize their copywriting duties.
As such, they are not able to give it their all. When you put copywriting on the bottom of your to-do list, the work does not receive the attention it deserves. This might lead to the production of mediocre copy.
Your success in copywriting is dependent on the amount of work you are willing to put in to get results.
Great copywriters know they do not need to read one more book or take an extra course before they can take action. Instead, they just need to keep trying until they get it right.
5. Lack Of A Support System
Most copywriters make the mistake of thinking they do not need the help of others to succeed in their careers.
While this may be true for a few individuals, most people need a support system irrespective of the career they are in.
For instance, franchisees get support and training from corporate offices, while small businesses can seek support from the Small Business administration.
Copywriters are no different. Occasionally, you will lose focus, face challenges and feel like giving up. During such turbulent times, a support system comes in handy.
A support system can be anyone from a group of copywriters to colleagues working at an agency. A mentor, for instance, can help you achieve success faster by showing you tried and true tactics.
Or, an accountability partner can help you get back on track when you start slacking on your goals.
Not getting a support system increases the chances of giving up when frustrations become too much. Additionally, it makes the journey to success unnecessarily long and full of obstacles.
6. Failure To Profile And Understand Your Clients
Profiling your clients is the easiest way to understand their needs on multiple levels, ranging from emotional to psychological.
It helps you understand what kind of copy will meet their needs on the most accurate level. It is difficult to satisfy anyone's needs if you do not really know them or their needs.
Failing to profile your clients is a recipe for disaster. If you cannot picture what they want in the most accurate way possible, it would be difficult to deliver copy that meets their expectations.
Since you will be writing copy on behalf of your clients, you should be able to write in a way that reflects their tone, emotions, and voice.
If you can't do that, you would have failed to deliver. As a result, you will have an unsatisfied client who won't recommend you to others.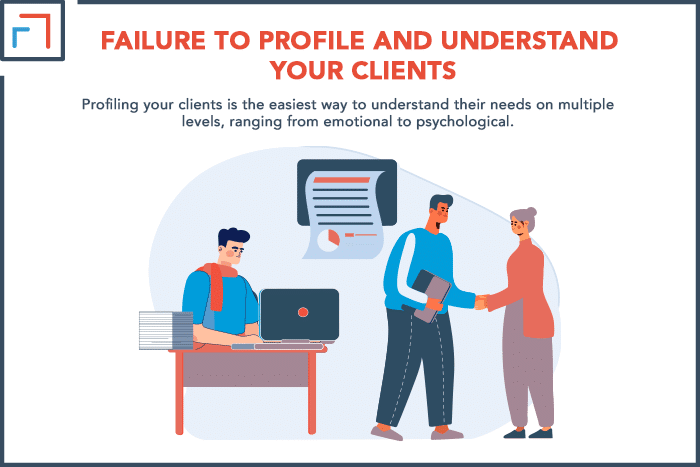 7. Incomplete Knowledge Of Projects
To produce high-converting copy, copywriters need an in-depth understanding of the product or project they are writing about.
When you fully comprehend what a product is about and what it can do, it becomes easy to write compelling copy that persuades the target audience.
Copywriters who fail to discern a project or product from the outset are likely to get it wrong, leading to dissatisfied clients.
Poor understanding of projects may be caused by factors such as writing in an unfamiliar niche or picking projects you are not passionate about.
8. Unclear Understanding Of The Needs Of The Target Audience
Writing copy that does not resonate with the needs of the target audience is another reason why copywriters fail.
In order for copy to convert, it has to keep the needs of its audience at its core. Sadly, some copywriters choose to write the copy that they like while barely paying attention to what the target audience needs.
A great copywriter needs to have an in-depth understanding of the target audience. They should also possess the necessary research skills to help them learn about their audience.
Copywriters who fail to write for the target audience cannot do a great job and thus are prone to failure.
9. Inability To Filter Projects
One of the biggest hurdles freelance copywriters face is getting clients on a consistent basis.
As such, some copywriters may constantly worry and feel anxious about earning enough to cover their bills. Copywriters who find themselves in such dilemmas are often desperate to work for anyone.
Although taking on any kind of project may guarantee that the bills are paid, it does more harm than good to the copywriter.
If you do this, you may find yourself working with clients who do not appreciate you. Not every writer is a perfect fit for every project either.
The result is poor pay, unsatisfied clients, and negative reviews. If the cycle continues, the copywriter is left drained and unmotivated due to working hard on the wrong projects.
Successful copywriters know when to accept a project and when to turn one down.
Ultimately, being intentional about the kind of projects you work on ensures that you only work on projects you have the expertise to handle and for clients who value you.
In turn, you are able to deliver high-quality work, hence satisfying clients and getting referrals.
10. Not Knowing Your Financial Worth
Since acquiring clients is challenging, some copywriters make the mistake of charging low rates in a bid to win clients.
While this may land you clients, this approach usually does more harm than good in the long run. Charging low rates is synonymous with mediocre quality.
Most clients know they need a quality copy, and they are willing to pay whatever it takes to get it. If you set your rates too low, you may come off as a copywriter who doesn't value high-quality work.
As such, you may end up attracting the wrong clients who won't appreciate you. Copywriters who compete on a price basis are bound to be stuck in an endless, downward spiral.
To meet their needs, they will have to handle more work in a short period because they charge low rates. This means no freedom to focus or rest.
After a while, such copywriters may feel worn out, dissatisfied, and resentful of their work. Copywriters who succeed know they need to charge what they are worth.
In most cases, clients will respect them for that.
11. Poor Writing Skills
Good copy is written clearly, is easy to read, and compels the audience to take action. Copywriters should have the ability to write concisely while using language that is simple to understand.
If you can't write, you can't make a career as a copywriter. Those who write fluffy copy lose the ability to make their writing authoritative, persuasive, and compelling.
If you deliver sloppy work, you'll lose clients. You will also get bad reviews that may leave you feeling discouraged and on the verge of giving up.
12. Failure To Secure And Retain New Clients
The success of freelance copywriting largely depends on convincing clients to hire you. For many, especially those who abhor pitching, this is a huge challenge.
The difference between copywriters who fail and those who succeed is the ability to get clients on a consistent basis.
It is not enough to just open social media accounts, set up a website, and design a logo. If you don't put yourself out there and promote your services rigorously, no one will know you exist.
One of the best ways to get clients is through pitching. Unfortunately, it is a scary route for some copywriters.
Huge, dark clouds of fear and rejection hang around pitching, and this can deter copywriters from getting out there and chasing after clients.
Sadly, a copywriting business without a continuous flow of clients will soon wither and die.
The best copywriters know they have to hang in there even if they don't get hired after sending 20+ pitches. They know when they get it right, they'll be unstoppable. So they keep going.
13. Fear Of Failure
The fear of failure is another principal reason why copywriters fall short.
Some copywriters want to become great writers, but deep down, they are afraid they might fail and make a fool of themselves. When the fear of failure is magnified, all efforts seem meaningless.
Subsequently, it doesn't matter how many resources or opportunities a copywriter has.
You're fighting a losing battle if you try to achieve your copywriting goals with the wrong mindset. It is far too easy to quit in such a state.
Copywriters who believe in themselves tend to do well because they know nothing will stand in their way of achieving success.
Having faith in oneself helps you overcome most of the stumbling blocks in your copywriting path.
Wrapping Up
Although the above mistakes have kept copywriters from succeeding time and again, being aware of them increases your chances of succeeding.
The fear of failure is hard to overcome, but you can do it if you keep working hard to meet your goals. Try to align your mindset to work for you and not against you.
Once you believe you can succeed, you can usually overcome all the other stumbling blocks. Copywriters who believe in themselves find it easy to stay committed and focused.
As a result, they attain their goals. You can too.