Email marketing is poised to generate nearly $16 billion in revenue by 2026. The marketing channel is unmatched in allowing brands to connect with consumers. But who should handle these campaigns?
In-house teams, freelancers, and digital marketing agencies are mandated to manage email marketing. In-house teams have deep knowledge but can be costly. Freelancers are flexible and cost-effective but may have communication challenges. Agencies provide expertise but can require long contracts.
This article explores the options, whether it's an in-house team, a freelancer, or a digital marketing agency, and the pros and cons of each approach.
1. In-House Email Marketing Team
An in-house email marketing team refers to the employees who work within your organization. The number of team members can vary in size, depending on the requirements of your business.
Regardless of the number, the team is responsible for various tasks to ensure the campaign aligns with your company's and audience's preferences. This includes the following:
Brainstorming the idea
Creating content
Designing visually appealing templates
Utilizing data-driven insights to optimize the overall email marketing plan
In addition to their core responsibilities, the in-house email marketing team can leverage specialized email marketing tools to enhance the campaign efficiency.
These platforms offer features such as automated campaign sending, detailed analytics, A/B testing, and easy-to-use design templates.
Using these tools, the team can automate mundane tasks, allowing them to focus on strategic decision-making and creativity.
Advantages of In-House Email Marketing Team
1. Deeper Understanding of the Product
The members of your in-house email marketing team will be working exclusively with your company and have a better understanding of your audience, industry, and product/services.
The knowledge enables them to craft messages that resonate with the needs of your target audience and business.
2. Immediate Communication
With an in-house team, it's easier for everyone to remain on the same page.
Whether you work in the same physical environment or operate remotely, you will find it convenient to collaborate and take real-time updates.
And even if your team comprises remote workers, you can expect quick responses, thanks to collaboration tools and regular team meetings.
3. More Control Over the Process
By keeping in constant touch with the email marketing team, you will maintain a tight grip on the entire process.
This ensures that every aspect of the campaign takes place according to the company's requirements.
You can also make swift modifications and decide on an alternative if the details are not going as planned.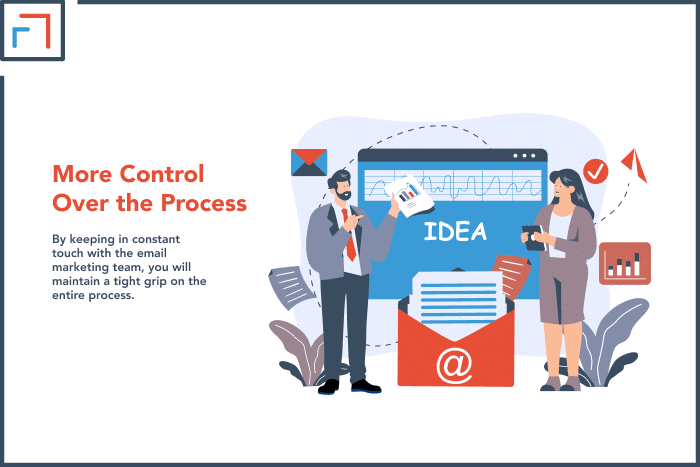 4. Secure Handling of Company Details
An internal email marketing team is familiar with your company's policies and client details. They also use an official network and devices, ensuring maximum privacy of your business accounts.
This level of security is especially critical in an age where data breaches are increasingly common and can severely damage a company's reputation and bottom line.
Disadvantages of In-House Email Marketing Team
Expensive and Time-Consuming
The recruitment process for a suitable team member can be lengthy and involves several steps. You must also set aside time and resources to train the individuals per your company policies.
The time, money, and effort spent on recruiting, training, and retaining team members can impact the company's strategic goals. The recruitment process involves:
Costs for advertising the role
Time spent reviewing applications and interviewing
Potential agency fees
After hiring, there are training costs, salary, benefits, and overheads like office space and equipment.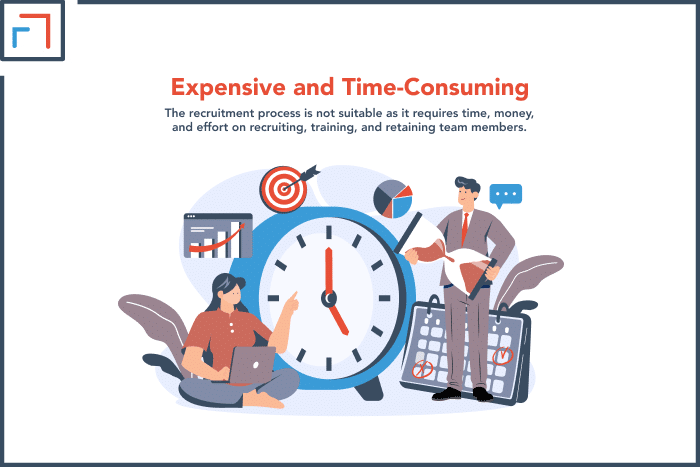 Lack of Expertise
Even after putting immense attention to hiring the best candidate, there is a possibility they may lack specialized expertise in areas of email marketing, such as graphic designing and advanced data analytics.
After all, it is challenging to find highly skilled individuals in all aspects of email marketing – from writing and design to data analysis and technology management.
2. Professional Freelancer
A freelancer is hired on a contract module or a project basis for specific marketing services.
With almost 47% of the global workforce working as a freelancer, you can easily find an individual specializing in the different aspects of email marketing.
As independent workers, freelancers bring various skills and talents to the table.
They are also more flexible with their working arrangements and can accommodate the ever-changing demands of the business landscape.
Advantages of a Professional Freelancer
1. Cost-Effective
Hiring a freelancer for the task can be more affordable than maintaining an in-house team of email marketers. The organization only pays for the work, eliminating the need for overhead expenditures.
2. Diverse Marketing Perspective
Freelancers are versatile and have experience working with varied niches and industries. Coming from different backgrounds enables them to bring many out-of-the-box ideas.
The fresh ideas can transform your marketing strategy with enhanced creativity and unique perspective – something that is often missing from an insulated in-house team.
For example, a freelancer who has worked in tech startups and traditional retail may have a broader view of potential customer engagement strategies.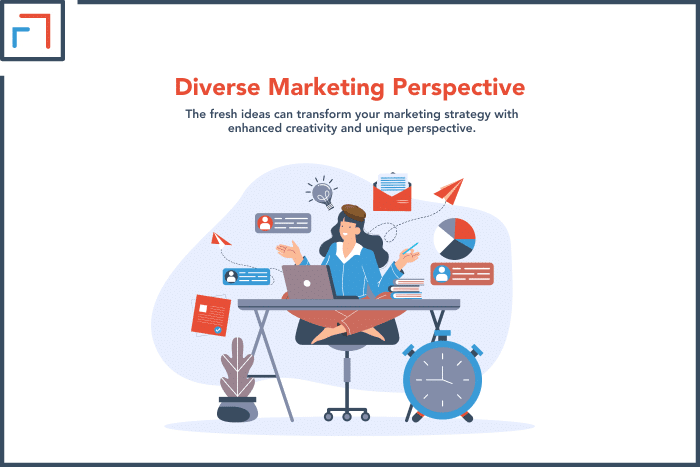 3. Updated Expertise
Digital trends are constantly evolving, making it essential for marketers to upgrade their skills and stay ahead of the curve.
However, in-house teams are often restricted due to time, resources, and responsibilities within the organization.
On the other hand, freelancers are independent workers and more flexible with their time.
They can proactively dedicate the time and effort to ensure they are well-equipped with the skills necessary to navigate the competitive industry.
4. Scalable Team Members
Freelancers are the accommodating members of your marketing team. By hiring a freelancer, you can benefit from a scalable service that you can modify according to your business needs.
Whether you require occasional assistance or a specific skill lacking in your email marketing team, a freelancer can adapt to most scenarios without commitment.
Disadvantages of a Professional Freelancer
Vetting From a Pool of Candidates
Freelancers do not necessarily require formal education, so careful vetting is essential. Finding the right one from the available candidates can be time-consuming and challenging.
Although credible freelancer profiles are plentiful, there is a good chance you may make the mistake of hiring someone whose skills or work ethic may not align with your expectations.
This can lead to dissatisfaction, project setbacks, and financial loss.
Pro Tip: To mitigate this risk, businesses can consider starting with a smaller project as a 'trial run' before committing to a larger, more significant project.
Lack of Seamless Communication
If your selected freelancer lives in another part of the world, you may find hurdles in your communication due to different time zones.
They are not working in a traditional environment, so catching up during your scheduled workday can be problematic.
Plus, these individuals are not exclusively working for your company and will have multiple projects lined up. Due to this, you may face slower turnaround times and delays in your designated delivery date.
3. Digital Marketing Agency
Outsourcing your email marketing to a digital marketing agency is another viable option. These firms are a one-stop solution for businesses looking to outsource some or all digital marketing tasks.
Advantages of a Digital Marketing Agency
1. Skilled and Experience
A reputable, full-service agency usually has a diverse team of experts specializing in email marketing, including strategy, graphics, content creation, and more.
The hard work of recruiting and finding the best candidate is already done for you, allowing access to a skilled workforce almost immediately.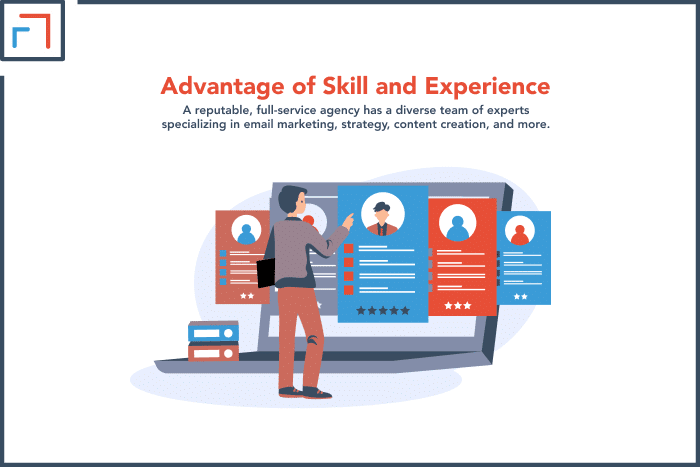 2. Equipped With the Latest Technology and Trends
These agencies often have access to cutting-edge tools, software, and resources that can significantly impact your campaigns.
Availing the latest technology can be expensive and out of the capacity of many small to midsize businesses.
3. Comprehensive Strategy Integration
A full-service agency will follow a strategic approach to integrate your email marketing campaign seamlessly. They will consider every minor detail before sending any emails.
Additionally, email marketing campaigns are governed by different laws and restrictions. A skilled team will have a better understanding of compliance, preventing legal risks.
Disadvantages of a Digital Marketing Agency
Lack of Attention
Similar to a freelancer, your selected digital marketing agency can have multiple projects. This could result in divided and less-personalized attention.
While they may not compromise on quality, there will be obstacles in communication and decision-making.
Contract Commitments
Engaging a full-service agency often involves signing long-term contracts, which can be difficult to end if the campaign does not yield the desired results.
Unfortunately, you will be tied down to a specific time frame even if the circumstances change.
Final Words
There are many options for selecting the right person to handle your email marketing. The final choice depends on your business goals, budget, and the desired level of involvement.
Regardless of your selection, the ultimate aim remains to create emails to help your brand stand out in the bustling digital world.
Whether you opt for an in-house team, a freelancer, or a digital marketing agency, a strategic and thoughtful approach will be your best asset in crafting successful email marketing campaigns.