The most common question I get from people interested in funnel design is, "Where do funnel designers work?" Unfortunately, the answer to this question isn't as cut and dry as you might think. This has made many people dismiss the idea of becoming a funnel builder altogether.
Funnel designers can work for digital marketing agencies that help businesses with their online presence. They can also get in-house jobs in companies that need sales and marketing specialists. Another option is self-employment or freelancing, where they promote their products or services.
Understanding where a funnel designer works isn't enough if you don't know how to find good opportunities. Therefore, we want to get into the details of each option to help you better understand them.
In-house Jobs
Unlike other marketing roles, a funnel designer's job is still relatively new. Because of this, there isn't a specific work setting that they are confined to.
Instead, they can find employment in a variety of work environments.
One of the places funnel designers can work is in-house for businesses. In this case, the funnel designer:
Creates funnels for the business's products or services
Manages and maintains the funnels
Optimizes the funnels to ensure they are converting
Analyzes the performance of the funnels
Reports the performance to the stakeholders
Trains employees on how to use and understand the funnels
This is a suitable option if you want to be involved in the entire process. Usually, the role of a funnel designer requires someone who has a background in marketing.
However, that isn't always the case. As long as you have the skillset, you can apply for the position.
The main advantage of working in-house is that you are involved in every step of the process. This allows you to be more hands-on with the projects.
In addition, you will be familiar with the company's products, target audience, and goals.
Therefore, it is easier to create an effective funnel because you understand what the business is trying to achieve.
The downside of working in-house is that you are limited to working on one company's projects.
This can be restrictive if you want to explore other opportunities or try new things.
When working as an in-house funnel designer, you can work remotely or in the office. It all depends on the company's policy and your preference.
Where to Get Funnel Builder In-house Jobs?
Glassdoor: This website has a dedicated section for marketing jobs. You can filter the results by location and job title to find relevant positions.
Indeed: A popular job board that lists different job opportunities from entry to management level.
The website has a feature where you can set up job alerts to get notifications about new positions.
LinkedIn: You can use the site's search bar to find in-house marketing jobs.
The social media channel allows you to adjust the filters and see results that match your preferences.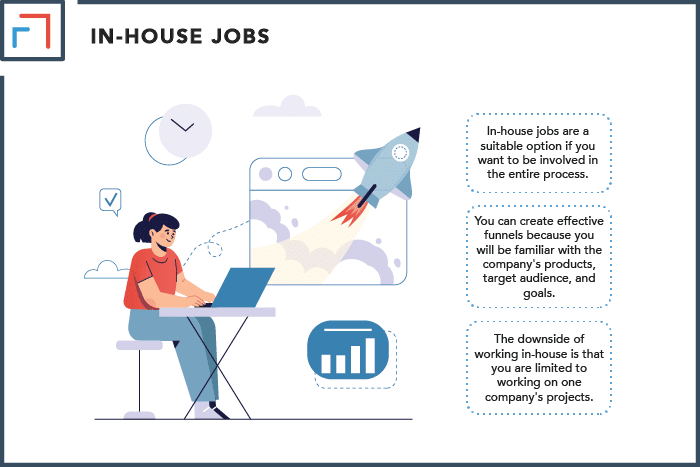 Digital Marketing Companies
I have worked with digital marketing agencies in the past, and I can say that it is ideal for funnel designers.
The fast-paced environment and variety of projects are perfect for those who want to gain experience quickly.
However, you need a thick skin to work in an agency because you will be working with different clients with different expectations.
Some clients will be easy to please, while others will be more demanding.
It is important to remember that each client is paying the agency for your services, which means you need to deliver results that meet their expectations.
The good thing about working in an agency is that there is a team to support you. This includes account managers, copywriters, designers, and developers.
They will help you with funnel research, creation, and implementation. Therefore, you can focus on what you do best: Designing the funnel.
Working in an agency offers limited creative freedom because the agency needs to please the client. Therefore, they will have the final say on what goes into the funnel.
Apart from that, some agencies require their employees to work long hours. This can be tiring, especially if you are working on multiple projects simultaneously.
Where Funnel Designers Can Find Agency Jobs?
Upwork: This is a freelancing site that connects businesses with freelancers. You can create a profile and start applying for jobs that match your skillset.
Fiverr: A similar platform to Upwork but focuses on digital services such as marketing, design, and development.
Freelancers
Do you want to be your own boss? If so, then freelancing might be the right option for you. As a freelancer, you are in control of your time and workload.
You can decide when you work and how many projects you want to take on.
Freelancing allows you to be more selective with the projects you work on. You can choose to work on projects that interest you.
You can also charge more for your service because businesses are willing to pay more for the flexibility and convenience of working with a freelancer.
The downside of freelancing is that it can be challenging to find consistent work because you are not attached to a single company.
You'll have to actively search for new clients and projects. This can be time-consuming, especially if you are not using the right tools and resources.
In addition, freelancers don't have the same security as full-time employees. Therefore, you need to be prepared for lean periods.
How Funnel Designers Can Find Freelance Jobs?
Like working on digital marketing agencies, you can use freelancing platforms like UpWork, Fiverr, and Peopleperhour to find clients.
In addition to these sites from that, you can get jobs on popular platforms like:
Toptal: This website connects businesses with top talent in various fields, including marketing.
FreeUp: You can get marketing-related jobs on this platform, including funnel design, social media management, and email marketing.
DesignCrowd: As the name suggests, the website focuses on design-related projects. You can also find marketing jobs, such as funnel design.
99designs: If you're looking for design jobs, this is the platform for you.
99designs is also ideal for freelancers who have experience designing logos, websites, and other marketing materials.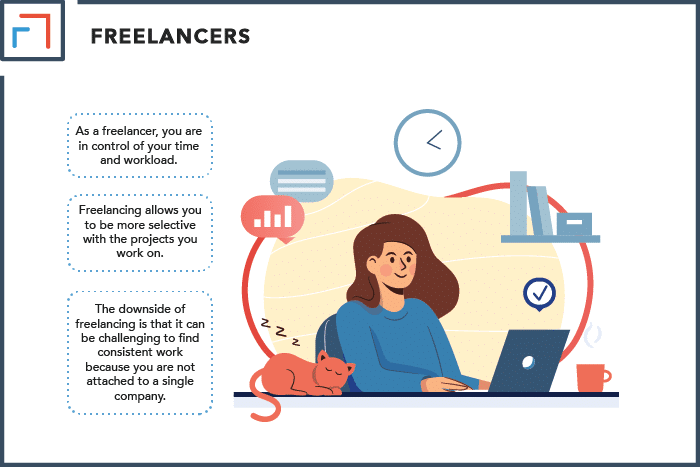 Personal Projects
As a funnel designer, you can also choose to run your business and use your skills to grow your client base.
You can create a course on funnel design and sell it online. In addition, you can use your skills as a consultant for businesses on how they can improve their sales funnel.
You can also create and sell funnel templates. This is a good option if you want passive income.
The downside of personal projects is that they require a lot of time and effort to get off the ground.
In addition, you need to have a good marketing strategy to reach your target audience. Otherwise, your business will flop.
However, there are immense rewards if you are successful. You will have the freedom to work on your terms and make a good income.
Moreover, you will be able to enjoy the satisfaction of running your business and reaping all the benefits if it is successful.
Key Takeaway
There are many places to work as a funnel designer. However, you should choose the best option for your skills and interests.
Otherwise, you might get bored and give up on the business. Freelancing is the right option if you're looking for more control over your time and workload.
On the other hand, in-house and digital marketing agency jobs give you security. The most important thing is to keep learning about and enjoying the process of designing funnels.
If you're not passionate about it, your chances of success are low. It's important to be selective with the projects you work on.