ClickFunnels is a funnel builder that helps you grow your business. It is an all-in-one platform with everything you need to run funnels and gain conversions. But what makes ClickFunnels different from its competitors?
ClickFunnels' effectiveness and unique features set it apart from the competition. Its design is simple, easy to use, and intuitive. Its features include sales funnels, A/B testing, and email integration. ClickFunnels also provides a better value for the money compared to other services.
Read on to learn more about the ClickFunnels platform and why it may be well suited to your needs. We'll also discuss some of its best features and how users can benefit from them.
ClickFunnels Features
ClickFunnels' features set it apart from other tools on the market. They help boost your business growth and sales.
ClickFunnels allows you to create highly converting funnels with ease.
Its features help you test and optimize your funnels to ensure you're getting the most out of your advertising money.
There are dozens of features in ClickFunnels, but here are a few that stand out.
1. Sales Funnels Templates
Sales funnels are the main thing people use ClickFunnels for. It can be hard to design these funnels from scratch, though.
Luckily, there are also lots of pre-designed templates that help users create a highly-converting funnel.
There are templates for landing pages, order forms, and much more. These were designed by professionals, so they have a good track record of success.
In addition, you can easily customize the template to fit your needs and can even save your own designs to use again later!
2. A/B Testing
A/B testing (also known as split testing) is one of the best ways to improve your funnel's conversion rate.
The ability to test different elements on your website means you can determine which ones work best for your audience and improve them accordingly.
With A/B testing, you can test two different versions of an element in your funnel to see which one performs better.
For instance, you could create two versions of a CTA and see which one received more attention.
Split testing is a great way to optimize your funnel so users don't bounce away from it immediately after landing.
3. Email Integrations
If you want to use email marketing as part of your sales funnel, ClickFunnels makes it easy to do so. This platform offers a variety of email integrations.
You can even set up automated emails based on what people do on your site.
For example, if someone added a product to their cart but didn't proceed to checkout, your funnel could automatically send them an email reminding them that their order is incomplete.
The ClickFunnels email integrations allow you to connect your email marketing software to the platform.
This works for services such as MailChimp or ConvertKit.
When someone signs up for an account on your website, it will automatically add them to your email list and send them a welcome email.
This feature allows you to start building relationships with new customers right away!
4. Membership Funnels
One of the best things about ClickFunnels is its ability to create membership sites.
These are exclusive pages that are designed to offer recurring revenue streams for your business.
You can create a membership site in minutes with automated billing, email campaigns, and even an affiliate program!
Membership funnels are perfect if you're looking for a way to get recurring income from your customers.
They allow you to charge members monthly, yearly, or just once (depending on their membership type).
As a result, it can help you increase your profits while simultaneously providing excellent value to your customers.
5. Affiliate Programs
Another reason ClickFunnels is successful is because this platform makes it easy for anyone to create an affiliate site for their products.
With the Backpack tool, users can create their own affiliate pages and track people who promote their products.
ClickFunnels also has its own affiliate program that anyone can join.
If you have a ClickFunnels account, you can sign up for free and begin to promote specific products to your audience.
You'll earn a commission if people sign up for an account using your affiliate link.
You can also earn a portion of the sales when someone buys a ClickFunnels book or program that you recommend.
This is an easy program to join, and it's a great way to make money on the side!
6. Drag and Drop Builder
This is the main feature that makes ClickFunnels so easy to use.
The drag and drop builder lets you customize your landing pages, sales funnels, and other elements.
You just need to select and drop images, text boxes, and other elements onto your canvas.
The drag and drop builder allows you to build your sales funnel without knowing any code or programming.
It is a huge benefit for small businesses that want to get started with their marketing efforts right away.
It also saves you money that you would have spent hiring a professional programmer.
This builder gives you complete control over your design so you can use images, text, video, links, buttons, and other elements to create powerful landing pages.
You can also use the drag and drop builder to create sales funnels that include multiple steps.
7. ClickOptin
ClickOptin is an email capture tool that allows you to add opt-in forms to your website. It's easy to use and integrates seamlessly with your ClickFunnels account.
The feature includes a few options, including a pop-up box that asks visitors for their contact information.
You can create opt-in forms for people who want to join your email list or download free guides from your website.
These are vital for building your audience.
If you have contact information for your visitors, you can inform them when there are discounts or new products on your site.
Staying in touch with your customers is important because they will become familiar with who you are and what you do.
The ClickOptin feature automatically allows people to sign up for your list when visiting your site or landing page.
It is great for quickly adding people to your list so that you can start sending them emails about new products or promotions!
Why Is ClickFunnels Better?
Now that we know some of the benefits of ClickFunnels let's talk about why it's the best in the business.
First of all, ClickFunnels is easier to use compared to other tools, and it has a greater range of functionality.
The drag and drop editor makes it easy for anyone to create professional-looking landing pages without knowing how to code.
When you sign up for a ClickFunnels account, you also gain access to a library of videos and funnel-building resources.
These will help you learn how to use the program and be a successful funnel builder.
ClickFunnels integrates with different payment processors, so you can easily accept credit cards and other forms of payments on your site.
It also integrates with most email marketing platforms, including Aweber, MailChimp, and GetResponse.
When it comes to pricing, ClickFunnels is a bit more expensive than its competitors.
The Basic Plan costs $97 per month, while the Platinum Plan costs $297 per month.
However, considering the features and benefits you gain, this is still a great value for the money.
In addition, if you use the affiliate program, you can earn back the cost of the membership fairly easily.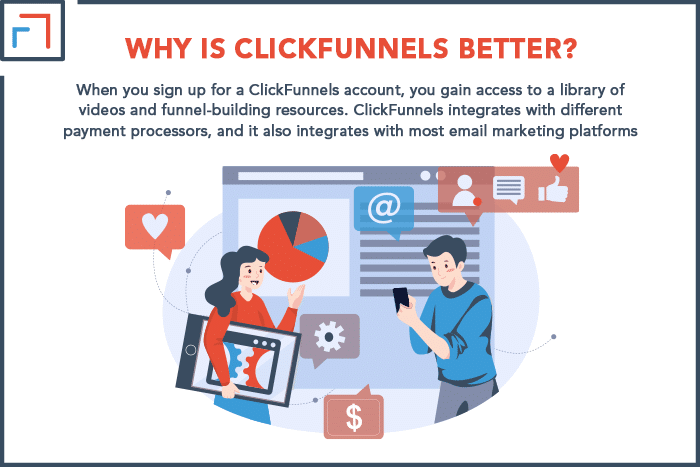 Wrapping Up
Being unique is hard in a crowded market, but ClickFunnels can help you create a funnel that succeeds.
ClickFunnels is an all-in-one sales funnel software that helps entrepreneurs and business owners market, sell, and deliver their products or services online.
It has been designed with cutting-edge technology to help you create high-quality funnels for every stage of your sales process.
Its features and benefits make it one of the best funnel builders on the market.