For many people, remote work is becoming the new norm. Copywriting is one of the most attractive and in-demand careers that allows people to work remotely. If you possess an excellent command of language and the ability to work with a team, you may wonder what it would be like to work as a copywriter.
Working as a copywriter can be both fun and challenging. Writer's block is common. A typical day is filled with meetings, brainstorming sessions, and writing. There are many paths you can take to work as a copywriter, but a mixture of education, training, and work experience is ideal.
In this post, we will walk you through the day of a copywriter, the career trajectory, the money, and the stress related to the job. Before you pick this career path, you should get an idea of what it's really like!
Inside The Copywriting Career
Before you get started in copywriting, it is crucial to have a clear understanding of what this career entails. In this section, we will discuss the various aspects that go into the copywriting career.
1. A Day In The Life Of A Copywriter
If you are aspiring to become a copywriter, one of the questions you may ask yourself is what your average day would be like.
Although the activities for the day may vary from writer to writer and their mode of work, a typical copywriting day generally involves research, meetings, and, of course, writing!
For instance, a copywriter working at an agency will have a different day from a freelance copywriter. Imagine you are a health copywriter working for a wellness center. Here is how a typical day might go.
8.00 a.m.: Arrive at the work station and review the editorial calendar to see the number of blogs you need to write for the organization's website that week.
8.30-9.30 a.m: Research a medical procedure you plan to write about. You seek further information from the company about the benefits of the procedure for the patients who choose it.
You spend the next couple of minutes crafting the perfect introduction, plus the rest of the blog framework.
10.30 a.m: You meet with the marketing team to discuss various details of your project. You also get an additional task to create a brochure for an upcoming health and wellness expo.
11.00 a.m.- You write a direct email about a promotion—a 25% discount for clients who sign up for a highly demanded medical procedure.
You take time to craft a concise, attention-grabbing email that will persuade clients to sign up, then send it to the manager for review.
2.00 p.m.: After lunch, you complete your blog by adding a compelling CTA and accompanying visuals such as images or videos of clients undergoing a medical procedure.
At 4.00 p.m: You brainstorm several ideas and catchy phrases you could use in your brochure project. It should be creative, concise, and visually appealing, so you'll need to come up with several iterations.
Once done, you call it a day. In a nutshell, an in-house or agency copywriter reports to the office, checks their calendar, emails, and reviews all the running projects to make the needed updates.
They will then plan blocks of writing time amidst attending meetings and holding brainstorming sessions.
For a freelance copywriter, the day may begin at 9.00 a.m., followed by writing for a few hours, and then a break for lunch. Afterward, they may write until late afternoon, then take a gym break.
A freelance copywriter may settle down, check their emails, review the progress of their projects, dedicate time to writing, follow up with clients, and prospect for new clients.
Aside from the ability to work anytime, anywhere, freelance copywriters must make calls and check in with their clients to update them on the progress of the work.
They will also spend a bit of their day reaching out to prospective clients or pitching new ones. This way, they do not run out of work.
Of course, this is all generalized information. Some copywriters may work deep into the night and sleep during the day. Generally, how the day goes depends on the copywriter and the type of work they do.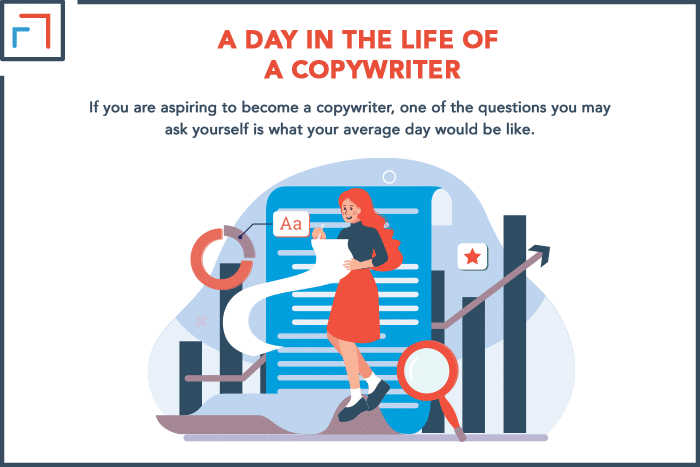 2. Career Trajectory
There are several routes a person can take to become a copywriter. Hence, there is no correct or incorrect way to become a copywriter as long as you pick up the necessary skills.
In this section, we will discuss the various paths available for those who want to break into copywriting.
Getting Qualified Through Training
Studying copywriting is one of the most common paths that beginner copywriters take. It is sometimes the best option because it equips you with the knowledge you need to start copywriting.
It also gives you the opportunity to practice what you learn before diving into a career.
To get a copywriting qualification, you can take a variety of copywriting courses at institutions such as the Chartered Institute of Marketing.
Alternatively, you can choose from a wide range of top-tier online copywriting courses. The best part about such courses is the freedom to specialize in certain areas of copywriting interest.
If you would prefer to go for a more formal route, you can find a few degree courses in higher institutions of learning. Even if you already have a degree in a different field, it can still help you.
For instance, some copywriters have degrees in related fields such as journalism and marketing. Such degrees are relevant because you can apply the knowledge and skills learned to do copywriting.
For example, you can apply communication skills and sales knowledge acquired from marketing courses. Alternatively, a course in history might teach you valuable research skills.
Acquiring Experience In Copywriting
Many copywriters can attest that real world writing experience was the most important part of their copywriting journey. Most clients are more interested in the level of experience that you have.
You will need to prove that you can really write and deliver the results they're looking for.
One of the best ways to get experience is to work for a copywriting agency. You can apply for a part-time job or an internship to get started.
Although your role at the agency may include duties apart from copywriting, the key goal is to acquire experience. If you are already working in copywriting-related fields, you can start there.
For instance, working in the field of journalism hones your research, interview, and communication skills, thus making it easier to transition into copywriting.
You can also apply for standard copywriting jobs, such as junior copywriter positions. As a rule of thumb, starting low is a great way to get experience as you work your way up your career path.
Working As An In-House Copywriter
Working as an in-house copywriter is a great alternative to working at an agency. With this option, you work exclusively for one brand.
Working in-house at the start of your career comes with several advantages. First, you will have an opportunity to learn a lot about your organization's niche.
With time, you will develop expertise in this area. In turn, you can charge more for your services in the future.
However, if you work in one company for several years, you may experience challenges if you try to switch to other industries.
This means you won't be eligible for other jobs outside the niche you have been working in.
For example, if you work in a health company, you will be less likely to qualify for a position in fitness copywriting because your experience will not match the requirements.
Launching Your Own Copywriting Business
Finally, if you do not prefer working in-house or for an agency, you can work independently. Many copywriters have taken this path by becoming freelance copywriters.
The best part about going freelance is that it is easy to get started. You need to create a website to showcase your work. Your portfolio is your best opportunity to win clients.
Once you build an impressive portfolio, your next step is to market your services. You can run Google ads and use SEO strategies to help potential clients find you online.
You can also find clients to work with by applying for jobs on content production sites like Copify and AWAI.
Unlike agency and in-house copywriting, freelance copywriting allows you to pick the clients to work with and make your own work schedules.
Additionally, you can work from anywhere, regardless of where your client is based.
3. Copywriting Pressure
Being a copywriter can be stressful because copywriters are specialists on the digital marketing frontline. Most of the roles of a copywriter are carried out under pressure.
Below are some aspects of copywriting that contribute to stress among copywriters.
Copywriters Get Affected By Writer's Block
From time to time, copywriters face days when they can't seem to get any new ideas. On such days, they tend to feel stuck, leading to increased stress.
Other factors, such as poor timing, the urge to make the copy perfect, and fear, may contribute to writer's block.
Unfortunately, there isn't much a copywriter can do. In fact, forcing yourself to work can only aggravate the block. The best thing to do under such circumstances is to take a break, relax, and try again later.
If nothing else, create a rough draft that can be refined later on.
Strict Deadlines
Copywriters are always working around constant deadlines. Even with this pressure, they're still expected to produce excellent copy. However, things do not always go as planned.
For instance, the content may end up being more complicated than expected, hence taking longer to complete.
When a deadline is fast approaching, and the copywriter feels they will be late, it adds to the stress. Deadlines mean a lot to the clients, and compromising them may lead to undesirable consequences.
The Need For Approval
Before a copy is published, it has to be approved by the client. Before the work finally gets approved, there will be back-and-forth rounds of feedback and revisions.
In addition, the waiting time between submitting the draft and waiting for approval is taxing.
The process of getting approved really varies from client to client. Some can be easy to work with, while others can be difficult to satisfy, leading to several rounds of revisions.
Aside from the client preferences, copywriting requirements may vary, thus making approvals subjective.
Entry Challenges
Starting out as a freelance copywriter can be difficult. As a beginner, you'll need to compete with several established writers, especially on freelancing platforms like Upwork.
Subsequently, landing your first client can take weeks or months. The longer it takes to break through, the more stressful it becomes.
4. Scope Of Copywriting
Defining the scope of a copywriting project is a critical element that the copywriter and the client have to agree on before commencing work.
While the scope may vary from project to project, it typically involves the number of hours and the expected deliverables.
Defining the scope of work from the onset helps protect both parties from scope creep. Copywriters can also maintain their profitability when they have a clear scope.
This is because it helps set realistic estimates for the project price. Below are some of the factors determining the scope of a copywriting project.
Type of project e.g., sales page or TV script
Additional non-word elements such as tables, figures, and references
Number of revisions
Expected turnaround time
Number of face-to-face or virtual meetings necessary to complete the project and their duration
Deliverables such as the number of pages or words
Some copywriters make the mistake of diving into a project with an ill-defined scope. This affects the relevance, usefulness, and applicability of the copy.
The copy may become extremely technical or not technical enough. It may also fail to offer the exact value it should offer the target audience.
5. Research
Copywriting involves intensive research about products, services, and the target audience. Knowing everything there is to know about a product or service is vital to writing relevant copy that converts.
This level of research helps the copywriter acquire knowledge in a wide variety of areas. Over time, copywriters can become experts in a profitable niche.
Once they have a baseline of knowledge it will make work easier for subsequent projects in the same area.
Although intensive research is valuable, it can also be challenging and time-consuming, especially when working under tight deadlines.
It can also get hectic if you're dealing with a new subject that you are unfamiliar with.
6. The money
Another important aspect of being a copywriter is the money one can make. You should be aware of this from the beginning, so you can know what to expect if you decide to become a copywriter.
The amount of money earned varies from person to person and it depends on a variety of factors.
Agency copywriters earn an average salary ranging from $47,000 to $88,000 per year. For in-house copywriters, the salary ranges between $48,000 and $84,000 per year on average.
Finally, freelance copywriters can be found in any earning bracket, with about 20% making over $100,000. But generally, the average copywriter's salary is $62,170 per year, according to AWAI.
Data shows that the highest-paid 10% of copywriters make over $121,000 per year while the lowest paid 10% make below $37,000 per year.
Wrapping Up
Copywriting is a great career choice because it enables you to utilize your talent and skills to create actionable copy. It is also fulfilling to see your ideas in action when your copy gets published.
Better yet, there are several paths to success, and you can work freelance, in-house, or for an agency.
However, copywriting poses some challenges, such as writer's block and the struggle to get your work approved. You may also have to wait anxiously for feedback from your clients.