Do you have a funnel and want to increase your conversion rate? Each funnel has many facets, and it can be hard to determine where you should direct your focus. However, there is one characteristic that can greatly increase your conversions.
Focusing on existing customers is the key to funnel conversions. Customers use social media platforms to share their opinions and experiences about brands. By ensuring that your existing customers are satisfied and engaged, you are gaining free and effective marketing through word-of-mouth.
Happy customers are the key to any successful business. So if your funnel focuses on retaining existing customers, you'll experience more success and gain loyal advocates. Read below to learn how to do this!
Repeat Customers
Many funnel strategies are becoming obsolete and ineffective due to their focus on new customers.
As a result, these companies often miss out on the opportunity to capitalize on their previous or current customers.
These customers have already made a purchase; hence they have forged a relationship with the business.
Enrichening these relationships with existing customers saves time and effort, plus it's a cheaper strategy overall.
To do this, businesses have to offer incentives that are tailored to the interests of their existing customers.
These incentives could be discount codes or coupons that are part of a promotional marketing strategy. In addition, continue to engage with customers after their purchase(s).
This could be through email newsletters, loyalty programs, and trigger-based responses.
You can also add recommendations of relevant products to confirmation emails if you want to push new products.
1. Profile Your Existing Customers
Your funnel strategy needs to be relevant to your customer base. You can do this by targeting the audience's desires, needs, and thoughts.
Then, after performing market research and analyzing consumer behavior, you can make informed decisions.
If you create accurate profiles, your existing customers will feel seen and relate more strongly to the brand.
For this purpose, consider creating an audience persona. This would assign a face to your current customers by identifying their fears, problems, and aspirations.
In this way, your consumer base will continue to connect with the brand and may even begin to associate the brand with their own identity.
For this tactic to succeed, you must regularly perform market research and adjust your audience profiles.
Customers change over time, and there are external factors that impact their choices. Your data should reflect this.
2. How Can Landing Pages Promote Repeat Purchases?
Your landing pages can convince your existing consumers to engage with or commit to the brand.
Effective landing pages not only increase conversions but improve SEO ranking, optimize the buying process for customers, and serve as promotional avenues for new or upcoming events and products.
Since landing pages can be used for different purposes, they need to be designed to fit your brand while keeping in mind the diverse needs of your current customers.
Be sure to include things like:
Attention-grabbing headlines: Design the text according to what your existing customers want to hear. Relatable copy can touch pain points and make customers feel like the brand caters to their needs.
Strong visuals: You can develop a good relationship with your current consumers by using visuals that make them feel strong, inspired, hopeful, etc. A consistent brand voice, style, and tone lets customers know they can trust your brand.
Incentives: How are you continuing to provide value to your customers? How does the brand connect with its customers? These questions should be answered through creative subheadings, text, and valuable offers on your landing pages.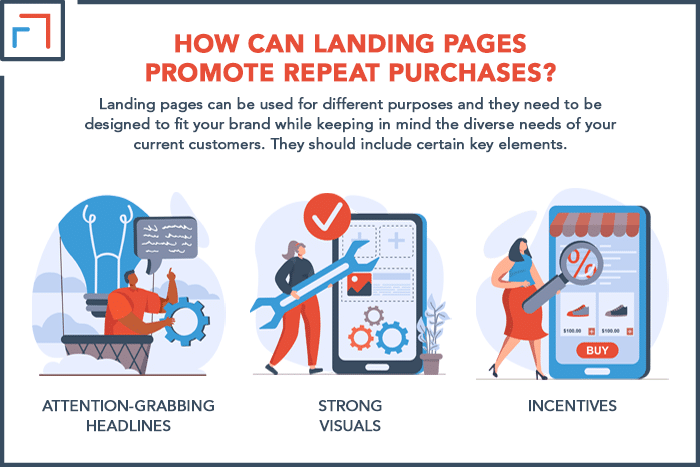 3. Using Email Marketing To Increase Customer Retention
There are several ways that email marketing strategies can strengthen brand and customer relationships.
For instance, emails create a direct and personal line of contact with customers even after they make a purchase.
You can use updates on products, special collaborations, or periodical reminders for products such as shampoo, soap, shaving razor blades, or anything that may need to be renewed every month.
Trigger-based emails are more relevant to the needs of existing customers.
For instance, let's say your current consumer goes to your website and looks through new products but doesn't purchase anything.
An automated email could be sent to the customer with an updated product catalog and some customer reviews.
Your emails also should focus on building and improving relationships.
You could send customized and targeted emails with milestone offers, as well as birthday or anniversary discounts.
Keep yourself fresh in customers' minds by sending details about new offers, promotions, and coupons.
Emails can also include informative and relatable blog posts that the customers would be interested in.
This will ensure that your existing customers continue to engage with the brand across a variety of platforms.
4. Using Testimonials & Case Studies To Bring Back Customers
In an influencer-dominated digital market, it comes as no surprise that testimonials promote funnel conversions.
User-generated content is on the rise, and companies are starting to use it more than other content creation strategies.
Owing to digital social media platforms such as TikTok, Instagram, and Facebook, consumer bases are more connected and vocal about their needs and experiences.
You can use this trend as an opportunity to establish brand loyalty.
Focus on improving the customer experience and motivating customers to share their personal journey with the brand.
Make statistics and data interesting and convincing through case studies. Include testimonials and case studies on your company's landing pages.
This will bring existing customers back to your landing pages because of the vocal endorsement they've seen from other customers.
5. Provide Constant & Positive Customer Support
In case your customers have questions or complaints, you need to provide support through the website or email.
Include a section within your landing page for FAQs. This will support your funnel strategy by addressing customer concerns.
Moreover, customers will perceive the business as approachable and consumer-focused if contact details such as store address or phone number are included on the web pages.
You should also take advantage of advanced AI technology by using live chats on the website and offering co-browsing to assist your customers.
In addition, demos and tutorials are a great way to help customers use products and services while minimizing their frustration.
Most importantly, ask for customer feedback through surveys and reviews.
This will provide helpful data and make customers feel comfortable with the business.
6. Why Are Major Brands Focusing On Customer Retention?
By focusing on customers who have already made a purchase, your business can predict consumer patterns and spot effective strategies.
This provides reliable data for a company to use for future strategies.
Brands like Uber have used referral programs to incentivize customers to continue using their service.
This approach not only brought new customers but also retained existing ones.
Amazon Prime uses a loyalty program for its customers by providing them free shipping for products and services on Amazon.
This encouraged their customers to continue to choose Amazon Prime over other market competitors.
Another significant example is Apple and how it continues to deliver an unforgettable brand experience to users.
This experience is so unique that Apple users fiercely defend their choice and purchase entire sets of Apple products when their wallets allow it.
Businesses need their customers to support their brand identities, and customer retention strategies do just that.
Final Thoughts
Retaining customers is essential to the success of funnels. Digital marketing is the strategy that dominates the current market infrastructures.
So your funnel should be designed to adapt to the dynamic nature of the digital world.
Word of mouth and customer reviews have become popular channels of marketing.
Consumers can become loyal advocates for businesses and extend the brand experience.
User-generated content is not only free but also more effective since the target audience trusts customers more than the corporation itself.