There are several popular methods out there you can follow to hone your copywriting skills. One of them is the famous AWAI method. But you may wonder what the AWAI method is, what it entails, and how it works.
The AWAI method is a copywriter training program created by the American Writers and Artists Institute. The program uses a unique teaching approach called G.R.A.S.P. that empowers copywriters with all the skills and knowledge they need in the field. AWAI involves applying and perfecting your skills.
In this post, we will dive deeper into what the AWAI method entails, what you will get out of it, and how you can get started with the program. Let's dive in!
What Is AWAI?
AWAI is an acronym that stands for American Writers and Artists Institute. It is one of the largest worldwide copywriting organizations and has been serving copywriters for a long time. It is also the go-to place for many companies that want to hire skilled writers.
In the 24 years since they were founded, AWAI has trained over 10,000 successful copywriters.
As a result, many trainees have been able to quit their regular day jobs and enjoy comfortable lifestyles that come with the perks of working independently.
AWAI offers several training programs to empower copywriters to become industry experts.
Some of these programs include the AWAI method, the writer's starter kit, and the accelerated program for 7 figure copywriting (among others).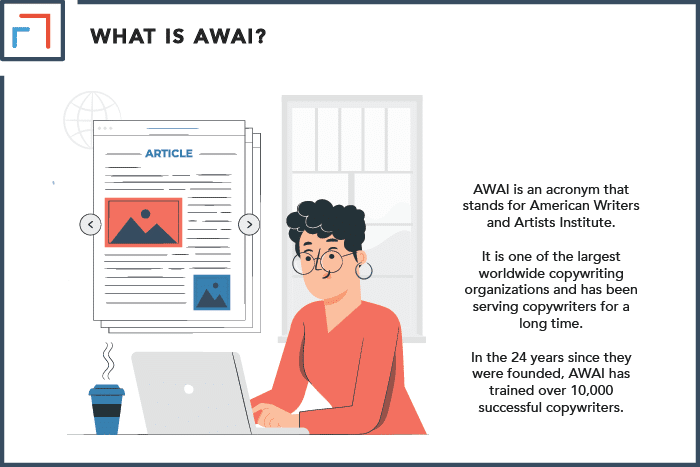 The AWAI Method
Termed the industry's 'New gold standard' in copywriter training, the AWAI method is a training program launched by AWAI to transform people into skilled, in-demand copywriters.
The AWAI method program packages everything you need to know about copywriting into a series of videos.
Watching and following along with these videos will help you launch and run a successful copywriting business in a short period of time.
The program encompasses skill acquisition, formula mastery, and project writing. All together, these are the basic building blocks of a successful writing career.
1. What Does The AWAI Method Entail?
The program is packed with plenty of learning activities. Below are details of what is included in the method.
20 lessons presented in their revolutionary G.R.A.S.P approach
Insider guides that reveal the top 9 niches and much more
Member Success team support throughout the program
Access to a private members-only Facebook Group
40 assignments that all receive expert feedback
Access to a premium job board
Learning Through The G.R.A.S.P Approach
The G.R.A.S.P approach is deeply rooted in the "learning by doing" technique.
The approach is grounded on scientific studies that have proven that presenting learning material in smaller chunks makes it easier to absorb. The G.R.A.S.P acronym stands for:
G- Get
R- Retain
A- Apply
S- Strengthen
P- Perfect
The training begins with instructors delivering concepts to the trainees using traditional methods.
At this phase, students are expected to 'Get' and understand the writing concepts that have been defined for them.
Next, trainees should retain their knowledge by studying how real-life copywriters use the concepts that were covered earlier.
Afterward, trainees answer quizzes and tackle hands-on assignments to ensure these concepts will never be forgotten.
After retaining knowledge, trainees will apply this knowledge to handle real-life copywriting projects that they could expect to find in the workplace.
After writing copy, students submit it for instructor review. This feedback process improves the quality of the work.
Finally, students will perfect their work by responding to the feedback and making the necessary adjustments. They must edit, revise, and include additional knowledge they learned from other exercises.
This approach may seem a bit formulaic, but AWAI has repeatedly proven that it works. It is not only engaging and fun, but it also motivates you to keep going and become better with each passing session.
2. What You Will Get Out Of The AWAI Method?
Enrolling in the AWAI method has many benefits for your writing career. Below are some benefits you will experience if you invest in the program.
A Chance to Write Real-World Copy
With the program, you will not only learn how to write persuasive copy, but you will write actual copy that clients need. During your educational period, you will write five of the most demanded types of copy.\
These include blog posts, landing page copy, online ads, emails, and short sales pages. You can use the copy you write for your campaign.
Better yet, you have the option to receive feedback from professional copywriters and content experts. Then, after reviewing their notes, you can polish your copy.
A Portfolio Containing Five Professional Samples
After writing various types of copy during the training, you will have a complete portfolio of well-written samples.
You can use this portfolio to pitch your services to clients. You can also publish it on your website to showcase your skills.
Ability to Launch Your Business and Land Well-Paying Clients
Getting clients is one of the greatest challenges that new copywriters face. The AWAI method helps you land on your feet once you finish it.
The program includes an entire section dedicated to helping you find a job and network with new clients. But the fun doesn't end there!
AWAI has made it possible for students to access a 21-day challenge for acquiring clients by the client acquisition specialist Ilise Benun.
She has over 30 years of experience helping writers overcome client acquisition-related challenges.
It is worth noting that it costs $497 to access the renowned 21-day challenge. However, enrolling in the AWAI method gives you free access to this course.
Access To A Premium Job Board
AWAI has created a WritersWanted job board to accommodate new and mid-level skilled copywriters. The portal has over 3,000 hand-picked jobs from all over the world, and it covers several industries.
As a WritersWanted member, you can create a profile to showcase your skills, samples, and training. You can also set notifications for specific jobs and get an alert when a new one is posted.
Other Bonuses
Information about nine niches where skilled copywriters are highly demanded
75 in-demand copywriting projects
Modern examples of winning direct response copywriting
Digital marketing crash course
3. How Can You Start The Awai Method Program?
To start the program, you must pay a flat fee of $297. The good news is you do not have to pay the full price all at once.
You can get started with only $59.40 and pay the rest in a series of four monthly installments. Once you make the first payment, you can access everything the program has to offer.
You can also cancel at any time if you do not like the program or apply for a refund if you feel that the course isn't helping you.
Wrapping It Up
The AWAI method offers students everything they need to become skilled and highly demanded copywriters.
This training method is like no other because it ensures that you understand and apply the key concepts and skills of copywriting. You will walk away with experience writing real-world copy.
You'll also have new skills and information about the copywriting market. Additionally, there is plenty of support that will help you find clients and land a good copywriting job.