ClickFunnels is a powerful tool that many businesses use to increase their revenue. It includes several tools and features that are helpful for marketers, but what is it really used for?
ClickFunnels is primarily used to create robust sales funnels. Other uses include creating landing pages to capture leads, building sales pages and order pages for a smooth purchase experience, creating upsell pages to scale your revenue, and setting up membership sites to build customer loyalty.
In this post, we'll take a look at some popular uses for ClickFunnels so that you can get an idea of how this tool can benefit your business. It's powerful and flexible, so it's a good fit for most people.
Common Uses for ClickFunnels
1. Sales Funnels
A sales funnel is a process that takes a potential customer from gaining awareness of your product or service to becoming a paying customer.
Typically, a sales funnel will have several steps, each designed to move the customer closer to the final purchase.
ClickFunnels allows you to create beautiful sales funnels that are optimized for conversion.
With just a few clicks, you can select from a variety of templates and then customize the funnel to match your brand.
You can also add in various elements to increase the effectiveness of your funnels, such as countdown timers, video backgrounds, and more.
The best part about using ClickFunnels to create sales funnels is that most of the process is automated.
Once you've set up your funnel, all you need to do is drive traffic to it and make adjustments from time to time.
This frees up your time so that you can focus on other aspects of your business.
Plus, there's a wide variety of funnels, so you can find something that works for your business, no matter what type of products or services you sell.
2. Landing Pages
Landing pages are standalone web pages that are designed to change casual visitors into invested customers.
A lead capture form is typically included on the page.
This is where you will collect the contact information of those who are interested in what you're offering.
ClickFunnels makes it easy to create beautiful landing pages that are optimized for conversion.
With just a few clicks, you can select from a variety of landing page templates that have been designed by conversion experts.
If you're not a designer or coder, ClickFunnels also makes it easy to create custom landing pages without touching a single line of code.
The visual drag-and-drop editor makes it easy to add or remove elements from your pages, and you can easily tweak the layout to ensure that your pages are optimized for conversion.
3. Sales Pages
Aside from sales funnels, sales pages are perhaps the most popular use case for ClickFunnels.
These pages are designed to increase conversions by providing customers with a personalized, streamlined purchase experience.
Sales pages are usually created using a template and are then customized to fit the specific product or service you're selling. They typically include elements like:
A headline
An opt-in form
Images or videos
Testimonials
A call to action (CTA)
Sales pages are effective because they make it easy for potential customers to see the value in what you're selling, and they provide a straightforward way to purchase it.
If you're selling a physical product, you can use a sales page to take customers through the process of adding the product to their cart and checking out.
If you're selling a digital product, such as an online course, you can still use a sales page to provide potential customers with all the information they need to make a decision and then allow them to purchase directly from the page.
And with ClickFunnels, you can do all of this without having to hire a team of designers and developers.
As the cherry on top, ClickFunnels also integrates with several major payment processors so that you can accept payments directly from your sales pages.
4. Order Pages
An order page is a type of sales page that is designed specifically for selling products or services that require shipping.
This is usually the last place a customer goes before they confirm their purchase and provide their payment information.
Order pages are similar to sales pages in that they're designed to increase conversion rates by eliminating distractions and making it as easy as possible for visitors to purchase your product.
The key difference is that order pages include all the information necessary to complete a purchase, including shipping information, product details, and pricing.
When using ClickFunnels, you can easily create custom order pages for your products and services with just a few clicks.
Plus, you can use the same order page templates for both physical and digital products, making it easy to sell anything from t-shirts to software licenses!
5. Upsell Pages
The heart of any good marketing funnel is the upsell.
An upsell is an additional product or service you offer to customers who have already purchased from you.
The goal of an upsell is to increase the average order value (AOV) of your customers.
You can do this by selling them additional products that complement their original purchase.
For example, let's say you sell an online course on 'How To Start a Blog.'
Your upsell could be a 'Made for You' blog setup service, where you agree to set up a customer's blog for them (for an additional fee, of course).
Or, if you sell a physical product, your upsell could be an extended warranty that offers customers an additional year of coverage beyond the standard warranty.
Upsell pages are designed to increase conversion rates by giving customers a personalized, relevant offer at the perfect time.
Timing is ultimately what makes an upsell so effective. The key is to offer your upsell immediately after someone has made a purchase from you.
That way, they're still in buying mode and are more likely to say yes to your offer.
With ClickFunnels, you can easily add an upsell page to your funnel with just a few clicks.
Plus, their 1-Click-Upsell feature makes it easy to create an upsell that's automatically added to a customer's order when they purchase from you.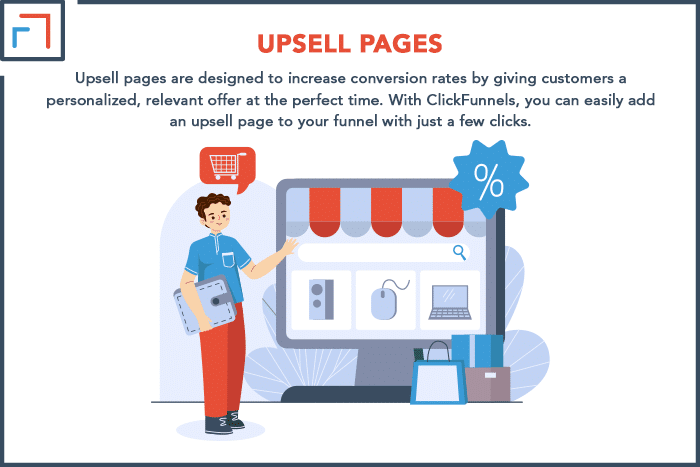 6. Member Sites
Have you ever wished you could put all of your online courses, ebooks, and digital products in one place so that your best customers could access them with a single login?
With ClickFunnels, you can easily create a 'member site' where customers can log in to access all of their purchased products.
Member sites help to increase customer loyalty and retention by giving members a centralized location to access all of their purchased products.
This is perfect for customers who have purchased multiple products from you, as they can easily find everything they need in one place.
Moreover, you can use ClickFunnels' powerful marketing automation features to send customers targeted emails with links to new products based on what they've already purchased from you.
This is an incredible way to increase sales and grow your business.
Conclusion
So there you have it! These are just a few of the many things that you can do with ClickFunnels.
As you can see, it's an incredibly versatile tool that can help you to grow your business in a number of ways.
Whether you're trying to build a sales funnel, create a dynamic landing page, or make an exclusive membership site, ClickFunnels can help.