If you are familiar with ClickFunnels, then you may have seen references to something called a tripwire. Of course, this isn't referring to something you use to trip people! It's a marketing technique that can be very useful for businesses.
A tripwire is an irresistible, low-cost offer that's designed to persuade your target customers to purchase a more expensive product in the future. The low-cost offer usually requires minimal commitment, so it keeps customers coming back. Along the way, businesses can offer upsells and collect contact information.
In this post, we will discuss what a tripwire is, how it works and how it can help your business. Tripwires are a useful tool to have in your pocket, so let's get started.
How Does a Tripwire Funnel Work?
A tripwire works using 3 main parts. These three parts include a low-ticket price offer, a high ticket offer, and a thank you/confirmation page.
First, you offer your customers a low-ticket offer that usually costs between $5-$50. The price varies depending on the type of product or service.
Most offers at this point tend to cost around $10. This offer is geared towards turning your prospects into customers.
If the prospect likes your offer, they will proceed to the purchases page. Once on the purchases page, they will see your higher ticket offer.
They may or may not choose to buy it at that point.
Fortunately, even if they do not buy the high-ticket offer, you will have collected their email address from the low-ticket purchase.
On the other hand, if your customer makes a purchase, you can make a time-bound offer. This offer should be one of your more expensive products.
Adding a countdown timer to your offer is a great way to trigger their fear of missing out.
Finally, following a successful high-ticket purchase, direct your customers to the thank you page and show your appreciation for them.
If they don't buy your high ticket offer, you can also send them a mid-ticket offer.
If they still don't buy, you will have collected their email from the first purchase. With email addresses, you can build relationships and increase trust.
Besides, you can later send them promotions, seasonal products, and product launches.
Here is a summary of how a tripwire funnel works:
Lead magnet> tripwire funnel> one time offer> thank you/confirmation page> email autoresponder> email follow up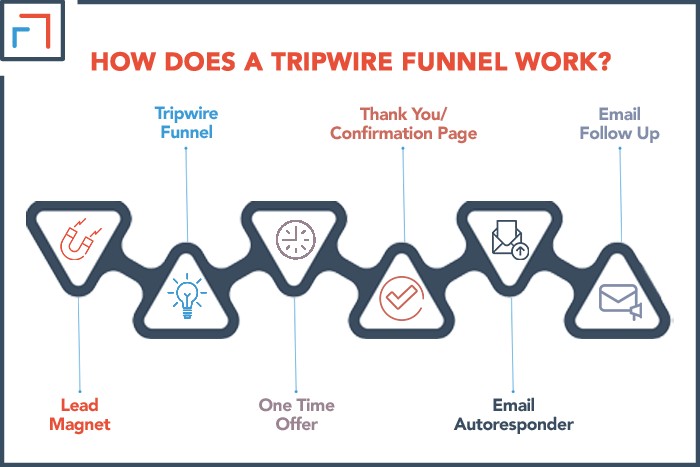 Why Do ClickFunnels Tripwires Make an Effective Marketing Strategy?
Tripwire funnels are a powerful marketing strategy because they pay for themselves, grow your email list, and boost your sales. With an email list, you can build relationships with your audience and continue marketing to them.
Let's take a closer look at each tripwire benefit.
1. Tripwires Pay For Themselves
One of the best things about tripwires is that it doesn't cost hardly anything to use them.
The initial lost-cost ticket is priced to cover the advertising costs needed to attract traffic.
Moreover, if you are getting lots of traffic from your organic content marketing efforts, your low-cost offer will more than pay for your advertising expenses.
With the extra cash, you can pay for your tripwire software and any other marketing tools you need.
2. They Grow Your Email List
It is no secret that email marketing is an excellent way to market your business. Tripwires ensure you achieve success by growing your email list.
Prospects have to join your mailing list before they can access the low-ticket offer.
Email marketing is great because it gives you complete control over the conversation.
In addition, email service providers are more stable than social media platforms that can get suspended or shut down.
Furthermore, tripwires encourage customers to buy from you again, boosting your conversion rate.
3. They Increase Sales
The primary goal of tripwires is to convince customers to purchase high-cost products over time.
Plus, you get people to buy more overall by valuing your products as low-ticket, mid-ticket, and high ticket.
Types of Tripwire Funnel Offers
A successful tripwire will make an irresistible initial offer to attract clients. There are a few different ways to achieve this goal.
Some may be better suited to your business than others. To help you make a great initial offer, here are some ideas/ common types of tripwires.
1. Free Plus Shipping
Offering a free product with shipping is an excellent way to increase demand for your product.
You need to provide a product for free (as long as the customer pays for the shipping costs).
For example, you can offer your $20 photo album for $0.00 and simply ask the buyer to pay for shipping.
2. Bundled Products
Bundled products also make excellent tripwires.
To create a bundled product, combine related products into one bundle and sell them as a single product at a lower cost.
For example, if you sell computing devices, you may bundle up mousepads, external drives, and data cables and offer them at a lower combined price.
This way, the buyer will save money on the bundle sale compared to buying each item individually.
In addition, your business will get more money because you sold more products than just the single one.
Like other offers, be sure to add a time limit and display the discounted prices.
3. First Time User Discounts
Offering discounts for the first week, month, or year is another attractive tripwire strategy. Customers receive discounts for a specified period.
Once the free/cheap trial has ended, they need to start paying in full.
For example, if you offer software subscriptions for $89 per month, you can lower it to $35/month for the first year only.
Once people have the chance to try it, they are more likely to invest in the upgrade later on.
Other examples of tripwires include:
Products with free trial periods
Free demos for a limited time
A version of your main course with fewer benefits
A free section/passage of a book
Low-cost webinars
Is a Tripwire the Same as a Lead Magnet?
Even though both are common marketing terms, a tripwire is not the same as a lead magnet. Lead magnets and tripwires both help generate leads, but they have different purposes in the funnel. Lead magnets are free incentives for capturing leads, while tripwires are paid offers that directly impact your sales.
In addition, lead magnets are usually permanent, while tripwires are one-time deals. Once the time is up, they are gone for good.
For instance, surveys and newsletters can get a customer's information, but they cannot lead them to an upsell.
On the other hand, tripwires can direct prospects to an upsell without compromising trust.
Therefore, tripwires act as a special kind of lead magnet since they still capture contact information even if the customer doesn't buy an upsell.
Tripwires in ClickFunnels
The primary reason for using tripwires is to pitch your best offers to as many customers as possible.
As a result, tripwires generate more leads and conversions compared to other lead generation strategies.
Moreover, tripwires work perfectly in the ClickFunnels platform.
Just like other template blueprints in ClickFunnels, the tripwire templates have been tried and tested.
Similarly, you can use the ClickFunnels drag and drop feature to make your tripwire.
Now that you understand what a tripwire is and how it can help your business, it is time to learn how to create one.
Luckily, building a tripwire funnel in ClickFunnels is simple and easy. Here are the steps to follow:
Step 1: Research Your Product
Before you head over to ClickFunnels to create a tripwire, you must first have a product in mind.
A tripwire funnel begins with making a low-ticket offer to draw your audience in.
Therefore, before creating your offer, choose your product and the format you will use.
Your initial offer must ignite the desire of your audience. Otherwise, they will not show interest in your low-cost offer, let alone your high-cost products.
As such, you will need to conduct some research to find out which product may resonate with the audience's interests.
You will also want to decide on the quality of the product you will offer. It may be tempting to use something of a lower quality because of its low cost.
However, customers will like it better if you can demonstrate the value of your product at a cheap price.
Therefore, strive to offer quality so you can build a good brand reputation.
Besides, offering good quality from the beginning will give your customers the confidence to commit to your high-end offers.
Step 2: Choose a Template
Once you have decided on which product to offer, it's time to choose a ClickFunnels tripwire template.
ClickFunnels has a wide range of templates to select from. Therefore, feel free to choose one that closely resembles what you envisioned.
Afterward, you can fine-tune it to better suit your needs.
To choose a template, go to your ClickFunnels dashboard and select 'New Funnel'
Next, choose a goal. In this case, it should be 'Sell a Product'
Give your new funnel a name and select a group tag
Click on 'Build Funnel'
From the sales menu, select 'Tripwire'
Finally, select your preferred template from the next window
Step 3: Create Your Offer
After selecting a template, you need to modify it to suit your brand message and offer. Start by changing the text, images, and general appearance.
Afterward, add key elements such as your company logo, slogan, pictures, and call-to-actions.
Once done, the system will generate a two-order form for your tripwire product.
Your customer will fill in their shipping and billing details in the form to access your low-cost offer.
Therefore, you need to verify the accuracy of the details provided.
After collecting the customer details, edit your upsell page. This is where you need to present your signature pitch about your high-ticket offer.
Tell your customer how it will benefit them. Additionally, add a time limit to trigger a sense of urgency.
With their contact details available, customers can now opt into your upsell with a single click.
Next, edit your downsell page. If your customers do not buy your upsell offer, you can redirect them to a mid-ticket offer on your downsell page.
Finally, fill out your thank you page. This is where you direct your customers once they make a purchase.
Create a friendly message acknowledging your customer for their purchase.
Note that the two-order form, upsell, downsell, and thank you pages are already pre-built. All you need to do is customize them as needed.
Once done with the edits, confirm the changes, then publish the funnel.
Congratulations! Your ClickFunnels tripwire is now live and ready to generate leads and sales.
Now you can start promoting your funnel and attracting new prospects.
Successful Tripwire Tips
It is not enough to just create a tripwire in ClickFunnels. You want to ensure it is as successful as possible.
Here are some tips to make your tripwire more effective, as well as some mistakes to avoid.
1. Ensure Your Tripwire is Relevant to the Lead Magnet
Usually, a lead magnet collects contact information while a tripwire pushes a warm lead further toward conversion.
Therefore, you want to ensure your tripwire is a product related to the lead magnet.
For example, if you offer a template for writing a business plan as your lead magnet, you cannot offer social media marketing as your tripwire.
The key to making relevant tripwires is to ask yourself whether people who are interested in your lead magnet would also be interested in your tripwire.
The two should work toward the same goal.
2. Use Entry-Level Prices
When pricing your tripwire, remember that your leads just signed up for a free lead magnet. Therefore you cannot go from free to over $100.
Ideally, you should keep your low-offer prices below $30. But, of course, this does depend on the type of product you are dealing with.
In addition to pricing, let prospects know the offer is a one-time opportunity that only lasts for a limited time.
Nothing makes people convert faster than the fear of missing out.
Timing your offer creates a sense of urgency and scarcity, thus pushing people to pull out their wallets.
Let them know it's a rare opportunity, and if you ever offer it in the future, the price will be higher.
3. Place Your Tripwires Strategically
People won't buy what they don't see. Therefore, you need to ensure you place your offers where your potential customers can see them.
The best way to stage your tripwires is at the beginning and end of your sales funnel. Better yet, you can use pop-ups to ensure it is visible.
In addition to proper placement, ensure you highlight the key features of the offer. This way, people will know what they are signing up for.
Furthermore, pointing out the key features makes the offer irresistible.
4. Mistakes to Avoid
While trying to make your tripwire successful, here are some mistakes to avoid:
Failing to include a clear call to action
Not targeting your offers at a specific audience
Creating complicated and time-consuming offers
Offering low-quality tripwires
Wrapping Up
Marketing your brand is challenging due to customer empowerment and stiff competition.
Fortunately, tripwires make it easy to attract and convert leads without being too pushy.
In addition, tripwires make your customer conversion process easier and more fruitful.
By designing your funnel well and placing your offers strategically, you can make a significant impact on your customers.
Better yet, ClickFunnels makes it easy to create an attractive tripwire. In addition to designing your funnel, use email marketing to build better relationships.
Now that you understand what a tripwire is and how it can improve your business, you can create your own with ClickFunnels.