Using a sales funnel in digital marketing has a great impact on the decisions of the consumer. But to reap the benefits, you must understand the strategies involved with using a sales funnel in digital marketing.
A sales funnel in digital marketing is a strategic model that depicts a person's purchasing process, from the time they first learn about you until they become customers. Because many businesses employ this idea, it has evolved into a crucial tool for the attainment of marketing initiatives.
This post discusses everything you need to know about a sales funnel in digital marketing. It's a different world compared to the old days of traditional marketing, so pay attention to the different tactics.
Why Is A Sales Funnel In Digital Marketing Important For Your Strategy?
Using a sales funnel for your digital marketing practice can provide a ton of value to your business.
Below are some of the ways a funnel can improve your marketing efforts.
1. It Helps In Segmentation
The first and most important benefit that comes from sales funnels is that they help you better segment your marketing efforts.
With their help, you can also target content, advertisements, and other information that will be helpful to your potential customers.
As a result, lead generation tasks are completed quickly. This provides your sales team with more qualified leads and simplifies the difficult task of conversion.
In addition, when the funnel is used properly, it allows you to stay closer to your leads and remain helpful to them throughout their journey.
2. It Helps To Boost Your Team's Productivity
The sales funnel provides a streamlined framework for every professional to follow.
In turn, this enables your team to focus better and complete their tasks as intended. The timely completion of tasks leads to a more efficient workflow.
For instance, if a section of your team is tasked with providing the right content at the right time, they will be able to do so because they know what is expected of them beforehand.
Hence, they can prepare for the task in advance.
On the same note, since the key role of the sales funnel is segmentation, you will be able to channel your communication appropriately.
As a result, you will be able to address the correct audience and offer suitable content throughout the various funnel stages.
3. It Makes Good Use of Your Resources
Since leads need time and nurturing before they are ready to move to the next stage, their content needs will vary across the funnel stages.
For instance, leads may need an ebook at the top of the funnel, but they may not need it once they hit the bottom of the funnel.
Knowing this, the business can allocate resources properly, hence improving your bottom line.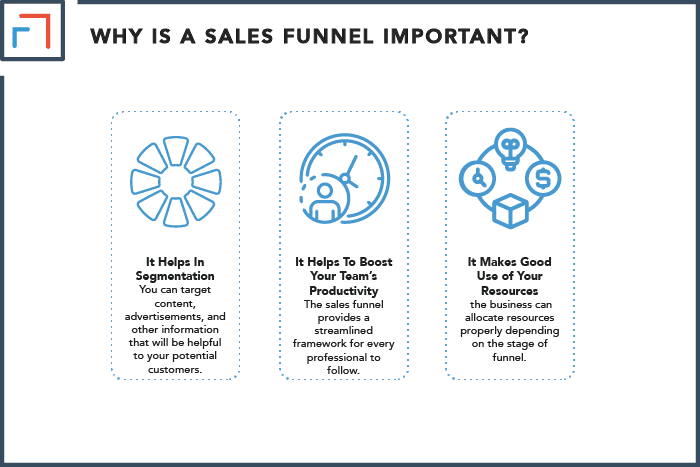 How To Create A Sales Funnel In Digital Marketing: What Should You Include?
When it comes to creating a digital marketing sales funnel, understanding its components is crucial. The funnel is made up of three main components, including the foundation, floodgates and the sales funnel stages. Let's look at these components in detail.
The Foundation: Defining Your Sales Funnel
The foundation forms the base for building a sales funnel for your digital marketing strategies.
It involves researching, identifying, and building a strategy that you will use to make your sales funnel more efficient.
If you skip this step, your sales funnel might fall short in some areas.
Some of the key areas to research include analyzing your competitors, defining your buyer personas, and creating SMART goals.
When developing buyer personas, there are several aspects to consider.
Some of the critical buyer persona aspects you should look at include age, gender, content preferences, work roles, geographical location, and challenges.
All these aspects work together to help you identify your audience's behavior and habits. Once you have this data, you can create a value ladder.
With the insights from your research, you'll then be able to map out your sales funnel.
The Floodgates: Attracting Traffic To Your Sales Funnel
The floodgates refer to where you will get traffic from for your sales funnel.
So, this section has to do with all forms of marketing strategies to create awareness and get people to enter your funnel.
The more sources of traffic you get, the better your sales funnel will perform. Below are some of the traffic sources you could leverage.
1. Social Media Marketing
Social media marketing is among the most effective ways to drive traffic to funnel landing pages.
This is because social media is influential and is used for a wide variety of purposes.
Some people also use it to seek product recommendations, so it's a great way to put your name out there.
If you choose the proper channels and tools, you will be able to attract tons of traffic.
The right social media channels should be the ones where your prospective audience hangs out most of the time.
Marketers should avoid using irrelevant channels just because they prefer them or because other businesses are using them.
The following tips will help you get good levels of traffic out of your social media marketing strategy.
Post content that is informative and relevant to your niche.
Ensure your content is entertaining since social media is all about fun. You can add some humor to your post while still following your business culture.
Encourage interactions by responding to messages, comments, or questions. You can also go the extra mile and create polls and surveys.
Post superb content regularly, then throw in an occasional offer/promotion to persuade your audience to join your sales funnel.
2. Email Marketing
Even with the emergence of fast communication tools like social media and mobile apps, email marketing still rocks.
It can help you direct traffic into your funnel and nurture them. Essentially, you get to collect email addresses by offering some kind of freebie in exchange.
After creating a list of subscribers, you can start running campaigns that will prepare your audience for your main offer.
For successful campaigns, you need to be proactive in tracking and analyzing data to make improvements.
You can also use email marketing software to make your work easier. First, it can help automate your work, so you get time to focus on other aspects.
Besides, it can help you track important metrics such as email open rates. Below are a few quick tips to help you boost your email open rates.
Infuse a sense of urgency to let your audience know they will miss out on a special offer if they wait too long.
Add personalized elements to make your audience curious about what the email can do for them.
Allow your subscribers to choose how they want to hear from you. This freedom will encourage your subscribers to stay on your list.
3. Content Marketing
Although content marketing is not so good for raising conversions, it is highly effective for driving traffic.
So it is a must-use strategy if you want to generate traffic for your funnel.
The key goal here should be to get your reader to move a step closer to joining your funnel, e.g., by joining your mailing list.
To give value to your readers, use various forms of content such as blog posts, podcasts, videos, whitepapers, case studies, etc.
Similarly, your core goal here should be to establish lasting relationships with your visitors and build credibility.
Ultimately, you should aim to build a library of knowledge that will remain useful over time.
Moreover, with more content on your site, visitors will view you as an authority figure in your niche. In turn, this will encourage more people to join your funnel.
4. Search Engine Optimization Marketing
Unlike content marketing, the goal of SEO is to get your brand to rank better on the search engine results pages to improve visibility.
Subsequently, the higher you rank on the SERPS, the higher the chances of gathering more traffic for your sales funnel.
To rank well, you need to research keywords and key phrases used by your target audience when they perform online searches.
By using the exact words, you increase your chances of nailing the user intent.
Although SEO is effective at driving organic traffic, it can be challenging to get right. Below are a few tips to help you get the most out of SEO.
Formulate a good content strategy and use it in tandem with keyword research to offer valuable content.
Stay tuned in for changes in Google's algorithms.
Ensure your content is indexed correctly.
5. Pay Per Click (PPC) Advertising
Also referred to as Search Engine Marketing, the key goal of these advertisements is to get your brand at the top of the SERPs.
Although it is a short-term strategy, it can quickly drive traffic to your sales funnel, hence saving you time.
At the end of the day, the amount of money you spend on this form of advertising depends on the level of competition for your target keyword.
The more competitive a keyword is, the more you will have to pay for the ads.
To get the most out of your investment, conduct keyword research to help you run ads that are more likely to bring in results.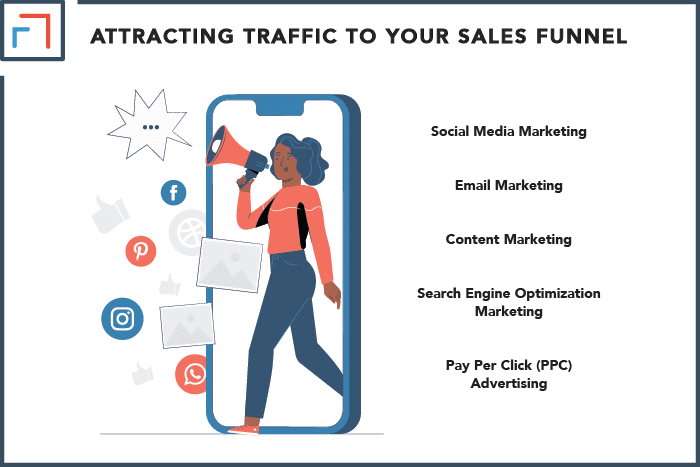 The Sales Funnel Stages: Moving Traffic Down The Funnel Stages
After laying down your funnel strategy and generating traffic, you need to drive that traffic down the funnel to convert them into customers.
The sales funnel in digital marketing is made up of three key stages, namely the top of the funnel, middle of the funnel, and bottom of the funnel.
Let's take a closer look at the sales funnel stages.
1. Top Of The Funnel – Lead Magnet Stage
The traffic that you gathered above will land on your landing page. When they arrive, you should have a lead magnet waiting for them
They will need to give you their email address in exchange for the lead magnet. A lead magnet could be anything that provides value to your leads.
Common examples include ebooks, webinars, whitepapers, case studies, and cheat sheets.
Regardless of the type of lead magnet you choose, ensure it is a high-value offering.
If your leads read it and find it useless, they won't proceed further down your funnel.
Additionally, ensure your landing page is free from distractions and that your main focus is on the offer.
In addition, you should use bold and attention-grabbing headlines to ensure your offer is visible.
The fundamental goal of this stage is to get your leads to move to the next stage of your funnel.
To help them move forward, track metrics that show the movements of leads from the top to the middle stage of the funnel.
One such metric is the click-through rate (CTR).
The CTR metric can give you insights concerning the effectiveness of your traffic generation tactics, so you can optimize them to perform better.
2. Middle Of The Funnel
The core focus of this stage is to entice your prospects to stay in the funnel.
This means you need to engage them by providing more value, so they remain interested. Make sure to let them know that you can help address their pain points.
Some of the content forms you can use include videos, client reviews, testimonials, and social proof.
These tools should help you steer your prospects to the bottom of the funnel.
3. Bottom Of The Funnel
The final stage in your funnel is aimed at converting your prospects into paying customers.
To convert as many prospects as possible, ensure your conversion process is simple and persuasive.
If the payment procedure is long and complicated, your prospects will leave your funnel.
One way to simplify the conversion process is by ensuring the call to action button is conspicuous and has a bold message.
Additionally, consider making forms straightforward and to the point. Only collect the information that you need.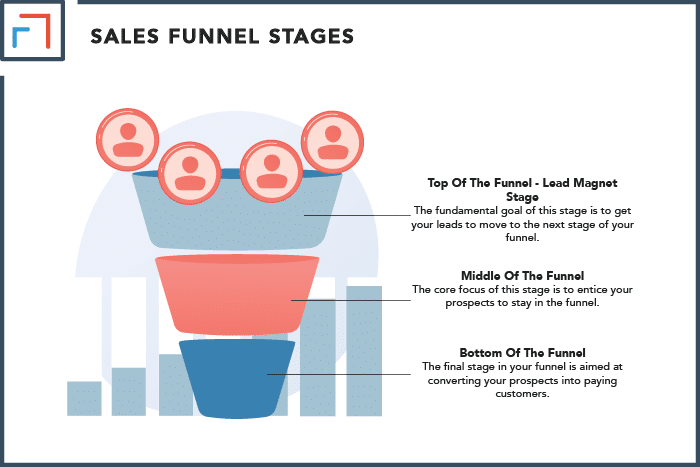 Common Mistakes Associated With The Sales Funnel In Digital Marketing
If you make mistakes when creating or using a sales funnel in digital marketing, they may have dire consequences.
Below are some common mistakes you need to avoid if your goal is to generate more revenue.
1. Adding Too Many Items to Your Funnel
Most digital marketers end up adding several steps to their funnel in a bid to capture as many prospects as possible.
While the additional steps might seem like a good thing, they end up distracting and confusing the prospects.
For instance, instead of including multiple call-to-action buttons, aim for a single major one (or two at most).
It's better to have a single effective step as opposed to several ineffective ones.
2. Misinterpreting or Skipping Analytics
Many marketers shy away from running analytics, or if they do, they fail to read the data. This leads to a series of challenges like stagnation and reduced income.
So as a digital marketer, embrace analytics because they can help you continuously optimize your funnel.
3. Using the Same Old Marketing Strategy
Another mistake is failing to update your strategies. Over time, new technologies spring up, and customer behaviors change.
As such, using old tactics will not work anymore. So, it is smart for marketers to stay up to date on the emerging trends.
Wrapping Up
The benefits of a sales funnel in your digital marketing efforts cannot be overstated.
Now that we understand why this funnel is vital in your business, it is time to consider creating one.
Leverage the three components of the digital marketing sales funnel to build your own model.
Take advantage of avenues like social media, SEO, PPC, content marketing, and email marketing to drive quality traffic to your sales funnel.
Once your funnel is up and running, keep tracking and optimizing it to maximize conversions. You can also use sales funnel tools to automate the process.