Copywriting is a competitive field, especially in the B2B market. As a result, many copywriters compete with each other to win the same job. For this reason, finding a good niche and becoming an expert is essential. So which copywriting niches are most profitable?
Profitable copywriting niches include digital marketing, technology, and finance. People in these niches are willing to pay for information as well as other products and services. You can sometimes write directly for consumers rather than writing content for companies or other organizations.
If you want to start copywriting in earnest, you'll need to figure out what topic(s) to focus on. Read on to learn about some of the most profitable copywriting niches.
11 Highly Profitable Copywriting Niches To Boost Your Revenue
Specializing in a copywriting niche allows you to become an expert in that area and subsequently attract higher rates. Below, we have compiled a list of 11 of the most profitable niches.
This list should help you make an informed choice. Let's dive in!
1. Digital Marketing
Digital marketing is one of the most popular copywriting niches because it's constantly changing and evolving. It involves creating content that helps your business stand out online.
This content might include writing blog posts, social media posts, emails, or creating landing pages. The goal is to engage customers and encourage them to take action on your website or app.
You might be writing web copy for landing pages or email messages that will go out to potential customers.
The goal is to convince people to click through and buy something from your client's website or store.
If you're good at creating ad copy that converts leads into sales, digital marketing might be perfect for you! It is a vast field with different subcategories.
It covers everything from SEO, email marketing, social media management, and paid advertising. These niches also offer a lot of opportunities for copywriters in this field.
Some significant responsibilities include working on landing page optimization, blog posts, press releases, and white papers. The niche is also highly competitive.
2. SaaS (Software as a Service)
The SaaS (Software as a Service) niche is another popular one. The SaaS industry has been growing steadily for years and shows no signs of slowing down.
This could be a good niche to explore if you can write copy about apps or services.
Software as a service (SaaS) refers to web-based applications that allow users to streamline their workflow and make other processes easier through automation.
SaaS copywriters write content for software companies. These businesses sell their products as subscriptions or licenses on an ongoing basis.
This differs from the one-time purchase format used in most traditional software programs. The SaaS industry is vast, and it's growing rapidly.
It's also one of the most profitable niches for copywriters when it comes to revenue per word.
SaaS is an online business model that allows users to access software or tools through the internet rather than purchasing them outright.
It's a great way to market your product or service because it's easily accessible and doesn't require any physical goods or shipping costs.
3. Cryptocurrency
Cryptocurrency is one of the hottest topics on the internet because it has created overnight millionaires! People across the globe want to know how they can invest in cryptocurrency before it becomes too late.
You also don't need a lot of experience or qualifications as long as you have a genuine interest in this area.
Cryptocurrency is an alternative currency that uses cryptography for security. Different forms of cryptocurrency are available, but Bitcoin is by far the most popular.
Cryptocurrency has been gaining popularity recently due to its low transaction fees, quick processing times, and lack of government control over its value.
It's also lucrative for copywriters because there's still plenty of room for growth — which means there's plenty of opportunity for you too!
It is another explosive market that has grown exponentially over the past few years.
Copywriters who understand this subject can charge premium pricing for their services and earn big bucks from cryptocurrency-related copywriting projects.
4. Health and Fitness
The fitness industry earns billions of dollars annually because people are always looking for ways to get fit.
Copywriters can write articles that help people achieve their goals by providing tips, techniques, and advice on how they can reach their goals faster than ever before!
If you want to make money with copywriting, health and fitness may be one of the best niches to choose.
There are always new products on this topic, and people are constantly looking for new ways to improve their health and lose weight. It means there will always be a demand for new content in this area.
This niche is often in motion due to the influx of new diets, exercise trends, and supplements on the market. There are also different health products you could advertise and sell.
Writing about health is another profitable niche that isn't just limited to doctors and nutritionists.
Eating healthier foods, working out regularly, or trying new exercises at home are all things that entry-level copywriters can cover.
5. Fashion and Beauty
Copywriters specializing in fashion and beauty can earn money if they're willing to learn about their subjects.
The problem with this niche is that it's so competitive, so you need to find an angle that sets you apart from other writers. People love fashion!
They love reading about new trends, seeing pictures of beautiful models wearing gorgeous clothes, or finding out about the latest products that will help them look younger or better than ever before.
If you can provide people with information about fashion or beauty products in an exciting way, then there's no doubt that you'll make money from it.
People love buying clothes and cosmetics, especially when they believe they're getting a great deal.
6. Real Estate Marketing
Real estate agents and brokers need help writing ads, creating brochures, and designing websites.
This could be an excellent niche for you if you have some real estate knowledge (or even if you don't and are willing to learn).
It's easy to get started with little or no experience required — just get on Google AdWords or Facebook Ads and start spending money on ads targeting people who might be interested in buying or selling a home in your area!
Real estate agents need help with their websites, blogs, and social media accounts — if you can write content that helps people find homes faster or boosts their sales, you'll be in high demand as a copywriter in this niche.
Real estate is another niche that's growing quickly. With home prices increasing, people want information about buying and selling homes.
It ensures they get the best deal possible when it comes time to sell or purchase a property. The real estate industry is vast, so there are plenty of opportunities to write about it.
Whether it's about selling homes or renting apartments, you can create content for any aspect of real estate on both sides of the transaction.
7. Online Courses and E-Books
The online course industry is booming, with thousands of people launching courses daily. And with good reason, because these products can be incredibly profitable.
If you have a knack for online course creation, this could be one of the most profitable niches for you as a copywriter. Some people make millions of dollars selling their courses online through copywriting alone.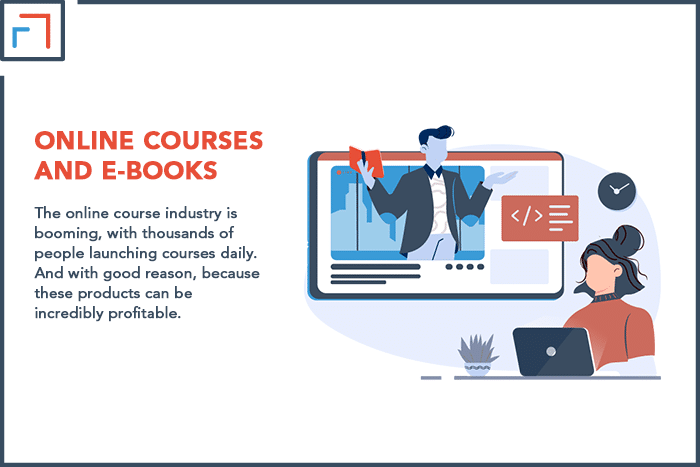 8. Finance
The finance niche has been a good one for many years, and it doesn't show any signs of slowing down anytime soon.
There are plenty of reasons why people need help with their finances, and there will always be companies looking to hire writers to help them with their content marketing efforts.
Copywriting for finance brings plenty of opportunities for marketers in this space. Financial services companies often need content that explains complex concepts in easy-to-understand language.
If you're good at explaining things clearly, you could make good money writing financial copy.
You could write about budgeting, saving money, or even start a blog on investing tips or retirement planning advice.
You can also write about financial topics such as stocks, bonds, insurance policies, and mutual funds. In this economy, people need financial advice more than ever before.
Every day, another mortgage crisis or stock market crash leaves people feeling uncertain about their money.
If you know anything about finance or are interested in learning more about it, this could be the perfect niche for you. Start by reading books on investing and saving money.
So, when people come looking for help with their finances, they'll see that you're knowledgeable enough to help them.
9. Technology
You can write about technology for any kind of business — from computers and software to mobile devices and gadgets.
You can also write about internet marketing strategies like email marketing and SEO.
There are even ways to make money writing about video games or online gaming communities, so don't discount your hobbies as a source of income.
As more people use computers and smartphones every day, there's an opportunity for copywriters who can write convincing ads that capture their attention.
Technology is an area that is destined to grow for a long time. Every year, new technologies emerge, and people have questions about how they work or how they can use them in their business lives.
As long as innovation is happening, writers will have plenty of opportunities to earn money producing content for websites, blogs, and other online platforms.
Technology is a popular topic among professional writers who have the right skill sets and knowledge.
It's the perfect niche to provide valuable information about how to use various types of technology and software applications more effectively.
Some examples include writing about how to use smartphones more effectively or making the most of your social media marketing campaigns.
10. Travel
Travel is another popular niche that can lead to good paydays if you can get your foot in the door at a travel website or publication.
If you don't want to write about travel on your site, there are plenty of other ways to earn money with this type of writing. For instance, you could write articles for sites like TripAdvisor or Airbnb.
These businesses try to target travelers looking for advice on their next trip. A popular hobby worldwide is traveling.
People who love to travel sometimes have difficulty finding the time or money to go on vacation.
That means they're willing to pay a premium for anything related to travel — such as guides and tours — especially if they can save time or money by buying online instead of going through an agency or service provider.
Travel copywriting may be the perfect niche for you if you're an experienced writer with a knack for finding the right words to inspire people.
You can write about destinations and experiences or create a guidebook for a tour company. Related topics like hotels, flights, food and drinks, and activities are also within this niche.
It is one of the most lucrative niches because people travel for leisure and business purposes. People will always travel, so you'll always have a target audience that needs new content.
11. Gaming & Entertainment
Gaming is a lucrative niche that is also on the rise. The gaming industry is one of the largest industries in the world, and it's getting bigger all the time.
There are different types of games, each of which has its target audience.
So if you're looking to make money with gaming, you can focus on a particular type of game or try to appeal to a broad range of gamers.
If you want to target a specific type of gamer, then you should know what they like and dislike about certain games.
For example, if someone doesn't like retro games that much, they wouldn't even consider playing them.
However, if someone loves retro games but hates first-person shooters with sci-fi elements, they would probably never play those types of games either.
You should also consider how often people play games and how long they play for each session.
If someone plays for an hour at a time but only once or twice per week, this isn't necessarily an ideal audience for you.
They won't be buying anything from you often enough for it to be worth your while trying to advertise to them.
Wrapping Up
It might be tempting to think that all niches are profitable, but it's essential to understand that this isn't the case. Some copywriting niches are more lucrative than others.
If you're looking for a promising niche, it's important to know where to start your research.
You don't have to be an expert in every area, but you want to ensure the topics you select are profitable and that there's enough demand for your products or services.