With online shopping on the rise, good website designs in the e-commerce space are more important than ever. However, some sites fail to properly move potential customers from the initial landing page to the final checkout page. The crux of the problem lies in the improper implementation of sales funnels into the web design.
To integrate your web design and sales funnel strategies, you must eliminate inconsistencies in your website. Produce high-quality content, good website architecture, and a unified aesthetic. This combination of web design and sales funnels will increase your customer conversion and retention.
Boosting your sales with sales funnels is a powerful technique, but you need proper web design for it to be effective. Adding elements of digital marketing can also produce some significant results. Don't worry; we are here to guide you through this journey!
The Importance of Web Design in Sales Funnels
Web design deals with the appearance and functionality of your website, while sales funnels are the pages you have created to guide visitors toward conversion.
Both are important to your success, but they are different from one another.
In the context of web designing, the sales funnel mainly targets users that have already landed on the homepage of your website. But what comes afterward?
1. Create Good Landing Pages
The landing page is the place where you will direct visitors who want to learn more about your business.
In many cases, this is the initial image that your business presents, so you'll want it to be a good one!
It is important to make sure that not only is the front end of the webpage designed to guide leads towards the final purchase but also that the graphics of the page are pleasant and coherent.
The aesthetics of your website will be more memorable if you incorporate good visuals.
Leads always respond positively to well-designed web pages, and with the landing page representing your business' calling card, your goal is to leave your users in awe.
The final aspect of any landing page is the branding.
This should be evident from the get-go because you want to create a unique design that represents your business.
Everything should remain consistent with your brand image, from the colors and fonts to the images and shapes of the link buttons.
2. Collect Information
Another good idea is to collect user information from site visitors.
Good web design will guide visitors to a lead capture form where they can provide their name, email address, and any other information you need.
Make sure this form is appealing and easy to find.
Offering an incentive such as a coupon or a partial discount will persuade visitors to leave their contact information with you.
If you want to move leads further down the funnel, you will need this information!
3. Make the Website Accessible and Easy to Navigate
After the landing page, the lead may want to go straight toward your product or service, and the website should accommodate this desire.
Developing a one-click button that takes the user to the product description page will allow for efficient browsing and push them towards making the purchase.
Seamless navigation of your page should be a top priority.
This is the area within the conversion stage that would lose you the most leads if it's not attended to properly.
Working with and designing an easy-to-use platform compels the customer to go through the purchasing process.
In the end, this could serve as the determining factor between leads entering the funnel at the top and the customers leaving at the bottom.
4. Always Present an Offer
On the page that contains your product description/details, present the user with the option to purchase the product or service that they have been examining.
There is no need to complicate this process. In fact, making it simple will go a long way.
While building an intricate website could have its benefits, the ability to purchase the product they have been learning about will help most leads transition into customers.
It is recommended to have a purchase button available on-screen at all times.
Another option is to place it at the very bottom of the page with your front-end offer clearly stated.
5. Simplify the Checkout Process
A major component of web design is making things flow smoothly.
Buying is the ultimate goal of all sales funnels, so making the checkout process simple will boost your website's conversion rate.
You can do this by making the process brief and removing any hurdles.
If you want the customer to fill in the information or collect any extra data, make sure to do so with a short form.
Additionally, adding diverse payment methods will remove any barrier of entry for your customers. This will ultimately lead to more sales.
6. Follow Up After Purchase
After a customer has purchased your product or service, your goal shifts from making a sale to retaining a customer.
In this scenario, you need to offer tools and methods for the customer to track their purchase.
It's a good idea to direct a customer to a thank you page once they complete their purchase. Make sure you incorporate this page into your sales funnel.
This confirms that their order was received and gives them a place to receive more information.
Be sure to provide contact information and many ways for customers to reach you.
This creates a very reassuring experience for your audience and gives you the opportunity to collect valuable feedback (where applicable).
Keep the web design unified on every page, including these follow-up steps that not many people will see.
More Strategies to Boost Your Sales
While web design does play a pivotal role in the conversion stage, there are several other techniques you can incorporate into your sales funnel to increase sales.
Some of these include:
1. Cross-Selling
Customer retention becomes harder as the competitiveness of the e-commerce market grows.
Consequently, many businesses are putting greater importance on maintaining their current customer base and improving customer loyalty.
A direct result of this trend is cross-selling. Cross-selling refers to offering complementary products and services with the purchase of a single item.
The benefits are phenomenal because you can inform customers about other products that they might otherwise miss out on.
2. Upselling
An alternative to cross-selling is upselling. This strategy simply offers a better version of your initial product.
This will allow your product to be accessible to a wider audience. As opposed to cross-selling, upselling has to be offered prior to their purchase of the product.
The most common and effective place to position this offer would be in the checkout tab. Upselling works because it spurs a last-minute decision from the customer.
E-commerce sites have generally seen more success using upselling rather than cross-selling in the recent past, but implementing both in your sales funnel can work just as well.
3. Automated Ad Buying
Digital marketing has changed the game in recent years, and ad buying has also been on the rise.
This method contributes more towards the automation part of sales funnels as opposed to web designing, but the results are so effective that we had to mention it.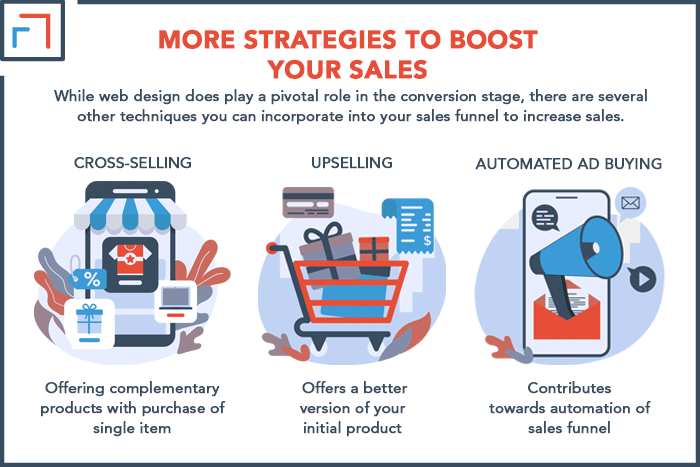 Summary
The landscape of online shopping is changing at rapid speeds, and sales funnels have been a large part of this change.
The application of this concept has left its mark in many places, including the web design sector.
No matter what you sell, a good online presence that blends sales funnels and web design can help you be successful.
Therefore, making your site inviting, user-friendly, and memorable will help you stand out from your competitors in the market.
Try applying the principles above and see the results for yourself!