ClickFunnels is a powerful marketing tool that allows you to market and sell your products and services online. The platform has been growing in popularity, especially among affiliate marketers. As an affiliate marketer, you can promote ClickFunnels and earn a commission on every sale you generate.
The top ClickFunnels affiliates include Spencer Mecham, Greg Jeffries, Tung Phan, Jacob Caris, Franklin Hatchett, and Peng Joon. Other notable affiliates are Stephen Esketzis, Julie Stoian, and Todd Brown. If you want to start promoting ClickFunnels, these are the affiliates to emulate.
Being a top affiliate for ClickFunnels requires hard work and dedication. So let's look at these high achievers and learn about their strategies for generating sales.
Who Are the Top ClickFunnels Affiliates?
If you're new to affiliate marketing, you might wonder who the top ClickFunnels affiliates are. Here's a rundown of each affiliate and some of their accomplishments.
1. Spencer Mecham
There is no list of the top ClickFunnels affiliates that doesn't mention Spencer Mecham.
He's currently the number one affiliate for ClickFunnels and has been for some time. Spencer was among the first ClickFunnels Dream Car winners.
Currently, he has over 2,000 active subscribers under his name. Mecham is the founder of Buildapreneur, a site that provides resources for affiliate marketers.
If the evidence on the site is true, he has earned over $3 million in commissions from ClickFunnels.
Besides, Spencer also runs a successful affiliate marketing training program called Affiliate Secrets (the current series is 3.0).
He charges $997 for the course, and it's currently one of the most popular affiliate marketing training programs.
Spencer also offers freebies on his site and YouTube channel, which helps him generate leads.
Spencer Mecham ClickFunnels Affiliate Success Secrets
One thing that sets Spencer Mecham apart from other top ClickFunnels affiliates is his focus on building an email list.
He offers freebies on his site and YouTube channel, which helps him generate leads.
Another thing that Spencer provides is value-packed content. It is regularly distributed, so he has a steady flow of content.
This keeps his audience engaged, which eventually leads to more sales.
His YouTube channel (Buildapreneur) has over 100k subscribers, and he regularly posts videos on affiliate marketing tips and strategies.
This strategy has helped him build a strong relationship with his audience, which is essential for any business.
Spencer's private Facebook group (Automation Nation) is also a great resource for affiliate marketers.
He shares a lot of valuable information on the group, which helps his members grow their businesses.
To join the group, you have to share your email address. This exchange helps Spencer build his email list.
2. Greg Jeffries
Jeffries is an accomplished internet marketer, and his accomplishments speak for themselves.
Apart from ClickFunnels, he is also a top affiliate for Clickbank and Amazon.
Unlike other promoters that focus on paid traffic, Greg uses free/organic traffic methods to generate sales.
He has a YouTube channel and website where he provides valuable content about internet marketing.
Jeffries also has a popular course called SEO Affiliate Domination, which helps people grow their affiliate businesses.
Greg Jeffries ClickFunnels Affiliate Success Secrets
Jeffries specializes in search engine optimization (SEO). He focuses on longtail ClickFunnels keywords to drive traffic to his website and blog.
Greg goes for "low hanging fruits" when it comes to SEO keywords. These are low-competition keywords that are easier to rank for.
If the phrases have low competition, it's much easier for his content to rank highly on Google.
Once you rank on the first page of Google, you'll get organic traffic that can lead to more sales.
Jeffries also offers bonuses to persuade people to buy ClickFunnels products through his affiliate links.
These bonuses are usually in the form of training courses, ebooks, and video series.
3. Franklin Hatchett
Franklin Hatchett is an affiliate marketing pro who has been doing this for years.
He is the founder of Five Funnel, a company that provides training and resources to create funnels.
In addition, Frank has one of the highest YouTube subscription numbers among affiliate marketers.
He has over 500k subscribers, and the number is still growing.
Frank's ClickFunnels Affiliate Success Secrets
The two organic traffic channels that Hatchett uses are YouTube and Google. He creates videos on various topics related to affiliate marketing and SEO.
He also has a website where he writes blog posts on affiliate marketing tips and strategies. To rank his videos on YouTube, he optimizes them for SEO.
In order to get traffic from Google, he focuses on longtail keywords.
Through Five Funnels, Frank compares different software platforms and provides detailed reviews.
This helps his audience make informed decisions about which software to use. With this strategy, he can share his affiliate links and generate sales.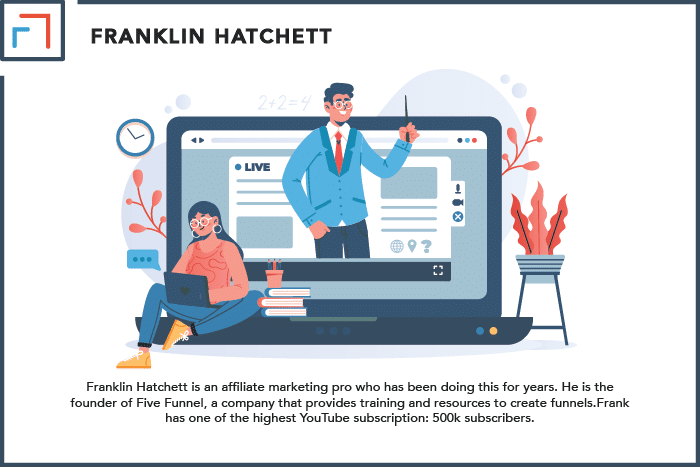 4. Jacob Caris
It's said that a good teacher creates a good environment for students to succeed.
And that is why this list includes a successful student who learned from high-performing affiliates. Caris learned from the best in the industry, Spencer Mecham.
He is now a top affiliate for ClickFunnels, and recently he launched a course (Dream Car Profits) to help other people achieve the same goal.
He teaches people how to create successful ClickFunnels affiliates campaigns through his course. Caris also creates valuable resources, such as templates.
Jacob Caris ClickFunnels Affiliate Success Secrets
As an affiliate marketer, it's difficult to reinvent the wheel when developing successful strategies.
That's why Caris followed in the footsteps of his mentor, Spencer Mecham.
His course has attracted numerous subscriptions because it gives practical steps on how to take advantage of the ClickFunnels Dream Car promotion.
Through the course, he has generated a lot of sales and grown his email list.
5. John Lee Dumas
This serial entrepreneur is the founder of Entrepreneur on Fire, a popular podcast where he interviews successful entrepreneurs.
He has millions of monthly downloads, and his podcast has been featured on Forbes, TIME, and Inc.
Dumas leverages his popularity to promote ClickFunnels and a variety of other products.
Dumas has generated over $1 million from his ClickFunnels affiliate marketing efforts. However, that's just 5% of his total revenue.
The rest comes from his other businesses, such as podcast sponsorships and online courses.
John Lee Dumas ClickFunnels Affiliate Success Secrets
The key to John's success is consistency. He releases a new episode of his podcast daily. This has helped him build a strong relationship with his audience.
Through his podcast, he created a course called Funnel on Fire, which is a step-by-step guide for setting up a sales funnel.
At the end of the course, he promotes ClickFunnels and other products as resources to help people grow their businesses.
John created a private group that costs members $97 to join. They can also participate if they have a valid ClickFunnels account created through his affiliate link.
This method worked because he had built a large following in the e-com space, and many people were already considering a ClickFunnels membership.
Apart from that, he has a YouTube channel where he uploads videos and gives tips on entrepreneurship.
This holistic approach has engendered confidence in his audience, who are now more likely to buy from him.
6. Peng Joon
Peng Joon is among the few ClickFunnels affiliates to hit the $1 million mark. He is a well-known internet marketer and has been in the industry for over a decade.
Like most successful affiliate marketers, Peng shares his success story through blog posts and YouTube.
He also promotes ClickFunnels and other products through these platforms.
Apart from that, Peng uses live events like webinars to promote ClickFunnels. To motivate attendees, he offers bonuses, like the funnels he uses to succeed.
Peng has also created courses like Internet Income Intensive to help people achieve their goals. However, his courses are not cheap.
This is understandable because of the value they provide.
Peng Joon ClickFunnels Affiliate Success Secrets
The affiliate marketing guru attributes his success to four pillars: funnel sharing, niching down, courses, and promoting ClickFunnels indirectly.
As the adage goes, a candle loses nothing when lighting another. In the same way, Peng shares his successful funnels with other ClickFunnels affiliates.
This helps him in two ways. First, he gets exposure to a broader audience. Second, it creates goodwill among other affiliates, thus increasing sales and commissions.
Peng also recommends that affiliates focus on a specific niche. By doing so, they become experts in that field and create better funnels.
Courses are also a great way to promote ClickFunnels. They provide value to the audience and show that the affiliate is knowledgeable about the product.
Lastly, Peng recommends that affiliates promote ClickFunnels indirectly.
Apart from the tool itself, the company has other low-commitment products, such as books and free courses.
By promoting these products, affiliates can introduce ClickFunnels to their audience without being too salesy.
7. Todd Brown
When Russell Brunson calls you a genius, you must be doing something right.
Todd Brown is one of the top ClickFunnels affiliates, and he has made a killing with the company's products.
Todd has spent over 20 years doing his research and reading books on advertising and business.
He later launched his book, The E5 Marketing Methods, where he shares his insights on proven marketing methods.
Todd's ClickFunnels Success Secrets
Todd's primary source of leads is his book. Through the book, he has created a funnel that generates leads on autopilot.
The book is free, and the only thing Todd asks in return is the reader's email address. Once he has the email, he can start promoting. The approach is simple but effective.
By providing value upfront, Todd has built trust with his audience. Then, when he promotes ClickFunnels, they are more likely to buy it.
8. Stephen Esketzis
Stephen proves the saying that the early bird catches the worm. He is one of the original ClickFunnels affiliates.
He positioned himself as the go-to guy for ClickFunnels early on and has reaped the rewards ever since.
Stephen writes for the ClickFunnels blog and is a regular speaker at their events.
Stephen's ClickFunnels Affiliate Success Secrets
From the word go, Stephen started offering value to the ClickFunnels community. He created a blog and started sharing his insights on the software.
Apart from that, Stephen also created ClickFunnels video reviews.
In recent times, he has embarked on podcasts and has begun speaking in different digital marketing forums.
These strategies have helped him establish his brand. Stephen is now one of the most sought-after affiliate marketers.
9. Julie Christine Stoian
This list can't be complete without Julie Christine Stoian, the first woman to win ClickFunnels Dream Car Contest.
She is a serial entrepreneur with several successful blogs to her name.
Her story is inspirational and moving. After a divorce and a period of struggle, she decided to take life by the horns.
She left her day job and dived into full-time digital marketing.
Julie's path to success was not an easy one. She had to hustle and grind her way up. However, she did not give up and eventually won the ClickFunnels Dream Car Contest.
Although Julie rarely promotes ClickFunnels directly, she has devised a strategy through her successful blogs, Julie Stoian, Fabulous Blogging, and Create Your Laptop Life.
The beauty of Julie's approach is that it is indirect.
And this has helped her build trust with her audience. Consequently, the tactic has led to more sales and commissions.
By promoting ClickFunnels indirectly, affiliates can introduce the product to their audience without being too salesy.
Besides that, Julie is among the top contributors to ClickFunnels' blog.
Julie's ClickFunnels Affiliate Strategies
In a male-dominated industry, Julie carved out a niche for herself. After years of resilience, she is now one of the most sought-after ClickFunnels affiliates.
Her success can be attributed to her indirect approach to promoting ClickFunnels. She also provides value to the community by contributing to their blog.
She has built a community around her blogs. This has helped her generate leads and sales without using pushy marketing strategies.
10. Tung Phan
Tung Phan is a successful student of Peng Joon. Tung Phan specializes in course creation and forex trading.
Through his courses on platforms like Udemy, he has been able to generate a full-time income.
For example, his course, How I Made 5 Figures a Month From Clickfunnels Affiliate, has attracted over 5,000 students.
The courses don't only promote ClickFunnels, but he also earns from them. He charges $84 for the course and has several coaching classes on other platforms.
Tung Phan Success Secrets in Promoting ClickFunnels
Tung Phan takes a different approach than most other affiliates on this list. He uses courses to promote ClickFunnels and has been quite successful.
The fact that he also generates income from the courses makes him a force to reckon with. This is what killing two birds with one stone looks like.
Apart from that, Tung Phan is also an expert in forex trading.
And he uses this to his advantage by teaching people how to use ClickFunnels to make money through forex trading.
This is a unique approach, and it has worked well for him.
Final Word
These are some of the top ClickFunnels affiliates. Although the strategies they use vary, one thing they have in common is that they provide value to the community.
If you want to be successful in affiliate marketing, you should take a leaf out of their book. Provide value, and don't be afraid to try new things.
Who knows, you might become the next ClickFunnels affiliate marketing superstar!