Copywriting is one of the most important aspects of any online marketing strategy. Good copy can persuade people to buy your product or service, and compelling storytelling will make the message even more effective.
Storytelling copywriting examples include Ramit Sethi's marriage newsletter, ClickUp's ad about firing Jira, Stuart's story in the "Filthy Rich Writer" blog, and Marie Forleo's "#TheProof" stories. Other good examples include testimonials by New York Presbyterian Hospital and Miro's success stories.
Storytelling in copywriting engages the emotions of readers, thus creating a stronger connection and sense of trust. In this post we will explore some examples of compelling storytelling and discuss the strategies that make these examples successful.
Examples of Compelling Storytelling Copywriting
There are many examples of successful storytelling copywriting, but some stand out as particularly effective.
1. Ramit Sethi's Marriage Newsletter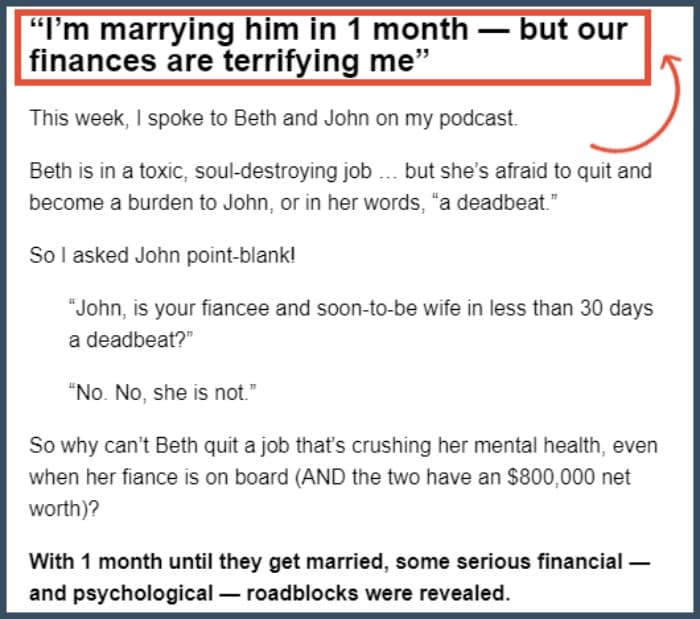 The email subject line immediately catches the reader's attention: "I'm marrying him in 1 month — but our finances are terrifying me."
This subject line makes you want to open the email where Ramit shares the story of two guests in his podcast.
Beth and John are planning their wedding in a month, but they are terrified about Beth's current toxic job. Should she quit?
Ramit shares enough details to make you eager to hear more. This builds a sense of anticipation. The next thing you see is a link to his podcast to get the full story.
Why We Like Ramit's Marriage Newsletter
First, the idea of a marriage in a newsletter might seem a little quirky, but it immediately draws you in and grabs your attention.
This is an example of how you can use storytelling copywriting to stand out from the crowd and create a unique brand identity.
Second, Ramit uses personal stories to connect with his audience's emotions, demonstrating that he truly understands their struggles and desires.
This approach builds trust and helps him stand out from other marketers who are more focused on selling their products or services.
The Rich Life founder gives away just enough of the story to keep you reading. But it also doesn't give away the ending!
This is a powerful strategy that many marketers can learn from and apply to their own work.
After reading this brief story, you're immediately tempted to click on the link and access the a podcast to get the full story.
This example shows how marketers can use different mediums, such as podcasts or blog posts, to engage their audience and tell a compelling story.
2. ClickUp Fires Jira Ad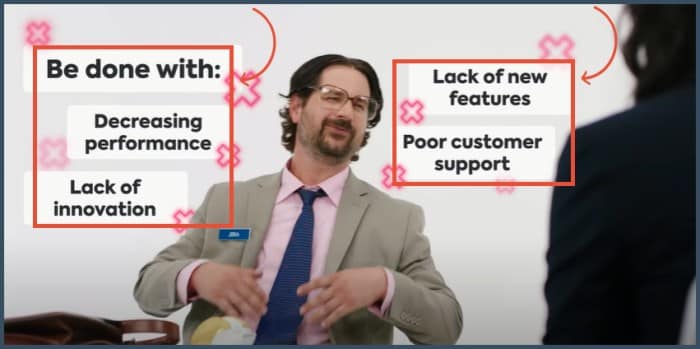 Ads from ClickUp are always creative and stand out from the crowd, but their ad about firing Jira is especially effective. When Jira reports to work as usual, he finds things have changed: He's been replaced.
The HR manager breaks the news, and Jira doesn't take it well, especially when he hears the reason for his replacement.
As highlighted in the ad, the reasons for firing are decreasing performance, lack of innovation or new features, poor customer support, and several unattended complaints for years.
In an attempt to redeem himself, Jira says he has his way of doing things, and it is not that bad. The manager agrees but says ClickUp offers additional features without additional charges.
The static nature of Jira is contrasted by the dynamic nature of ClickUp.
As the manager explains that Jira has been caught several times sleeping on the job, Jira calls it a technical nap to think about his workflow.
This brings a moment of awkwardness, and the HR manager seems annoyed by the constant excuses.
Why We Like This ClickUp Ad
Video storytelling in copywriting is a highly engaging and effective marketing strategy, and the ClickUp ad is a great example of this.
The video tells a compelling story that is both humorous and relatable, tapping into the emotions of viewers who may have struggled at work or have witnessed others slacking off.
Additionally, the ad directly compares Jira and ClickUp, highlighting the benefits of switching to ClickUp.
This strategy is meant to win over new customers and convince them to try this workplace management service.
The choice of attire for Jira, the sassy HR rep, and the quirky references to napping are all effective storytelling copywriting techniques that make this ad memorable.
Jira represents a conservative and traditional approach to work, while ClickUp represents a fresh and modern alternative.
If you're looking for an engaging copywriting strategy that includes video storytelling, consider using ads from ClickUp as inspiration for your next marketing campaign.
3. Filthy Rich Writer Stuart's Story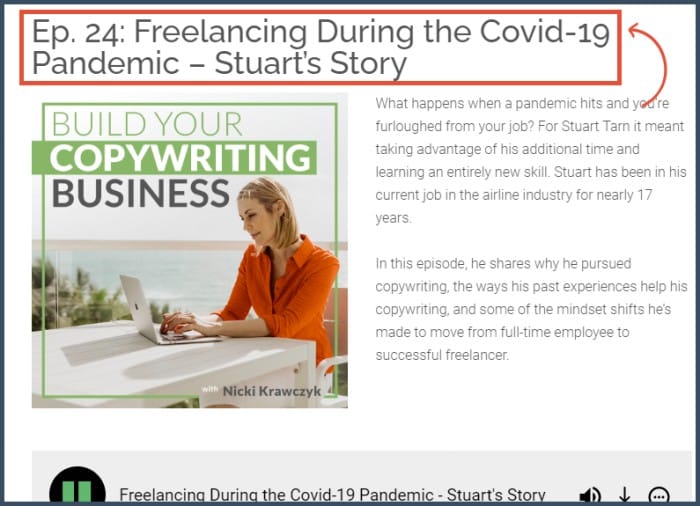 Who didn't feel the impact of COVID-19? It was the number one topic on everyone's minds, and the fear was palpable. Many lost their jobs, and others were forced to work from home.
As a professional writer myself, I know how hard times like these can be for freelancers.
Nicki Krawczyk uses an experience we are familiar with to illustrate how COVID-19 can impact people. Stuart is one of the people who lost his job in the airline industry.
As a result, he switched career paths and got into copywriting.
The witty copywriting in this story highlights how Stuart shifted from a full-time job to a copywriting job.
Nicki shares just a snippet of the highlight and then directs readers to a podcast that features Stuart's story.
To put this into perspective, Nicki Krawczyk is a successful copywriter and offers courses to aspiring writers.
She understands the importance of sharing a relatable story, so she chose to feature Stuart's story in her advertising campaign.
The clever combination of storytelling, copywriting, and digital marketing makes Nicki's advertising campaign a standout.
What Makes The Filthy Rich Writer Story Work?
If you are looking for an example of an engaging copywriting strategy that includes storytelling and digital marketing, look no further than Nicki Krawczyk's advertising campaign.
Not only does she tell a compelling story that resonates with her target audience, but she also utilizes digital marketing tactics like podcasting to promote sales for her courses.
Whether you are a professional copywriter looking to hone your craft or an aspiring writer in need of some guidance, Nicki's campaign is well worth checking out.
Her storytelling, copywriting, and digital marketing make her ads engaging and effective. Another key feature of Nicki's campaign is the focus on action.
At the end of her ads, there is a call to action that directs readers to sign up for her free podcast.
This strategy ensures that readers are motivated to take the next step toward their goals and helps promote sales.
4. Marie Forleo #TheProof Stories
You may have interacted with Marie Forleo in your social media feeds. If so, you have undoubtedly seen her inspirational stories – the ones she uses to demonstrate how powerful her methods are.
Known as #TheProofs, Marie's marketing strategy relies on the power of storytelling to create a personal connection with her audience.
Focusing on real people and their struggles, she then shares how her solutions help overcome those challenges.
One story that caught my attention is about Carina Lawson. She built a global brand all while raising her twins. Carina had a 9-5 job and a productivity planner company.
This made her struggle to find balance in her busy life. Marie interviews Carina as part of her story and shares it with the world.
This authentic example highlights how customers can benefit from Marie's programs and courses, including tips for achieving work-life balance.
Why The Marie Forleo Approach Is Effective
Marie chooses an area that most people struggle with – work-life balance. Then, she shares a real story about how she has helped others overcome this challenge.
By sharing these relatable stories, Marie makes you identify with the people in her stories. In addition, she uses email newsletters to promote her courses.
The focus on action means that readers are motivated to sign up for her free resources, including workshops and online communities.
The final objective is to draw more customers to her paid courses, where they can implement the techniques they have learned from Marie's stories.
Her use of personal stories combined with action-oriented content makes her one of the most successful copywriters today.
5. Miro Newsletter: How MYOB created alignment with Miro
The story of Miro and MYOB takes the shape of a case study but with the intent to convince readers of the value of Miro's services.
Miro is a software company that develops online project management tools and collaboration software.
They work with clients like MYOB, an accounting software provider, to improve their internal processes and increase team productivity.
Helena Lea, Chief Employee Experience Officer and Government Policy Lead at MYOB, is featured in the Miro newsletter to highlight how they created alignment with the Miro team.
In this story, Helena shares details about their initial struggles with poor project management and team communication breakdowns.
She goes on to describe how they partnered with Miro and transformed their workflows to keep their large team across New Zealand and Australia on the same page.
The result was greater efficiency and improved adherence to the company strategy.
The Miro newsletter demonstrates how its communication software can help improve internal alignment and productivity for businesses of all sizes.
Why We Like Miro's Storytelling Copy
There are many reasons why Miro's storytelling approach is so effective. For one thing, it uses real-life examples of how their software has helped other businesses succeed.
By focusing on the client rather than just the product features, Miro highlights the value they bring to businesses like MYOB.
In addition, the email newsletter format keeps readers interested in the content.
Rather than focusing on lengthy product descriptions or sales pitches, Miro's newsletter uses engaging visuals and bite-sized content to highlight how their software can benefit readers.
Miro's storytelling copy is a great example of how businesses can effectively market their solutions through relatable stories and actionable advice.
Because most software programs are technical and boring, Miro's storytelling approach helps it stand out from the competition.
By focusing on the customer experience and real-world results, Miro engages readers and convinces them of the value of their product.
6. New York Presbyterian Hospital Success Stories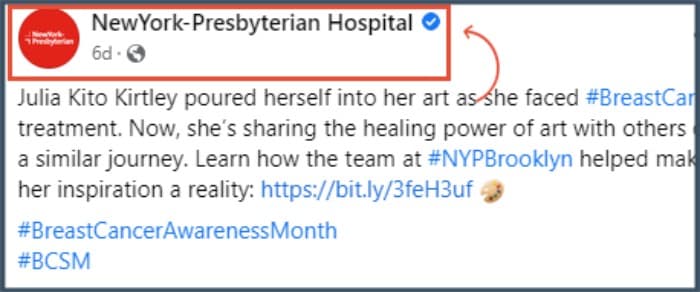 Storytelling and social media are two of the most powerful tools in marketing, and no one does it better than New York Presbyterian Hospital.
Their social media feed is filled with short, relatable stories from real patients and staff members at the hospital. These stories are often accompanied by stunning photography that brings them to life.
Whether they share details about a successful surgery or highlight the compassionate care provided by their staff, every story is designed to show how New York Presbyterian Hospital truly cares about the well-being of their patients.
With over 140k followers on Facebook, it's clear that New York Presbyterian Hospital has mastered the art of storytelling in social media.
Their success is a testament to how powerful storytelling can be when it comes to connecting with audiences and building trust.
New York Presbyterian Hospital is one of the best examples to follow if you're looking for inspiration for your social media strategy.
Their stories are compelling, authentic, and demonstrate how the hospital makes a difference in patients' lives.
Why New York Presbyterian Hospital Stands Out
Many hospitals and healthcare providers use social media to connect with their audiences, but the New York Presbyterian Hospital stands out in several key ways.
First of all, their stories are always highly personal and relatable. They show the real-life impact the hospital makes on patients' lives.
In addition, the hospital focuses on sharing images and videos that draw you in and make you feel as if you're experiencing the story.
Whether they are sharing a heartwarming moment between a patient and nurse or highlighting an innovative treatment method, New York Presbyterian Hospital is always focused on telling stories that educate and inspire.
All in all, their social media strategy is truly remarkable and it's one that any business or healthcare provider can learn from.
If you want to connect with your audience more meaningfully, try incorporating some storytelling elements into your social media content.
What We Learn from the Storytelling Copywriting Examples?
Using storytelling in copywriting has many benefits. When it's used properly, it can engage readers and help businesses stand out from competitors.
Whether you're writing a newsletter or sharing content on social media, incorporating stories into your writing can be an effective way to connect with your audience and build trust with potential customers.
In order to be successful at storytelling copywriting, it's important to focus on authenticity, personalization, and visual storytelling elements like images and videos.
With the right approach, you can create persuasive and engaging content that truly resonates with your audience.
Another key element of storytelling is focusing on the customer experience and real results, rather than simply listing your products or services.
You can create a lasting connection with your readers and drive more sales by telling compelling stories that inspire and educate.
Conclusion
For most businesses, the benefits of storytelling copywriting are well worth the time and effort required to create truly impactful content.
If you're ready to use this powerful marketing tool, consider incorporating these storytelling copywriting examples into your strategy today. You can learn a lot from the examples we covered above.
Each one showcases how effective storytelling in social media can be. Incorporating stories into your content is a great way to stand out from the crowd and leave a lasting impression on your audience.