Writing copy for products is a great way to list the benefits and entice people to buy them. As a copywriter, you can write better copy by taking inspiration from the best copywriting examples.
Product copywriting examples include De Beers group, BarkBox, Method, the J. Peterman Company, and Palace Skateboards. Each of these brands takes a unique approach that makes their copy stand out. Some use humor or storytelling, while others specialize in appealing to their target audience.
It takes work to master copywriting. This means you must break down the examples and learn the ins and outs of why they are effective. As Jim Rohn said, "Interested people want to know if it works but fascinated people want to know how it works."
5 Best Product Copywriting Examples That Convert
Writing copy can be challenging at times. But, the good news is that reading great copy from others can inspire your own work.
Below are some of the best product copywriting examples from successful brands. Study these examples to learn how you can craft a sales copy that converts.
1. De Beers Group: Timeless Tagline
Taglines are a powerful way to help your copy stand out and linger in the minds of people for a long time. Subsequently, prospects can usually remember the slogan until they are ready to buy.
The core aim of a tagline is to communicate your value proposition as succinctly as possible. A good tagline should be easy to remember. It also should be unique to a specific product or brand.
For instance, when people hear the slogan, "Just Do It," running shoes or the Nike brand come to mind. Let's ‌look at how De Beers Group has crafted an effective tagline.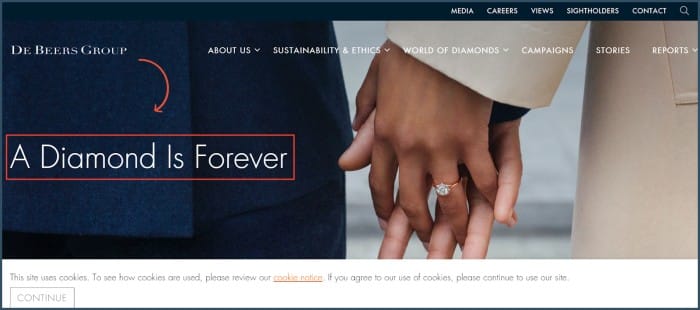 Why De Beers Group's Copy Converts?
"A Diamond Is Forever" is a famous tagline that was written by Frances Gerety in the 1940s. She worked in a male-dominated world where only the rich and famous bought diamonds.
Although Frances only came up with the tagline before she went to bed, it's been quite effective. It is a long-lasting tagline that is still in use today. Diamonds are now connected with the idea of eternal love.
By the 1950s, brides wore diamond rings as a show of love, and this tradition continues to this day. The tagline was so great that it was used to write a novel and a song.
Better yet, the Advertising Age branded it the "slogan of the century."
Take away
Keep your tagline brief by writing it clearly and succinctly. Then, refine it by trimming excess words until it is short and punchy.
Ensure it communicates your value proposition. What will people get for buying your product? For De Beers, a diamond ring would give them eternal love and happiness.
2. BarkBox: Understanding Your Audience
BarkBox specializes in selling toys to dog owners. As you navigate through their website, you will be greeted by charming words and cute images of puppies and dogs.
Why BarkBox's Copy Converts?
Looking at their copy, ‌you can tell that they have researched their audience's needs. All their copy is specifically geared toward dog owners, so they have the ability to use the buyers' lingo.
In addition, this research enables them to offer customized toys that the buyer's puppy will love.
Notice how they emphasize that the end user (the dog) will enjoy the product. If the pup is unhappy with the box, they will make it right.
The personification of the dogs as company leaders emphasizes that point! This assurance gives pet owners the confidence they need to buy from Back Box.
Finally, the copy employs lots of wordplay to deliver its message in an interesting and fun way.
Takeaway
This example is applicable irrespective of your industry since the focus is on the customer. When customers know you understand them, they are more likely to ‌buy from you. All you need to do is convince them ‌that you understand their needs.
Remember to reflect your target audience and match the tone of your product. Dog toys are fun, so the copy should be fun as well!
If you leverage the fears, desires, and goals of your audience to create your copy, you will be well on your way to making massive sales.
3. Method: Whimsical Product Descriptions
Method is an eCommerce seller that specializes in cleaning supplies. Their copy is written in a whimsical way that convinces readers to trust and enjoy the products.
Because of the dreamy copy, customers are enthralled with the idea of Method products.
Why Method's Copy Converts?
The truth is, doing dishes isn't the most enjoyable thing in the world. But Method employs dynamic language that paints beautiful imagery of the experience. Their language appeals to the five senses.
They also highlight additional product benefits, such as the improvement of memory and digestion.
Takeaway
Focus on product benefits instead of the features. Method highlights the sensory benefits of their soap. What will your product do for your audience?
Use sensory language to capture emotions and moods. Your language should portray what the user will taste, feel, or smell when they use your product.
Add some fun and whimsy to your copy to brighten the user's day.
4. The J. Peterman Company: Copy With A Story
Although brand stories are sometimes hard to communicate, they are an effective copywriting strategy because they appeal to readers' emotions.
A great story is easy to relate to because it enables readers to picture themselves in the situation. The J Peterman Company specializes in selling clothes and other fashion items.
For Peterman, "The power of clothing lies in the power of a good story." Therefore, he uses storytelling in his copy to entice his readers to buy. Below is an example.
Why J Peterman's Copy Converts?
This copy is not only intriguing, but it also uses storytelling to highlight the benefits and features of the watch. It is concise and to the point, but it doesn't leave out any important details.
The story also elicits emotions of excitement. The story of flight, bravery, and innovation creates positive emotions in the reader's mind.
Moreover, the story takes the reader back to the days of early aviation, then connects back to modern-day technology.
Takeaway
Use storytelling to appeal to the imagination of your audience. Good stories and emotional appeals will encourage people to buy.
Keep the story short and relevant to the product. Be sure to highlight the important features as well.
5. Palace Skateboards: Hilarious Copy
Palace Skateboards is an online clothing retailer and skateboard brand. It has become popular partially because of its witty copy.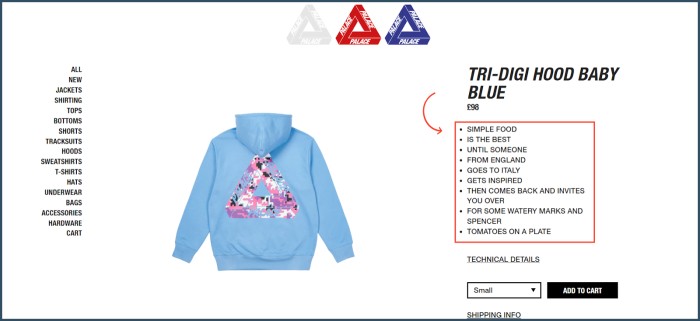 Why Palace's Copy Converts?
The copy of this brand is insanely humorous, which immediately brightens up a customer's day. If someone enjoys this copy, they may show it to others and spread brand awareness.
A happy person is also more likely to buy. Their use of iconography is unique. Instead of introducing a new point with each bullet, the bullets are merely placeholders.
The points are just a train of words that form a sentence which is not even related to the product‌.
Take Away
Although you cannot copy Palace's style, you can sprinkle humor throughout your product descriptions when possible.
Find a unique and fun voice to help you stand out.
Final Thoughts
Writing good copy goes beyond the right word choice and proper punctuation. Great copy begins once you understand your audience and your unique selling point.
To become a great copywriter, you need to study the methods that work for others. The collection of copywriting examples above will inspire you to write better copy that converts.
Use storytelling and humor, and focus more on benefits as opposed to features. Above all, keep your customer at the center of your efforts.