Most e-commerce, content management, and funnel-building platforms allow you to create password-protected pages. If you are not familiar with the term, a password-protected page is a page that requires a unique password before you can view its content.
ClickFunnels doesn't have a built-in password protect page. Unlike other platforms, such as WordPress and Shopify, the platform doesn't have a way to limit access to pages or funnels using passcodes. However, ClickFunnels guarantees that your pages are safe and secure.
Having said that, let's get into the details of password protection and why ClickFunnels doesn't include it right now. We'll also cover some reasons why Clickfunnels should consider adding this feature.
Why ClickFunnels Doesn't Have Password Protect Page Option?
It's difficult to say why ClickFunnels doesn't have password protection.
The platform has many features that have set it apart as one of the best funnel builders on the market.
The platform may not have password protection because the team behind it believes that ClickFunnels is secure enough.
After all, the tool uses SSL encryption to protect your pages. Another possibility is that the team is working on the feature and will release it in a future update.
It's also possible that the ClickFunnels team wants users to use other features to protect their pages.
For example, you can set your pages to "Private" in ClickFunnels. When you do this, only sub-users can view and access your pages.
Apart from that, no one can see the page or funnel unless you publish it.
So, if you want to keep your pages hidden from the public, you don't need to use a passcode.
Whatever the reason, we hope that ClickFunnels adds password protection soon. It couldn't hurt, but it could certainly help!
Password Protect Page Alternatives on ClickFunnels
The membership feature is one of the most popular types of funnels. ClickFunnels has some excellent membership funnel templates that you can use.
You can use the membership funnel template if you want to create a password-protected page in ClickFunnels.
The feature allows you to create a login page and a members-only area on your website.
To do this, use the "membership access" page. This restricts permission to people with the correct login credentials.
The "membership area" allows you to drip content to your members. You can also use it to create an online course, a training program, or anything else.
The feature allows you to:
Create a login page
Restrict access to people with the correct login credentials
Create secret URLs
Upload videos, ebooks, and other resources
Activate and deactivate the download links
Apart from a single action, you can also add a series of steps to be taken by the members after making the first subscription.
For example, after completing the first module of the course, you can add a link to the second module.
The person will only access the second module after subscribing.
Although the membership funnel is not a password-protected page per se, it does allow you to create a members-only area on your website.
Password Protection For Web Pages – Is It Necessary?
When you create a password-protected page, you set a unique code for the page. Once set, anyone who wants to view the content on that page must enter the password.
The process is pretty simple. The only thing you need to be careful about is setting a strong password.
Password protecting your webpage is important when it is still in the beta phase and not live. You'd only want your team members to be able to see that page as they work on it.
Further, even when the page is live, sometimes it might contain paid or sensitive information you'd only want the members to access.
If you put a weak password, it will be easy for someone to guess it and gain access to the page. A strong password should:
Include a mix of caps, symbols, and numbers
Not be shared with anyone
Not contain phone or address numbers
Have no obvious substitutions
Not be in the dictionary
Not contain names
Why ClickFunnels Should Consider Adding Password Protect Pages?
Now that we've explained how password protection works let's talk about why ClickFunnels should add it in the future.
1. Exclusive Content Access
If you want to give your users exclusive access to content, you can password protect that content.
For example, let's say you have a course with several lessons. You can put a password on each lesson and give your students access after completing the previous session.
This way, they won't skip ahead and ruin the learning experience. You can also use password protection to give your users access to bonus content.
For example, you can give an ebook to people who buy your course.
The ebook can act as the lead magnet that's only available to people who sign up for your email list.
2. Confidential Information
At times, you may need to share confidential information with your clients or employees.
In such cases, it's best to protect the pages where you share this information.
A password-protected page would help ensure that only the people with the proper authority can access your information.
This is especially important if you're sharing sensitive information like financial data or health records.
Most businesses need to share confidential information at some point.
So, it's good to know that you can protect your pages with a passcode if you ever need to.
3. Product Launch Pages
When you're working on a new product, you may not want everyone to see the pages until the launch.
In such cases, you can use passwords to protect your pages and share them with people who need to see them.
This helps you keep your product launch under wraps until you're ready to reveal it. It's also a good way to build hype for your product launch.
You can share the password with people you think will be interested in the product and create a sense of exclusivity.
4. Maintenance Mode Pages
If you're working on a website or page, you may need to put it in maintenance mode.
In such cases, you can use password protection to keep people from accessing the pages while you work on them.
This helps ensure that people don't see the pages until they're ready. It also helps you give your team access to the pages while you're working on them.
This way, they can provide feedback and help you test the pages before they go live.
5. Limit Number of Users
Are you having excess visitors on a certain page and want to control the traffic? Or maybe you want to give access to a specific number of people?
You can use password protection to limit the number of people who have access to your pages.
For example, you can create a waiting list for your product and only allow people on the list to access the pages.
This way, you can control how many people have access to your pages and avoid having too many visitors at once.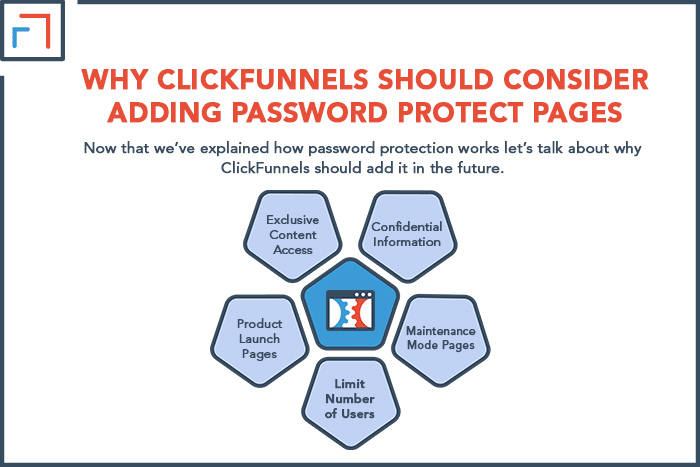 Final Thoughts
CickFunnels is a great tool for creating and selling products online. However, it doesn't have the password protection page option.
This feature is essential for businesses that need to share confidential information or want to launch a new product.
Apart from that, a password-protected page can also help you to limit access and control the traffic.
We hope that ClickFunnels will consider adding this feature in the future.
In the meantime, there are other ways to protect your pages. You can use the membership funnel feature for a similar effect.