Do you know that more than 90% of your website visitors aren't willing to buy from you right away? Most people need time to learn about your product or service. That's why it's important to have a marketing funnel that's designed to convert visitors into customers.
Marketing funnel tips to increase conversions include creating appealing infographics, giving practical information, and understanding the needs of customers. You should also provide clear shipping and return policies, offer impeccable customer service, and make it easy for visitors to take action.
A marketing funnel is made of 4 basic stages: awareness, interest, desire, and action. Below are some specific marketing funnel tips to help your potential customers in each stage of the journey.
Awareness Stage Tips
Customers at this stage are becoming aware of their problem or need. You can reach them through content marketing, SEO, and PPC ads.
This phase is also known as TOFU (top of the funnel). You need to let them know that your brand/product exists, so they'll think of you in the future.
1. Give Practical Information
I have visited thousands of websites and social media pages, and the ones that catch my attention always offer practical information.
When you're creating content for customers at the awareness stage, ensure it's helpful and informative. Don't try to sell them anything yet.
Just provide value and establish yourself as an expert in your field.
At this stage, you can focus on creating:
Blog posts
Infographics
ebooks
It's advisable to make this content free and easily accessible. You can share it on your website, social media, or email marketing.
2. Don't Be Pushy
Customers at the awareness stage are just getting to know you. Don't bombard them with sales messages.
If you try to hard-sell them, they'll likely leave your website. Instead, focus on providing value and building a relationship with them.
Remember, you will probably get many questions from potential customers at this stage. Be sure to answer them in a helpful and friendly manner.
3. Understand Customer Needs
To create content that resonates with customers at the awareness stage, you need to understand their needs.
The best way to do this is to conduct customer research. You can use surveys, interviews, and even social media to learn more about your target audience.
Once you understand their needs, pain points, and goals, you can create content that addresses their problems.
This will help you capture their attention and interest. You can also have different personas for each type of customer.
This will help you create content that's relevant to them and their needs. For example, if you're selling a weight loss product, you might have these personas:
Busy Mom Who Wants to Lose Weight
Office Worker Who Wants to Get in Shape
Student Who Wants to Fit into Their Old Clothes
Each of these personas has different needs. Therefore, you can create content that matches what they are looking for.
4. Keep it Short and Sweet
Rarely do people read long pieces of content, especially when they're interacting with your brand for the first time.
In fact, the average person's attention span is only about eight seconds. This means you need to capture their attention quickly.
The best way to do this is to keep your content short and sweet. Ensure each piece of content has a clear purpose. Get straight to the point and don't include any fluff.
If you can, try to keep your content under 2,000 words. This is especially relevant for blog posts and articles.
5. Make it Visually Appealing
Humans are visual creatures. Therefore, using images, infographics, and videos will resonate with your audience. Videos are especially effective at holding attention.
You can remember about 95% more than when you read text. When creating visuals, ensure they are high quality and relevant to your topic.
Don't add them just for the sake of it. Many free tools are available if you're not sure how to create visuals on your own.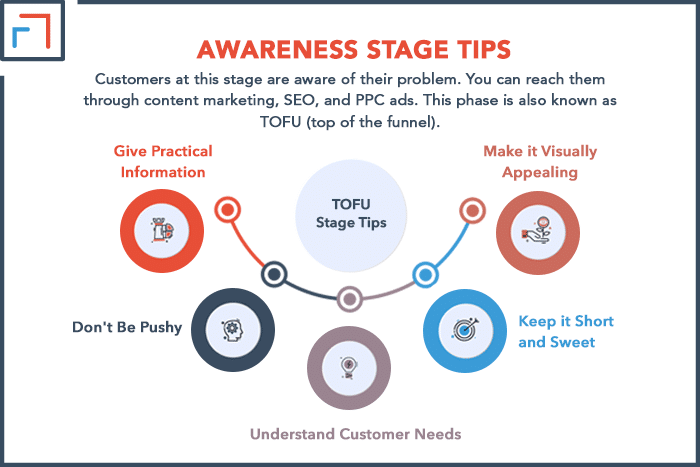 Interest & Evaluation Stage Tips
Customers at the interest and evaluation stage are considering your product or service as a solution to their problem.
You can use content marketing, retargeting ads, and email marketing to reach them. This is the middle stage of the funnel (MOFU).
1. Show How Your Product Works
At this stage, potential customers want to know how your product works. They also want to see it in action.
The best way to show them is by using videos in your funnels. A video will allow you to show them exactly how your product works.
You can also use images and infographics to explain things more clearly. However, avoid using too much text because this can overwhelm potential customers.
Also, try to provide additional resources that they can use to learn more. This could be in the form of an FAQ section on your website or even a blog post.
The goal at this stage is to educate potential customers and help them make informed decisions.
2. Use Testimonials and Case Studies
Have you ever been on the fence about buying a product? What made you finally take the plunge and make the purchase?
For most people, it's either positive reviews or case studies.
Testimonials and case studies are essential for this stage of the funnel. They provide social proof that your product or service works.
When using testimonials, try to include the customer's name, photo, and even a link to their website (with their permission, of course).
This helps increase your credibility as a brand. For case studies, try to make them as detailed as possible. Include statistics, results, and quotes from happy customers.
The more specific you can be, the better. Potential customers want to see that you have helped others in a similar situation.
3. Share Your Unique Selling Point
What makes your product or service different from the competition? Why should customers choose you over them? This is what's known as your unique selling point (USP).
And it's essential for this stage of the funnel. Your USP will help you stand out and attract potential customers looking for something specific.
To find your USP, ask yourself what sets you apart from the competition. What do you offer that they don't?
Once you've identified your USP, include it in your marketing funnel. This could be in your ad copy, website, social media, or videos.
The goal is to make it as clear as possible so that potential customers know what they're getting when they choose you.
4. Include Comparisons
This is a tricky marketing funnel tip because you don't want to badmouth your competitors or over-hype your products. However, comparisons can be helpful when used correctly.
For example, you could compare the features of your product or service against your competitor's.
Or, you could write a blog post about why customers should choose you over them.
Just be sure not to cross the line and make it too personal. The goal is to educate potential customers, not turn them away.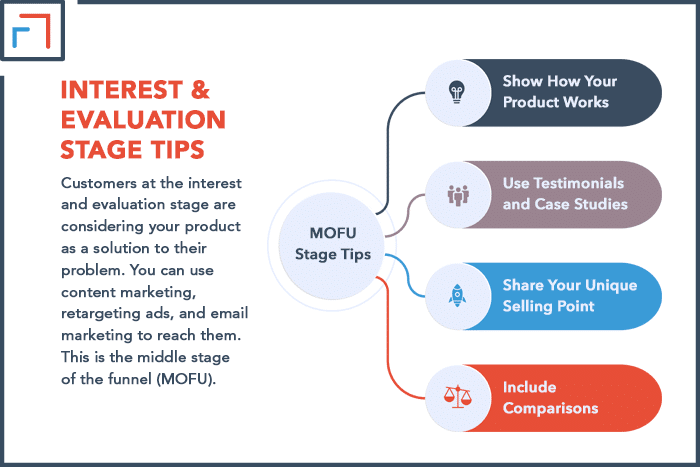 Decision or Desire Tips
If a customer has made it to this stage, congratulations! They are now considering your product or service and are close to making a purchase.
You can use various marketing techniques to push them over the edge, such as special offers, countdown timers, and bonuses.
1. Special Offers
One of the most effective marketing funnel tips is to use special offers. This could be a discount, coupon, or even a free trial.
The goal is to give potential customers an incentive to buy from you. After all, everyone loves a good deal.
How often have you been indifferent about buying something, only to be swayed by a special offer? I can bet it's happened more times than you can count.
A good example of this is Amazon Prime. They offer a free trial for 30 days, which is just long enough for people to get hooked on the service.
After the free trial is up, most people are more than happy to pay for the annual membership.
2. Psychological Triggers
Countdown timers and bonuses are also effective at this stage of the funnel. They create a sense of urgency and encourage people to take action.
For example, if you're running a sale, you could use a countdown timer on your website, page, or social media.
This will let potential customers know that they need to act fast before the offer expires. You could also offer bonuses, such as free shipping or a gift with their purchase.
These are great for last-minute buyers who need that extra push to commit.
This approach is common during the holiday season when retailers offer free shipping with a certain purchase amount.
They also offer limited-time deals to encourage people to buy before it's too late.
3. Use Third-parties to Deliver Your Message
One of the best marketing funnel tips is to use third-party platforms to reach potential customers. For example, you could use influencers, affiliates, or even paid ads.
The goal is to distribute your message to your potential customers with the aid of credible sources.
This way, you can ensure that the target audience sees your message and not just a bunch of ads.
For example, if you're selling a new skincare product, you could reach out to beauty bloggers and have them try it out.
If they like it, they could write a review or even do a sponsored post about it. You could also use affiliates to promote your product.
If you have an e-commerce store, you could join an affiliate program like Amazon Associates.
Then, you could get people to promote your products on their websites or social media.
When someone clicks on the affiliate link and makes a purchase, they earn a commission. Paid ads are also a great way to reach potential customers.
You can use platforms like Google Ads or Facebook Ads to target people based on their interests, demographics, and location.
The key is to use the right platform for your product or service.
For example, Facebook Ads is great for targeting a specific audience, but it's not as effective for search traffic as Google Ads.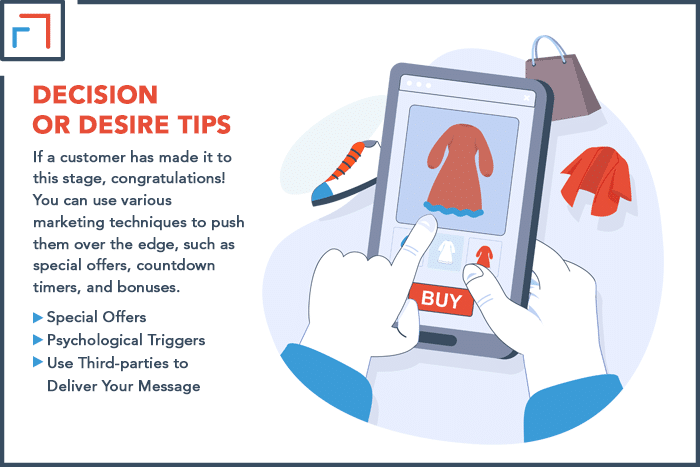 Action & Delight Stage Tips
This is the stage at the bottom of the funnel (BOFU). Finally, your efforts pay off at this stage, and the customer takes action.
It's important to note that the goal at this stage is not only to get a sale but also to create a lasting relationship with your customers.
The best way to do this is by providing good customer service and creating a brand that people can trust. If you can do this, you'll turn one-time buyers into lifelong customers.
Here are a few marketing funnel tips to help you at this stage.
1. Easy Checkout Process
Most buyers abandon their carts at this stage because the checkout process is too long or complicated.
You can avoid this by ensuring your checkout process is as short and simple as possible.
The fewer steps there are, the better. You should also make it easy for people to find the checkout button. Display it prominently on every page.
You can also offer guest checkout to make it easier for people to buy from you. This way, they don't have to create an account to make a purchase.
2. Clear Shipping & Returns Policy
Another common issue at this stage is unclear shipping and return policies. People want to know how much it will cost to ship their order and how long it will take to arrive.
They also want to see the return policy in case they need to return the product. Ensure your shipping and returns policy is clear and easy to find on your website.
You could even include it on the checkout page. This helps customers know what to expect when they buy something from you.
3. Set Your Customers for Success
The last thing you want is a customer who is disappointed with their purchase. To prevent this, you can provide informational guides on how to use the product.
For example, if you're selling a new skincare product, you can include a pamphlet with instructions on how to use it.
If you're selling clothes, including a size chart would be helpful. You can also include a thank you note or coupon code for their next purchase.
This shows that you appreciate customers and want them to be happy with their purchases.
4. Follow-up Email
There is no better gesture than a follow-up email after purchase. You can thank customers for their support.
You could also offer customer support in case they have any questions or issues.
5. Asking for Feedback
Most businesses miss out on this opportunity. You can use post-purchase surveys to get feedback from your customers.
You can then use this valuable information to improve your business.
It also shows your customers that you care about their opinion and want to make improvements based on their suggestions.
It's important to get feedback at every stage of the marketing funnel. You can make the necessary changes to improve your conversion rates.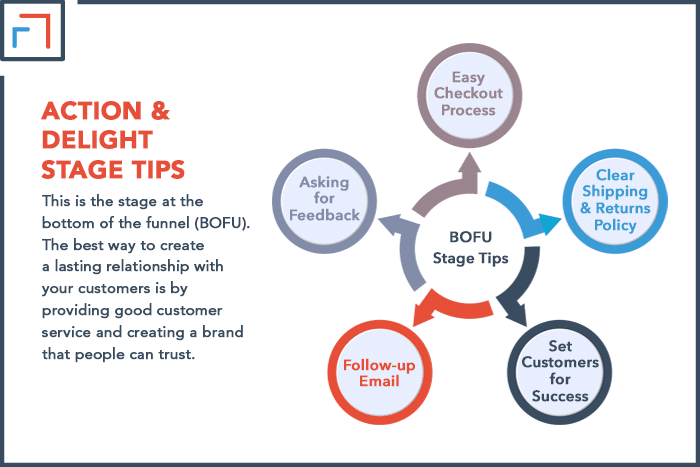 Key Takeaway
The marketing funnel is essential for any business that wants to increase sales and grow its customer base.
At the top of the funnel, you should use strategies that help you to reach a large percentage of potential customers.
You can use more targeted strategies to convert leads into customers as you move down the funnel.
And finally, at the bottom of the funnel, you should focus on creating a lasting relationship with your customers.
By following these marketing funnel tips, you can improve your conversion rates and grow your business.