Coming up with a marketing funnel strategy that converts is a challenging process. Luckily, you can develop a working strategy by learning from the tried and true marketing funnels of major brands. Studying these examples also speeds up your process and increases your chances of success.
Examples of successful marketing funnel strategies include Netflix, Mailchimp, Help Scout, Twilio, and Basecamp. These brands have demonstrated a thorough understanding of the marketing funnel. They use various strategies and design choices to acquire and drive leads through their funnels.
In this post, we will go over a number of strategies used by the above brands to increase conversions. Are you ready to skyrocket your conversions? Let's get started!
What Are The Best Examples Of Successful Marketing Funnels?
An excellent funnel strategy can help your brand in many ways, whether it's attracting the right audience to convincing leads to convert.
Read my article on what exactly is a funnel strategy to know more!
In this section, we will explore the strategies that successful brands are using today to stay ahead of the competition.
1. Netflix
As of 2022, Netflix has over 220 million subscribers. Netflix is a giant content streaming service that controls over half of the US market.
Aside from offering binge-worthy shows, the sensational streaming service has a way of drawing people in and keeping them glued to their screens.
Because we were intrigued by their success, we set out to identify their strategy. Here is what we found out:
Netflix's Strategy
Netflix kicks off its marketing with a basic landing page that eliminates distractions and ensures that the key message reaches the target audience.
Upon their arrival at the website, visitors know exactly what to do. The key message is to watch shows and movies anywhere with the freedom to cancel at any time.
Although the website is simple, Netflix has still managed to make it engaging. They set up a dynamic background that changes depending on the shows being promoted.
They can attract and retain customers by putting customer satisfaction at the forefront of their funnel. When it comes to attracting traffic, Netflix does not invest much in running ads.
Instead, most of its visitors learn about it by word of mouth. The company also partners with several influencers locally and internationally, especially on social media, to spread awareness.
Specific shows are often advertised, but Netflix itself takes a backseat in the process. They draw people in with the product, not the brand.
The Netflix marketing funnel uses a two-step model that involves onboarding new leads and converting them.
First, the funnel uses a one-month free trial as a lead magnet to convince leads to enter the funnel. Then, upon clicking on the call to action to "Get Started," leads are directed to the sales page.
In the final stage, users can choose from various packages based on their needs. This is a clever way of persuading everyone who enters the funnel to become a paying customer.
The only way to avoid paying is to cancel before the trial period elapses. To avoid making users feel trapped, Netflix lets people know that they can cancel anytime.
This simple guarantee eliminates objections and builds trust. Additionally, Netflix collects email addresses that help nurture leads or follow up if they leave the paid plans.
Users also get regular emails to remind them when their favorite show is back. See how appealing their email copy is below.
In case you want to know about many such cool marketing funnel tactics, read my guide on marketing funnel tips and tricks!
Key Takeaways
Use a multi-channel marketing approach to increase your reach. Example approaches include social media, influencer, and word-of-mouth marketing.
Like Netflix, use email marketing to engage and connect with your leads. With the help of modern machine learning, you can collect and analyze customer data for valuable insights. These insights will help you offer the best services or products.
Keep your landing pages simple with the key message and a single, noticeable call to action to support your message.
Personalize your content to suit the various needs of your audience.
But not everyone and every situation can benefit from email marketing. Read whether email marketing is for you or not in my guide on what email marketing can and should be used for.
2. Mailchimp
Mailchimp is a successful email marketing platform that has become one of the best in its industry over the years.
By the end of 2020, Mailchimp had a total of 14 million active users, and as of 2022, the brand is valued at over $12 billion.
Part of this success can be attributed to their thorough understanding of the marketing funnel and the deployment of sound strategies. So let's dive into their strategy to learn how they did it.
Mailchimp's Strategy
At the top of the funnel, Mailchimp creates engaging and relevant content that attracts traffic to their marketing funnel.
In addition to SEO marketing, the brand leverages social media marketing to bring in more traffic. For instance, more than half of Mailchimp's traffic comes from Facebook.
They use Facebook Custom Audiences to target their ads to a particular audience.
This ensures that their ad reaches the intended audience, thus increasing the chances of generating hot leads for their marketing funnel.
Mailchimp also uses affiliate marketing to generate awareness and attract more leads.
The affiliate program involves incentivizing paid users in the form of bill credits worth $30 to keep the Mailchimp footer in their emails.
Paid users can redeem these credits in exchange for getting new customers to sign up via their affiliate badge.
Signing up is easy. Users just need to provide a username, email, and password. Mailchimp then uses the collected email addresses to run email marketing campaigns by sending useful emails to its subscribers.
The brand also uses the social proof strategy by providing client testimonials on its landing page.
This strategy, together with an FAQ section on the sign-up page, helps them address fears and objections that clients may face.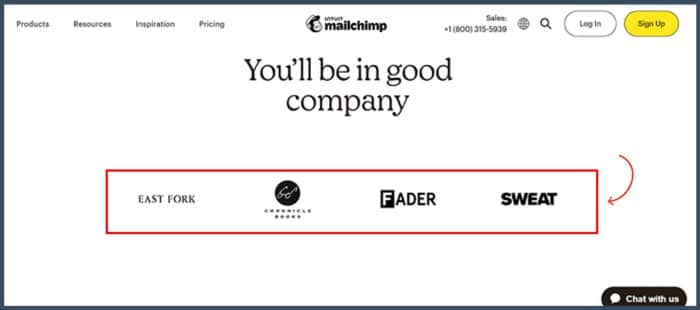 On its pricing page, packagers are divided into tiers. This enables customers to pick plans they are comfortable with. However, the most outstanding strategy on this page is its freemium marketing.
The forever free plan increased their signups by more than five times! While the free plan did not directly generate revenue for the brand, it still helped boost its profits.
This is because it lowered the customer acquisition costs, hence maximizing the profits on each sale from new paid signups.
Key Takeaways
Leverage the use of blogs, emails, organic traffic, and referral marketing to drive traffic to your funnel.
Use A/B split testing and audience segmentation to send the right messages to the intended audience.
Simplify sign-ups by minimizing form fields and collecting only essential details.
Use social proof marketing to boost confidence and trust in your brand.
3. Help Scout
Help Scout is a help desk software that is highly favored by small and medium businesses as well as freelancers.
After launching in 2011, the brand chose its path to success by ignoring the hyper-growth strategies. Their goal was to avoid challenges that come due to growing too fast.
The company now serves 12,000+ customers in 140 countries, including Basecamp and Trello.
Compared to other companies in the same industry, like Zendesk and tawk.to, Help Scout has the smallest market share. Despite that, it has been very successful.
Let's study the strategy behind their success below.
Help Scout's Strategy
The core object of Help Scout is to build a great business, irrespective of the number of customers. To achieve their objective, the team at Help Scout settled for a long-term marketing funnel strategy.
For starters, Help Scout has a simple landing page that tells visitors what the brand is about in just a few words.
When scrolling down the page, visitors are met with a visual representation detailing how the software works.
Keeping the landing page and the product itself simple has helped the brand stand out from competitors with complicated products.
Help Scout has invested in a robust content marketing strategy to help drive traffic to its marketing funnel. The brand publishes high-quality and helpful content on its resources and blog section.
Content marketing makes up 60% of customer acquisition, and 20% comes from paid ads.
The brand's content marketing strategy has been a success because it focuses on offering real value to customers rather than attempting to drive conversions.
For instance, Help scout ranks last for help desk software keywords but ranks highly for awareness stage topics such as customer service.
How Does Help Scout's Content Marketing Strategy Work?
The brand diversifies its content forms to cater to the different tastes of its readers. They create product-related articles, interviews, and insights into how the company works.
Help Scout also writes guest posts that are linked back to its content, such as guides and slide presentations.
Occasionally, the brand publishes affinity content that is not directly related to customer service. For affinity content to work, it has to be an area of interest to the target audience.
For example, one of their articles (psychology of color in marketing) garnered over 10,000 shares.
At the conversion stage, Help Scout offers a free trial period during which trial users get the best possible experience.
At the same time, the brand collects valuable feedback during the onboarding process and uses it to send emails that push the user to take the next step in their journey.
Finally, the pricing page presents all the information necessary to help users make decisions. Once satisfied, users fill out a form to start their free trial.
Key Takeaways From Help Scout's Strategy
Although content marketing is a long-term strategy, it is an effective way to attract and convert traffic.
Use content marketing alongside other strategies (such as running paid ads and SEO) to increase your reach.
Diversify content formats and repurpose them to appeal to a broader audience.
Use testimonials and customer reviews to deal with possible fears on your landing page.
4. Twilio
Twilio is one of the best communications APIs providers that is specially meant for developers. The brand is a perfect example of successful niche marketing.
By the end of march 2022, the brand had over 268,000 active users. Wondering what goes into their funnel marketing strategy? Let's find out.
Twilio's Marketing Funnel Strategy
At the top of the funnel, Twilo relies on content marketing to spread awareness and acquire leads through the Twilio blog. The tutorials on the blog are aimed at helping developers build great projects.
The blog also houses other content forms, such as customer highlights and announcements. Leads can also learn about Twilio by searching on Google.
The brand uses SEO marketing and targeted keywords to rank on the first page of search results. The landing page presents several customer stories and testimonials to create trust.
After going through the social proof and blogs, Twilio offers multiple calls to action so readers can take the most suitable action to satisfy their needs.
To get started with Twilio, visitors can either sign up, talk to sales representatives, or visit the pricing page.
Once qualified leads reach the bottom of the funnel, they are presented with additional information on pricing, implementation, and returns on investment.
One of the most remarkable elements of Twilio's funnel strategy is how effectively they use niche marketing.
They have narrowed down their target customer to developers only. This helps them to laser focus their marketing and messaging efforts on an audience they are sure of.
For instance, it helps them develop tutorials on technical subjects while freely using a language only developers understand.
Had they mixed up their customer segment, creating technical tutorials would have been an issue.
Key Takeaway
Segment your audience to enable you to share relevant and helpful content for your content marketing strategy
Focus on high-quality leads who are likely to convert
5. Basecamp
Basecamp is a huge project management tool with millions of active users. The success of this tool can be attributed to a sound marketing funnel strategy, among other factors.
Therefore, it is crucial to study what Basecamp has done with its funnel.
Basecamp's Strategy
To create awareness, Basecamp primarily invests in word-of-mouth marketing. When people hear about Basecamp and visit their landing page, they enter the funnel.
Once on the landing page, leads are directed to click on a huge call to action button that invites them to try Basecamp for free.
The sign-up process on the next page is a simple one that encourages leads to push through with it.
If visitors are not ready to try the tool for free, they can scroll down the landing page and view information about what makes Basecamp special and who uses it.
This helps answer the audience's questions and educates them about the product. The answers are then supported by customer reviews and testimonials.
At this point, leads are aware of what Basecamp is and how it can help them. Once again, they are presented with a call to action inviting them to sign up for free.
Key Takeaways
Asking for minimal details during a freebie sign-up encourages leads to continue with the process.
The copy on your landing page should inform readers what your product is about and how it can help solve their problems.
Provide answers to frequently asked questions.
Wrapping Up
Driving conversions gets more complicated with each passing day. The best way to counter this is to develop an effective marketing funnel strategy.
Still, building a winning strategy takes time, patience, as well as plenty of trial and error.
Fortunately, learning from successful brands that have developed winning strategies can help smooth the learning curve and shorten the time it takes to drive conversions.
The brands we discussed above all have sound strategies that can inspire you to develop a strategy that works well for your business.