Copywriting is a unique form of writing. While it requires excellent writing skills, copywriting entails much more than just putting words on a page. Most businesses are looking for well-rounded copywriters who can offer other skills to help with marketing and branding efforts.
Copywriting is not just writing. It also involves elements like using a brand voice, creating marketing campaigns, brainstorming with sales and marketing teams, analyzing results, and reporting on performance. Copywriters also require research, proofreading, and editing skills.
Copywriting is a highly specialized field, and anyone who is looking to become a successful copywriter needs to be skilled in all aspects of the writing process. Whether you are just starting or are an experienced writer, there is always room to grow and improve.
What Does Copywriting Entail Besides Writing?
First things first, writing and copywriting are not the same thing. Copywriting is a specialized form of writing that requires a unique set of skills and knowledge to create effective marketing campaigns.
Let's look at some additional key aspects of copywriting.
1. Research
One of the broadest and most important aspects of copywriting is research. Copywriters must be able to gather useful information from different sources.
They then use this data to create effective marketing strategies and campaigns.
Copywriting research typically involves evaluating customer demographics, analyzing market trends, and understanding the competition.
Competition research helps copywriters discover what makes their products and services unique.
On the other hand, market research helps them understand the best prospects to target and how to engage with those audiences.
Understanding your product and services is also crucial to creating effective copy.
This might involve conducting interviews with product developers, researching existing customer feedback and reviews, and using available data and analytics tools.
To keep up with the recent trends and emerging technologies, copywriters must find the latest news in their chosen industry. This ensures that campaigns are relevant and engaging for target audiences.
The benefits of research in copywriting include the following:
Finding effective ways to engage with target audiences
Understanding market dynamics and customer needs
Developing appropriate strategies based on proven results
Crafting compelling content that resonates with audiences
Creating a competitive advantage for your business or organization
Keeping up with the latest industry trends and news
Good research is essential for successful copywriting, and it is one of the key skills that sets great copywriters apart from their peers.
If you are interested in pursuing a career in this field, learn all you can about research so you can apply these skills in your writing projects.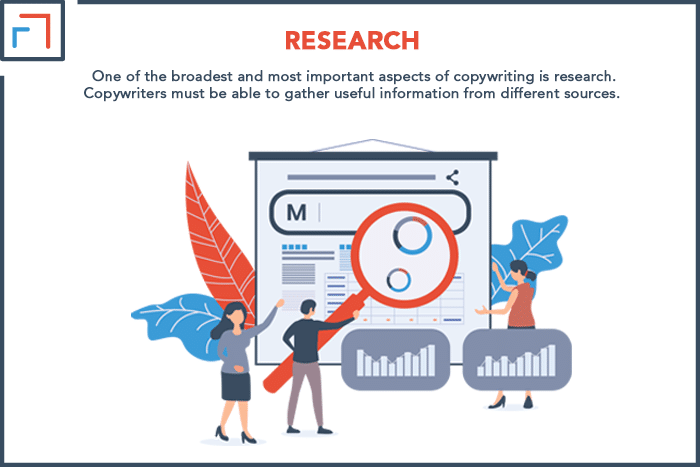 2. Creating Brand Elements
Have you realized that there is a certain way companies want to position themselves in the market? These are known as brand elements.
They are a unique way of communicating, whether it's through written words or visual content.
Copywriters are responsible for creating these elements and ensuring they stay consistent across all marketing channels.
Oftentimes, previous campaigns or public relations efforts may have built a foundation for these elements.
In such cases, the copywriter's job is to study the existing aspects and translate them into effective marketing content.
To create brand elements, copywriters must work closely with marketing teams and other stakeholders to provide input that aligns with their business objectives.
This might involve using certain tone or language styles or creating a specific visual style guide and reference materials. Some of the key aspects of brand elements are:
Language and Tone Styles
Copywriters may be asked to use a friendly and engaging tone or adopt an authoritative and professional tone to convey their message.
They must also consider cultural nuances that affect how different audiences perceive the content.
Visual Style Guides
If a company has a specific visual style they want to maintain, it's up to the copywriter to ensure that it is reflected in their content. This could include certain colors, fonts, or layout styles in written content.
Brand Personality
A company's brand personality is an important component for copywriters to consider. It is essential for building a strong connection with audiences.
Copywriters must communicate this personality in their marketing content through the words they use or the images they choose to include. For copywriters, creating brand elements is a key part of the job.
It requires excellent communication skills, an understanding of business objectives, and the ability to align marketing content with brand personality and visual style guides.
With these skills in your arsenal, you can thrive as a copywriter in today's competitive marketplace.
3. Creating Marketing Campaigns
Copywriting is not about creating one piece of content. Instead, it's about developing and executing marketing campaigns.
This involves creating various written and visual content targeted at specific audiences. To create effective marketing campaigns, copywriters must have excellent research and analysis skills.
They should be able to gather data and analyze it to understand target audiences and how they engage with content.
This allows them to develop content that resonates with those audiences and creates a lasting impact.
Assisting the other team members to develop effective campaigns is also an important part of a copywriter's job.
This might involve writing video scripts, drafting social media posts, or creating email campaigns. Testing and analyzing these campaigns is another key role of copywriters.
They must be able to track the effectiveness of their content and provide data-driven insights to help the marketing team make adjustments as needed.
The ability to think creatively and develop out-of-the-box marketing campaigns is also important for copywriters.
Unlike most content creators, they must be able to work well with a team and manage competing deadlines and project requirements.
4. Brainstorming with Sales & Marketing Teams
There is often a strong collaborative element to copywriting, especially when it comes to creating marketing campaigns.
To develop effective content, copywriters should work closely with sales and marketing teams and other stakeholders. I've covered more dimensions in my article on working areas of a copywriter.
This might involve brainstorming ideas or generating concepts for different types of content.
It may also entail working on creative briefs, managing projects, or proofreading and editing content produced by other team members.
The collaboration is meant to align marketing content with the company's business objectives and ensure that it resonates with target audiences.
This calls for excellent communication, interpersonal relationships, and teamwork skills. In addition, attending meetings and submitting agendas are often part of a copywriter's role.
You may be required to report on campaign results or conduct research to support your content creation efforts. To achieve effective collaboration with other team members, a copywriter should:
Be organized and efficient, with strong time management skills
Understand the company's business objectives and brand personality
Have excellent communication skills, both written and verbal
Demonstrate creativity and flexibility in content creation
Work collaboratively with other team members on different marketing campaigns or projects
Copywriters should work in tandem with the marketing and sales teams to develop effective content that drives business results.
5. Result Analysis & Reporting
Beyond creating content, copywriters are responsible for analyzing campaign results and reporting on them. This involves tracking engagement metrics such as:
Click-throughs/ click-through rates
Conversions
Sales
Audience growth
Reach
Engagement
Copywriters use this data to develop reports. They must be able to highlight the key findings and create recommendations for the marketing team.
The reports might also include insights on what types of content resonate most with audiences and how to improve campaign performance.
Building strong analytical skills and a data-driven approach to marketing campaigns is important for copywriters who are chasing success.
With these abilities, you can effectively measure the impact of your work and provide valuable insights that drive results.
Result analysis plays an integral role in decision-making for copywriters and requires an in-depth understanding of key metrics.
For example, they may be asked to examine the performance of past campaigns, identify areas for improvement, and provide recommendations on optimizing results.
As part of the role, presentation skills are also essential. Copywriters may be required to present campaign results and findings to senior leadership or other stakeholders.
In order for this to be effective, it requires strong communication skills and the ability to convey key messages.
Copywriters should be able to sieve through large amounts of data, track campaign performance metrics, and produce reports that highlight the key insights.
In addition to strong research and writing skills, copywriters must also have excellent analytical abilities and know how to communicate results and recommendations to colleagues or clients effectively.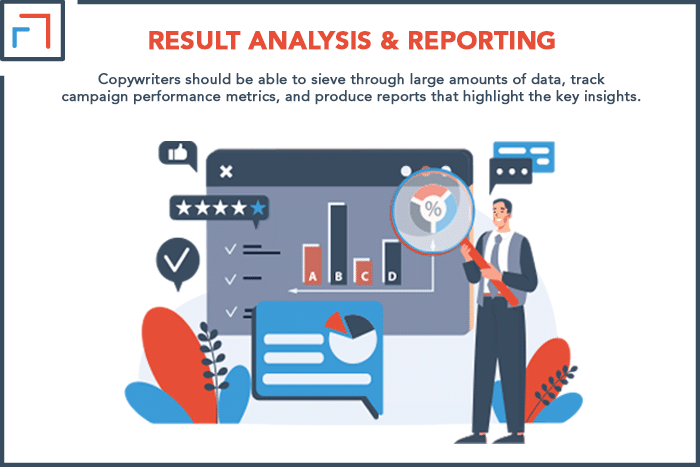 6. Proofreading & Editing
Copywriters are responsible for proofreading and editing their work and the content created by other team members. This involves reviewing copy for spelling, grammar, clarity, and consistency in style.
You should have strong writing skills and a keen eye for detail. When writing for different marketing campaigns or projects, you should also be familiar with the company's brand voice and style guidelines.
In addition to proofreading your work, you may also need to review content produced by other team members.
This means collaborating with copywriters and the marketing and sales teams on different projects. Using editing and proofreading tools can also help improve the quality and readability of your content.
Some popular tools include grammar checkers, style guides, and online writing courses to help refine your writing skills.
7. Search Engine Optimization
Although SEO is often seen as a job for digital marketers, copywriters need to keep it in mind when creating content for marketing campaigns.
This involves using keywords and other tactics to optimize content for search engine visibility and ranking. Some common techniques include:
Keyword Research
Keyword research helps identify the right terms or phrases to use throughout your content. This can help improve your website's ranking on search engines like Google and drive more traffic to your page.
Adding Descriptive Metadata
Metadata is information such as title tags or meta descriptions that can help improve your content's visibility in search results.
When writing copy for campaigns, you should ensure that this metadata is descriptive, accurate, and properly aligned with the campaign goals.
Using Internal & External Links
Links are another important factor for SEO. They help establish relationships between your website and other authoritative websites, which can improve your page's search ranking.
For example, you may want to include links to external resources or related blog posts on your website to drive more visibility and traffic.
In addition to using these techniques, copywriters should be aware of the latest SEO trends and best practices.
This requires staying up-to-date with new technology and monitoring changes to search algorithms and ranking factors.
8. Source Images
Copywriters are often tasked with sourcing and using images in their content. This means scouring the internet for royalty-free or licensed images that are relevant to your marketing campaign.
This may also require you to work closely with design and digital marketing teams to find the right image, size it appropriately, and insert it into your content.
You should also be aware of copyright restrictions and regulations when using images.
You can get royalty-free images from various sources, such as stock photo libraries or free image websites. Some popular options include:
iStock Photo
Pexels
Unsplash
Pixabay
Your images should be high-quality, relevant to your content, and optimized for sharing on social media.
It's also important to pay attention to image size, file type, and resolution when inserting images into your content.
Simple photo editing skills can also help you make quick changes to images. You can resize them for different formats and screens and optimize them for sharing online.
9. Creating Infographics
Infographics are a great way to present complex information in a visually engaging way. You may be asked to create custom infographics for your marketing campaigns or projects as a copywriter.
This requires you to come up with interesting and informative ideas. Then you must use design tools like Illustrator and InDesign to turn them into finished products.
You may also need to work with designers and other team members to create compelling infographics that capture your audience's attention.
After creating your infographic, you should pay attention to the distribution and promotion of your content.
This may include sharing it on social media and other online channels and using paid distribution networks or influencer marketing.
Infographics are one of the most shared types of content online. Therefore, creating high-quality infographics can help boost your campaign's visibility and engagement.
10. Streamlining the Content Creation Process
As a copywriter, it's important to know how to streamline content creation.
This can involve using productivity and project management tools, collaborating with team members and stakeholders, and identifying bottlenecks or inefficiencies in your workflow.
A content calendar is an effective tool for managing your projects. It helps you map your content strategy, plan, and track progress over time.
You might use tools like Trello or CoSchedule to create a publishing schedule, assign tasks to team members, and monitor external factors that may impact your content.
Giving your content a clear and consistent voice is another important part of copywriting. This can involve developing a style guide to establish tone, vocabulary, and formatting for each piece of content.
Verdict: Do Copywriters Just Write?
Although writing is an essential component of copywriting, it is so much more than that. Copywriters must have excellent research, analytical, collaboration, and communication abilities.
They also need to be skilled at proofreading, editing, and optimizing content for SEO.
Additionally, copywriters must be able to find and use high-quality images in their work and create compelling infographics and other visual content.
Copywriting is a complex and multifaceted field that requires creativity, attention to detail, and strong project management abilities.
If you are interested in a career as a copywriter, there are many opportunities to learn the necessary skills and begin your journey.