If you plan to invest in a sales funnel builder for your business, you have probably considered ClickFunnels. However, when you look at the pricing for this service, it seems costly. It's natural to wonder if ClickFunnels is actually worth the price.
ClickFunnels is worth the price because it is a page builder and a one-in-all marketing tool. People previously built funnels from scratch, which took much longer. They had to hire funnel consultants for up to $150,000 for a single funnel. ClickFunnels makes it quicker and cheaper to build funnels.
This post will discuss why ClickFunnels is worth the price, whether you can make money from it, and a list of pros and cons to keep in mind. Not only is this service worth the price, but it can offer you a lot more value than you might expect!
ClickFunnels Pricing: Is It Worth It?
To help you determine if ClickFunnels is worth the money, we will first look at its pricing and the benefits of each plan.
This is crucial because, at a glance, ClickFunnels seems expensive. Below is an overview of the pricing plans and the features of each.
1. Starter Plan: $97 per month
This is the cheapest ClickFunnels plan (aside from the 14-day free trial). Here is an overview of what you will get when you subscribe to this plan:
Build up to 20 funnels and share them with others
Create 100 sub-pages inside your funnels
Add one sub-user and provide them with login and admin rights
Add three payment gateways
Connect three domains so you can manage more brands or products from the same account
Access chat support
Learn through FunnelFlix
When To Use ClickFunnels Basic Plan?
The basic plan is excellent for beginners with a limited budget.
If you are looking to create simple funnels, the basic plan should be more than enough for you.
The plan offers all the essential items necessary to build high-converting funnels.
Moreover, it gives beginners a chance to learn as they develop their products. On the other hand, this plan does not include email marketing.
If you need to use email marketing in this plan, you will need to integrate a third-party autoresponder. Unfortunately, this will increase the cost.
If this is your situation, it may not be wise to invest in the basic plan.
Moreover, you should not invest in this plan if you do not have a product for sale. Your returns may not be worth the initial investment.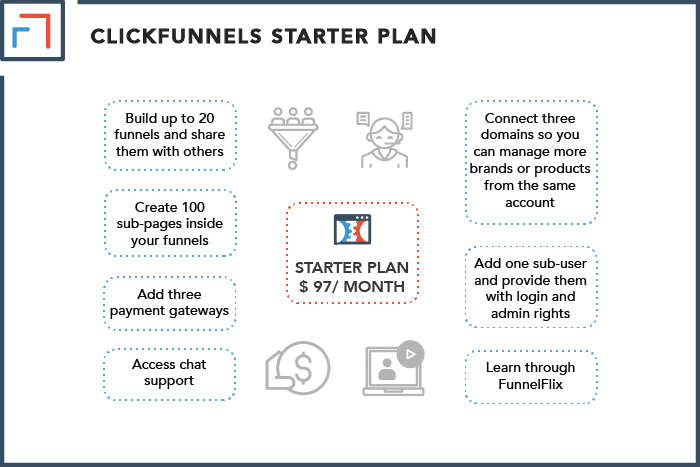 2. Platinum Plan: $297 per month
This plan is much more expensive compared to the basic plan. It does come with a variety of upgraded features, though! Here are its benefits:
Unlimited sales funnels or websites
Create unlimited subpages for each funnel
Set up a team of three sub-users
Add nine payment gateways
Add nine domains
Create unlimited follow-up funnels
Access priority customer support
Access more hours of additional courses and training via FunnelFlix
Access virtual hackathons where ClickFunnels experts show you how to build your funnel
When to Use the Platinum Plan?
This plan is an excellent investment if you deal with high ticket offers. It's effortless to incorporate upsells into your funnels with this plan.
You can also use this plan if you need to use your sales funnel alongside an affiliate program.
Similarly, this plan is for you if you would wish to avoid third-party email autoresponders.
On the other hand, if you are eyeing the platinum plan solely for email marketing, it may not be worth the investment.
Email marketing is handled as a follow-up funnel, so it's not as detailed as some other services.
You may be better off trying cheaper or free email marketing programs that offer a variety of unique templates.
3. Two Comma Club
The Two Comma Club is an exclusive online community of digital marketers and entrepreneurs.
Costing $2,497 per month, the club is exclusive to ClickFunnels users who have made over a million sales online.
With this plan, you will be able to access all the platinum features as well as the power to:
Add ten sub-users
Add 27 payment integration and domains
Receive priority support plus phone support
Create unlimited follow-up funnels
Access extensive training in the form of weekly classes and corrections
When to Join the Two Comma Club?
Since this plan is meant for marketers with multiple businesses, it is worth investing in if you are already generating millions in revenue.
It is also perfect if you need coaching to grow your business.
In most cases, though, it is too costly and extensive for starters or those focusing on single businesses.
So, Is ClickFunnels Worth the Price?
Ultimately, ClickFunnels is worth its price if you have a ready product for sale and you are willing to put in the work to direct traffic to your funnels.
The different levels help people choose the best plan for their needs.
Besides, since it is easy to use, ClickFunnels saves you money and time you would have spent hiring experts.
On the other hand, since businesses have different goals, ClickFunnels may not be a one-size-fits-all solution.
For example, the software may not be worth investing in if you are just starting out in online marketing and have no product to sell.
It offers high value, but it may be too expensive if you are on a budget.
Therefore, whether or not ClickFunnels is worth the price depends on your business needs, budget, product, and how quickly you want your funnels and landing pages to get made.
What Makes ClickFunnels Worth the Price?
ClickFunnels is worth the price because it is a one in all marketing suite that enables you to market, sell and deliver your products within one platform.
Some of the tools that make it an all-in-one solution include a cart, a marketing system, a CRM, a page builder, and more.
This service seems expensive when you just look at the price, but the value is astonishing!
Below we'll explore some of the features that make ClickFunnels worthy of its price.
1. ClickFunnels is a Page Builder
One of the major factors that makes ClickFunnels worth the money is its ability to build beautiful pages.
Compared to custom website design, ClickFunnels is cheaper and quicker to use.
Hiring a custom website builder could cost thousands of dollars and will take a lot of time to complete.
ClickFunnels strives to make it easy for anyone to create pages without any skills or experience.
Better yet, you can access everything you need for page building from the same dashboard.
Another perk is the intuitive interface from which users build the pages.
2. ClickFunnels Works as a Cart
Another factor that makes ClickFunnels attractive is its cart function. A shopping cart is crucial for anyone who wants to make sales online.
The software allows you to drive sales and receive payments by providing a cart. Thus, it simplifies the online selling process.
ClickFunnels offers easy-to-use cart features.
For instance, it enables you to seamlessly integrate payment gateways so you can start processing payments in no time.
Some of the payment processors you can connect include Stripe, Paypal, ApplePay, Ontraport, NMI, and more.
On the same note, ClickFunnels allows you to create upsell offers with a single click.
Therefore, you will be able to make one-time offers without worrying about the design.
In addition, the cart functionality enables you to manage membership sites and deal with recurring payments.
However, you need to note that the cart function may not work if you do not have a digital product. Thus, people with physical products cannot use this feature.
Unfortunately, this makes it unsuitable for brick-and-mortar businesses.
3. ClickFunnels Works as an Affiliate Management System
Running an affiliate program can be stressful, and not all the programs are easy to use.
However, the ClickFunnels affiliate system makes it easy to generate revenue.
The best part about it is that you promote the software and earn money while selling your own products.
The ability to earn money by promoting ClickFunnels makes it worth investing in the top-tier plans.
The ClickFunnels Backpack add-on allows you to recruit, manage and pay your affiliates.
Don't worry about the setup because customizing and integrating backpacks is simple.
Moreover, the backpack program allows you to manage cookies, set payment parameters, and track affiliate IDs (among other perks).
Eventually, your affiliate system will grow, but your backpack will still be able to handle it.
Therefore, ClickFunnels is worth the money since the affiliate system will give you a great return on your investment.
4. ClickFunnels Works as a Content Management System
Websites are the most commonly used content management systems. However, when you're looking to increase sales, sales funnels come in handy.
Subsequently, you need ClickFunnels to help you build funnels quickly. The ability of ClickFunnels to build and host websites makes it well worth the price.
You don't have to choose between your website and sales funnels because you can have both!
However, it is worth noting that building your website inside of ClickFunnels comes with its own set of challenges. For example, it does not support SEO or blogging.
Therefore, if you need to generate organic traffic through blogging, you need a website independent of ClickFunnels.
5. ClickFunnels works as a Marketing and CRM System
For any business to succeed, it needs a working marketing strategy. However, finding the right strategy can be expensive and tedious due to trial and error.
ClickFunnels makes it easy to increase conversions by eliminating the guesswork.
The ClickFunnels Actionetics feature makes the software a worthwhile investment. This add-on enables you to create follow-up funnels.
Following up on your leads increases your chances of converting them into paying customers. Subsequently, you will increase your income.
With these follow-up marketing tools, you will segment your audience so you can send them targeted messages.
It also makes targeting your audience easier by studying their behaviors, such as how long they stay on your site or what social profiles they use.
6. ClickFunnels Has Top-Notch Training
Software is only useful if its users can get the most out of it. Therefore, ClickFunnels' top-level training makes the software a good investment.
The training enables you to learn all the functions and use them to your advantage.
The platinum plan gives you access to FunnelFlix, which grants access to tons of courses necessary to start running a business with ClickFunnels.
Some of the things you will learn include course creation, affiliate marketing, product creation, and more.
Subsequently, you will not need to pay for other online courses.
In addition to the courses, the ClickFunnels CEO and his team provide books about online business that you can read for free.
You only need to pay the shipping fee to receive a book. Some of the books include Dotcom Secrets, Expert Secrets, Copywriting Secrets, and Traffic Secrets.
Can You Make Money With ClickFunnels?
You can make money with ClickFunnels by creating converting sales funnels or by joining and running affiliate programs.
Of course, ClickFunnels is no magic pill, so results will vary. It is just a tool that helps you achieve results.
It is crucial to know whether ClickFunnels can boost your revenue because it wouldn't be worth investing in if it generates no return on investment.
By creating different types of sales funnels, you can speed up the buying rates of your leads.
On the other hand, it is possible to lose money with ClickFunnels. This happens if users create unattractive offers or fail to generate traffic.
Just like with any investment, you need to weigh the risks and rewards.
How to Make Money With ClickFunnels?
To make ClickFunnels worth your time, you need to generate as much income as possible to cover your subscription fee.
You can make money by selling your products or by becoming a ClickFunnels affiliate.
The best way to recover your investment and make profits is by selling your own products using your sales funnels.
By design, ClickFunnels will help you get your products to the market quicker.
So, the best way to get started is by joining the 30-Day Funnel Away Challenge that gets your funnel up and running.
ClickFunnels Pros and Cons
While ClickFunnels is an excellent tool that's worth investing in, it is not perfect. That said, let's take a quick look at its advantages and disadvantages.
+ Quick building of various types of landing pages with the drag and drop editor
+ Ready-made templates for easy funnel building
+ A/B split testing to choose the best performing model of your funnel
+ Data tracking to help users make necessary improvements
+ Seamless integrations with major email marketing service providers like ConvertKit, Aweber, MailChimp, and more
+ Easy funnel sharing
+ In-depth training, tutorials, and support
+ Easy DIY all-in-one marketing solution eliminates the need to hire experts
– The subscription fee is not a one-time deal. You need to keep paying monthly or yearly to access its services
– Due to its numerous features, users face a steep learning curve despite its ease of use
– Given its popularity, numerous people use the same templates, which leads to similar-looking sites
– Experienced marketers may find it extremely simple for its high price
– Pricing plans are more expensive compared to its competitors. Furthermore, the starter plan limits the number of funnels, users, pages, and monthly visitors
Final Thoughts
ClickFunnels is an effective tool for creating converting sales funnels quickly. This makes it a worthwhile investment.
You get access to easy-to-use drag and drop editor and multiple tried and true templates.
It also gives you access to all the tools you need to run a successful website.
For example, it provides website creation and hosting, a cart, a content management system, a landing page builder, a CRM, etc.
Putting all your tools in one location will save time and run your business effortlessly.
If you have a product for sale and a fitting budget, ClickFunnels is one of the best programs for the job.