ClickFunnels is one of the most popular sales funnel builders on the market. It has a long track record of success and has created the biggest community of fans in its niche. Is it really the best, though?
ClickFunnels is the best sales funnel builder on the market. It was created by the #1 expert on sales funnels, and it has all the tools you need to create a successful sales funnel for your business. While it's not perfect, the upsides greatly outweigh the downsides.
In this article, we'll break down why ClickFunnels is the best funnel builder, what makes it different and better than its competitors, and a list of pros and cons that will help you form your own opinion.
Why is ClickFunnels the Best?
ClickFunnels is the best funnel builder out there because it was created by coders who are also actual online marketers. This expertise helped Russel Brunson (one of the current leaders in sales funnels) know what was actually needed to launch and run a successful sales funnel.
The knowledge base of the leadership is one big reason for their success.
Since the launch of ClickFunnels in 2014, many other funnel builders have been created and marketed to the public.
However, Clickfunnels keeps its rightful spot on top because of the strength of its community and the simplicity of its software.
Unlike other funnel builders, you can find all of the tools you need to build a successful sales funnel on ClickFunnels without bringing in any third-party programs or plugins.
The only problem with this software is that it may be too expensive for new entrepreneurs or business owners who have no previous marketing experience.
ClickFunnels only offers two monthly plans (a Standard Plan at $97/month and a Premium Plan at $297/month).
For this reason, ClickFunnels is not always the best option if you are on a tight budget.
What Makes ClickFunnels Different from Other Funnel Builders
ClickFunnels is different from other funnel builders because it is not just a software program but a community as well. The ClickFunnels members have a community that was built on value and good results. It's been going strong for almost eight years!
Another thing that differentiates ClickFunnels is the information and education side of the company.
They possess one of the most extensive libraries of available resources to learn about sales funnel building, strategy, copywriting, and more.
A company that implements the elements of the change to its processes gains an overwhelming competitive edge in the market.
The connection between sales and digital marketing is in a vital position, considering the new opportunities that are created by digital transformation and the new digital platforms.
You can find valuable content for free on their YouTube and social media accounts, or you can access it via the different funnels and offers they run.
ClickFunnels also offers "FunnelFlix" to those who purchase ClickFunnels Platinum.
Users can stream dozens of courses from various mentors thanks to this feature.
Some people swear by ClickFunnels, while others find it doesn't meet their needs.
Of course, both opinions are valid, but first, you need to understand the upsides and downsides of using this software so you can come to your own conclusion.
Upsides of Using ClickFunnels
1. ClickFunnels is the Easiest Tool for Creating Sales Funnels
The learning curve for ClickFunnels is so low that even a complete novice can start using it from day one.
The simple drag-and-drop editor allows you to quickly and easily build your sales funnel without any previous web design or coding experience.
2. ClickFunnels Offers an Unrestricted 14-Day Free Trial
You can test this software and all of its features for 14 days without any obligation. This will help you know if it's the right fit for you and your business.
3. All the Tools Under One Roof
Thanks to ClickFunnels, you don't need to connect a series of different software or online applications to make a fully functioning funnel.
You can edit your funnel steps, track your stats, create one-click upsells, down-sells, cross-sells, and order bumps, and send all of your email marketing communications under the same roof.
4. Set Up Any Type of Funnel Quickly
With ClickFunnels, you can quickly create squeeze funnels, launch funnels, webinar funnels, and survey funnels.
In addition, you won't need to map your whole funnel and make individual pages because the templates can help you.
5. Several Different Payment Gateways
This software also makes it easy to give and receive payments.
Users can choose from various payment gateways, including popular ones like Stripe, PayPal, and Apple Pay.
ClickFunnels makes it easy to integrate any of the 27 payment gateways into your sales funnel.
6. ClickFunnels Integrates with the Most Popular Tools and Applications
Thanks to Zapier, you can integrate all of your favorite tools to automate any part of your business.
Quickly connect with tools like Slack, Gmail, Keap, and Agile CRM. The necessary tools are built-in, but you can always add any extras that you want!
7. Increase Your Conversions by A/B Testing
With ClickFunnels, you can quickly and easily create a duplicate of any funnel so you can test different videos, headlines, copy, or designs.
You can then check the stats and see which variation is performing better.
8. No Need to Pay for Hosting
Once you connect your website domains to ClickFunnels, the software begins hosting your funnel pages on your domain.
9. Build Your Membership Sites
You can use ClickFunnels to generate a members-only area.
This program offers an impressive number of membership site templates with added features like ClickPops and ClickOptin.
10. Create and Control Your Own Affiliate Program
With BackPack, you can create your Affiliate Program inside your ClickFunnels account.
Check how many affiliates you have, how much they have made in sales, how much you've paid them, and more.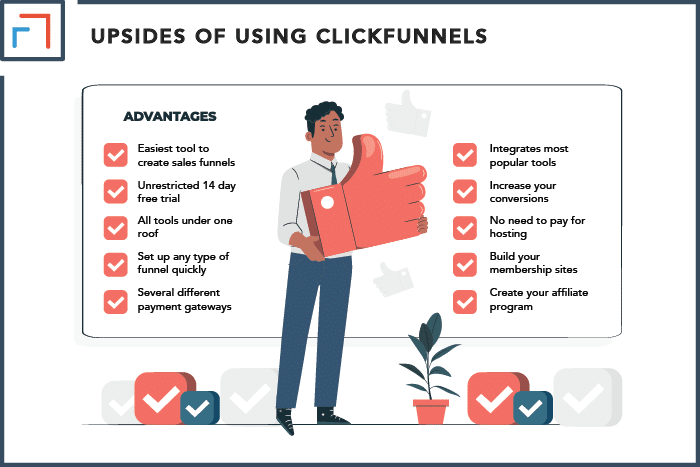 Downsides of Using ClickFunnels
1. Might Be too Expensive for Some Businesses
ClickFunnels only offers two different payment plans. The Standard Plan costs $97 per month, and the Premium Plan costs $297 per month.
This is more expensive than many business owners would prefer.
2. The Page Builder Glitches Sometimes
While the software is easy to use, you might want to save your work as you go.
Sometimes the builder might stop working in the middle of the session, and if you didn't save your changes, you would have to re-do everything you had done up until that point.
3. If You Cancel Your ClickFunnels Account, You Lose Access to Your Funnels
There's no way to move your sales funnels to any other platform.
So if one day you want to stop using ClickFunnels, you will lose access to all of your previously made funnels.
4. Support Is Not Always The Best Or Fastest
From my own experience, while the support team is kind and does its best to help you, there have been times when they have failed to resolve issues with my account or funnels.
The community can also fill this need, but their expertise and the level of help may vary.
5. Their Sales Funnels Templates are Not Always Good
While you don't need a designer to create a sales funnel with ClickFunnels, most of the current templates look very generic.
A few ways to get around this problem are by:
Using the share funnel feature and asking someone to share their funnel templates with you.
Buying one of the premium templates from the marketplace for a few bucks.
Manually editing your templates and adjusting them to fit your product or brand.
6. The Email Marketing Tools are Only Available for Premium Accounts
"Follow Up Funnels" is a ClickFunnels marketing tool that helps you tag your subscribers according to the actions they take on different pages or funnels.
This is very useful because you can track and automate your customer's journey.
Unfortunately, you need to join the $297/month package to access this tool.
Final Thoughts
ClickFunnels is not perfect by any means, but it has a long track record of success.
It also has the most success stories from people who have used it than any other sales funnel builder.
For this reason, they are the best sales funnel builder currently on the market.
ClickFunnels offers everything you need to build a successful funnel, and the pros outweigh the cons.