ClickFunnels is a popular funnel-building tool that has taken the marketing industry by storm. Although there are many stories of people scaling their income in a short span of time, it is normal to question its legitimacy and safety.
ClickFunnels is a safe and legitimate business. It has a secure website that is encrypted with SSL certificates and only integrates with known payment gateways. Moreover, it discloses its privacy policy and contact information. In addition, it has complied with the PCI standards.
This is a trustworthy business, and there are a lot of aspects to explore. In this post, we will discuss why ClickFunnels is safe, why it is not a scam or a pyramid scheme and why you might want to try it out.
What Makes ClickFunnels Safe?
Because scams and fake websites flourish on the internet, it's good to be wary about new programs.
However, there are plenty of legitimate services as well, so you need to be able to tell the difference.
ClickFunnels is a secure platform to use for your funnel and marketing needs. It proves its legitimacy in several different ways.
In the following sections, we'll explore the features that make ClickFunnels safe and trustworthy.
1. It Has an SSL Certificate
ClickFunnels has a secure URL that starts with 'HTTPS' instead of 'HTTP.' The extra S means the website is secured.
This indicates that ClickFunnels is using the secure socket layer (SSL) security certificate. The certificate is only issued once a website proves to be compliant.
You will also notice that there is a small padlock at the beginning of the ClickFunnels URL.
Upon clicking on the lock icon, you will receive a note signaling that the connection is secure. But how does having an SSL certificate make ClickFunnels safe?
An SSL certificate signifies that the connection between you and the ClickFunnels website is encrypted.
It guarantees that any information shared between you and ClickFunnels cannot be intercepted, copied, or modified.
Furthermore, Google uses HTTPS as a ranking factor, ranking secured sites higher than unsecured ones.
Moreover, the Chrome browser now issues warnings to web users by labeling sites without SSL as insecure.
Better yet, Chrome is Clickfunnnels' recommended browser. Ultimately, by encrypting your data, SSL can protect it.
Even if somebody were to intercept it, they wouldn't be able to decrypt and use it.
2. ClickFunnels Uses Secure Payments
ClickFunnels takes your banking details seriously and protects them using SSL encryption. This way, no one will receive or intercept your sensitive financial data.
Moreover, ClickFunnels offers secure modes of payment.
To begin with, ClickFunnels does not have its own mode of payment. Instead, payments on the ClickFunnels platforms are made using third-party, trusted payment gateways.
Some commonly used gateways include Paypal, Stripe, NMI, Keap, and Easy Pay Direct (among others).
3. ClickFunnels Is PCI/DSS Compliant
The payment card industry data security standard (PCI DSS) is an important aspect of website validity.
This standard requires all businesses who handle credit card information to offer and maintain a secure payment environment.
The PCI requires that a merchant meets a set of 12 requirements to be deemed compliant and start accepting card payments.
The fact that ClickFunnels accepts card payments is inherent proof that it is PCI compliant.
4. ClickFunnels Has an Accessible Privacy Policy
ClickFunnels also complies with the data privacy laws that require sites to openly display their privacy statement.
The privacy laws state what kind of client information they will collect and how they will use it.
An authentic privacy policy must also be legible and easy to understand without hiding or withholding any information.
ClickFunnels clearly displays its privacy policy at the bottom of its page. It is well written and easy to understand.
This policy helps users know what will happen to their personal details, hence putting them at ease.
Moreover, it makes the platform trustworthy because users know their data will not be misused or mishandled.
5. ClickFunnels Has Plenty of Reviews and Testimonials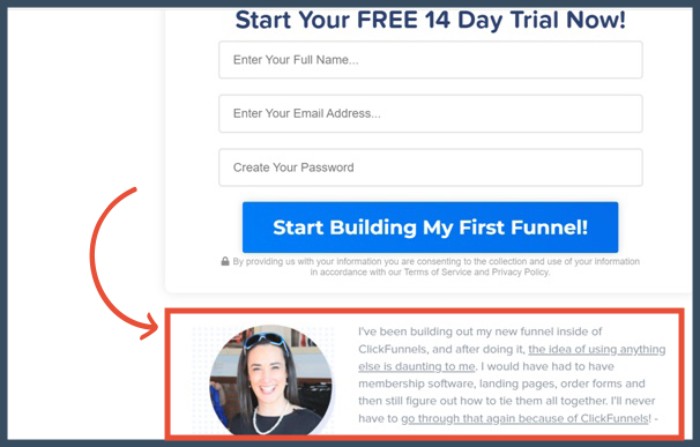 Reviews and testimonials showcase the experiences previous customers have had with a particular service.
A business without any reviews should be a red flag. If a business has no solid reviews, it usually means it is either new in the market, or it is deleting bad reviews and ratings.
A quick check on Google will return several reviews written by ClickFunnels users. You will find both positive reviews and negative ones.
For instance, out of three Yelp ClickFunnels reviews, two are negative with a single star. But the fact that they are still online proves that ClickFunnels has nothing to cover up.
6. ClickFunnels Avails Its Contact Information on Its Site
An unsafe business will not provide its real contact information.
However, when you visit the ClickFunnels homepage, you will find details regarding ClickFunnels' physical address and phone numbers for contact.
You can access the contact information by clicking on the location link. The site also offers an email address for customer support-related queries.
Besides, the brand ClickFunnels is almost synonymous with the CEO and founder Russel Brunson. He is a renowned salesperson with a proven track record.
This shows that the business can be traced back to a real owner and not an unknown stranger.
7. ClickFunnels Website Design Matches the Brand's Style
A site that is not safe will usually have a cheap, slapdash design. This is because illegitimate businesses don't last long.
Therefore, they don't waste their resources building something that won't last.
The moment you land on the ClickFunnels website, you will notice a stunning design that matches what the brand stands for–building amazing landing pages.
Clearly, the owners took their time to design a site that looks trustworthy enough to attract and retain clients.
In fact, they offer a disclaimer at the bottom of the page stating that the ClickFunnels website was built using the same product they are promoting.
Additionally, the page features a clean and elegant design with clear images and videos.
Is ClickFunnels a Scam or a Pyramid Scheme?
There is always a lot of buzz online with people who claim they've earned a 6-figure income overnight.
With so much false information and exaggeration out there, it is normal to wonder whether ClickFunnels is some sort of a get-rich-quick scheme.
It's natural to think that, so let's look at the ways ClickFunnels operates and how it's different from a pyramid scheme.
1. ClickFunnels vs. A Pyramid Scheme
To start with, a pyramid scheme is a business model that thrives on recruiting more and more people.
The more people you can get to join, the more money you will earn. These schemes also offer over-priced products without any real benefits.
On the other hand, ClickFunnels is a funnel-building software that helps businesses generate more leads and generate more sales.
In addition to building sales funnels to market products, users can also earn money by promoting ClickFunnels to other marketers.
2. Why ClickFunnels Is Not a Pyramid Scheme?
One of the reasons ClickFunnels has raised suspicion is because of pushy affiliate marketers who market the product for personal gain.
These affiliates end up making exaggerated claims that don't reflect reality.
The ClickFunnels affiliate program is a rewarding venture that pays up to 40% commission rates.
People can join the affiliate program for free, but ClickFunnels products must be paid for.
This recruitment method might seem suspicious, but there are some definitive reasons to prove that ClickFunnels is not a pyramid scheme.
First, for one to join a pyramid scheme, they are required to invest a certain amount of money to make returns.
However, you do not need to invest or pay any amount to become a ClickFunnels affiliate. It is free to join.
Secondly, to earn more from a pyramid scheme, you need to recruit more people.
But in ClickFunnels, you need to make more sales to earn higher commissions and, ultimately, a better affiliate income.
In addition, ClickFunnels is a legitimate SaaS business with a real product. People pay to use the software and build high converting sales funnels.
However, pyramid schemes do not have real products to help solve people's problems.
Finally, the ClickFunnels affiliate program is a simple two-step process that involves getting people to sign up or buy through an affiliate link.
If they do, you earn a commission, and the process starts all over again. Pushy affiliates can be annoying, but they are not representative of ClickFunnels as a whole.
3. Reasons ClickFunnels Is Not a Scam
Scams are on the rise, and people keep losing money every day.
Fraudulent businesses take advantage of unsuspecting people, offer them sweet deals, then swindle them off of their hard-earned money.
ClickFunnels is a legitimate business that does not steal from anyone. Instead, you get what you pay for with them.
3.1 ClickFunnels Is Not a Magical Solution
Most scams make huge promises that turn out to be too good to be true. Once a person invests, they lose their money without gaining any benefits.
ClickFunnels does not make any false promises. It gives you the tools for success but puts the responsibility in your hands.
Moreover, it is crucial to note that ClickFunnels is not a magic bullet.
It is just a tool– a means to an end. To get any real results from the software, you need to put in hard work. You need to consistently learn, implement and update.
3.2 ClickFunnels Has Been Proven to Work
Scam users have nothing to show for it. But with ClickFunnels, plenty of people have achieved success through the platform.
The Two Comma X Club, for example, has more than 700 members who have earned more than $1,000,000 using ClickFunnels.
The members of the club also share their tactics and templates to inspire others. It is also worth noting that joining the club takes hard work.
One must make a single funnel using ClickFunnels and use it to sell a product or a service that earned a million dollars in a year.
3.3 ClickFunnels Has Real Competitors
ClickFunnels is no scam because it has several real competitors offering similar software.
Companies such as Kartra, GetResponse, Builderall, Unbounce, LeadPages, and more are offering funnel-building services.
ClickFunnels stands out from the rest because of its strong affiliate program and a bundle of powerful tools.
A quick look at these competitors' sites will reveal that they have many of the same features as ClickFunnels.
3.4 ClickFunnels Has a Properly Designed and Informative Website
The thing about scammers is that they leave little to no trail to ensure they are not caught if and when things go south.
As such, scam websites tend to be poorly designed with limited information.
However, the ClickFunnels website is beautifully designed with plenty of informative content describing who they are and how they can help your business succeed.
Moreover, the website has contact information, including phone numbers and physical locations.
Further, ClickFunnels is a product of the Etison company, which is registered as an LLC. To further prove their law compliance, ClickFunnels shares evidence of adherence.
At the bottom of their page, you will find their privacy policy, affiliate disclosure, terms of service, and more.
Some Drawbacks Associated With ClickFunnels
Although ClickFunnels is completely safe to use, it also has some drawbacks. At the end of the day, some users just don't like it!
First, some people find it to be too costly for the value it offers. They believe that, for its price, it should provide more features and better templates.
However, it is also good to bear in mind that the core value of ClickFunnels is to simplify funnel building. Some customers are also frustrated at their lack of success.
ClickFunnels has never claimed to be a magical solution, and some businesses won't do well even if they use it.
This can be disheartening, but it doesn't mean that ClickFunnels is to blame. Finally, some users have experienced poor customer care from the ClickFunnels support.
It usually takes hours or days to get a response from customer service.
People sometimes feel that for such a big investment, they deserve better service when they need it.
Should You Use ClickFunnels?
After learning about ClickFunnels' safety and its drawbacks, you may be wondering if you should use it.
Well, in addition to safety, there are more reasons to invest in ClickFunnels for your business. The first reason to use ClickFunnels is that it delivers as promised.
The key objective of ClickFunnels is to help you market and deliver products by building converting funnels.
ClickFunnels provides everything you need to build an effective funnel under one roof.
You should also consider using ClickFunnels because it makes funnel building easy and quick. Simply pick a template, then edit it using the drag and drop page editor.
This saves you a lot of trial and error. Another reason to use ClickFunnels is that you will learn to build a better funnel faster.
With ClickFunnels programs and events such as One Funnel Away Challenge and funnel hacking events, you will be able to implement strategies from the best in the business.
Finally, ClickFunnels will help you optimize your funnel for success.
One of the most effective ways to improve your funnel is by using the ClickFunnels A/B split testing feature.
It allows you to develop and test different versions of various page elements and pick the best variant.
Wrapping Up
With ClickFunnels in the spotlight and a lot of hype surrounding it, people wonder if the platform is safe.
Rest assured that ClickFunnels is a legitimate platform that prioritizes the safety of its users.
For instance, the ClickFunnels website has SSL certificates to ensure user information is encrypted.
Moreover, ClickFunnels is a real SaaS product that delivers on its promise of simple, effective funnel building and lead generation.
So if you are looking for a funnel builder, try ClickFunnels free for 14 days and experience firsthand what it can do.