ClickFunnels is a leading sales funnel builder that allows users to market and sell their products online. You can create sales funnels, email campaigns, landing pages, and more. But, with all the functions ClickFunnels has to offer, you may wonder if it's easy to use.
ClickFunnels is easy to use. By design, ClickFunnels was created to simplify the funnel-building process for beginners and experts alike. The most prominent features that make it easy to use are the drag and drop editor and the intuitive user interface that guides users through funnel building.
This post will walk you through a step-by-step process that demonstrates how easy it is to get started with ClickFunnels. We'll also explore the various aspects that make it user-friendly and accessible. You'll be surprised when you see how simple it is!
How Easy Is ClickFunnels to Use?
ClickFunnels is easy to get started with because you do not need any coding skills.
In addition, the software has an intuitive interface that people of all skill levels can use. All you need is knowledge about what a sales funnel is and how it works.
With that understanding, you can build and publish a sales funnel in ClickFunnels in a matter of minutes!
To get a clear representation of how this tool makes funnel building easy for you, let's look at how to build a funnel in ClickFunnels.
Below we have a simple step-by-step process with five steps.
To get started, visit the ClickFunnels website and click on the blue 'Start Free Trial button. From here, you will be directed to a sign-up page.
Fill in your details to sign up and log in.
You can always upgrade to the full version later, but the trial will let you test out the capabilities of this service.
Step 1: Once logged on, you will arrive at a clear and simple user interface.
Since you are just starting out, it will be blank. From your dashboard, click on the green '+ Create Funnel' button.
Step 2: Once you have chosen to create a funnel, select your goal. ClickFunnels offers three main goals for its users.
These goals are to collect emails, sell a product, and host a webinar. In addition, if you have another goal, ClickFunnels allows you to create a custom one.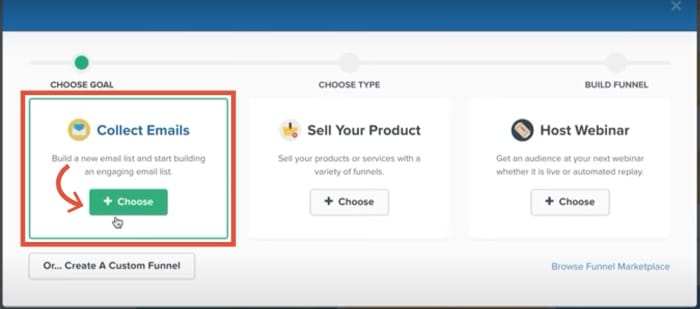 Step 3: After picking your goal, name your funnel and provide a group tag by filling in the two empty boxes.
Naming your funnel will make it easy to make future references. Once done, click on the green 'Build Funnel' button.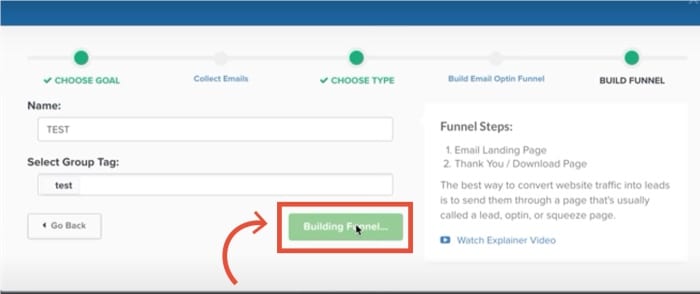 Step 4: Clicking on this button will take you to the funnel templates page. Here, you can browse a gallery of tried and tested templates.
Hover around the options until you find a template you like. Once you find your preferred template, select it, then click on 'Edit Page'.
Step 5: You will be taken to your sales funnel page. You can use the drop and drag editor to add photos, pages, and other elements to your funnels.
At the top, there are buttons that will enable you to edit each of these. The options include pop-ups, rows, columns, sections, and elements.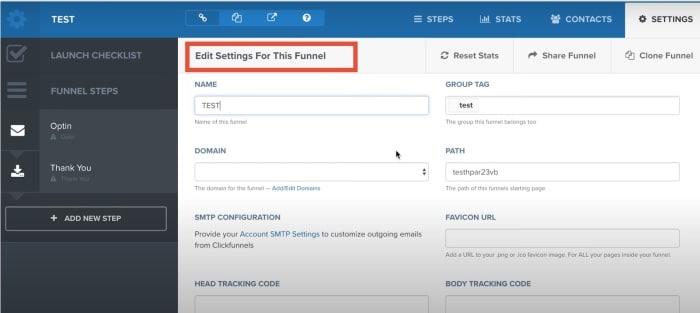 Once you're done editing, save the changes, and that is it!
You have successfully created a sales funnel, and you can start using it.
Afterward, you can preview your landing pages on desktop and mobile to ensure that users will have a good visual experience.
What Makes ClickFunnels So Easy to Use?
ClickFunnels was designed with ease of use as its core value. Therefore, all its features and functionalities work together to make funnel building effortless.
Such features include a drag and drop editor, a template-rich gallery, A/B split testing, integrations with other programs, and much more.
Let's explore a few ClickFunnels features that simplify and shorten the funnel-building process.
1. Quickly Build Pages with an Intuitive Drag and Drop Editor
The ClickFunnels drag and drop editor enables users to add various page elements and design beautiful pages.
With this feature, you can move desired elements around without any prior HTML coding skills.
For instance, if you wish to add a section, click on the 'Sections' option and select how you want them added.
You can pick a full-sized, medium, or small section, then drag and drop them into the desired position. You can also change the section background, colors, and text.
Moreover, you can add multiple elements to a section such as a call to action, survey form, sign-up form, pricing table, and more.
Finally, when it comes to landing pages, you can switch between desktop and mobile views on the dashboard and edit them accordingly.
2. Simplified Email Marketing in ClickFunnels Platinum
An email list is a powerhouse for any email marketing campaign. The bigger your email list is, the more sales you are likely to make.
However, a growing email list comes with management challenges. This can be attributed to the need to keep in touch with your subscribers on a regular basis.
The ClickFunnels platinum plan takes all these headaches away with an email autoresponder. You can send mass emails regardless of the size of your email list.
Consequently, you will be able to stay in touch with your subscribers, which is crucial to the success of your email marketing.
Most third-party autoresponders do not allow you to add affiliate links or send too many emails at a time.
Moreover, if you consistently receive limited email open rates (as is the case for starters), they transfer you to a lower-quality server which further lowers the rates.
ClickFunnels takes all the above third-party challenges out of the equation to make email marketing a breeze for you.
All you need to do is add your email provider, and you'll get exclusive ownership to your email list.
3. Multiple Templates to Choose From
Have no idea what a landing page should look like? ClickFunnels has a whole "cookbook" of landing page templates.
You just need to pick one that appeals to you and customize it to your liking. You can also use it without any editing if you wish.
The best part about the templates is that they are tried and tested, which takes away the guesswork.
Since the templates are proven to be successful, you can rest assured that the framework is solid.
This saves you time that you might have spent trying to figure out your own design.
4. Effortless Comparison of Various Sales Funnel Models
Figuring out if a funnel is working is an overwhelming process when it's done manually.
Fortunately, the ClickFunnels A/B split test feature takes all the guesswork by allowing you to compare two or more versions of a sales funnel.
Subsequently, you can tell which version converts best. The A/B testing feature provides statistics that you can use to improve your sales funnels for best results.
Similarly, you will be able to pick the best-performing models for your business.
Ultimately, you will save time and money that would have gone to waste in the process of trial and error.
5. Learn to Use ClickFunnels Using FunnelFlix
ClickFunnels further ensures ease of use by offering the FunnelFlix feature. Funnelflix gives you access to training if you feel stuck or are just starting out.
However, it should be noted that this feature is only available in the platinum plan.
With FunnelFlix, you will learn:
How to promote other people's products and earn even if you don't have a product for sale.
How to increase sales if you run a brick-and-mortar business.
How to identify productive business opportunities.
How to create funnels if you are unsure of where to start.
How to perform email marketing.
In addition to the training, ClickFunnels offers customer support to ensure you are not alone.
If you get stuck in the middle of creating a funnel or face other challenges, you can always contact the support network for assistance.
Better yet, ClickFunnels now has a live chat support option which you can access from your dashboard under the 'Help' tab.
Then, simply scroll through and click on 'Get Support'. This option is available from Monday to Friday, 24 hours a day.
6. Easy to Create and Rearrange Upsell and Downsell Pages
Upsells and downsells are core parts of the sales funnel because they drive leads to buy more.
However, convincing a prospect to push through the purchase process is a daunting task.
The ClickFunnels upsell and downsell features make it easy to attract customers and sell products to them.
Although these upsells and downsells are easy to create, they may not convert all the time. Sometimes the offer you make is not what the customer needs.
For instance, if an upsell does not convert, ClickFunnels gives you the power to reorder the pages and try again.
7. Follow Up on Your Leads With Actionetics
Following up on the leads in your sales funnel is crucial but quickly gets overwhelming as your business generates more and more leads.
The ClickFunnels Actionetics tool allows you to quickly and efficiently follow up on your leads without breaking a sweat.
People do not like reading generalized, robotic emails. However, they are more likely to open messages addressed to them individually.
The Actionetics feature allows you to avoid the blunder of sending emails to your subscribers en-masse.
You can now send personalized messages without spending hours studying relevant messages for your audience.
8. Integrated Analytics Does All Your Data Tracking
While tracking your sales funnel is crucial to identifying the leakage points, it can be challenging to keep track of everything.
Furthermore, the data can become too huge to analyze manually.
For example, when you have multiple traffic sources, it can be hard to pinpoint how much traffic came from which source.
The ClickFunnels analytics tool simplifies everything by helping you keep up with all this data.
Since data tracking is integrated into ClickFunnels, you can easily study your data in one central place.
This lets you see how the sales funnel is doing and how well it is converting.
You can also pinpoint the sources of your hot leads, hence helping you focus on these sources and saving you time and money.
9. Integrated Hosting Simplifies Funnel Building
You will need hosting to run an online sales funnel. This means you have to purchase a domain name and choose a hosting service provider.
This usually takes time and is not always easy.
For instance, you can get hosting with a limited budget, but it may come with minimal customer support and lower speeds.
ClickFunnels simplifies the hosting process for you by offering inclusive hosting.
This means you can not only build sales funnels in ClickFunnels but host them here as well.
Better yet, if you wish to have your own domain name, you can order it via ClickFunnels.
10. Easy to Use and Intuitive Interface
ClickFunnels user interface is among the best in the industry. When you first visit the ClickFunnels website, you will see a series of sales funnel videos.
Similarly, their landing page leads by example. It has large and descriptive texts backed with an appealing background.
Moreover, humans are visual beings. Therefore, its eye-catching graphic user interface provides an attractive and seamless user experience.
Upon logging in, you will be greeted with all the resources you need to build a sales funnel on the same page.
At the top, you will see all the main features, such as the Edison editor and backups. Meanwhile, the all-powerful analytics tool is at the bottom.
With everything located in convenient places, all you need to do is make your selections then customize them to your needs.
Here is a summary of the ClickFunnels intuitive design options:
Select your preferred funnel type.
Pick your favorite template.
Edit your pages by adding or deleting them, then customize the elements.
Add more flair to your pages by adding logos, images, and videos.
Add the product you are selling.
Perform split tests.
Perform lead and conversion tracking.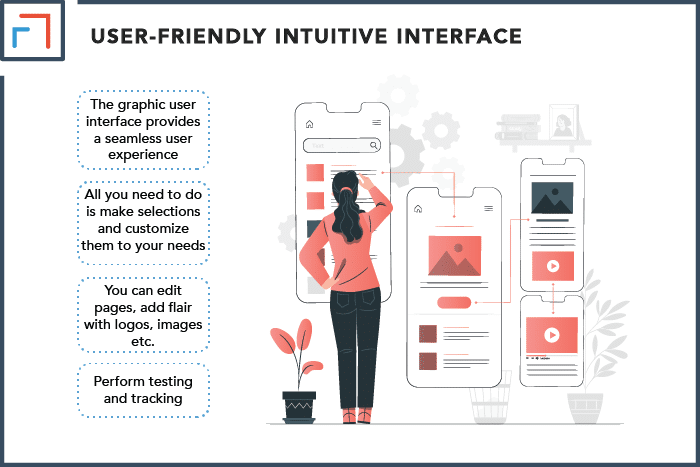 11. Seamless Integration of Apps and Payment Gateways
When it comes to ClickFunnels, you do not have to stop using your favorite apps. Better yet, ClickFunnels allows you to integrate them effortlessly!
Simply visit the integrations section or look them up on your search bar.
Simply click on 'Integration' to add it. Some of the many integrations you can add include MailChimp, Aweber, Shopify, InfusionSoft, Hubspot, Drip, and more.
Once you check ClickFunnels third-party documentation, you are good to go.
Payment gateways are the final step to completing your online store.
ClickFunnels allows you to add billing integrations to enable your customers to make payments on the go.
So, as long as you have set up your accounts with the payments provider, the process to add them is smooth and quick.
Some of the payment gateways you can add include Stripe, ClickBank, Ontraport, InfusionSoft, and more.
With the ClickFunnels integration feature, you do not need to worry about missing out on some functions.
Similarly, integrations help you manage everything in one place without juggling multiple apps.
Final Thoughts
ClickFunnels is an easy-to-use funnel-building software, making it a perfect fit for beginners and small businesses on a budget.
It enables you to build sales funnels quickly without any experience or coding skills.
With the drag and drop editor, you can create your funnel using pre-made templates.
Moreover, the intuitive user interface makes it easy to locate all the necessary tools for funnel building.
Better yet, the interface helps you create funnels by moving you through a step-by-step process.
So, if you are looking for easy-to-use software, ClickFunnels could be the perfect choice!