ClickFunnels is an effective tool for building sales funnels. It's great for generating leads and converting visitors into customers. However, this service has some downsides. If you're going to use it, you need to know whether ClickFunnels is bad for SEO.
ClickFunnels is not good for SEO because its builders for funnels and landing pages are not optimized for SEO. It also lacks link-building tools, and it's impossible to add tracking codes to the pages. While ClickFunnels is bad for SEO, there are ways it can be used to improve your rankings.
Many people who use ClickFunnels don't realize what they're doing wrong regarding their website's SEO ranking. Read on to find out why ClickFunnels is not suitable for SEO, how it affects your SEO and how you can use it to improve your rankings and conversions.
Why ClickFunnels Is Not Good for SEO?
In general, ClickFunnels is a great tool. You can use it in many different ways, and it's one of the most powerful tools available to businesses today.
It is also great for building conversion funnels and landing pages. However, it is not the best tool to use if you are trying to improve your search engine rankings (SEO).
Here are some reasons that ClickFunnels is not good for your SEO efforts.
1. The Funnel Builder Is Not Optimized For SEO
ClickFunnels wasn't built with SEO in mind, and this includes the funnel builder.
Therefore, you won't be able to optimize your title, meta description, and funnel content for search engines.
You can edit these fields yourself, but this can complicate things if you don't know what you're doing.
The other problem is that ClickFunnels' primary product, the Funnel Builder, does not use internal or external links to help people find your site via search engines.
Internal linking helps people navigate within your site, while external linking helps people navigate between websites.
2. ClickFunnels Landing Page Builder Is Not Optimized
The landing page builder is also not optimized for SEO because it doesn't have any tools to help you optimize your landing pages.
It also doesn't let you change the URL structure of your landing pages, which makes it harder for these pages to rank within Google search results.
You need a high-quality landing page that converts well to get organic traffic from Google.
Unfortunately, the landing page builder in ClickFunnels doesn't allow you to add custom code or split test different designs on your page.
3. It Has No Link-Building Tools
Without link-building tools, it's impossible to build backlinks without third-party software like Ahrefs or Moz.
ClickFunnels is an excellent tool for creating landing pages, but it doesn't have a lot of features that help you get more traffic.
ClickFunnels has many features that allow you to collect emails and send messages to people within your funnels.
However, there aren't any tools that will enable you to build links or link-building campaigns.
So if you're looking for a tool that will help you make links, ClickFunnels isn't the right choice.
4. You Can't Add Your Tracking Code to ClickFunnels Pages
It is difficult to track conversions properly if you cannot add your tracking code.
You have to use Google Analytics instead, meaning you can only see data from one source (your Google account).
You also won't get information about whether visitors completed their purchases on other devices or browsers.
It's a common misconception that you can add your tracking code to ClickFunnels pages, but you can't.
If you want to track your conversions in Google Analytics or other tools, you must create a dedicated landing page with a tracking code.
It might sound like a big deal, but in reality, it isn't. You don't need to worry about this unless you want to track every click on your funnel page.
If this is the case, it would be best to use an alternative platform like Leadpages or Unbounce instead of ClickFunnels.
How ClickFunnels Affects SEO?
ClickFunnels is a great marketing tool that can help you generate more leads and convert them into customers.
However, many other tools are out there that can do the same thing. So, how can ClickFunnels affect your SEO?
ClickFunnels can affect your SEO in two ways: through landing pages and squeeze pages.
1. Use of Landing Pages
The first way that ClickFunnels affects SEO is through landing pages.
Landing pages are pages on your site that aim to capture the attention of your target audience and get them to take the desired action.
This is exactly what you need for effective SEO — a focused page that will help you reach your goals.
In search engine optimization, landing pages are essential for creating a successful online presence.
The best landing pages are optimized to get visitors to convert into customers, and they are useful for a variety of different purposes.
ClickFunnels is a landing page builder that allows you to create, edit and publish your landing pages.
It will be the first thing your customers see when they visit your website, so you need to make it look good.
By using ClickFunnels, you can build high-converting landing pages in minutes.
These landing pages strive to convert visitors into leads or customers, making them effective and powerful.
2. Creation of Squeeze Pages
ClickFunnels also allows you to create "squeeze pages," which are another great option for effective SEO.
Squeeze pages are similar to landing pages, but they're usually shorter and simpler.
They often have one call-to-action (CTA) goal, making them easier to optimize for search engines. You can also use them to improve your SERP rankings.
When optimizing your squeeze pages with ClickFunnels, ensure that every page has an H1 tag at the top.
You should also optimize for SEO by using relevant keywords that people would be searching for when they have a specific problem/question.
If you include good keywords, visitors will be more likely to come across your ad campaign or content promotion network link.
Be sure to optimize each piece of content (e.g., blog posts or videos) to include keywords.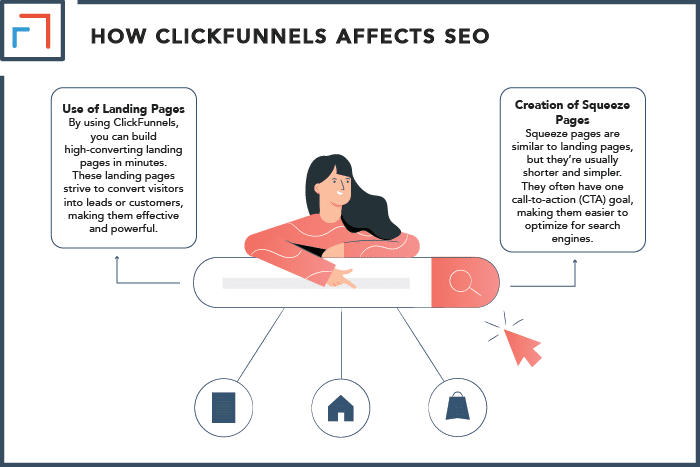 How Does ClickFunnels Affect Your Ranking and Conversions?
The content that you create with ClickFunnels can enhance your search engine rankings. ClickFunnels is a powerful tool for marketers, so you can use it to create webinars, landing pages, and sales funnels that convert website visitors into leads. If you use them properly, these can indirectly improve your ranking.
The platform provides many features designed to help you generate more sales. Some of these features include:
1. ClickFunnels Integrations
One of the most critical features of ClickFunnels is its capability to integrate with all major eCommerce platforms, such as Shopify and WooCommerce.
It allows you to turn your website into an online store and sell physical products directly from your site.
You can even use it to drive traffic to your affiliate links or any other third-party affiliate programs you might be using.
It might sound like a dream come true for some people to have their product sold directly on their site without paying any fees or commissions.
However, this also means that if you're not careful about setting up your sales funnel, you might hurt your SEO efforts instead of helping them.
Here are some of the ways that ClickFunnels can help you improve your rankings:
2. Keyword Research
With the help of ClickFunnels, you can easily find some popular terms people search for and how many times they're searching for them.
This information is vital if you want to create high-converting landing pages.
3. A/B Testing
You can use A/B testing to compare elements on your landing page to see which one is better at converting visitors into leads.
For example, if you have two other headlines on a landing page, it would be wise to test them both to see which one converts better.
The A/B Split Testing feature enables users to test different variations of their landing pages, which helps them determine which one performs better.
This feature will help you increase conversion rates by ensuring that your landing page is appealing to your potential customers.
4. Landing Pages
A landing page is a single web page with a clear call-to-action (CTA) that directs visitors toward the desired outcome (i.e., conversion).
These CTAs can vary widely depending on the marketer's offers.
A CTA could be anything from signing up for an email list or downloading an eBook to submitting their contact information.
Once someone takes action, they're added to your database as a lead and can receive emails from you.
5. Optimized Landing Pages
One of the most important parts of any SEO strategy is having optimized landing pages.
ClickFunnels makes it easy for you to create unique, optimized landing pages for all of your campaigns.
One of the best features of ClickFunnels is how easy it is to create different variations of your landing page to test what works best for you.
You can even use A/B testing to see which version gets better results before making a final decision.
6. Integrated Email Marketing Tools
Email marketing tends to be one of the most effective ways to drive traffic and sales for eCommerce sites, but managing all of those emails on your own can also be challenging.
ClickFunnels offers an integrated email marketing tool that allows you to create high-quality newsletters without worrying about all the technical details involved with managing an email list.
You can integrate your email marketing campaigns with ClickFunnels to promote your products effectively using email marketing campaigns.
You can also use this feature to send notifications whenever you receive an order through your website or storefront.
This way, you can keep track of all orders made by customers through your website or stores.
7. Sales Funnel Automation
With ClickFunnels, users can accomplish their goals with several highly beneficial features.
Some of these features include how to use Clickfunnels for Conversion Rate Optimization (CRO).
The signup process is one of the most important parts of your funnel. The first step is to make sure visitors can sign up for your product or service.
Set up your funnel so they can complete this step without any trouble or confusion. If you think they will have difficulty, it's time to redesign your pages.
You should also try using different incentives like discounts or free trials to boost conversion rates.
What Else Can You Use For SEO?
Many other tools can help with SEO optimization, including WordPress plugins like YoastSEO or All in One SEO Pack. These plugins will help you optimize your content so that Google understands what it's about when users search for it on their site (and they'll even let you know when they've found an error).
Other SEO tools include:
1. Google Search Console
This free tool from Google helps you monitor your site's performance in search results and gives you access to rich data and insights about how visitors engage with your content.
You can see which pages are getting the most traffic and optimize those pages accordingly.
2. Moz Open Site Explorer
This tool from Moz provides a wealth of data about any given webpage on the internet, including its title tag, meta description, and keywords used in links pointing to it.
It will help you identify opportunities to improve upon the current site content or find new keywords that may be relevant to your business or industry.
3. Google Trends
This tool is helpful for seeing how popular a keyword is over time.
You can also see how many people search for a particular keyword in different locations and languages.
It's useful for determining whether you should target your content toward international or local audiences.
4. SEMRush
SEMRush is a great tool that helps you understand how many people are searching for your keyword.
You can also see other keywords that are related to what you have chosen and even get suggestions for other keywords which might be profitable for your business.
This is a great tool for finding long-tail keywords that have less competition but still drive traffic.
5. Ubersuggest
This is a keyword suggestion tool that allows you to find long-tail keywords.
It also provides information about how many times these terms have been searched for recently and how many pages on the internet are using it in their content.
If you want to come up with new keywords, Ubersuggest is an excellent tool that will generate hundreds of ideas at once based on a seed keyword.
It's free to use as well!
6. Ahrefs
Ahrefs Site Explorer uses data from all over the web to find backlinks (links pointing to your website) and analyzes their strengths and weaknesses.
It helps you identify weak spots in your link-building strategy so you can fix them.
It also shows you where else on the web people are talking about your website, so you know where to focus your social media efforts.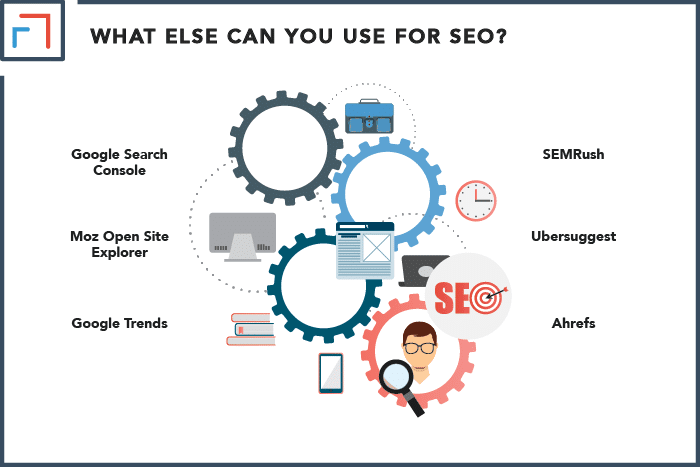 Final Thoughts
ClickFunnels is an effective tool for marketing and sales, but it's not an SEO optimization tool.
Using ClickFunnels to build a landing page for your product or service is excellent for conversion optimization.
However, it won't do anything to help improve your organic search rankings.
But there's another reason why ClickFunnels is so popular: it can help you improve your rankings and conversions within Google search results.
Most people use Google to find products and services. You're leaving money on the table if you do not optimize your website for Google search results.
There are several integrations and third-party tools you can use to improve your SEO rankings.
You just need to find the ones that are compatible because ClickFunnels on its own is not built for SEO purposes.