If you're interested in the world of sales funnels, you've probably heard of ClickFunnels. The reviews can be confusing, and some people wonder if it's a legitimate service. I will give you my honest opinion about ClickFunnels from personal experience and the reviews of other customers.
Clickfunnels is not a scam. Tens of thousands of people use the software to improve their business performance. You can use ClickFunnels to create sales funnels, landing pages, opt-in pages, subscription platforms, squeeze pages, and webinars. Results may vary, but the service itself is functional.
That is the short answer. Now, let's take a closer look at some of the ClickFunnels facts to help you know whether it's a fit for your business. It's popular for a reason and has proven itself to be trustworthy in the world of funnel building.
ClickFunnels Background Information
ClickFunnels was started in 2014 by Russell Brunson and Todd Dickerson.
Together, they have many years of experience in the realm of internet marketing and software development.
They created ClickFunnels because they were frustrated with the existing tools and software for marketers.
They wanted to create a tool that would make it easier for people to sell products and services online.
Apart from that, the objective was also to create an all-in-one marketing software.
After its launch, ClickFunnels grew into a $100 million sales company within five years. Today, the service has over 100,000 active members.
The tool provides an all-in-one solution for those who want to build sales funnels.
You can use it to create landing pages, opt-in forms, order forms, and thank you pages.
There's also a built-in email autoresponder so you can follow up with your leads after they've opted in.
Some of the biggest companies in the world use ClickFunnels, including Tony Robbins, Grant Cardone, and Dean Graziosi.
Even the big guns in the industry use and trust this tool. Beyond that, ClickFunnels has also been featured in Forbes, Inc, Entrepreneur, and DigitalMarketer.
It's not just a flash in the pan software company. It's a pillar of the funnel world!
Now that you know a little more about ClickFunnels, let's look at some of the questions people have asked about it.
If Not A Scam, Is ClickFunnels a Pyramid Scheme?
The last thing I want to do is promote a pyramid scheme. Luckily, ClickFunnels does not fall under this category.
A pyramid scheme is an unethical business model where people are recruited to sell a product or service with the promise of earning commissions from the recruitment of others.
These often gain popularity due to their "get rich quick" promises. However, these are unethical and sometimes illegal!
It's a good idea to be wary of offers that seem too good to be true.
Some people are cautious about ClickFunnels, but many aspects prove it is not a pyramid scheme.
1. No Marketing Obligation
One characteristic of a pyramid scheme is the obligation to market the product or service. With ClickFunnels, there are no such requirements.
You're not required to sell anything to use the software. You can use ClickFunnels for your business or help other businesses. It's entirely up to you.
2. No Recruitment
Have you ever received annoying messages from people trying to get you to join a pyramid scheme?
They disguise it as a "business opportunity," but it's all about recruitment.
You will not be recruited to sell ClickFunnels if you use the software. There's no pressure to recruit people.
However, there are optional affiliate incentives for you if you choose to promote ClickFunnels.
There's no pressure to do so, and you won't be penalized if you opt out.
3. ClickFunnels Is Not a Quick Fix
"Do you want to make $50 daily while sitting on your couch?" Then, don't try ClickFunnels.
ClickFunnels is a tool that can help you make money, but it's not a get-rich-quick scheme. Instead, it takes time, effort, and dedication to build a successful business.
If you're looking for a quick fix, ClickFunnels is not for you. But if you're willing to put in the work, it can be a valuable tool for your business.
4. ClickFunnels Sells Real Products
A pyramid scheme will typically sell products that don't have real value. The only purpose of the product is to get people to join the scheme.
ClickFunnels, on the other hand, sells useful products. The software has a lot of value, and it can help you make money.
The company also sells physical products like books and conference tickets. These products are also designed to help you grow your business.
5. ClickFunnels is Legal
Any business selling a product or service is subject to laws and regulations. ClickFunnels is no different.
The company complies with all the necessary laws and regulations. It's also a registered member of the Better Business Bureau (BBB).
The accreditation shows ClickFunnels' commitment to high ethical standards and customer satisfaction.
The company has two physical locations in the United States. One is in Boise, Idaho and the other is in Atlanta, Georgia.
6. Income Is Not Dependent on Recruits
In a pyramid scheme, your income is dependent on the recruitment of others. The more people you recruit, the more money you make.
With ClickFunnels, your income is not dependent on the recruits. Therefore, you can make money without recruiting anyone.
Then, Is ClickFunnels Spam?
People might consider ClickFunnels to be spam because of how the company markets its products. They tend to use a lot of hype and hyperbole in their sales copy.
However, because they can back it up with results, I don't consider that to be spam.
ClickFunnels is a legitimate company with great products. They're just using aggressive marketing tactics to sell.
The company allows you to try their software for 14 days before you're required to pay for it. Therefore, I think they're pretty confident in what they're selling.
But, Can You Really Make Money with ClickFunnels?
I can answer this question by drawing on my personal experience. I have used ClickFunnels for over two years, and I have made a full-time income from it.
I will say that it was not easy initially, but it got easier as time went on. It takes work to make money with ClickFunnels (or any business).
But if you're willing to put in the work, then ClickFunnels can be a great way to make money. So, how can you make money with Clickfunnels?
1. Promote Your Products or services
If you have a product or service, you can use the tool to build sales funnels and drive traffic to your pages.
The software makes it easy to create professional-grade sales funnels.
You can also use ClickFunnels to design landing pages and drive traffic from paid advertising.
If you want to split test your ads and find the most effective way to spend your advertising budget, the tool will come in handy.
2. Offer Funnel Design Services
Are you looking for services you can offer to businesses to boost their sales? Why not provide ClickFunnels design services?
The software is easy to use, and you can create high-converting sales funnels for your clients.
If you are skilled at what you do, you can make good money by building and selling funnels.
3. Sell Courses or eBooks
Do you have knowledge that you can share as a course or eBook?
Then, you can use ClickFunnels to create a subscription service where people can pay to access your content.
4. Become an Affiliate
ClickFunnels has an affiliate program where you can earn commissions for promoting their products.
The company has many high-converting products that you can promote.
They offer generous commissions and provide everything you need to be successful. You get 40% commissions on the products that you sell.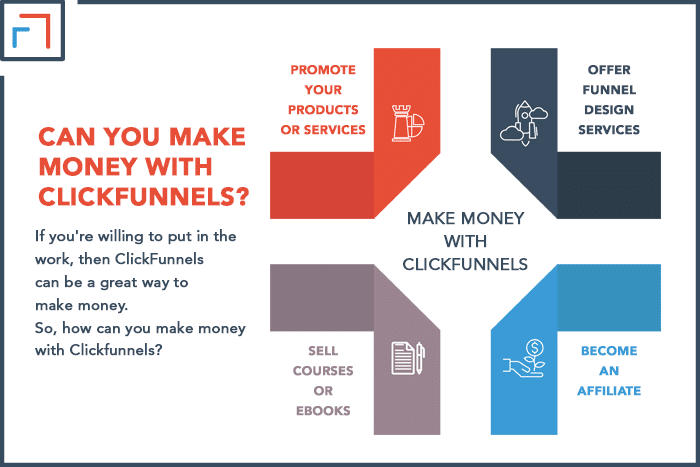 What All Can You Do with ClickFunnels?
Hopefully, you know that ClickFunnels is not a scam if you have read to this point. Now it's time to talk about what you can do with the software.
There are a lot of funnel builders on the market, but ClickFunnels offers excellent value for the money.
The possibilities are endless, but here are some of the most popular uses for ClickFunnels:
1. Create Sales Funnels
The most popular use for ClickFunnels is to design sales funnels. A sales funnel is a process that you take your prospects through to turn them into customers.
You can use ClickFunnels to create all kinds of sales funnels, including:
Opt-in Funnel
Sales Page Funnel
Webinar Funnel
Membership Site Funnel
Product Launch Funnel
2. Build Landing Pages
In addition to sales funnels, you can also use ClickFunnels to build landing pages.
A landing page is a single page on your website designed to convert visitors into leads or customers.
3. Create a Subscription Service
Do you have content that you want to charge people for? If so, you can use ClickFunnels to create a subscription service.
You can charge people monthly to access your content with a subscription service.
Depending on your business model, you can create one-time, monthly, or yearly subscriptions.
4. Build an eCommerce Store
ClickFunnels also allows you to build an eCommerce store. You can use the software to create product pages, checkout pages, etc.
The tool integrates with major payment processors so that you can accept payments on your website.
You can also use ClickFunnels to create upsells and downsells for your products.
5. Create Webinars
Webinars are a great way to generate leads and sales. You can use ClickFunnels to create webinars and drive registration through your sales funnels.
You can also use ClickFunnels to host a webinar and deliver the content to your attendees.
What's more, you can design evergreen webinars utilizing the software.
6. Squeeze Pages
A squeeze page is a lead capture page to gather contact information from prospects.
You can use ClickFunnels to create appealing squeeze pages to form a loyal customer base and community.
The software makes it easy to add forms, images, and videos to your squeeze pages.
You can also use ClickFunnels to split test your pages to find the best-performing version.
7. Track Business Performance
ClickFunnels has built-in analytics that shows you how well your sales funnels are performing.
You can also use ClickFunnels to track your website traffic, leads, and customers.
This information is valuable for understanding what's working and not working in your business.
ClickFunnels Reviews & Complaints By Real Users
Now that we know the ins and outs let's address an important question: What are people saying about ClickFunnels?
If you want to decide whether or not ClickFunnels is right for you, it's essential to look at both the positive and negative reviews.
All these and more such reviews can be found on: ClickFunnels Google My Business.
Let's start with the positive reviews.
1. ClickFunnels' Positive Reviews
Many people are happy with ClickFunnels. The software is easy to use, and it helps them make money.
If Google Reviews is anything to go by, then ClickFunnels has a lot of satisfied customers. The company has a rating of 4.9/5 from 1000 users.
One-funnel-away Challenge
Through the One-Funnel-Away challenge, business owners get 30 days to build a sales funnel and make money.
The challenge is designed to help you get results quickly.
The One-Funnel-Away Challenge is just one way that ClickFunnels helps people make money. If you're willing to work, you can make money from the software.
One of the users termed ClickFunnels' One-Funnel-Away Challenge as the best training he has ever received.
The reviewer goes on to say that the training cleared all his doubts and provided the knowledge necessary to execute the strategies.
Sales Conversions
Another feature that ClickFunnels users like is that you can use it to create high-converting sales funnels.
This is a great way to increase your revenue and grow your business. Most customers recommend ClickFunnels as the best way to launch an online business.
One user complimented ClickFunnels by saying that it was easy to use and had many features that helped boost sales.
And who doesn't want to see their business grow?
2. Clickfunnels Negative Reviews
Even though there are many satisfied ClickFunnels users, there are also those who are not impressed.
The most common complaints about ClickFunnels relate to customer support and billing.
Some customers have complained that they had difficulty canceling their subscription. Others have said they were charged for features they didn't use.
After the 14-day trial ends, ClickFunnels charges $97/month for the basic plan and $297/month for Platinum. This can be expensive for startup businesses.
The high price is one of the reasons why some people have called ClickFunnels a scam. But to see value for money, you need to use the software to its full potential.
The other complaints about ClickFunnels are mostly about customer support. Some users have said that it's difficult to get in touch with customer support.
Others have said that they didn't receive a response to their inquiry. I tried to reach out to customer support to verify these claims.
Although I received feedback from a real person, it took more than 24 hours to get a response.
Therefore, I can understand why some people are unhappy with the ClickFunnels customer support.
Finally, Is ClickFunnels Worth It?
The answer for most people is yes. You can make back what you invest in the tool with just a bit of effort.
However, you should execute your plan diligently to profit from the purchase.
Fortunately, they offer step-by-step tutorials to help you get a good value for your money. ClickFunnels is legitimate software that can help you make money.
You should put in the work to see results. Although you can earn good money by using it, ClickFunnels is not a get-rich-quick scheme.
It's a tool that will help you boost your sales and grow your business. If you're serious about growing your business online, then ClickFunnels is the best way to do it.
It's easy to use and has many features that will come in handy for your business.