Building and selling sales funnels can be a lucrative practice. However, it all depends on your approach and strategy. This process involves buying and using software, creating content, and applying sales knowledge to drive traffic to the funnel. It's not something you should give away for free!
In today's market, you can charge between $1,000 to $50,000 for a sales funnel. This charge depends on the costs you incur during the building process, the time you spend building it, and the pricing models you use to sell the funnel. The features you include are also important when setting prices.
In this article, we will look at the costs involved in building a sales funnel to help you determine how much you can reasonably charge for your sales funnel. We will also analyze other factors that might determine how to price your funnels.
The Costs of Building A Sales Funnel
When it comes to assessing the costs, you can look at both the monetary costs and the time spent building it.
Your time is valuable, so don't overlook it when determining the price.
Funnel-building tools are also not cheap, and you need to invest in good programs so you can create a good sales funnel.
1. Cost Of Funnel-Builder Tools
To estimate your charges for a sales funnel, we first need to know the costs you will incur during the creation process.
There are several great funnel builders that entrepreneurs use today. With the help of these tools, you can:
Create a responsive website
Build funnels that have SEO features
Smooth the communication process
Integrate third-party apps
The following funnel builders are some of the most popular programs on the market.
The price information can help you decide if they are right for your building process.
1.1 Kartra
Kartra is a popular marketing site for online businesses.
It uses surveys to enable you to build landing pages, create check-out pages and understand your clientele.
It also has an email automation feature that tracks click rates, sends follow-up emails, and assigns tags.
This software also has a helpdesk platform to funnel tickets to every department and send responses.
Starting plan: Starts at $99 per month, paid annually
1.2 Keap
Keap was formerly known as InfusionSoft. It is a cloud-based site that operates a sales funnel in CRM.
It has features such as appointment booking and automated email follow-ups. Additionally, it grants you access to 2,000 business sites.
Starting plan: $59 per month paid annually
1.3 Lead pages
This software boasts a code-free landing page with real-time tracking, email marketing, and a subscriber list.
It also has a drag and drop builder for customizing templates, creating pop-ups, performing A/B testing, and creating check-out forms.
Starting plan: Standard $37 per month paid annually
1.4 Wishpond
Wishpond is another cloud-based software with online advertising, landing pages, and lead management features.
In addition, it acts as a beacon for the marketing process by giving you constant advice on how to design powerful campaigns.
This software creates landing pages that communicate to your target customers with the drag and drop editor.
You can also get analytics on your campaign's performance.
Starting price: $49 per month paid annually
1.5 Zendesk sell
This software has tools for lead generation such as web forms, builders, automatic lead scoring, etc.
Zendesk has a simple process for getting customer information.
It can also easily manage a high volume of potential clients and automatically generates real-time reports to help you improve your business.
Starting plan: Agent $19 per month
1.6 Convertflow
This platform builds pop-ups, lead converting pages, and forms. Its users use it to get A/B test reporting and to improve CTAs.
It uses sticky bars to create announcements on upcoming promotions and sales to potential customers.
It can also send out marketing materials predicated on customer interest, location, and website visit history.
Starting plan: First 5,000 visitors are free; then Pro for $99 per month
1.7 MailChimp
This marketing software offers free downloads to small businesses. It also has a user-friendly API.
In addition, MailChimp allows companies to track their clients' purchase process to send targeted messages.
Starting plan: First 12,000 emails and 2,000 subscribers are free; then $10 per month
1.8 ClickFunnels
This is a marketing tool for users who can't code. It's one of the premier sales funnel builders on the market and has varying levels and features.
Users can add new contacts, create upsells, collect payments, build value, and deliver products.
It covers the purchasing process with tools such as a dashboard, a drag and drop web page editor, and a lead generator.
Starting plan: $97 per month
1.9 Kajabi
Kajabi concentrates on online content and courses. It contains marketing funnel tools such as check-out pages, email marketing, and landing page builders.
Users can use this tool to automate campaigns, process payments, and access different marketing tools.
Starting plan: $103 per month when billed annually; $129 per month when billed monthly.
2. Time Spent Building The Funnel
The time spent building a sales funnel may depend on the product or the size of the business.
It could take you a few days or between 6-12 weeks to build a sales funnel from start to finish.
However, there are a few factors that influence the time duration of funnel building. These include:
2.1 Client's Needs
This aspect refers to the information you require from your client to provide the perfect sales funnel.
These needs can include design, convenience, efficiency, or compatibility. Sometimes the clients give suggestions or make changes while the work is ongoing.
Implementing such changes takes up more time. Check-ins and meetings will also be a necessary part of most funnel projects.
2.2 Funnel Building Software
As discussed earlier, there are several funnel-building platforms in the market. But, the big dilemma is which one is best for you and your customer.
For instance, as a funnel builder, if you use software that doesn't have the features your client requires, you'll be in trouble.
Therefore, ensure you have all your clients' needs on hand so you can use the best available software on the market.
If you don't, you will be forced to change or upgrade the software to fit the client's requirements. This leads to an increase in the time used to build the funnel.
If you have multiple subscriptions to funnel builders, that will also add up.
2.3 The Skills Required To Build
Are you a beginner or an expert? If you are a beginner, you may face challenges along the way that will increase the overall funnel building time.
On the other hand, as an expert, you know how to build funnels efficiently. Being well-versed in the practice will help you complete the project more quickly.
2.4 Copywriting and Outsourced Services
Who's creating the copy and content for the funnel?
If you have a different person handling copywriting, you need to factor in the cost of their time and resources. The average hourly rate for a copywriter is $25.
Furthermore, you need to factor in the hours required to complete this part of the project.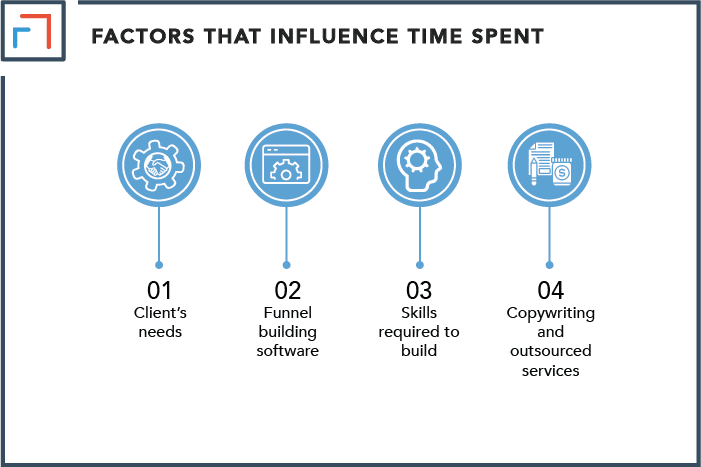 The Features You Include In The Sales Funnel
A good sales funnel has features that will increase traffic and revenue.
Creating the best possible sales funnel means that you need to determine which features will be helpful and which ones are unnecessary.
Some things may be harder to add in, so you can charge extra if your client wants them.
You can have different pricing packages based on the features included in the funnel. As a guide, here are some popular features of a funnel:
1. Guarantee
For your target audience to trust you and your brand, you should offer them a risk-free assurance or money-back guarantee.
A guarantee assures them that they have a lot to gain and nothing to lose.
If there is a mishap and you follow through with the promise, you build more trust with them.
2. Live Chat
Including a live chat feature in your funnel will boost the customer's interest in your offers.
A live chat allows the customers to ask questions and give feedback on your products and services.
It gives your customers instant satisfaction and helps them to feel appreciated.
In general, a live chat gives your customers a personalized platform to receive guidance on the purchasing process.
They can be tricky to set up but are often worth the effort.
3. Landing Page
A great landing page should offer the target audience all the information they need about your business.
Customize landing pages for customers who arrived at the landing page via social media, email, or Google search.
Most landing pages should have guarantees, pricing, and/or details about your product. Make sure to add an email opt-in form and a CTA as well!
4. Upsell and Downsell
Upselling involves persuading the customers to buy a superior product or the same product with additional features at a higher price. It involves:
Supplemental products
Bundled offer price
Customized product
Increased subscription period or a discounted rate
A downsell is a deal where the product costs less than the initial price. If your customers do not accept an upsell, tailor a downsell that suits their needs.
As long as they make a purchase, you will be making money.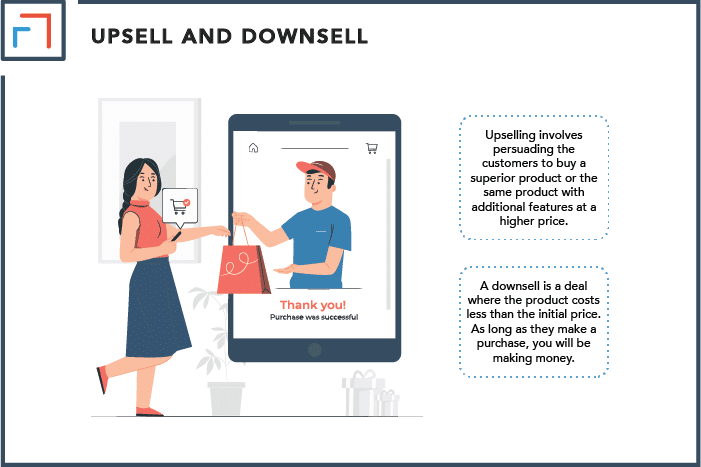 5. A/B Testing
Marketing involves a lot of testing and trying new methods. For example, you can try placing a video, including art, or altering a headline.
However, this should be done in subdivisions to maximize marketing efforts. As you design a funnel, you should test as many aspects of it as possible.
Setting up A/B testing for the client will enable them to make changes in the future as well.
6. Exit-Intent Offers
Never allow your prospect to leave your landing page without a fight. Ensure that they give your offer a second thought.
In fact, in addition to upselling and downselling, you can include pop-ups, overlays, and other extras to persuade them.
7. Target The Right Audience
A great sales funnel should have content that lures the audience to take action.
If possible, use a lot of content with podcasts, videos, or infographics across different platforms.
Try to give your client as many ways to reach their audience as possible. Ask for information about their primary customers so you can plan accordingly.
8. Call to action
Regardless of what is on the landing page, you should have a call to action that clearly states your customers' expectations to receive the offer.
Without a call to action, your audience will not engage further, and they will be unsure of what action to take.
9. Remarketing Ads
Remarketing ads ensure that your product does not bounce traffic away from your website. You might convert only 2% of the traffic during their first visit.
Therefore, to cover the remaining 98%, you need remarketing ads.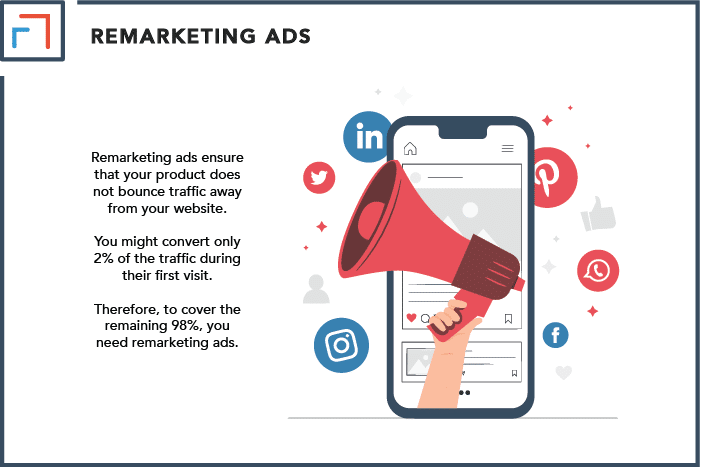 10. Accuracy
A good sales funnel should provide relevant and accurate information to management. This information should come from all stages of a sales funnel.
Customers who are deemed redundant should be removed and targeted with a different approach.
The management can draw out the different stages in a funnel and pick what's best for the company.
11. Excellent copy
A good sales funnel copy should be free of spelling mistakes and typos and use good grammar.
It should also have a positive and friendly tone that resonates with your customers.
How To Price A Sales Funnel?
To sell a sales funnel, you need to know your audience and create the right sales campaign. But there is no single way of pricing your funnel.
In fact, like all valuable things, you have to go through the cycle of learning, executing, and repeating.
If you're hired to create a custom funnel, make sure you talk about pricing ahead of time, so there are no surprises.
However, for best results, here are a few pricing models you can use.
1. Cost-Plus
Before setting how much you'll sell the sales funnel, you need to know the costs incurred.
To use the cost-plus pricing method, you need to calculate the total costs of materials, labor, software, and design.
Once everything is up and running, you can deliver to the client and add your mark-up.
When deciding on the mark-up, factor in the average mark-up in the funnel industry, demand, and location.
You're basically asking for compensation for the costs you incurred, plus the price of your labor.
2. Hourly Pricing
Hourly pricing is mainly used for services rather than products. It factors in labor and other expenses involved in building the funnel.
Hourly pricing, however, requires a lot of documentation because clients like to know what was accomplished in each span of time.
For instance, a funnel builder should document tasks accomplished each hour so the client can have a billable time.
This requires more work on your part, but you will have records to back it up.
3. Equity Pricing
Some clients may offer equity as compensation for your service.
Equity compensation includes non-cash payments with options such as performance shares and restricted stocks.
Before accepting this mode of payment, always look at the following factors:
Size of the company
Performance of the stock
Tax implications involved
Vesting schedule given
If you need cash, you may consider combining equity pricing with a different cash pricing model.
4. Retainer Pricing
A retainer is a fee paid to a professional for services given. This fee is set using the value of the service offered. For instance, using time used to build a funnel.
Retainer fees are commonly used when a client requires a specific action to be handled.
5. Fixed Pricing
Fixed pricing involves setting the price for the entire funnel-building project. It is also known as project-based pricing.
This method gives your customers consistency and, if fixed properly, yields a high profit.
However, before setting it, it is vital to evaluate the total cost of the funnel and adjust accordingly.
6. Performance-Based Pricing
In performance pricing, the client relies on the quality of the service given. It is best for projects where you can document the outcomes of your work.
For example, when you build a funnel that is supposed to increase sales, you may agree on a specific price rate for specific metrics.
This pricing model is complex, but it can work for funnel builders.
7. Value-Based Pricing
Value-based pricing involves the customer's view of your product's worth. Using this method, you analyze the customer's idea of the worth of a sales funnel.
And without considering the cost of building, you set a high price for the funnel.
For instance, the customers may be open to paying a premium rate for the sales funnel (despite its high initial cost).
Wrapping Up
It has become easier to build a sales funnel after the invention of software like Kartra, ClickFunnels, or Leadpages.
However, your work is not done until you have understood how much to charge.
For this, you have to understand your customers and craft the ideal product for them.
In addition to creating good funnels, you should understand the different models available for pricing a sales funnel.
It is also best to keep learning and improving your craft so you can consistently sell high-converting sales funnels.