ClickFunnels is a funnel builder that can help you to collect more leads and convert them into paying customers. However, creating a good funnel with ClickFunnels takes time and money. So, how much should you expect to spend on your next ClickFunnel?
The cost of a ClickFunnel can range from $150-$15,000 (depending on who does the job and which membership level of ClickFunnels you have). If you have the standard plan and create the ClickFunnel on your own, you may spend around $150. However, if you hire a specialist, you may spend up to $15,000.
In this post, we will discuss the various costs incurred when building a ClickFunnel and how they can be increased or reduced.
ClickFunnel Price Breakdown
The amount that you spend to create a ClickFunnel fluctuates due to several factors. Thus, the price for creating a ClickFunnel varies.
This section will cover the different costs involved in building a ClickFunnel so you know how much you might spend.
1. Software Costs
ClickFunnels will help you build a funnel with ease. It has handy features such as ready-made templates and a drag-and-drop builder.
These make building a ClickFunnel quick and effortless. However, you will need to pay for access to this service and that contributes to the cost of your ClickFunnel.
The ClickFunnels software features two major pricing plans, namely the standard and platinum plan.
If you subscribe to the standard plan, you will spend $97 per month to create your funnels.
But if you pay for the platinum plan, you will spend $297 per month. This cost is fixed, so you'll have to add these software prices to your baseline.
2. Lead Magnet Costs
For a functional funnel, you usually need to create and offer lead magnets.
These lead magnets are offered for free to convince people to submit their emails and join your ClickFunnel.
Although you will offer the lead magnets for free, you will usually lose some money to create and distribute them.
Examples of commonly offered lead magnets include ebooks, cheat sheets, webinars, reports, and email courses.
The cost of producing them will vary depending on whether you will prepare them yourself or outsource them.
When creating lead magnets on your own, factor in the time spent and the labor used because there is no such thing as free labor.
But in the end, the cost of doing it yourself will be cheaper than outsourcing it.
Before creating your lead magnets, remember they are the entry point into your ClickFunnel.
As such, you need to make them high-quality and valuable to your target audience.
If nobody wants your offering, you will lose money and potential customers.
So, if you have to spend more money to get a high-quality lead magnet, it will pay off in the long run.
3. Traffic Costs
After creating a valuable lead magnet, you will need to drive traffic to it, or else no one will join your ClickFunnel.
You can drive traffic through organic or paid methods. While organic traffic is free, it takes time and can be overwhelming.
Some organic traffic sources include YouTube videos and SEO. On the other hand, paid traffic sources are easy and fast-acting.
So if you want to save time and get traffic quickly, opt for pay-per-click (PPC) advertising, use Google Ads, Facebook Ads, and others.
How much you spend on generating traffic will depend on the method of advertising and the amount of traffic targeted.
For instance, the cost of PPC advertising is about $1 per click, while Facebook can cost you about $10 a day for starters.
So the larger your ClickFunnel is, the higher your traffic costs will be.
If you need massive amounts of traffic, you might spend up to $1,000 a month on paid traffic alone.
4. Email Marketing Autoresponder Costs
After paying for ClickFunnels, you will need an email autoresponder to help you communicate with and nurture your leads.
An autoresponder is a necessary addition to any funnel. You can use an autoresponder in ClickFunnels with either plan.
Unfortunately, the ClickFunnels standard plan does not support email marketing.
However, you can create your ClickFunnel with the standard plan and then use a third-party email service provider to capture leads.
Some email providers include Aweber and Mailchimp. Aweber starts from as low as $20 per month.
Therefore, using a separate email provider will add to your fees, but it is still fairly cheap.
Alternatively, if you want to operate your funnel and email marketing under one roof, then go for the ClickFunnels platinum plan that costs $297 per month.
This plan gives you two autoresponder options. The first one is to use the built-in Funnel Follow Up feature for your email marketing.
Secondly, you can integrate a third-party email autoresponder and run your campaigns inside ClickFunnels.
5. Training Costs
Although ClickFunnels is an easy-to-use platform, there is a learning curve, especially if you are a beginner.
With the standard plan, you can learn for free through the Funnel Hacker Forum and the Funnel Flix program.
However, to save time and create a converting ClickFunnel, you will need to attend the One Funnel Away Challenge.
This challenge is a 30-day training program that will guide you through the funnel-building process.
It also gives access to insights from the Two Comma X club members.
The training costs $100 for the one month you will train. After 30 days, you will become an expert that can create highly effective funnels.
6. Labor Fees
Although ClickFunnels is fairly easy to use, you may be too busy to create and run your own funnel.
As such, you may need to outsource the process to a ClickFunnels specialist. This service comes with a price, though!
How much it will cost you will depend on if you hire a freelancer or an agency.
If you hire a ClickFunnels freelancer, you can expect to pay between $25 -$125 per hour, depending on their level of experience.
On the other hand, ClickFunnels consultants and agencies may charge higher fees.
Experienced consultants may charge anywhere between $125 to $200 per hour.
7. Content Creation Costs
Finally, your ClickFunnel will need content. This includes your offers, ads, landing page copy, social media posts, and more.
You will need to create content for your initial campaign as well as ongoing campaigns.
Your content creation costs will differ depending on your content needs and whether you do it yourself or outsource it.
The Total Cost of a ClickFunnel
Ultimately, how much it will cost you to build a ClickFunnel will depend on all the above costs. Here is a brief summary of the total costs.
Bear in mind that these prices do not apply to every funnel. Basic funnels that are created by experienced ClickFunnels users can still fall into the $150 range.
If you do the work yourself, you can also reduce the cost of content creation, training, and labor (although you will still lose time on labor).
| Type of Cost | Estimated Amount in USD |
| --- | --- |
| ClickFunnels software | $97-$297 |
| Content creations costs, e.g., emails and blogs | $100-$10,000 |
| Traffic costs | $10-$1000 |
| Training costs | $100 |
| Labor costs | $500-$5000 |
| Total costs | $807-$16,297 |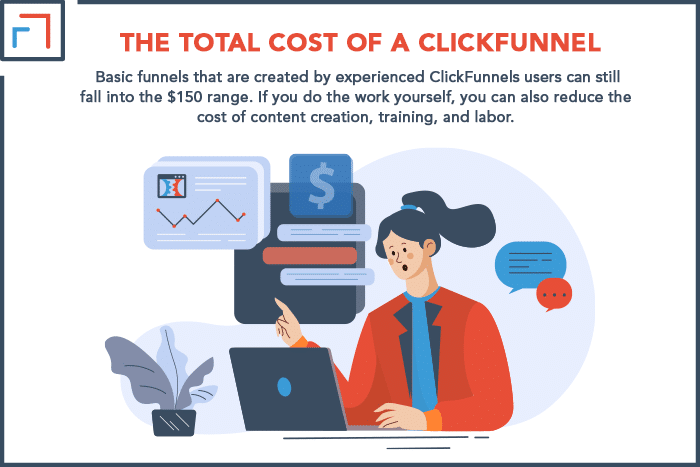 Wrapping Up
The costs associated with setting up a ClickFunnel include software subscription fees, lead magnet costs, traffic generation costs, email marketing autoresponder costs, training fees, content creation, and labor costs.
The amount it costs you to build a ClickFunnel depends on the scope of your funnel and whether you hire people or do it yourself.
If you create the ClickFunnels yourself and pay for traffic, you could spend about $150 – $250 if you enroll in the training.
If you hire a ClickFunnel specialist to create everything for you, it could cost $15,000 or more.