Sales funnels have been around for decades. They can still convert in high numbers, as long as they are made well. If you are looking to gain the benefits of a sales funnel but wonder how much it costs, you're in the right place.
The cost of a sales funnel ranges between $29 and $50,000 based on who creates it and the kind of tools they use. If you choose to DIY, it can cost you less than $100 per month. On the other hand, hiring an expert will cost you $15,000 (on average) for just one sales funnel.
This post will discuss the pricing components of a funnel and how much you can expect to invest in your own sales funnel. Let's dive in!
Sales Funnels Cost Breakdown
Several factors come into play when calculating the price of a sales funnel.
Remember that there are various types of sales funnels, which leads to varied costs.
Similarly, the number of components in a funnel (such as pages and emails) differs from one funnel to another.
Consequently, many pages take longer to create, resulting in higher costs.
1. Sales Funnel Builder Costs
Sales funnel builders are tools and software that help users build sales funnels.
Many of them have pre-built templates and a drag and drop function to help anyone create a sales funnel without coding expertise.
Popular funnel builders include ClickFunnels ($97 per month) and Builderall ($29 per month).
2. Email Autoresponder Costs
A sales funnel needs an active and responsive email list to engage leads.
Engaged leads are more likely to convert, which generates more revenue for your business.
Email drip campaigns, also referred to as email workflows, lead-nurturing campaigns, or autoresponder series, are an incredibly efficient way to keep in touch with enrollment prospects at various stages in the funnel.

Donna Talarico, 2020, Go with the (work) flow: Email automation, Pages 1-3.
From: Go with the (work) flow: Email automation
This means that investing in a good autoresponder is crucial.
The cost of email autoresponders varies depending on the service and the number of subscribers.
For instance, with Getresponse, you can pay $15 per month for 1000 subscribers.
However, some funnel builders like Builderall come with autoresponders included.
3. Domain Costs
Getting a custom domain for your sales funnel makes it more professional and trustworthy.
Luckily, domains are relatively cheap, with some costing as low as $8 per year.
However, if you already own a website and would like to save money, consider creating a subdomain for your funnel.
4. Hosting Costs
Hosting services are also affordable, starting at $10 per month. Better yet, if you pay for annual hosting, your hosting provider will give you a discount.
However, if you don't want to pay for extra hosting costs, you can use funnel builders like ClickFunnels, which includes free hosting.
5. Strategy Costs
Building a successful funnel is based on research, expertise, and a winning strategy.
Whether you do it yourself or hire a consultant, you will incur expenses.
If you opt to do the research yourself, you will need to spend money and time on training.
The training could take a year or longer, especially if you have to attend to other aspects of your business.
Hiring a sales funnel consultant comes in handy if you are busy and don't have time for learning and experimenting with strategies.
A professional consultant may cost between $500 and $10000 based on their experience and reputation.
6. Initial and Ongoing Content Creation Costs
Your ads, emails, offers, blogs, webinars, and social media require original content. Creating this content adds to the total cost of running a funnel.
Of course, when you're funnel building for the first time, the upfront cost includes basic content and an initial email campaign.
However, you will need to generate more content in the future. You can create your content in-house if you have the time.
Otherwise, hiring a consultant or other employees will come in handy.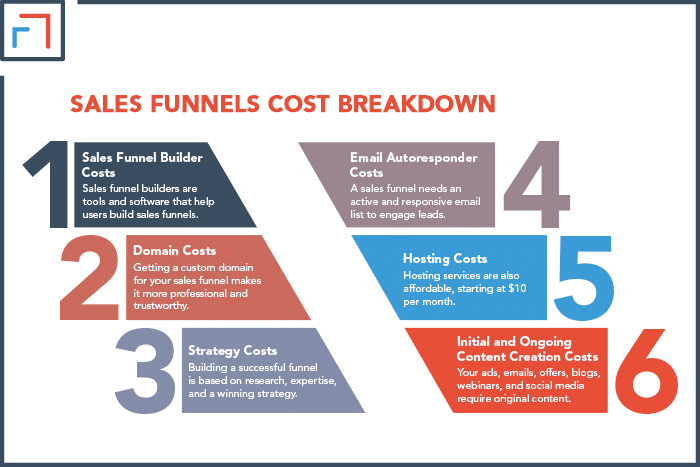 How Much Does a Lead Generation Funnel Cost?
A lead generation funnel costs anywhere between $20-$1000. The actual cost is dependent on the software used, lead magnet expenses, the cost of driving traffic, and the level of outsourcing. Done for you (DFY) funnels will always cost significantly more than Do it yourself (DIY) funnels.
Lead generation involves creating a lead magnet and a corresponding landing page where you can drive traffic.
Let's take a closer look at each factor.
1. Software Costs
You will need to purchase software to generate leads for your sales funnel. There are several options for lead generation software on the market.
So, you can select an appropriate one for your budget.
Funnel building software: You can choose a package that helps you generate leads. For example, if you opt for ClickFunnels, you might need to go for the premium version at $297 per month. Although it is costly, it takes care of the technical stuff for you.
Funnel building software plus email marketing software: If you want a cheaper option, you can go for funnel building software and integrate it with a third-party email marketing software. For example, you can choose ClickFunnels' standard plan at $97 per month and merge it with email marketing software like Mailchimp, Aweber, and Convertkit.
DIY lead generation: If your coding skills are sharp, you can skip the funnel-building software. Create your landing page and pay for email marketing software only. For example, Mailchimp costs $9.99 per month for the essential plan. You can cater to 500 subscribers and send 500,000 emails with this setup.
2. Lead Magnet Costs
Lead magnets are the free offers you give your visitors in exchange for their email addresses.
This can include things like reports, ebooks, webinars, and email courses. Since you are offering these lead magnets for free, it will cost you.
How much you spend on lead magnets depends on whether you create them yourself or outsource them.
Similarly, the outsourcing cost will vary depending on whether you outsource the project entirely or partly.
Before we look at the costs associated with lead magnets, here's what you need to remember about outsourcing:
Your lead magnet is the pillar of your whole funnel because it determines if a visitor will enter your sales funnel. Additionally, it affects the buyer's decision to purchase from your front-end offer.
Prospects will use your lead magnet to gauge what to expect from your premium offer. If it is not worth it, they will leave.
Ultimately, your lead magnet needs to be of high quality, even if it's expensive to create. If you have the skills, you can make it yourself.
Doing this will help you align it with your core offer. Otherwise, hire an expert. The cost of lead magnets varies depending on the type you use.
For example, if you create written content such as an ebook, it can cost $50-$70 if you hire a decent ghostwriter.
On the other hand, a report that's 4000 words long can cost $100-$300, depending on who you hire.
3. Traffic Costs
Any effective landing page requires traffic. There are many ways you can drive traffic, and each works and costs differently.
For instance, Facebook ads are straightforward and use targeted traffic to provide immediate results.
If you use Facebook ads, it will cost at least $10 a day when testing things out.
However, the costs can go up to $1000 per month if you need to generate adequate traffic for a massive funnel.
Sufficient traffic is crucial since it helps you determine if/where the funnel has any leaks.
You can purchase ads yourself or hire a consultant to create and distribute them.
Calculating the Cost Per Lead
The cost per lead is an important lead generation metric that affects the overall price. Fortunately, it is easy to calculate.
Simply take the marketing spend and divide it by the number of leads generated.
Cost per lead = marketing spend / number of new leads
The 'marketing spend' includes costs incurred in software subscriptions, advertising, and employee payments during a specific period.
Therefore, if you do everything yourself, give it an approximate hourly rate. This is because labor is never free.
Besides, if you decide to hire someone, your lead generation costs will shoot beyond your usual rates due to your 'free' labor.
Lowering Lead Generation Costs
Once you calculate your lead generation cost, you need to lower it to maximize your ROI. Here are some tips you can use:
Retarget your ads to save money: Social media helps you retarget visitors who have already shown interest in your ads. They may have filled out your contact form, liked your Facebook page, or subscribed to your YouTube channel.
Re-define your advertising: New marketing and advertising opportunities keep coming up all the time. However, not all of them are a good fit for your business. In addition to buying the right ads, use action-based language to show your audience the benefits of your product.
Invest in technology: Although it may seem cost-effective to use manual systems, it is counterproductive in the long run. Investing in a CRM and an email autoresponder will reduce the number of employees on your payroll. Additionally, the existing employees will have more time to focus on higher-value work.
Understand your audience: Knowing who your audience is and where they hang out will save you from costly trial and error scenarios. Attracting the wrong leads will negatively impact your ROI since they won't convert even if you spend money on them.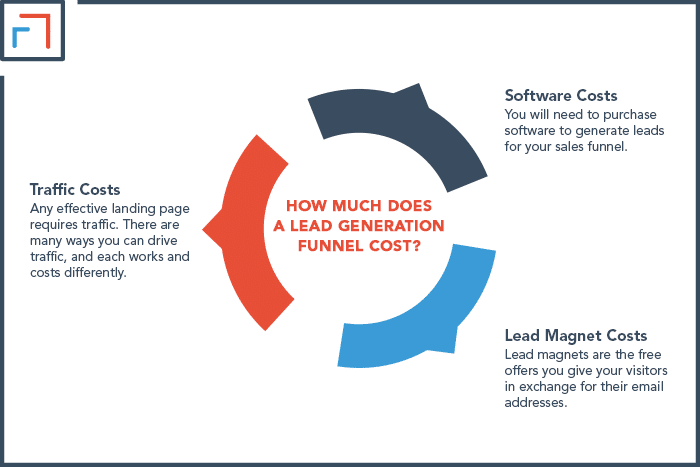 How Much Does a Sales Funnel Cost If You Build One?
A DIY funnel can cost anywhere between $0 and $200. DIY means you will do all the work yourself without hiring help throughout the funnel stages. If you use funnel-building software, it will cost at most $100. You may opt to use funnel-building software by yourself to lower costs.
The cheapest option is to make your sales funnel by yourself from scratch. It's pretty hard to do this, though.
When you use pre-built software, your work will be easier and quicker.
However, the specific cost will vary depending on the funnel-building software you choose.
For instance, if you decide to use ClickFunnels, you will pay $97 per month for the basic plan and $99 for Kartra.
Although these tools are easy to use, they do not really build the entire funnel for you.
You will need to do some bits yourself, such as creating content for your pages. If your copywriting skills are good, that is a plus.
However, if you do not have the time or skills to create compelling copy, paying for writing services will cost at least $100.
So you'll need to weigh the quality of the content vs. the price it takes to produce it.
How Much Does a Sales Funnel Cost if You Hire Someone?
Hiring an expert to build your sales funnel for you will cost approximately between $2,000 and $15,000. When hiring, you could opt for an agency or a freelancer. These two options come with different price points, though. In both cases, the price is charged per hour since it takes longer to build customized sales funnels.
Although hiring an expert to craft your sales funnel guarantees a good result in the short term, it is costly.
Therefore, hiring is an excellent option for quality funnels if your business is already doing well. Here is a breakdown of the average hiring rates.
Freelancer rates:
Entry-level freelancer: $30-$40 per hour
Intermediate freelancer: $50-$80 per hour
Experienced freelancer: $80-$180 per hour
Specialist freelancer: $180-$400 per hour
Agency rates:
Small agency: $80 per hour
Medium agency: $120 per hour
Big agency: $180 per hour
Big in-demand agency: $280 per hour
Of course, these figures are only estimates since costs vary from place to place.
Nevertheless, these numbers should help you approximate the total cost to anticipate.
The Total Cost of a Sales Funnel
All factors considered, a sales funnel will have various costs depending on the scope of the build.
Here is a quick summary of the upfront costs and total sales funnel price.
| Type of cost | Amount in US $ |
| --- | --- |
| Funnel Building and software | $100-$5,000 |
| Professional research, strategy, and Ad plans | $500-$10,000 |
| Professional funnel content e.g. videos, emails, and blog posts | $400-$50,000 |
| Total upfront costs | $3000-$15,000 |
| Recurring monthly costs | Depends on subscriptions |
| Traffic and Ads | $300+ |
| Optimization and maintenance(optional) | $250+ |
| Revenue share(optional) | Depends |
How to Minimize the Cost and Risk of a Sales Funnel?
You can minimize the cost and risk of a sales funnel by sharing the revenue generated with the funnel consultant instead of paying hiring fees. In addition, you can build the funnel yourself to cut the costs and avoid the risk of hiring unsuitable personnel.
Building a converting sales funnel requires a ton of skills; hence it will cost you a lot when you outsource it.
Besides, funnel consultants are in high demand and there is plenty of work for them to do.
If you want a quality funnel but cannot pay for the services, you can agree with the consultant to share revenue generated from the funnel.
This way, you will only spend money on ads and other minor expenses.
On the other hand, you can cut down your funnel cost by doing all the work yourself.
If you are unsure of where to begin, there are tons of YouTube tutorials, blogs, and courses that can teach you the necessary skills.
Of course, it will take you some time to get the hang of it. On the same note, you do not need to invent anything.
You can use funnel hacking to see what your competitors are doing.
Learn what works for them and use some of their strategies to model your sales funnel. This will save you money that you would have lost on trial and error.
Final Words
A sales funnel on its own does not cost anything.
The cost comes from setting up the funnel using software, CRM, project outsourcing, and other associated costs.
Therefore, starting a funnel can cost as low as $30 if you DIY and use basic funnel-building software like Builderall.
If you choose to hire a funnel consultant, it can cost $15,000 on average, depending on the demand and skillset of who you hire.
This translates to $3,000-$5,000 for a freelancer, $8,000-$15,000 for an agency, and about $50,000 for a funnel consultant.