Sales funnels are crucial for anyone looking to grow their online business. They can increase conversions and boost your revenue. However, figuring out how many sales funnels you need can be tricky.
Start by creating and managing only 1 funnel if you're a beginner with limited time and money. Once comfortable (and successful) with 1 funnel, make 2-5 funnels and repeat the process. With decent results and experience, feel free to create more than 5 funnels. Experts deal with up to 100 funnels!
In this post, you will learn how to calculate the number of sales funnels you need through a step-by-step process. Everybody should start with just one if they're learning, but once you get the hang of things, you can add as many funnels as you need!
How to Figure Out How Many Sales Funnels You Need?
Every business has unique objectives and goals.
This makes it difficult to give a one-size-fits-all answer when it comes to calculating the number of funnels you need.
The number of sales funnels you need depends on your business, niche, size, audience, and how you connect.
Since these variables vary from business to business, the number of funnels also varies.
A single funnel can be used for many purposes, but large or diverse businesses often need more.
But still, the suggested number of funnels if you're:
A beginner with not much experience and money: 1
An intermediate level funnel creator with some success and 1-2 years of experience: 2-3
An expert with more than 2 years of experience and success: 5+
To help you out, we will go through a step-by-step process that can help you determine the number of funnels you need for your business.
Step 1: Identify Your Traffic Sources
The first step of any sales funnel is to create brand awareness so you can attract leads.
So, identifying where you connect with people will help you decide how many funnels you need to make.
Examples of ways to connect with your audience include Facebook pages, Instagram profiles, online searches, and more.
Once you have identified the main sources, check their connection rates. You may notice that some places do not bring in any connections.
Now you just need to choose your best traffic sources and build sales funnels for them.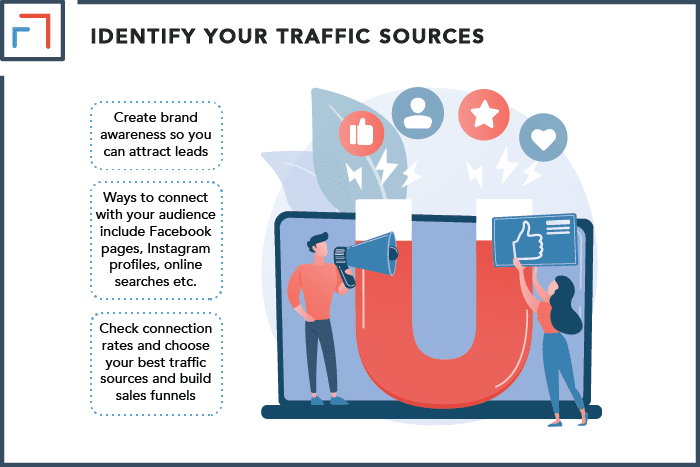 Step 2: Identify Your Sales Goals
You need to have an ultimate goal in mind. What do you want to achieve with your sales funnels?
Specify your goals so you can get a clearer understanding of how various sales funnels will help you achieve them.
Once you have identified your objectives, list all your goals and set a time period for each one.
Next, you will need to link your traffic sources from the first step with your end goals.
For instance, if you want to sell ten pieces of the product in a month, connect that to your Facebook ads.
Step 3: Identify the Website Pages You Send Leads to
By design, funnels are meant to get leads to take a specific action. To help your leads access your offers and products, you need to give them directions.
Therefore, the number of sales funnels you need relies on the number of lead magnets you are offering.
When directing leads to your site, you may send them to a homepage with pop-ups, a landing page with a free download, or to your blog to read a guide.
If you realize that you are not directing many people to your site, take note of the gaps.
These gaps will help you to identify the areas where another funnel could be helpful. You will also find out which funnels are being underused or overused.
Consequently, you will know which funnels to improve, retain, add, or remove.
Step 4: Identify the Funnels You Need to Achieve Your Sales Goals
The last step to figuring out how many funnels you need is identifying how your funnels will drive your sales goals.
This boils down to which actions you need your site visitors to take. You also need to decide how you will drive your leads to take that action.
For example, after downloading your free resource, how will you nurture them via email? A typical process of nurturing leads is to send them a sequence of emails.
This educates prospects about the benefits of the free resource and helps you follow up with offers about the paid version of a product.
Therefore, for every lead magnet or opt-in you create, you will need to nurture the audience separately.
This means you need an email sequence for each lead magnet.
Having done that, you will identify the number of sales funnels you need to drive action and attain your sales goals.
The number of sales funnels you need can be one, ten, or even one hundred!
Regardless of the number of funnels you come up with, be sure to keep each one realistic and goal-oriented.
Even though a funnel may seem important, do not add if you do not need it. Similarly, do not include more funnels just because a competitor has more of them.
Furthermore, it may be tempting to create funnels due to the availability of efficient funnel-building tools.
The problem with creating funnels on impulse is that you will end up with several funnels that you don't use or need.
To avoid such a scenario, keep these mistakes in mind when creating your next funnel.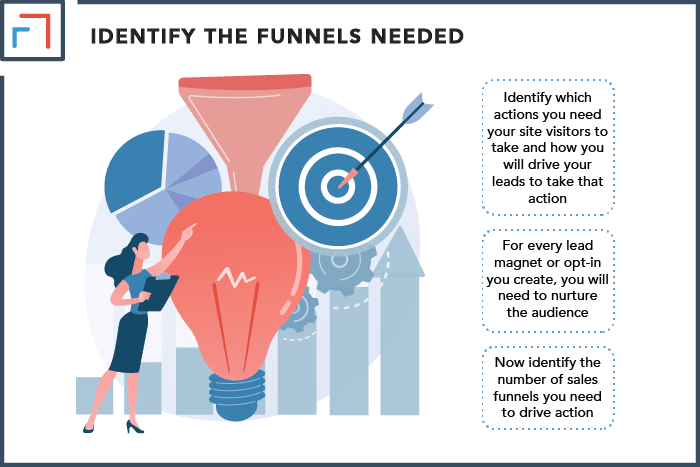 Should I Have Multiple Funnels When Starting Out?
Powerful funnel-building tools like ClickFunnels make funnel building easy for beginners.
It is common to wonder if you can take the multi-funnel approach from the beginning.
While you can build many funnels at once as a beginner, taking the single funnel approach is usually better.
When you're just starting out, your funds are probably a bit limited. If you build multiple funnels, you will have to spread your funds across all of them.
Plus, you may waste money if you don't know how to manage that many funnels.
Aside from the marketing budget, you will have to split other resources like time and human resources.
This may put a strain on you and your funnels, which will make their performance suffer.
On the flip side, starting with a single funnel will give you ample time and resources to track, optimize and finally automate it.
Then, once the first funnel is on autopilot and generating consistent sales, you can create more funnels and add more products.
How Many Funnels Can I Create?
This question is common for people who are getting the hang of funnel building and want to branch out.
There really is no set limit if you're building funnels from scratch.
However, if you're using a funnel building software, you may be limited in the number of funnels you can make/manage at a time.
For instance, some programs may require that you pay for each funnel, while others will give you access to a bulk amount.
Let's look at ClickFunnels as an example. This is one of the most powerful and popular funnel builders on the market.
However, the number of funnels you can have in ClickFunnels depends on the pricing plan that you choose.
The two major ClickFunnels plans are the basic and platinum plans.
In the basic plan, you can create up to 20 funnels and a maximum of 100 landing pages. Unfortunately, this plan does not support follow-up funnels.
However, 20 funnels is a good number, especially for beginners who may not need a huge number of funnels.
On the other hand, the platinum plan allows you to create unlimited funnels and unlimited landing pages within each funnel.
In addition, you get access to an unlimited number of follow-up funnels.
These funnels allow you to stay connected with your audience even after they move out of your funnel.
Not everyone needs as many funnels as the platinum plan provides, so just create the amount that makes sense to you and upgrade your plan if necessary.
Final Thoughts
Sales funnels help you to scale your business by capturing leads and increasing conversion rates.
Calculating the number of sales funnels you need is essential.
Having the right amount of funnels helps you reach your audience, diversify your message, and enjoy all benefits.
Understanding your traffic sources, sales goals, where you send your leads, and how your sales funnels drive your goals can help you to know the number of funnels you need.
With the above steps, you should be able to figure out how many sales funnels are sufficient for your business.
If in doubt, start small and build up from there! It's best to start with a single funnel to learn and add them as needed.