ClickFunnels is one of the leading sales funnel builders on the market today. It has helped thousands of businesses reach their target customers. But regardless of its popularity, people still wonder how ClickFunnels works.
ClickFunnels works by allowing users to create, optimize, track, and share sales funnels. Easy email and payment integrations enhance the experience. Through pre-built drag-drop features and various templates, businesses can build their own funnels by customizing the existing models.
This article will discuss how ClickFunnels works by going over several of its elements and features and how they all work together. If you have a product or service you plan to sell or promote with ClickFunnels, it's important to understand everything it can do for you.
Elements Behind The ClickFunnels Working Structure
To better understand how ClickFunnels works and if it can suit your needs, we have analyzed the program's best elements and their functionalities for you.
Here is how the different components of ClickFunnels work to make funnel-building easy and personalized.
1. Pre-built Sales Funnel Templates
ClickFunnels does all the hard work for you when it comes to funnel structuring. With the software, you can create your sales funnel without any coding.
All you need to do is pick a pre-built template and customize it to suit your needs.
You can choose from a collection of tried and tested sales funnels from product releases to membership websites.
Sample popular funnel templates include:
Sales letter funnel
Squeeze page funnel
Lead magnet funnel
Survey funnel
Homepage
Product release funnel
You will also get free pre-built landing page templates that you can customize no matter which funnel template you choose.
2. Drag and Drop Page Builder
You can easily build appealing pages using the drag and drop page builder feature, even if you have no coding skills.
You can choose from three major funnel categories: event funnels, lead capture, and sales page funnels.
ClickFunnels offers 40 templates you can select from and customize to showcase your brand and message.
These templates include pages such as order pages and checkout pages.
Once you choose your preferred template, you can drag and drop elements like images, colors, videos, and text to the positions of your choice.
You can also add your business logos and other branding elements.
Furthermore, if you choose to build a landing page on your own, the ClickFunnels drag and drop feature can still serve as a support to you.
3. The Freedom To Share Your Funnel With Others
ClickFunnels comes with the Share A Funnel feature that allows you to share your sales funnel link with others.
For instance, you can share your landing page with your clients or other businesses.
If other businesses like your sales funnel, you can refer them to ClickFunnels. This point brings us to the Clickfunnel affiliate program!
With the Share a Funnel Feature, you can participate in the ClickFunnels affiliate program and earn a 40% commission when a new user joins through your link.
Better yet, you can earn the $500 dream car incentive when you attain 100 referrals.
It's a win-win situation since you earn passive income while promoting your product.
4. Analytics and Split Testing For Optimization
With the ClickFunnels A/B testing feature, you do not have to second guess your choices.
You can effortlessly compare different models and test each one to establish which one works best. This functionality saves you time, effort, and money.
In addition to testing templates, you can analyze:
Ad versions
Opt-in pages
Media pages
Landing pages
Any media elements
You will also get performance insights that are key to optimizing your funnels at some point.
Similarly, you can isolate high-performance variants and use them to build a top-notch marketing strategy.
5. Email Integrations for Scheduling and Automation
Communication is crucial for the success of your sales funnels.
ClickFunnels offers an automated email marketing feature to improve and maintain audience engagement.
This enables you to build email sequences via an automation tab inside your sales funnel.
Furthermore, you can add schedules, names, and custom subject lines for your email marketing campaign.
Similarly, as with other functionalities, you can select from a variety of pre-made email templates.
6. Membership Site Creation
Customers need to be supported throughout their journey in your sales funnel.
ClickFunnels helps you provide robust customer care through an exclusive membership-only site.
You can create a login area for members to join after subscribing.
Once you create the login portal, members can access exclusive content such as training materials and special offers.
Essentially, creating membership sites helps you grow a community and boost interactions.
7. Funnel Tracking to Follow Up
ClickFunnels' tracking tool enables you to follow up your funnel's performance over time. You can track traffic, opt-ins, click-throughs, and conversions.
The funnel makes tracking easy by allowing you to view visitor activities on the dashboard. In turn, you can manage users without breaking a sweat.
If you are familiar with the benefits of funnel tracking, then you will know that this is an indispensable tool.
8. A Great Variety of Page Elements
ClickFunnels Step-By-Step widgets offer you the flexibility you need to design your pages.
Some of the crucial elements for building landing pages include:
Headlines
Text
Video
Input forms
Other Step-By-Step advanced elements include:
Surveys
Facebook comments
SMS sign-ups
Custom HTML
The best part of these widgets is that you can edit them in the sidebar editor.
This way, you can easily change basic elements like background color, fonts, and margins.
Everything can be customized to fit the look and design of your page.
9. Secure Sockets Layer (SSL) to Increase Trust
ClickFunnels values the security of payments and sensitive credentials.
This is in response to increased cybercrime risks such as phishing, malicious attacks, and identity theft.
All ClickFunnels websites and pages are encrypted to protect buyers and sellers to mitigate such issues.
ClickFunnels protects your pages through SSL certificates. You can tell if a website is secure if its URL starts with HTTPS.
Therefore, you can rest assured that the websites and pages you create through ClickFunnels are secure since they all come with SSL certificates.
10. Payment Integrations for Hassle-Free Transactions
ClickFunnels allows you to integrate various payment gateways into your sales funnels.
Some of the gateways you can integrate are Paypal, Stripe, Keap, Easy Pay direct, Apple Pay, Android Pay, NMI, and Recurly.
If you are just starting out, you can use a single payment method and add more as you go.
By integrating payment methods into the funnel, you save time while avoiding the additional expenses and risks that come with using third parties.
11. Multiple Domains For Different Ideas and Niches
ClickFunnels allows you to add several domains and subdomains to your funnels. This lets you cater to various audiences and niches.
You can purchase domains right inside the ClickFunnels dashboard or connect domains purchased elsewhere to make the process easier.
However, the number of domains you can add depends on your ClickFunnels plan. The more expensive plans enable you to add more domains.
By connecting multiple domains to your ClickFunnels account, you can run offers or webinars on your website.
Running multiple domains for better targeting helps you spend your money wisely.
Otherwise, you might have spent it on bloated themes and unnecessary plugins.
12. Actionetics and Backpack Tool To Study The Audience
Actionetics marketing automation software tracks the data of your leads throughout the sales funnel.
These statistics are essential since understanding your audience, and their needs is key to boosting conversions.
Therefore, Actionetics helps you customize your marketing strategies and products to meet prospects' needs.
On the other hand, the backpack tool gives you the power to set up a personal affiliate program for your funnels. Backpack assists the whole process by:
Setting up affiliate pages
Creating affiliate ids
Tracking pixels
Adding custom codes to pages
Creating commission plans
However, it is important to note that Actionetics and the backpack tools are only available in the premium version of ClickFunnels.
But if your budget can handle it, the benefits are well worth the price.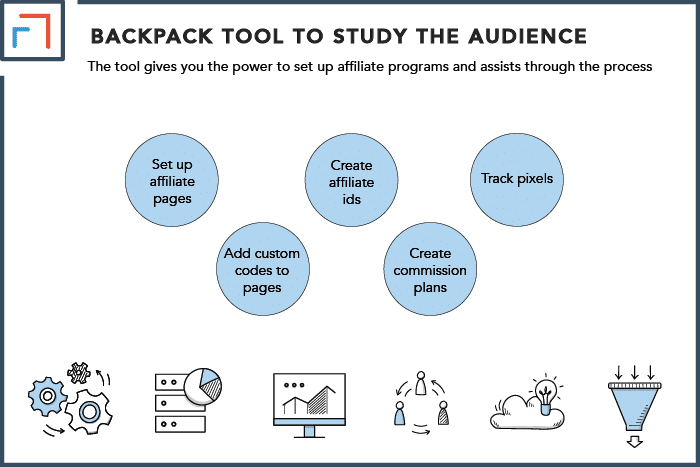 ClickFunnels' Funnel Hacking Elements To Enhance Your Results
1. What Is Funnel Hacking?
Funnel hacking is a strategic campaign to help users build better landing pages and sales funnels. It involves studying competitors' sales tactics and marketing elements and integrating them into your own funnels. Funnel hacking may seem like it's stealing your competitors' methods, but it isn't.
By using funnel hacking, you are merely learning from them and integrating some of their useful elements by split testing them against your funnel elements.
Furthermore, Russel Brunson (a co-founder of Clickfunnels) recommends this strategy when building sales funnels in ClickFunnels.
Although ClickFunnels offers you all the essential tools you need to build a sales funnel, it's unproductive to rely solely on your own ideas.
Marketing is a world of trial and error, and there are many places where you can learn and find inspiration.
Therefore, it is imperative to examine your competitor's landing page elements, email campaigns, and pricing points and split test them to create a functional strategy for your own business.
2. Elements Working Together During Funnel Hacking
Competitor Tracking
Funnel hacking enables you to track competitors who are operating in the same niche as you. They may be direct or indirect competitors.
However, just because competitors are in the same market as you, it doesn't mean their funnel is necessarily worth hacking.
A great-looking funnel with no results is not worth the effort. Once you have collected a number of competitors, start following their site pages.
Afterward, keenly study their marketing strategy. For example, you might join their email list to discover how their autoresponder works.
Strategy Testing and Idea Collection
This element of funnel hacking requires you to collect ideas and strategies you like from the competitors' sites.
Some of the ideas and strategies to look out for include:
Landing page design elements
Copywriting strategies
How products are positioned and priced
CTA design, as well as text and location designs
Site design elements
Content strategies such as videos and blog posts
Finally, test these strategies in your own funnel. Only use a few to implement at a time to determine what works and what doesn't.
Competition Analysis
Through advanced competitor analysis, you can get an in-depth understanding of funnel strategies.
Although it seems complicated, you don't have to struggle. You can use various tools to achieve advanced competitor analysis.
Some of these tools include:
Ahrefs & SemRush – Helps you analyze competitor SEO techniques and backlinks
Adbeat – Helps you discover how competitors invest in ads
Ghostery – Helps you figure out how competitors track their conversion strategies
Funnel Marketing Revamp
ClickFunnels helps you build and rebuild your funnel marketing elements.
Once you have identified the funnel elements you would love to hack, you can use the ClickFunnels editor to make the desired changes.
Following competitor analysis, you may want to hack the following remarkable funnel elements:
Email sequences
Home pages
Upsell and downsell offers
Landing pages
Testing To Perfection
After enhancing your funnel using competitor analysis, you can start attracting traffic while monitoring the effect of the remodel on your conversion rates.
Similarly, to find out what works best, use ClickFunnels' A/B testing feature when changing page elements during funnel hacking.
Keep trying and testing various funnel elements until you create a perfect funnel.
How Various ClickFunnels Elements Work Together?
ClickFunnels works in a straightforward manner. By design, ClickFunnels helps businesses build an entire sales funnel through a simple drag and drop feature.
Businesses can sell and promote various products and services with the funnel, such as courses, books, consultation, coaching, and webinars.
ClickFunnels can work for any type of business, but it can be especially useful if you are a newbie with limited technical know-how for building an online business.
It comes with a collection of pre-made templates based on your business, product, and value.
Therefore, it helps you save time and focus on marketing by automating the sales process.
ClickFunnels enables you to receive and collect payments and track the performance of your funnel pages.
You can easily integrate your funnel with online payment methods like Paypal and Stripe, thus easing transactions for online marketers.
With a variety of pre-built options, you can easily build landing pages, upsell and downsell funnels, email marketing, and webinars all in one location.
1. Getting The Most Out Of ClickFunnels
Finally, through funnel hacking, you can track competitors, analyze them, and test their strategies and ideas while implementing the best ones.
Thus, funnel hacking is an essential skill in the world of marketing.
Additionally, you can leverage your competitor's split tests and apply them to your funnel with funnel hacking.
It is the ultimate shortcut to growing your business without reinventing the wheel.
Furthermore, funnel hacking helps you save time and money when working on funnel optimization.
2. The ClickFunnels Advantage
Compared to traditional tools that require lots of skills and knowledge, ClickFunnels gets your funnels up and running in just a few clicks.
This way, you can start making money as soon as you begin using ClickFunnels.
Here is what makes ClickFunnels better when compared with conventional tools:
Creating an effective sales funnel is easy.
Users can quickly integrate payment methods and collect payments on the go.
Produces in-depth traffic analytics so you can optimize your traffic to boost sales.
A follow-up option is to help you keep in touch with your leads.
ClickFunnels is packed with all the essential tools and features you need to build and run a successful sales funnel.
Conclusion
ClickFunnels is a versatile tool for any business seeking to save time while developing a sales strategy.
The software promotes a do-it-yourself approach that enables amateurs to complete even the most challenging tasks.
Loaded with powerful marketing and sales features, Clickfunnels will help any online business set up effective sales funnels.
Hopefully, you now know how ClickFunnels works. Anyone can try the 14-day free trial and experience first-hand the functionalities of this amazing program.
The best way to understand it is to try it for yourself.