With sufficient time and effort, anyone can create great content. However, it's easy to see the difference between mediocre and fantastic copy. Those who can create high-quality content every day often earn a hefty salary for their efforts. But who are the highest-paid copywriters?
Some of the highest-paid copywriters include Dan Kennedy, Joe Coleman, Brian Clark, and Joanna Wiebe. These four copywriters started out as simple writers. They became successful by studying their role models, learning more, and perfecting their skills to create engaging copy that converts.
In this post, we will study some of the most highly-paid copywriters, how they started their copywriting careers, and some of the lessons you can take away from their success. Let's dive in!
4 Highly Paid Copywriters To Inspire You
Copywriting is a lucrative career that pays well. Unfortunately, only a few people seem to rise up the ranks to collect those top dollars.
If you are new or have been stuck at the same level for a while, you may wonder what the secret to earning money is. Studying the following expert copywriters will reveal some helpful secrets.
1. Dan Kennedy
Dan Kennedy is one of the most highly-paid and sought-after direct response copywriters in the world. He has worked as a copywriter for over 40 years, during which he made seven figures for over 20 years.
He's now a multimillionaire and is highly respected in the community.
He achieved all that while writing part-time and doing other things such as coaching, entrepreneurship, and offering consultations and advisory services.
Even more remarkable is the fact that he does not advertise his services. Clients seek him out rather than the other way around.
Dan Kennedy has written several advertisements that are published in dozens of national magazines on a monthly basis.
In addition to ads, he has created scripted webcasts, video sales letters, and sales DVDs for use in direct mail. In 2015 alone, direct mail had 500,000+ viewers and generated revenue above $100 million.
Generally, over 100,000 pieces of his direct mail are sent out monthly, reaching several markets, including the USA, the UK, Canada, and other foreign markets.
Dan Kennedy's Copywriting Journey
Dan Kennedy started his copywriting career without any formal training. In fact, he has no college degree, and he believes anyone can become a great copywriter without a degree.
He argues that you simply need the right mindset to get started, and you don't need to be perfect. He had zero desire to climb the corporate ladder; hence, he never worked in any agency.
When he wrote his first paid copywriting gig, he was a high school student. After two years, he started a copywriting agency of his own.
As a direct-response copywriter, he delivers copy that gets the audience to take action. His writing is clear, inspirational, and compelling.
As a result, he has earned a place among other highly-paid copywriters and ranks alongside iconic copywriters like Joe Sugarman and Gary Halbert.
Sales Letter Copywriting Lessons You Can Learn From Dan Kennedy
There is no better way to become a great sales copywriter than to learn from the master himself.
Having written several sales pieces that sold highly, Dan Kennedy packaged his secrets into a book (The Ultimate Sales Letter) to help others find success.
In this section, we will learn how Dan Kennedy writes copy that commands action. He believes that action is what draws a thin line between copy that succeeds and one that tanks.
Below is a summary of the Dan Kennedy system for motivating action.
Intimidate To Inspire Action
Conventionally, copy should be written in a friendly and engaging manner. However, there is another side of the coin that is usually left untapped—the fear side. Fear motivates people to act.
Humans are also likely to take action if they're told to do so by powerful people. Another great way to compel action is the use of scarcity.
For instance, the Air Jordan Shattered Backboard shoes had a defect—a backward swoosh.
Despite the obvious defect, a single pair that came out of the factory with the same flaw sold at $96,000 thanks to limited availability.
Another strategy is to leverage the bandwagon effect that gets people to act because other people are doing it. Great examples include Tik Tok trending videos and Black Friday.
Such trends come in handy in making a campaign successful because they trigger the FOMO. The snob effect is also a great strategy for getting people to take action.
This strategy taps into the customer's ego by touching on aspects such as prestige and status. This convinces people to buy products that symbolize power and status. The GG belt below is a great example.
Some of Dan Kennedy's other strategies include:
Showing the readers what they will get from investing in a product
Offering a robust guarantee that moves the reader past fears and objections
Echoing the main offer through the copy, so customers don't forget it
Offering free trials to create certainty around a product
Leveraging storytelling to connect with readers on a deeper level
2. Joe Coleman
With over 15 years of experience, Joe Coleman is an award-winning and highly-paid copywriter based in the UK. His career is a great experience that is motivational to other budding copywriters.
Several aspects have contributed to the success of this great writer.
First, he has an excellent mastery of the English language and has an uncanny ability to pick the best word combinations to create engaging copy. Another attribute is the use of humor to wow his readers.
What's more? Joe Coleman practices what he preaches. His website is the epitome of his copywriting abilities.
Better yet, his website has been ranked as one of the best by Adweek. It is simple, free from clutter, and gets straight to the point. Below is a screenshot from his home page.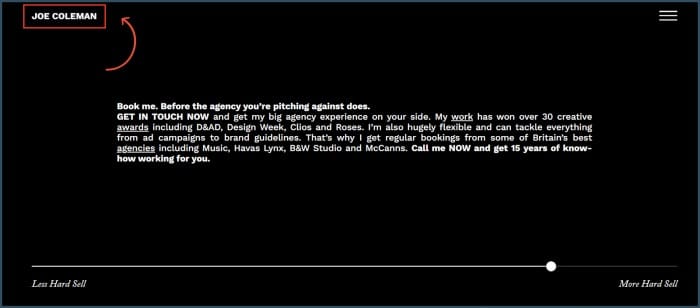 One of the most remarkable aspects of this page is the slider at the bottom. It gives prospects a chance to experience how Coleman uses varied languages to suit various levels, from soft to hard sell.
This is a classic example of showing rather than telling. On the level above, Joe uses social proof and a sense of urgency to eliminate objections and lure readers in.
He hilariously demonstrates the hard sell using the cat image below.
Later on, he uses a skateboarding dog amidst blasts of fire to show how urgently prospects need to hop on that call. It is both funny and memorable.
Joe Coleman's Copywriting Journey
Twelve years ago, Joe Coleman quit his permanent job to work with ad agencies on a full-time basis in the UK. Prior to his resignation, Joe worked as a copywriter for five years on a part-time basis.
Based on his five years of experience, Joe took the risky step of quitting his corporate job. He didn't know what would become of him years later—only time could tell.
Regardless, he worked hard each day and fought to realize his dream of becoming a renowned copywriter.
On July 7, 2020, Joe took to Linkedin to celebrate his 10th anniversary working as a copywriter. In his statements, he exclaims, "10 years. My God! I can't believe it!".
Copywriting Lessons You Can Learn From Joe Coleman
During his tenth anniversary, Joe shared ten things he has learned during his years of working as a freelance copywriter.
Here are some practical lessons to inspire you, especially if you are contemplating quitting your full-time job.
1. Initial gigs will come from the people you know
Getting started as an independent copywriter is one of the most challenging parts of a freelancing journey.
Deciding to quit your stable job is hard enough, not to mention the uncertainty of not knowing if you will make it as a new copywriter.
For Joe, 90% of his work came from the people he already knew in his earlier years as a copywriter. When he approached new agencies, not many of them wanted to hire him.
So, as you transition, make a list of who you already know, as this will be the foundation of your client base.
He continues to advise that if you do a great job, the clients will be satisfied with the results. And as we all know, a happy client can be a great reference for the future.
Getting referrals is amazing because it reduces the amount of legworks you need to do. Instead, you can just focus on creating more great copy.
2. Leverage personal branding
Even if you are good at writing, you won't get far if no one knows about you. Joe recommends taking time to promote yourself and your services.
He recounts how he walked into an agency and requested website design services. He got the best designer, and his website created a stir online.
Your brand story tells your clients what they need to know about you and how your expertise can benefit them.
Additionally, it gives you a chance to showcase what you have done for previous clients and the results you attained.
3. The best time to start is today
There is no better time to start your copywriting career than today. If you keep waiting for the perfect moment, it might never come. Take small steps consistently, and you'll keep growing and improving.
3. Brian Clark
Brian is a highly-paid and famous copywriter with over 22 years of experience.
In addition to being a copywriter, he is a lawyer and a serial entrepreneur who started one of the most influential copywriting blogs called Copyblogger.
The site has been referred to as a "content marketing bible." He created Copyblogger to write quality content that met the needs of his target audience.
Over time, this site evolved to include products he could sell to his audience, such as WordPress themes.
Brian Clark's Copywriting Journey
Brian had a lucrative job at a law firm where he practiced as a recovery lawyer. Over time, he realized he never liked law, nor did he like working under someone else.
Following his desire for independence, he quit law and ventured into self-employment. Interestingly, he didn't have a plan for what he would do afterward.
So he dove into launching multiple businesses, which made him overwork himself. Worst of all, he wasn't interested in the projects that kept him up at night.
Later on, an accident led to unexpected brain surgery. This event sent him a wake-up call that sent him looking for what made him happy.
It was in this quest that he finally settled on online writing. In 2006, he solely funded Copyblogger, which later gained hundreds of thousands of subscribers and won numerous awards.
Brian never worked for any client or agency. He simply learned copywriting so he could scale his business—Copyblogger.
Although he started publishing his content on Copyblogger in the 90s, he had no clue what he was doing.
So he took his first paid copywriting course—the AWAI's Accelerated Program from Six-Figure Copywriting. After that course, he successfully ran seven businesses.
Lessons From Brian Clark
There is a lot to learn from brian. Below is a summary of the key lessons.
Learn as much as you can from others who are doing well. Brian learned a lot from expert copywriters such as Clayton Makepeace.
If you are doing content marketing, write specifically for your target audience. Many copywriters looking for clients try writing for other writers the same way Brian does, but that's a huge mistake because it is the wrong audience and won't pay off in the end.
Marketing is key for getting copywriting clients. The process may be daunting, but you need to find your way around it if you want to be successful.
4. Joanna Wiebe
Joanna is an original conversion copywriter with over 15 years of experience under her belt.
In addition, she is the founder of popular blogs such as the Copyhackers blog and Airstory, a SaaS product for helping students, researchers, journalists, and copywriters with their writing.
She has worked with several huge brands, such as Crazyegg, Shopify, and more. She is also a speaker who participates in huge conferences, including SearchLove and MozCon.
Joanna Wiebe's Copywriting Journey
Joanna had just dropped out of law school when a friend informed her of a creative writer vacancy at an agency. Being an English major, she took the opportunity.
Although the job was low-paying, she stayed because it was fun and she preferred it to law school. Two years later, she moved to work at Intuit in a senior copywriter position.
During this period she studied conversion rate optimization and started writing sales letters. From that point on, she kept growing and diversifying her career.
Top Copywriting Lessons From Joanna Wiebe
Joanna shares a wealth of information you can use to elevate your copy. She shares incredible lessons in her AMA on the Inbound website. Here is a summary of the key lessons.
90% of your writing time should be spent creating magnetic headlines
Joanna spends a lot of her writing time coming up with attention-grabbing headlines. She disagrees with stuffing headlines with keywords just to rank higher.
Below are some of her tips for writing great headlines.
A good headline is often the epitome of your value proposition.
Align your headline and call to action button copy on landing pages for higher conversions.
Add some data (if possible).
Use 'even if' or 'without' to overcome objections/hesitations.
Keep a swipe file
A collection of content you love will come in handy, especially when you feel stuck with a project. A swipe file will inspire you and help you generate new ideas.
Write from a contentious perspective
Writing contrary to popular opinion is a great way to create content that shocks and compels readers to engage further.
Wrapping Up
These top-paid copywriters are proof that copywriters can interact with big brands through their copies.
More importantly, remember that these legends were once lowly copywriters, and some had no clue what copywriting was when they started out.
But they learned and perfected their craft to get to where they are today.
In addition to drawing inspiration from the copywriters above, it would benefit you to go the extra mile to study their strategies and examples of their work.
Like Brian Clark, you will appreciate learning from role models in due time.