Working with data aggregation across various platforms can be a pain. Fortunately, you can now use a range of tools to automate your data gathering and reporting. Thanks to tools like Funnel.io and its competitors, anyone can effortlessly combine their data in real-time and in one location.
The top Funnel.io competitors include Supermetrics, OWOX BI, Improvado, Datorama Salesforce, and Stitch Data. While these platforms perform similar functions, they each have distinct features that set them apart. Comparing them can help you choose one that best suits your needs.
This post discusses the main Funnel.io competitors and how they compare in terms of functionality, features, pricing, and more. Each system has something that's worth your time, so let's take a closer look.
A Quick Overview of Funnel.io
Before we dive into the details of the competition for Funnel.io, let's first take a quick look at what Funnel.io is and what it can do.
1. What Is Funnel.io?
Funnel.io is a cloud-based solution that simplifies the process of gathering, preparing, and analyzing your marketing data.
Furthermore, the program seeks to integrate with your advertising and marketing platforms.
Funnel.io organizes your data, collects metrics, and generates reports and KPIs without requiring you to possess any coding skills.
2. Who Should Use Funnel.io?
Funnel.io is an excellent fit for start-ups and small businesses. People who find it useful are often retailers, agencies, and e-commerce businesses.
Since payments are made on a monthly basis depending on ad spend, it is suitable for SMBs with limited budgets.
Additionally, the platform is user-friendly, with a data mapping interface that allows users to map and categorize data.
After collecting your data, you can feed it directly into Google Sheets, Google Analytics, or a data studio (according to your preference).
3. Funnel.io Integrations
Funnel.io allows you to connect more than 500 data sources so you can generate all your marketing reports under one roof.
Examples of popular integrations include Google Analytics, Reddit, YouTube, MailChimp, and many others.
4. Funnel.io Pricing
Funnel.io's pricing starts from about $399 per month for small teams.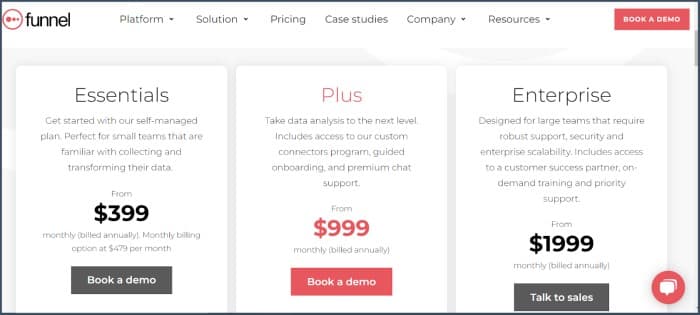 Funnel.io Pros
User-friendly interface
500 plus data connectors
Several years of access to historical data
Easy collection of data
Accurate data analysis
Funnel.io Cons
It does not support direct integrations with Tableau
Users may need some time to get used to the interface
Now that we understand Funnel.io better, let's compare it against five popular competitors.
Supermetrics
Supermetrics is a cloud-based business analytics platform that centralizes all performance and metrics indications.
Although it was initially designed to make it easier for organizations to access Google Analytics data, the program has since evolved into a full-fledged reporting solution.
It can now work with a variety of analytics tools and engines.
Supermetrics helps you collect social media, online analytics, PPC, and search engine optimization data in one place.
The platform then uses APIs to gather and analyze your marketing data. It can then produce automatic reports based on this information.
It also enables you to store the data or send it to another visualization or BI tool.
1. How Does Supermetrics Work?
Supermetrics is an app connector that allows you to link various data sources to data destinations of your preference.
To assist you with the linking, the Supermetrics software has multiple versions designed for specific tools.
These tools include Google Sheets, Excel, Google data studio, and more. For example, the version for excel is Supermetrics for excel.
The various Supermetrics versions push data into a data warehouse or a BI solution such as power BI and Tableau.
In addition, these versions work fast to help you achieve your data goal.
For instance, using Google analytics alongside the Supermetrics uploader version will help you to view ad expenses and ROI.
2. Who Should Use Supermetrics?
Supermetrics is an excellent option for small businesses and start-ups that primarily use Google Analytics, Adwords, and social media.
This is because the platform can only pull data from a few platforms.
So, if you need to use several other channels with advanced visualization, Supermetrics may not be helpful.
3. Integrations
Supermetrics offers several integrations such as data source connectors like Google ads.
An example of a Supermetric analytic tool is Dome, which helps you make dashboards and generate reports.
4. Pricing
The prices vary depending on the version and integrations that you buy.
For example, the pricing for Supermetrics for Google sheets starts at $104 for 10 data sources. Check the Supermetrics pricing page for full details regarding all products.
Supermetrics Pros
Good choice for large companies that have huge budgets
Pre-build data connectors make it easy to use without coding skills
Has more than 50 sources of data connectors to pick from
Saves you time
Supermetrics Cons
Its data source connectors are limited
Expensive for small businesses with limited budgets
Challenging initial setup
OWOX BI
OWOX BI is a business intelligence tool that helps businesses with their marketing analytics by collecting data from multiple sources.
It uses services like Google Analytics or Google BigQuery to do this.
The platform then takes data from websites, ad providers, CRMs, offline businesses, and other sources. Once everything is gathered, it combines, cleans, and organizes it all.
You can also use it to automatically import raw data from Google Analytics to Google BigQuery, move historical information from ad services to Google Analytics or Google BigQuery, and do a lot more.
You also don't need any coding skills to do this!
1. How Does OWOX BI Work?
The tool works through three different products, including BI Smart Data, BI Attribution, and BI Pipeline.
They bring together all of your marketing-related data to help you identify what measures to take to achieve your marketing goals.
It also helps you compare your best and worst advertising efforts and how to reduce repetitive operations.
The technology combines data from a variety of sources to create a single data set that you can feed into Google BigQuery.
You may also automate the generation of reports to analyze your marketing efforts.
Goal predictions, growth analyses, and market share shifts are a few things OWOX BI can work on.
2. Who Should Use OWOX BI?
OWOX BI is an excellent tool for retailers, finance companies, e-commerce businesses, and any other businesses that are interested in generating leads.
3. Integrations
OWOX BI features more than 100 integrations that provide data processing services, call tracking, and ad services.
4. Pricing
The price depends on the number of users that you have. For instance, the starter plan is free and allows you to import data from one data source to Google analytics.
On the other hand, the marketing data plan starts at $55, depending on the number of users you have.
For more details on pricing, visit the OWOX BI pricing page.
OWOX BI Pros
Easy and intuitive to use
Seamless integrations and easy collection of data under one dashboard
Provides clear data sheets with consistency
OWOX BI Cons
Learning to use the platform may take some time
It becomes more expensive depending on the number of users you have
Improvado
Improvado is an ETL platform that takes data from over 200 pre-built connectors, transforms it, and loads the results anywhere you need it.
As a user, it will help you gain superior business insights by combining all of your marketing data in one location.
It will also increase the speed of your decision-making and the speed with which you can make optimizations without wasting time analyzing data.
In addition, you can host Improvado on the cloud or on your business premises.
1. How Improvado Works?
Improvado works by providing users with a custom dashboard to measure and compare the performance of ad channels and campaigns.
Improvado's cross-channel attributions, such as post-click and post-view conversions, allow users to track their clients' conversion journeys.
Users can also create rules for attributing sales using attribution models.
Finally, after pulling data from various sources, the platform allows you to transfer it to visualization tools such as Tableau and Google Data Studio.
2. Who Should Use Improvado?
Since the integrations of Improvado go deep, they can pull granular data at the keyword and ad level. Thus, it provides you with a complete picture of your campaign.
Therefore, Improvado is an excellent tool for marketing analysts, performance marketers, and all levels of managers who work with marketing data on a daily basis.
Some industries that can benefit from the tool include IT, healthcare, marketing agencies, and education, among others.
3. Integrations
Improvado has more than 200 integrations to match its multiple data connectors.
If you need an integration that is not available within Improvado, they can help you develop a customized one for your use upon request.
Some popular integrations include Google BigQuery, Google analytics, my SQL, Bing Ads, Looker, and Tableau.
4. Pricing
Improvado does not have set prices for its services. Instead, each client receives a customized pricing plan suitable for their individual needs.
So, the best way to get a price quote is by contacting Improvado customer support.
Improvado Pros
Top-notch customer support inclusive of a customer representative
Deep and granular integrations that enable data viewing at the ad and keyword levels
Ability to see ad creatives inside the Improvado dashboard
Gather all of your marketing data in one place and see it in real-time.
Allows custom integrations
Improvado Cons
Some granular features can be challenging to work with at first. Hence the need for developers
Initial visualization and dashboard setup may require a lot of back and forth with support
Datorama Salesforce
Datorama is a cloud-based marketing intelligence platform. It's designed to collect data across platforms and aggregate it in a single source.
Consequently, users are able to analyze, visualize and act on all of their data within one branded dashboard.
1. How Does Datorama Salesforce Work?
The Datorama Platform utilizes a bespoke data plan with pre-defined data connectors.
These connectors aggregate and standardize data from different advertising platforms so that everything works together smoothly.
The platform helps tie each marketing source to the data model, allowing analysts to report on the same fields, regardless of the source.
This way, the marketing data model provides the advantage of enabling analysts to avoid repeating calculations.
Datorama's InstaBrand allows you to quickly and easily construct dashboards once everything is in one place.
The dashboard branding tools allow you to quickly update an entire dashboard to fit your brand requirements.
All you need to do is upload your company's logo or colors, and all of your charts, widgets, and dashboards will be updated to match your design choices.
2. Who Should Use Datorama Salesforce?
Medium and large enterprises, as well as marketing and advertising businesses, can use Datorama.
However, it is crucial to note that the software is technical and needs SQL knowledge to operate it effectively.
Due to these technicalities, users may need to outsource the setup to experts who understand the coding language.
You could also upgrade to the Premium Plan to get sales rep assistance. Once everything has been set up, this tool is excellent at what it does.
3. Integrations
Salesforce uses the MuleSoft Anypoint platform that allows you to unlock and integrate data from any platform.
4. Pricing
The pricing of Datorama is on the high end, with the starter plan starting at about $3,700 a month.
Fortunately, the program gives everyone a free 30-day trial so they can get a glimpse of what to expect from the paid plans.
Datorama Pros
InstaBrand functionality saves time by producing branded reports
Powerful dashboard data visualization that quickly generates easy to understand insights
Ability to add any integration
Datorama Cons
There is a steep learning curve
The plus plan is priced depending on the lines of data, which is extremely expensive
Metric names can be confusing because they appear different from the source
Stitch Data
Stitch Data is an extract, transform and load (ETL) platform that duplicates data from marketing sources to a warehouse. Then it sends it to your destination as a marketing report.
1. How Does Stitch Data Work?
As a cloud-based platform, Stitch Data helps extract data from data sources, including Facebook and Google Analytics. It then transfers it to platforms such as Salesforce.
Once the data has been collected from various sources, the marketing teams or clients can track performance and KPIs for specified time periods.
It's a fantastic tool for delivering KPIs, optimizing marketing performance, and enhancing the sales strategies of the agencies and businesses that use it.
2. Who Should Use Stitch Data?
Anyone can use Stitch Data to analyze their marketing data.
Some of the most common users include medium-sized companies, enterprises, and marketing professionals.
Since the users are varied, considering your KPIs, budgets, and requirements can help you pick a suitable plan.
3. Integrations
Stitch Data can integrate with more than 130 data sources, including Intercom, Google Search Console, Google Ads, LinkedIn Ads, and more. It also integrates with databases like MySQL and Salesforce.
4. Pricing
Stitch Data offers customized pricing regarding the number of rows per month. Pricing starts at $100 for five rows per month for the standard plan.
Stitch Data Pros
Produces accurate sales reports
Report generation is simple
Saves time
Has a great user interface
Stitch Data Cons
Learning to use the platform can take some time
Does not contain a specific dashboard
The list of inventories can be difficult to navigate
Final Thoughts
Shopping for a marketing analytics platform can be a difficult task, considering the large number of options.
Once you understand your business needs, you can pick a tool that fits your requirements.
Some of the top competitors of Funnel.io to compare include Supermetrics, Improvado, OWOX BI, Datorama Salesforce, and Stitch Data.
By studying those competitors and comparing them, you find the one that is the best fit for your business.