You need a sales funnel if you want to generate and drive leads as an affiliate marketer. As a result, you need a funnel builder that can help you create high-quality funnels. But as an affiliate marketer, you may wonder if there are free funnel builders you can use to run your campaigns.
The best free funnel builder for affiliate marketing is AWeber. Its free version gives you everything you need to create a successful funnel. You can integrate eCommerce platforms and payment gateways. There are also email and landing page templates you can use to create pages in your funnel.
In this post, we will discuss the key features of AWeber and which features you can access by using its free plan. Keep reading to learn more about this free funnel builder!
What to Look for When Choosing a Free Funnel Builder?
First of all, let's go over some criteria to keep in mind as you look for a good funnel builder.
To get the best out of a free funnel builder, there are a few basic functionalities you need to look for.
A good free funnel builder should have:
A landing page builder
A drag and drop editor
eCommerce functionality
Search Engine Optimization Management
AWeber has all of these and more, so it's our top pick for affiliate marketers who need a free funnel builder.
AWeber: The Best Free Sales Funnel Builder for Affiliate Marketers
When it was originally created in 1998, AWeber was mainly an email marketing platform.
Nowadays, AWeber has grown into a full-fledged funnel-building platform that can help you build excellent funnels for all your affiliate needs.
It does so by offering you everything you need to start marketing online.
AWeber is an excellent platform for affiliate marketers because of its strong email marketing functionalities.
Email marketing is an effective strategy for promoting affiliate products.
This is because it helps you to seamlessly attach affiliate links into your email sequences to engage readers.
Through consistent communication, you can also build relationships and drive conversions.
AWeber's Key Features
Although AWeber is primarily an email marketing platform, it offers you several features that help you build an affiliate marketing funnel with ease.
Below are some of the features that make the process easy for every user.
1. Drag and drop editor
The drag-and-drop editor makes it easy to create professional emails in a matter of minutes.
AWeber helps you craft visually appealing emails without any design or coding experience. You can even add images without any issues.
All you need to do is select your preferred elements from the toolbar, drag them onto your email, then edit it to your satisfaction.
If you need to build an email from scratch, AWeber gives you tools for this as well. You can use the plain text editor or the HTML editor to achieve the desired outcome.
2. Landing Page Builder
With AWeber, building magnificent landing pages is the first step toward generating more sales.
To help you design beautiful landing pages with minimal effort, AWeber offers you a gallery of 100+ templates to choose from.
Better yet, the pre-built templates are industry-oriented. Subsequently, you get to pick a template that best fits your affiliate niche.
Since the core aim here is to build landing pages that convert more page visitors into subscribers, AWeber helps you build landing pages with subscription forms built-in.
You can either build independent forms or embed them into your landing pages.
In addition to being attractive and eye-catching, sign-up forms should come with a compelling offer that persuades a visitor to subscribe.
Some of these promotions might include sales offers, opt-ins, course subscriptions, webinars, and more.
Finally, AWeber provides drag-and-drop functionality to help you edit your landing pages with ease.
3. Email Templates
To get the most out of your email marketing campaign for your affiliate program, you need to create and send appealing and high-value emails.
AWeber has a gallery of 600+ email and newsletter templates. Users can pick a template to create engaging emails that are responsive across multiple devices.
To get started with creating and sending emails, simply select from numerous color schemes, designs, photos, and layouts.
Then you can add your logo and message and click send.
Whether you need industry-based templates, promotional templates, or anything in between, AWeber provides plenty of options.
4. Audience Segmentation
Segmentation allows you to send targeted emails to a specific group of subscribers.
Targeting helps you send the right message to the right people, thus encouraging better customer relationships.
For instance, you can send a welcoming email to new contacts instead of sending them to the whole list.
Generally, segmentation helps you send the right message depending on which marketing stage your leads are in.
For example, send follow-up emails to prospects who abandoned their carts or send an upsell offer to a customer after their purchase is complete.
5. Integrations
AWeber allows you to connect your account with 750+ integrations. These integrations help you to connect marketing apps and do much more.
More importantly, eCommerce and payment integrations help you elevate your affiliate game.
For instance, you can integrate with eCommerce platforms like Etsy and receive payments swiftly with payment gateways like Paypal and Stripe.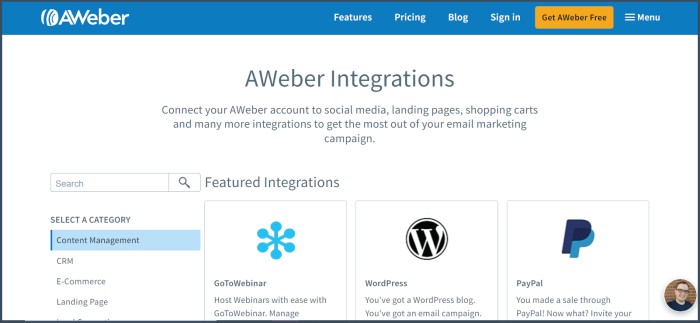 6. Reports and Analytics
AWeber's email tracking and analytics feature allows you to track the effectiveness of your affiliate email campaigns.
You can view information about open rates and sales with a few quick clicks.
Once you get the analytics reports, you can segment your audience based on their interaction with your emails.
By segmenting your audience, you will be able to send the right emails to the correct audience, which ultimately gives you more sales.
Besides, it will save you time that would have been spent marketing to people who are unlikely to convert.
7. A/B Split Tests
AWeber's A/B split test feature helps you test up to three variants of an email to determine which one performs best.
It also warns you if spam filters are considered to be malfunctioning.
Additionally, the test will show whether various subject lines are more likely to end up in the garbage folder.
You can also see if one version of an email is getting fewer opens compared to the other.
Ultimately, knowing how your email will perform ahead of time helps with deliverability.
What Will You Get From AWeber's Free Plan?
You can use AWeber to build your affiliate marketing funnels at absolutely no cost. Here is what you will get for free.
Build an email list of up to 500 subscribers and send up to 3000 emails per month
Sell affiliate products or services using AWeber Ecommerce
Get access to thousands of free stock images to spice up your email marketing game
Design beautiful landing pages with inspiration from a template-rich gallery
Purchase and add domains
Create sign up forms
Tag subscribers and segment your audience
Access 24/7 live support via email, chat, phone, and free migration
Unlimited account users
Drag and drop page builder
Automate your emails
Wrapping up
A sales funnel is a crucial element that can determine the success of your affiliate campaign. To build a converting funnel you need a great funnel builder.
However, when starting out, your budget may be limited. In such cases, a free funnel builder comes in handy.
AWeber is a great funnel-building software that provides you with everything you need to start marketing online.
It allows you to add up to 500 subscribers and create an email limit of 3000 per month for free.
Better yet, it gives you access to features such as drag and drop builder and a landing page builder.