Choosing a funnel builder for your business isn't easy, especially when there are so many options. One of the major factors to consider is a funnel builder's ease of use. So, what is the easiest funnel builder on the market?
ClickFunnels is the easiest funnel builder out there, especially if you need help with email marketing, social media marketing, and lead nurturing. ClickFunnels allows you to create all of your digital marketing funnels and automate them to work on autopilot with its simple drag-and-drop interface.
This blog post will help you decide whether ClickFunnels is the right fit for your business. Four factors make it the easiest funnel builder on the market today.
What Makes ClickFunnels the Easiest Funnel Builder?
In the world of funnel builders, ClickFunnels is the undisputed king regarding ease of use. Here's why:
1. Create Powerful Landing Pages With a Few Clicks
If you're using a paid ClickFunnels account, you'll be able to create landing pages that convert your traffic into leads.
These landing pages are designed specifically for digital marketing and will allow you to turn your existing website visitors into customers.
When we talk about ease of use, we need to point out how much better landing pages are than sales letters. The normal conversion rate for sales letters is 1%.
In comparison, landing pages can lead to conversions as high as 20%.
Funnels are an essential part of lead generation and nurturing, yet many businesses don't use them because they think they're too difficult or time-consuming.
With ClickFunnels, you can create any type of landing page you want without having to code or design.
ClickFunnels has a drag-and-drop editor that makes it easy for anyone who knows how to use Microsoft Word and PowerPoint!
You can even include complex elements such as opt-ins, exit popups, and lead capture forms.
ClickFunnels makes it easy for you to create a landing page that leads to conversions, even if you have no design knowledge.
All the elements work together seamlessly so you can focus on your audience and get more sign-ups or leads.
2. Build High Converting Sales Funnels in Minutes
ClickFunnels lives up to its slogan, "Marketing Funnels Made Easy." The platform provides a user-friendly interface that allows you to create funnels and automate them in minutes.
All of your ClickFunnels pages can be customized with drag-and-drop features, so you don't even have to deal with code editors or text boxes.
Just select a template, add your content, and you're good to go! The templates are fully customizable, so you can change any part of it to make it better fit your brand.
And if you don't find what you're looking for, there's a huge community of ClickFunnels users who are always happy to help.
You can also add different types of elements to your pages, including videos, forms, social media buttons, and more.
Plus, you don't have to create separate landing pages for each step in your funnel – ClickFunnels will do that for you.
All you need is a single page with all the information your prospects need.
This is a big advantage when compared to other funnel builders that require you to create different pages for each step in your funnel.
As an added bonus, you can create as many funnels as you want and leave them all running on autopilot.
3. Store Your Funnel Pages on the Cloud
Another reason why ClickFunnels is the easiest funnel builder is that all of your pages are stored on the cloud.
This means that you don't have to worry about losing any data if your computer crashes or if you accidentally delete a file.
You can access your funnel pages from any device, whether it's a desktop computer, laptop, tablet, or smartphone.
You also don't have to worry about portability because ClickFunnels offers a free mobile app that allows you to manage your funnels on the go!
The ClickFunnels mobile app is extremely user-friendly and makes it easy to keep track of your funnel's progress.
The free mobile app gives you instant access to all of your funnel pages, so you can make changes or updates wherever you are.
You can also see how many people have visited each page, how many leads have been generated, and much more.
This is a huge time-saver because you can modify your funnels while on the move instead of waiting until you reach your office or home computer.
Also, updates are instantaneous! If you make changes from one device, they will instantly be reflected in all other devices as well!
4. Static HTML or Mobile Responsive Website
Many businesses choose ClickFunnels because it's a fully-featured web builder, allowing you to create landing pages for your website.
While the platform is great for this purpose, other tools are also available that can help you build an online store from scratch if necessary.
This means that if you want to start an online store, you can use ClickFunnels to create a custom website that's mobile responsive.
You don't need any coding skills or experience, and you can get your online store up and running in minutes!
If you already have a website but want to add funnel pages to it, ClickFunnels makes this easy too.
You can simply paste your HTML code into the builder, and ClickFunnels will do all of the customizations for you.
Or – even better – choose from one of their pre-designed templates and save yourself hours of design time!
As mentioned earlier, you don't need any coding skills or experience to use ClickFunnels, which makes it one of the easiest funnel builders in the world.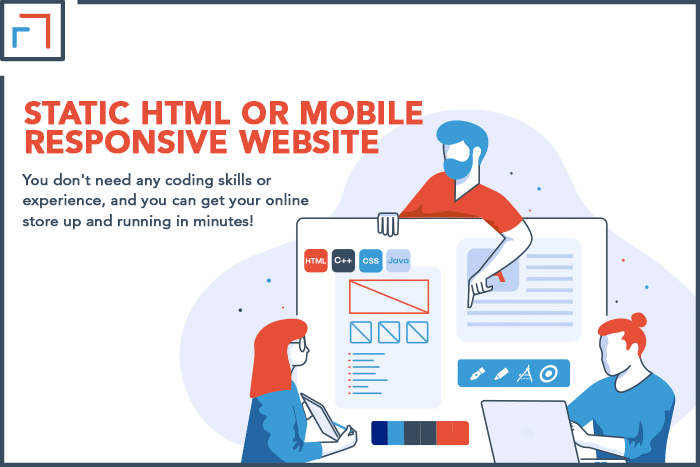 5. Simple 2-tier Pricing
As with all other software, there are some features that you need to pay for and others that are available for free.
Here's a quick overview of ClickFunnels pricing:
Basic – $97/month or $970/year
This plan is best for small businesses that are just getting started with lead generation (or for those who have been in business for a few months but haven't gotten very far).
This subscription includes 20 funnels, 100 pages, and up to 20,000 unique visitors per month.
Platinum $297/month or $2970/year (best value)
This plan is for established companies and lead generation teams who have a lot of experience.
It includes unlimited funnels and pages, nine custom domains, unlimited follow-up funnels, priority support, and much more.
All ClickFunnels plans include:
Unlimited hosting pages for your landing pages and funnels.
Access to all funnel types, including tripwire, webinar, sales letter, product launch, and more.
A/B split testing so you can find the best-converting pages for your business.
Unlimited contact storage – create an unlimited number of contacts in your database (over 200 fields are available).
Email integration into landing pages so you can easily add forms or send emails from any of your funnels. It includes auto-responders for drip campaigns.
The Bottom Line
ClickFunnels is one of the easiest funnel builders in the market.
It's a tool that lets you create landing pages and funnels with just a few clicks, meaning that it will take very little time to understand how to use ClickFunnels for your business.
The downside to this is that many different tools are available, with each tool having its own purpose and target market.
However, the good news is that ClickFunnels has a free trial period of 14 days, so you can see for yourself if it's the right fit for your business before you make any commitments.