Are you considering a career in copywriting? It's a great field to get into, but you may be wondering about the cost of becoming a copywriter. The good news is that you don't have to spend thousands of dollars to get started.
The cost of becoming a copywriter entails laptop or desktop costs. You may also want to build a website or create a portfolio to showcase your work. You can also undergo training, which can be costly but is not mandatory. Overall, you can spend around $600 to $2000 to get started as a copywriter.
That is the short answer, but there are always multiple factors involved when it comes to determining the cost of something. So let's explore the details a bit more.
Costs of Becoming a Copywriter
It's smart to calculate the anticipated costs before you launch into a new career. This gives you a heads-up on what to expect and how to plan your finances.
Here are the main costs you need to consider when becoming a copywriter.
1. Laptop or Desktop
You need a computer to do your work. A laptop is the best option if you want to work anywhere, but a desktop will do if you plan to work from home.
A new laptop costs around $700, while a desktop may cost around $600. Of course, there are cheaper and more expensive options, but a good middle-range computer will be somewhere in this range.
When purchasing a computer, compare the important specs that will help you do your work better and faster. Some essential features for copywriting are:
· Fast processor
· Good RAM
· Large monitor
However, you don't need 16GB RAM and a top-of-the-line processor; an iMac or MacBook will do just fine. You can also save money by buying a used computer or refurbished one.
Just make sure it is still in good working condition. You might also want a laptop with long battery life if you need to work on the go. Most copywriters need at least six hours of battery life.
Although some copywriters say it's possible to do the job with a tablet or smartphone, we don't recommend it.
The bigger screens of laptops and desktops will make it easier for you to do your work and avoid eye strain.
A smartphone or tablet can compromise the quality of your work; therefore, it's best to stick with a laptop or desktop.
2. Website or Portfolio
Many people wonder whether they need a website or portfolio when starting as a copywriter. The short answer is no; you don't need one.
However, having a website or portfolio can definitely help you get more clients and secure better-paying jobs.
A website is an excellent way to showcase your work and tell potential clients about your services. You can also use your website to blog and write articles that attract more visitors.
If you don't have the time or money to create a website, you can create a portfolio on services like:
· Behance
· Dribbble
· Contently
These platforms are free and easy to use. Plus, they help you showcase your work to potential clients.
The average cost of creating a one-page website is around $100. If you want a more complex website, the price can go up to $2000 or more.
You can use Fiverr and Upwork to find a web designer or developer to create your website.
Most website designers on Fiverr will charge less than $100 for a one-page website (inclusive of hosting and domain costs).
Apart from the initial website expenses, you should budget for annual hosting and domain renewals, which cost around $50 per year.
However, these costs can be lower if you purchase your domain and hosting for multiple years.
3. Training Costs
It's debatable whether you need to undergo training to become a copywriter. While some people say that it's not necessary, I believe that getting trained can help you stand out from the competition.
Additionally, training can help you learn the ropes faster and improve your skills. It also allows you to network with other professionals and get accustomed to industry standards.
The cost of training varies depending on the institution and duration. Some programs can last for weeks or months, while others can take up to a year.
You can find many free online courses that will teach you the basics of copywriting. In addition, some platforms like Udemy, Coursera, and Skillshare offer free lessons.
However, these free courses might not be enough if you want to learn more advanced techniques. In that case, you can opt for paid courses that range from $10 to $100.
You can also sign up for more expensive programs that offer certification upon completion. These programs can cost anywhere from $200 to $5000.
Unlike online course portals, these programs are usually conducted by well-known copywriting institutions and experts. They also tailor the program to your needs and level of expertise.
Secondary Copywriting Costs
When you're first starting out on your copywriting career, you'll want to minimize the cost without compromising the quality of your work.
You can incur additional charges after advancing, but if your budget is more flexible, you can consider the following items.
1. Copywriting Software
There are many software programs available to help you with your work. While some of these programs are free, most require money.
The cost of these programs can range from $10 to $200 per month. Considering this is a recurring expense, you should be sure that you will get clients that justify this investment.
2. Grammar and Spelling Checker
Human error is impossible to avoid, even for the best copywriters. No matter how good you are at writing, everyone makes mistakes. A grammar checker will help you identify and correct these errors.
Most spelling and grammar checkers have a free and premium version. The free versions usually have limited features, while the premium versions offer more comprehensive options.
Apart from grammar and spelling, some of these tools also help in checking plagiarism. Plagiarism is a serious offense in copywriting, and you can be penalized if caught.
Some of these tools include Grammarly and Hemingway Editor. This software costs around $10 to $20 per month. A free version will suffice for most copywriters.
However, you can choose the premium version if you want more advanced options.
3. Keyword Research Tool
A keyword research tool is essential if you're working on SEO projects. This tool will help you find the right keywords to target for your project.
There are many keyword research software available, both free and paid. The most popular free keyword research tool is Google Keyword Planner.
The cost of paid keyword research tools can range from $20 to $200 per month. Some popular paid options include Moz Keyword Explorer, SEMrush, and Ahrefs Keyword Explorer.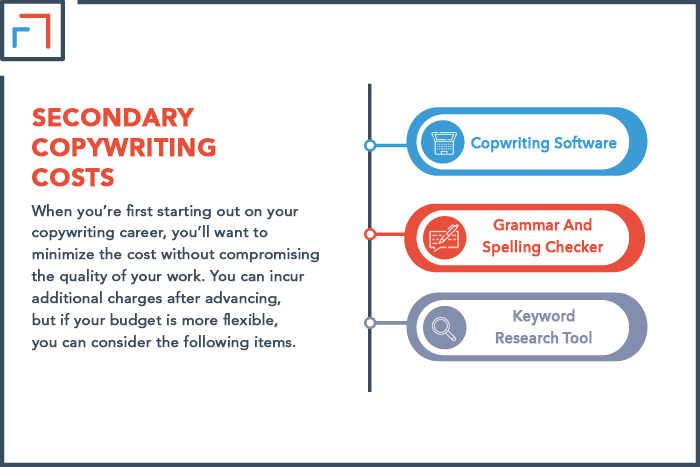 Key Takeaways
Although the elements above can add up, just remember that you don't need to buy everything all at once.
You can start working from home and gradually invest in the necessary tools and equipment as your career progresses. The cost of becoming a copywriter depends on many factors.
The most important factor is whether you want to work from home or rent an office space. In general, it's best to just get started and begin building your portfolio.
The sooner you start, the sooner you'll be able to earn an income from your copywriting career. Nothing is set in stone.
Whether you want to take a minimalist or luxurious approach to your copywriting career, the choice is yours.