If you're running a discount promotion for copywriting, the quality of your work can be the deciding factor between success and failure. So how can you make your discount stand out and convince potential customers to take advantage of it?
Discounted copywriting requires careful consideration of what will attract your prospects. The offer must be clear and easy to understand, with a strong CTA that encourages people to act. You also need to ensure the original price is displayed so prospects can see how much they will save.
Copywriting isn't easy, so offering discounted prices is a gamble. However, this can pay off in the long run because it brings in more customers. Let's explore more details about this practice.
How to Write Discounted Copy?
Discounts are a great way to:
Entice undecided potential customers.
Thank loyal customers for their purchase.
Celebrate important holidays/milestones.
By offering a lower price, you can show prospects that you're willing to make a sacrifice to earn their business.
However, you must ensure you don't devalue your product in the process. If your prices are too low, this can have a counter-effect because people will question the quality of your work.
Here are a few tips to keep in mind when writing copy for discounts.
1. Let the Offer Stand Out
Have you ever scrolled through a site and saw an offer but had no idea what it was? No one will take advantage of a promotion if they don't recognize it as one.
As such, your discount should stand out from other content on the page. One way to do this is to use contrasting colors.
For example, if everything on your website is in shades of blue, make your offer red. This will make it pop and ensure people don't miss it. You can also use graphics to draw attention to your offer.
A simple "20% off" banner is enough to get people's attention. The discount information should also be placed prominently on your website. If you have a sidebar, put the offer there.
Or, if you have a pop-up, ensure it appears as soon as someone visits your site. If you write emails about your discounts, put the offer in the subject line.
This prominent placement will ensure people know what you're offering, even if they don't open the email. Most importantly, make sure your offer is straightforward and easy to understand.
If people can't figure out what the discount is for, they won't follow up on it.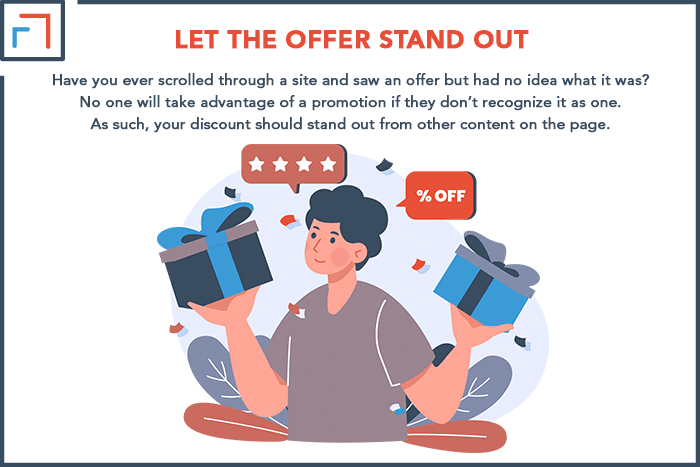 2. Use an Attention-grabbing Headline
The headline is an essential part of your offer. It convinces people to read further and take advantage of your discount.
Your headline should be clear and concise, with a compelling call to action. For example, "20% off all products this weekend only!" This tells people precisely what they'll get if they accept your offer.
It's also essential to make your headline specific. Generic headlines like "Big Savings!" are less likely to convert than ones that mention a specific product or percentage off.
You should also ensure that your headline is relevant to your target audience. If you're selling products for new moms, use a headline like "20% off everything you need for a new baby."
This tactic speaks directly to your target market and increases their chances of taking advantage of your offer. Your headline should also be unique.
If you're running the same discount as everyone else, find a way to make your offer stand out. Sometimes, you need to give an extra incentive to promote the offer.
For example, "20% off + free shipping on all orders over $50."
3. Compare Original & Discounted Price
A psychological principle called the "anchoring effect" dictates that people are more likely to make decisions based on the first piece of information they're given.
This is why it's vital to show prospects the original price of your product before telling them about the discount. Doing this creates a reference point for people to compare the two prices.
For example, if you're selling a course for $200, and the discount price is $100, people will see that they're getting 50% off.
However, if you don't show the original price, people won't have anything to compare it to. Unfortunately, many companies also abuse this principle.
They will show an unreasonably high original price, so the discount seems more significant than it is. Don't fall into this trap.
Be honest with your pricing and ensure the discount is big enough to be worth people's time.
4. Give a Reason for the Discount
Why are you offering a discount?
Are you overstocked on inventory and need to clear it out?
Are you launching a new product and want to build buzz?
Do you want to show appreciation to your loyal customers?
Is it a holiday promotion?
You might offer a discount for many reasons, but it's important to communicate the reason to your prospects.
Many people look for justification because a random discount makes it seem like you're trying to offload low-quality products.
One way to communicate your intentions is to include a short explanation in your copy. For example, you might say, "Stock clearance sale" or "Black Friday promotion."
In some cases, discounts make people question the quality of your product. If you're selling a course for $200, and then you offer it for $100, people might wonder if there's something wrong with it.
This is why it's essential to give a reason for the discount. By doing this, you can show potential clients that the quality of your product has not changed.
5. Indicate the Discount Is Time-limited
The scarcity principle dictates that people are more likely to buy something if it's rare or in limited supply.
If people know they only have a certain amount of time to take advantage of the offer, they will be more likely to do it.
One way to do this is to include an expiration date in your copy. For example, you might say, "Offer ends on December 31st."
You can also create a sense of urgency by indicating that only a certain number of products are available at the discounted price. For example, "Only 50 courses available at this price."
6. Let Prospects Know Quality Is Not Affected
As we mentioned before, discounts can make people question the quality of your product.
Therefore, you should let prospects know that the quality of your product has not changed, even though the price is lower.
One way to do this is to include a guarantee. This will show potential customers that you're confident in the quality of your product. Therefore, they will feel safer making a purchase.
You should never compromise on quality when you offer a discount. Think of it as an investment in future clients!
7. Include Testimonials
Do you want to convince people to buy your product at a discount? One way to do this is to include testimonials from people who have already used it.
When choosing testimonials, ensure they come from credible people who have experience with the product.
For example, if you're selling a course on copywriting, the testimonials should be from people who are experienced copywriters.
Key Takeaways
Offering discounted copywriting can be a great way to increase sales and boost your business. However, it's important to do it in a way that is honest and beneficial to your customers.
You must maintain a high level of quality at a lower price. Discounts can persuade hesitant people to try your service. Ultimately, they can lead to devoted customers and a great return on investment!