ClickFunnels is a tool that offers many benefits to its users, but are you sure you know how to make the most of it? ClickFunnels can be used in different ways to market your services.
The Affiliate program, Membership Funnel, and Sales Funnel Analytics are some of the top ways to benefit from ClickFunnels. Whether you want to increase sales, mature leads, or improve your relationship with customers, ClickFunnels gives you all the tools and templates you need.
Before beginning your marketing, you should understand which strategies and goals to combine. We're here to help you figure it out! Read below to learn more about good ClickFunnels strategies, tactics for outbound sales, and some case studies on effective funnels.
ClickFunnels Strategies To Promote Conversion
If you want to make every part of your marketing process efficient and conversion-focused, you should try using various ClickFunnels features that boost conversion rates.
The features below can be used in a successful ClickFunnels marketing strategy.
1. Lead Magnets
You can use ClickFunnels' Lead Magnet Funnel to capture leads by putting up attractive offers in exchange for customer information.
They get something of value in exchange for their name, email address, and other contact details.
Customers won't easily give up personal information, so you need to make sure that what you're offering is helpful to them.
This could be an informative webinar, tutorial, or a free e-book with tips and hacks that are relevant to their interest.
Make sure you have multiple landing pages with lead magnets because this increases the chance of the right customers joining your email list.
2. Tripwire Funnel
This funnel includes multiple landing pages that are focused on pushing cold customers or first-timers to make a purchase.
The first landing page should offer something that would make the customers feel like they're just a few steps away from a good deal.
Once the customers fill out the payment fields on this page, direct them to the second step, which would reveal your actual product/service.
Present this with a discount or as a limited-time offer to push the customer forward.
In this way, the final page would show the confirmation of the purchase along with exclusive offers so that there's always more the customer can look forward to.
3. Webinar
ClickFunnels' Webinar Funnel includes three landing pages which focus on generating leads and sales.
By choosing an interesting topic for your webinar, you can attract customers to sign up on the registration stage of the Webinar Funnel.
One or more pages would follow this landing page to increase hype for the webinar.
This stage can include automated emails with reminders and information about the webinar topic and host.
Make sure to have a sales pitch within the webinar to drive viewers to make a purchase.
4. Upsells & Downsells
Like with the Tripwire funnel, you can use upsells and downsells for any of your sales funnels by creating a page.
These strategies make your offer more appealing to the customer.
Using upsells with ClickFunnels would increase the cart value while ensuring customer satisfaction.
Downsells allow customers to experience your service even if they can't afford the premium offerings.
5. Integrate ClickFunnels with SEO
Suppose you have a WordPress website and you want to retain the SEO benefits of the platform while taking advantage of ClickFunnels' sales funnels.
In that case, you can install and use the ClickFunnels plugin within your WordPress account.
With this, you can control your ClickFunnels landing pages on your WordPress website.
SEO will help you gain more organic traffic, which will lead to more conversions.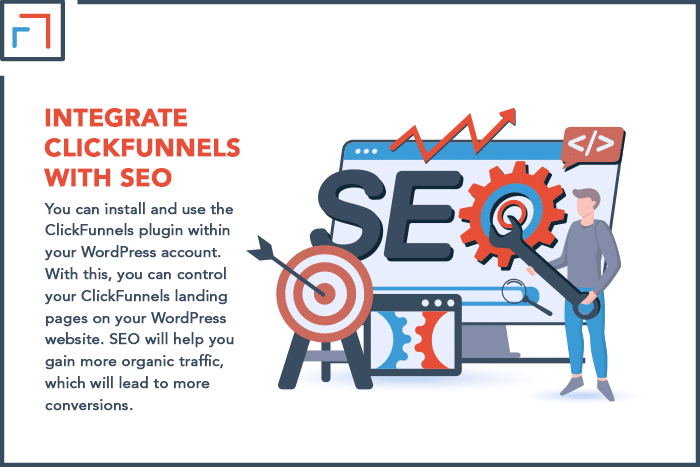 6. Using Membership Funnel For Tutorials
If you're thinking of becoming a lifestyle coach or trainer, you might want to provide exclusive access to your content.
With ClickFunnels' Membership Funnel, you can allow password-protected access to members who have subscribed to your plan.
If you want to direct a greater audience to your Membership Funnel, you can also use other marketing and sales funnels on the ClickFunnels platform to direct visitors here.
7. Soap Opera Sequence
You can integrate the Soap Opera Sequence when you use ClickFunnels to mature leads.
This approach is broken down by ClickFunnels' co-founder Russel Brunson in his book "Expert Secrets."
This strategy builds interest through appealing emails and gradually presents a creative solution.
Every email should leave the customer intrigued and awaiting the next one.
This maintains the constant engagement of the reader while also providing information and value.
Using ClickFunnels For Outbound Sales
Follow-Up Sequence
Sending cold emails and making follow-ups is an important yet repetitive task. You can make this easier with help from email automation.
With ClickFunnels' FollowUp Funnel, you can schedule broadcast emails as well as set trigger-response messages according to customer behavior.
You can also create targeted email lists for your broadcasts, ensuring that the right message is delivered.
For instance, you can send a single broadcast email to congratulate all of your customers who have been with your brand for a year and include an exclusive offer for them.
CRM
Utilize ClickFunnels' built-in Customer Relations Management (CRM) system to track your outbound calls, messages, and emails.
You can also use it to schedule your future outreaches.
With help from this CRM, you can sort your contact list and tag contacts according to their status as a customer.
This will help you keep up with your cold calling and outbound marketing efforts.
Brands With Effective Funnel Strategies
1. CrazyEgg
As a SaaS brand, CrazyEgg helps its clients analyze website visitor behavior and interaction through analytics and relevant tools.
It optimized its marketing by focusing on every traditional stage of a sales funnel: awareness, interest, engagement, and conversion.
It used paid and organic content to create brand awareness and generate traffic. The traffic was then directed to a simple but targeted landing page.
The landing page included a copy that piqued the visitors' interest along with links, buttons, and a strong call to action.
On the pricing page, CrazyEgg uses autoresponders to nurture confused or hesitant consumers.
During the payment stage, the brand displays popular companies who have bought their products.
2. HelpScout
This company uses its blog posts and resources page to generate traffic.
The visitors then make their way to its website landing pages which have crisp designs and easy-to-follow information.
In addition, it displays testimonials and reviews on its homepage along with a clear call to action.
HelpScout offers flexibility to consumers by providing multiple pricing options to choose from according to their own budget.
A free trial and a discount for annual payments are also mentioned on the same pricing page.
HelpScout's funnel strategy creates a smooth user experience and provides the necessary information without overwhelming the reader.
3. Grasshopper
This business keeps optimizing its funnel strategies by designing simple yet targeted funnels.
Its sales funnel uses various platforms and tools for the awareness stage, including social media ads, blogs, and search engine marketing.
Visitors land on Grasshopper's website homepage, which includes a video about how the brand can solve the consumers' problems.
This pitch includes the key selling point of the company.
The call to action takes the visitor to an informative landing page to prepare them for the pricing page.
On the pricing page, there are four different plans to choose from. This landing page also mentions popular brands that Grasshopper has worked with.
Key Takeaways
ClickFunnels can be used in various ways to increase sales and generate leads. Its built-in features also help to automate the marketing process.
It's important to note that the platform offers opportunities to generate revenue, in addition to building funnels for your own brand.
You can use the features of ClickFunnels to enact tried and true marketing strategies.
Include valuable lead magnets, upsells and downsells, and take inspiration from other brands who have created successful sales funnels.