ClickFunnels has gained a lot of popularity with entrepreneurs and internet marketers over the past few years. Yet, some people feel that ClickFunnels is overpriced. If you're considering asking for a ClickFunnels refund, you should know a few things first.
As per ClickFunnels TOS, canceling your monthly subscription ten days before your plan renews might entitle you to a partial or full refund. Hard goods must be returned undamaged within 30 days of the purchase for a full refund. However, all refunds are processed at ClickFunnels' discretion.
Today, we'll cover everything you need to know about ClickFunnels refunds, including ClickFunnels' refund policy, how to request a refund from ClickFunnels, and some common reasons why people request a refund.
ClickFunnels Refund Policy
According to ClickFunnels' terms of service, you are allowed to request a refund at least ten days before your next billing cycle if you want to discontinue using their service before the plan renews.
For any/all hard goods purchased through ClickFunnels, such as physical books, the policy states that you have 30 days from the date of purchase to request a refund, provided that you return the products in their original condition.
Timing is critical because even if you're so much so a few hours late in requesting your refund, your request will be automatically declined.
But here's the catch: Since there's no money-back guarantee, ClickFunnels will only give you a refund if you provide a "valid and compelling reason" for why you're requesting one.
This is where the grey area starts. What qualifies as a valid and compelling reason? Some examples may include:
You didn't get what you expected from ClickFunnels
The software didn't meet your needs
You found a better solution for your business
The cost of ClickFunnels is too high for your current budget
You're no longer using ClickFunnels in your business
All of the above examples are based on real-life cases of ClickFunnels refunds that users have reported.
However, it's important to note that ClickFunnels has the final say on whether or not they grant you a refund.
How to Request a ClickFunnels Refund?
Requesting a refund from ClickFunnels is a pretty simple process. The process is quite similar across the different use cases, with only a few minor variations depending on the type of refund you're requesting.
Here are a couple of step-by-step guides on how to request a ClickFunnels refund for hard goods and subscriptions.
ClickFunnels Refund for Hard Goods
As mentioned earlier, any/all hard goods purchased through ClickFunnels, such as physical books, merchandise, etc., come with a 30-day money-back guarantee.
To request a refund for hard goods, simply follow these steps:
Step 1: Submit a refund request by contacting ClickFunnels support and providing them with your order information within the first 30 days of purchase.
Step 2: Next, you need to wait for ClickFunnels to review your refund request and get back to you. This might take a few days, so be patient.
Step 3: Once your refund has been approved, ClickFunnels will send you an email confirming this. It will also include further instructions, such as shipping details.
Step 4: Lastly, follow the instructions in the email to complete the refund process. Note that you will be responsible for the cost of return shipping. In addition, the items you wish to return must be undamaged and in their original condition to qualify you for a full refund.
And that's it! Once you've completed all four steps, your refund will be processed, and the amount will be credited back to your original method of payment within 10-14 business days.
ClickFunnels Refund for Subscriptions
The refund process for ClickFunnels subscriptions is a bit different compared to the one for physical goods.
This is because when you cancel your ClickFunnels subscription, you're actually canceling all future payments, not just the current one.
That being said, if you cancel your ClickFunnels subscription ten days or more before your next billing cycle, you will not be charged for the upcoming cycle.
Make sure you're within this window because some people wait until the last minute and cannot secure a refund.
Follow these steps to request a refund for your ClickFunnels subscription:
Step 1: Log in to your ClickFunnels account and go to the "Billing" tab located in the bar at the top of your screen.
Step 2: In the "Billing" tab, find the "Cancel My Subscription" link and click on it.
Step 3: Next, click the "Cancel My Subscription" button again to confirm that you want to cancel your subscription.
Step 4: Once you have canceled your subscription, you need to contact ClickFunnels support through phone, email, or live chat to request a refund for any/all charges incurred within the current billing cycle.
Step 5: ClickFunnels will review your refund request and get back to you within a few days.
ClickFunnels will issue the refund and close your account if your refund is accepted.
Note: This process does not apply to annual plans. Even if you cancel your subscription ten days before the start of the next year, you will not be refunded.
There is no set refund policy for annual plans, so it is best to contact ClickFunnels support if you have any questions or concerns about this.
It's better to do this early on in your subscription, as the time limit for refunds gets shorter the longer you wait.
If you still have any questions or need help with anything, it's best to contact ClickFunnels support.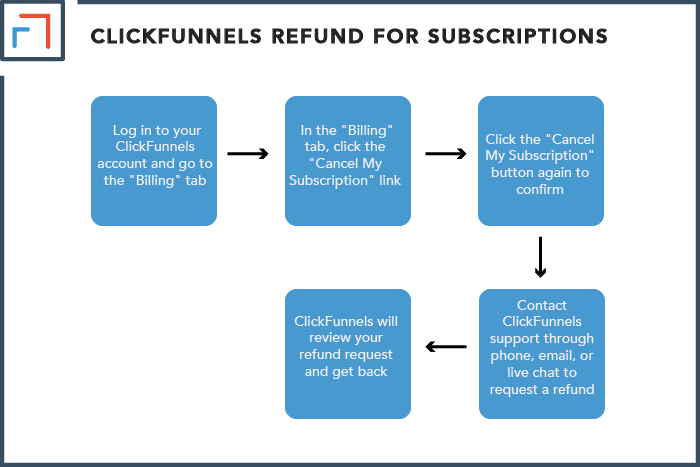 The ClickFunnels Refund Trap – Genuine Cases vs. Your Mistakes
Now that we've gone over the refund process and what you need to do to request one, let's look at some of the most common reasons people find themselves in the ClickFunnels refund trap.
We call this a trap for a reason. ClickFunnels is marketed as a robust "website and sales funnel builder for entrepreneurs."
This means that it's supposed to make your life as an entrepreneur easier by giving you everything you need to build and grow your business online.
However, many people don't realize that ClickFunnels is not a magic bullet. It's not going to do all the work for you.
You still have to put in the time and effort to create high-converting sales funnels.
And if you don't do that, you're not going to make any money, no matter how good the software is.
Although there are genuine flaws with ClickFunnels, it's important to understand whether the issue is with your own efforts or the software itself.
Common ClickFunnels Mistakes by Users
1. Not Taking Action
This is the number one reason people find themselves in the ClickFunnels refund trap.
They sign up for ClickFunnels, build a sales funnel, and then do nothing to follow it up.
They don't promote their funnel or drive traffic to it. As a result, they don't make any sales and wonder why ClickFunnels doesn't work.
This is not ClickFunnels' fault. If you don't take action, you're not going to see results with anything in life, let alone with ClickFunnels.
It's not a one-and-done solution!
2. Thinking of Clickfunnels as an All-in-One Online Marketing Solution
Let's set the record straight: ClickFunnels is not an all-in-one online marketing solution. It's a website and sales funnel builder. That's it.
It's not going to do your email marketing for you. It's not going to do your social media marketing for you.
It's not going to drive traffic to your website for you. You have to do all of that yourself.
They give you helpful tools, but this software won't turn you into a millionaire overnight.
If you don't have any experience with online marketing, then you will have a hard time making ClickFunnels work for you.
In addition, trying to get a refund for this reason will not work.
3. Not Using the Right Traffic Sources
This ties in with the point above. If you ask any successful online entrepreneur what the key to their success is, they will tell you it's traffic.
Traffic is the lifeblood of any online business.
And yet, so many people make the mistake of thinking they can just use any old traffic source, and it will work.
This is not the case. Your target audience only views specific channels and content, so that's where you need to focus.
If you're not getting the results you want with ClickFunnels, it's probably because you're not using the right traffic sources.
There are a lot of different traffic sources out there. The ones you use will depend on your business, your niche, and your goals.
Some of the most popular traffic sources for ClickFunnels users include Facebook Ads, Google AdWords, YouTube Ads, and Instagram Ads.
Genuine Cases Where a ClickFunnels Refund Is Warranted
Although the vast majority of people who want a ClickFunnels refund are simply expecting too much from the software, there are some genuine cases where a refund is warranted.
1. You're Not Happy with the Software
If you're unhappy with the software for any reason, then you should definitely reach out to ClickFunnels support and ask for a refund.
They're usually pretty good about giving refunds in these cases.
2. You Can't Afford ClickFunnels Anymore
If you're on any of the ClickFunnels paid plans and can't afford it, then you should reach out to their support team and ask for a refund.
This can be a bit tricky, but if your situation is genuine, they will usually refund you.
3. You Have a Technical Issue that ClickFunnels Can't Solve
If you're having a technical issue with the software that the ClickFunnels support team can't solve, then you may be able to get a refund.
But this is generally only the case if you've been using the software for a short period of time.
5 Best ClickFunnels Alternatives
Look, we're going to be straight. ClickFunnels is great despite all its learning curves. But if you still want a refund, that's completely understandable.
But would that be the end of your sales funnel journey? No! There are plenty of other options out there that may suit your needs.
If you're looking for some ClickFunnels alternatives that won't cost you any money, our post on Free ClickFunnels Alternatives might help you.
1. LeadPages – Best for Creating Powerful Landing Pages
LeadPages is one of the most popular ClickFunnels alternatives (and for good reason).
LeadPages is an incredibly powerful tool that allows you to create high-converting landing pages for a much lower price.
In fact, LeadPages is so powerful that many people use it exclusively for their landing pages. They don't even bother with sales funnels.
Similar to ClickFunnels, LeadPages is easy to use and comes with a drag-and-drop page builder.
It also integrates with all the major email marketing platforms. As a result, you won't have to make any significant adjustments to your workflow to use LeadPages.
2. Kartra – Best for Creating Complex Sales Funnels
Kartra is another popular ClickFunnels alternative.
It's a bit more expensive than ClickFunnels, but it offers more features and is better suited for businesses that need to create complex sales funnels.
Kartra has a drag-and-drop funnel builder that makes it easy to create sales funnels. It also has a built-in email marketing tool, shopping cart, and membership site builder.
Kartra is a good option if you need more features than what ClickFunnels offers. However, it's a bit more expensive and may be overkill if you don't need all its features.
3. GetResponse – Best for Lead Generation
GetResponse is an email marketing platform that also happens to have a landing page builder. As such, it can be used as an alternative to ClickFunnels.
The biggest advantage of GetResponse is that it's much cheaper than ClickFunnels.
So if your reason for canceling Clickfunnels is its price, then GetResponse could be a good alternative.
GetResponse also has some cool features that ClickFunnels doesn't have.
For example, GetResponse has a "Follow Up" feature where you can send automatic emails to people who don't respond to your initial offer.
4. Optimizepress – Best for Membership Sites
OptimizePress is a WordPress plugin that allows you to create landing pages, sales pages, and membership sites.
It's an excellent alternative to ClickFunnels if you need to create a membership site.
OptimizePress comes with a lot of features that allow you to create a fully functioning membership site. Some of the features include:
A drag and drop editor that makes it easy to create pages
The ability to create membership levels and drip content
Integrations with popular payment processors such as PayPal and Stripe
A wide range of templates and themes to choose from
5. SamCart – Best for Creating Product Pages
Many ClickFunnels users use the software to create product pages and upsells. If that's what you need, then SamCart is a good alternative.
SamCart is a standalone product that you can use to create product pages and upsells. It's simple to use and has beautiful templates.
The main downside of SamCart is that it's quite expensive for the features it offers.
If you're just starting out, you might want to use a cheaper alternative like SendOwl.
Final Thoughts
ClickFunnels refunds can be tricky.
But, if you know what you're doing and avoid some of the most common traps people fall into, you should be able to get your money back without any trouble.
Remember that ClickFunnels is a powerful tool that can be a great asset to your business if used correctly.
So don't give up on it just because you had a bad experience or two.