If you are a content creator, an affiliate marketer, or selling any information online, one of the most significant decisions you need to make is choosing where to host your content. ClickFunnels has many wonderful features, including a membership site.
ClickFunnels membership sites have many features that allow users to host content behind a paywall. Unique features include a "secret sign-up" URL and content restrictions that are seamlessly connected to your funnels. Despite these great features, it might not be the best fit for everyone.
Follow along as we dive into all of the features ClickFunnels offers to those who want to create membership sites. We'll also help you decide whether it is the best place to host your content or not.
ClickFunnels Membership Site Features and Advantages
1. Secret Sign-Up URL
Most membership site solutions in the market require manual setup if you want to add a new member.
ClickFunnels makes this process easy by allowing users to create their own Secret Sign-Up URL.
Users simply copy the URL and send it to whoever needs to sign up for your membership site.
This eliminates all the hassle and allows you to connect with members more easily.
You can even set up automated emails that will share the code with users once they sign up.
2. Membership Area Customization and Templates
Personalization is the easiest way to make your business look professional and create a feeling of trust with your customers.
ClickFunnels allows you to personalize your membership site by giving you access to your brand colors, logos, and custom fonts.
This way, it's easy to design a branded site.
Contrary to popular belief, creating a professional and clean design for your website and membership area is possible.
If you don't believe me, just look at ClickFunnels' 2CCX membership site below.
Another benefit is that, unlike other platforms where you have to pay a premium package to remove their branding, you can decide whether you want to display or hide your ClickFunnels Affiliate badge.
This helps members focus on your site, not ClickFunnels.
3. Smooth Integration With Your Funnels
Do you have some Cross/Down/Upsells that would work well with the content in the membership area? No problem!
You can showcase it inside your membership area and protect it with a content restriction that gets unlocked after purchase.
This content restriction can seamlessly be linked to your funnels, as shown in the example below.
The new version 2.0 of the One Funnel Away Challenge shows a restricted access message to those who only have the 1.0 version.
This technique is a great way to get customers to upgrade their membership. You offer them a better product in exchange for their loyalty!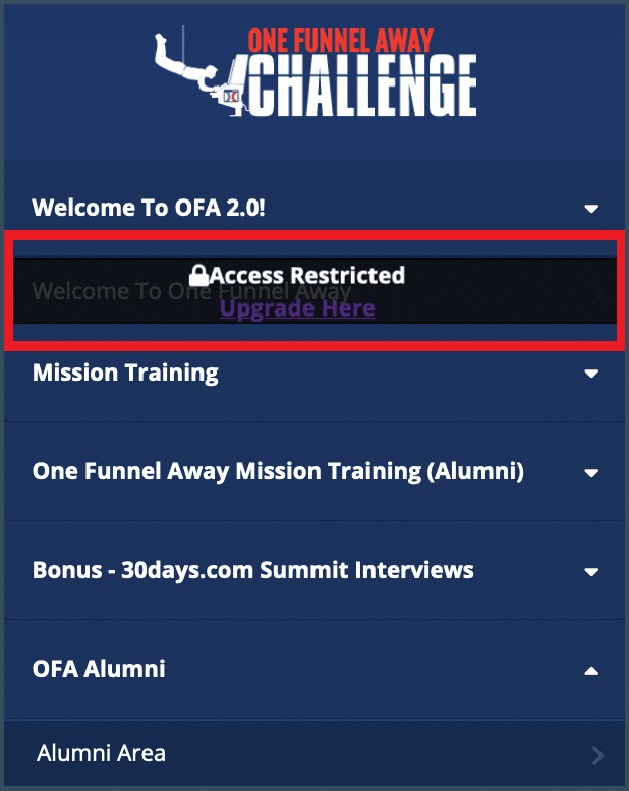 ClickFunnels Membership Site Disadvantages
Although ClickFunnels has tons of great features for businesses, the membership area is not as well-developed as it could be.
While there are a few features that are definitely worthwhile, sometimes the service isn't worth it if you're not already a ClickFunnels member.
It's fine if you already use the software, but it isn't necessarily worth switching for. We'll explore some specific downsides of the membership sites below.
1. ClickFunnels Does Not Offer A Mobile App for Members
Membership sites on ClickFunnels work well on your computer or iPad, but the experience is not optimal on smaller devices like mobile phones.
Unlike other membership site services, which offer a dedicated mobile app, the ClickFunnels membership site only allows users to log in from their browsers.
This often creates a poor user experience for your customers.
2. Poor Engagement With And Between Members
One of ClickFunnels' core messages is the importance of creating your own "tribe" or community.
Ironically, their membership area makes it difficult to directly interact with your members.
It's also hard for members to interact with other students, ask questions, and build relationships.
Suppose you want to build a stronger community among your customers.
In that case, you may have to rely upon external tools like Facebook Groups because the ClickFunnels membership area does not offer an easy way to comment, message, or directly interact with others.
3. Poor Subscription Management
It is not recommended to utilize the ClickFunnels membership site for any kind of subscription offer.
This is because you might need to spend hours or hire someone to manually track and remove members' accounts when they do not renew their payment.
If you are hosting a course or any kind of content that does not frequently update, this is not a big issue.
However, if you are offering some sort of subscription offer where the user needs to pay month to month, ClickFunnels is not the best place to host your content.
ClickFunnels Membership Site vs Competitors
As mentioned previously, membership sites are not one of ClickFunnels' strengths.
Luckily, there are some other services out there that better function as membership sites.
Below is a breakdown of how some of these tools compare to ClickFunnels and how you can create a "tech stack" that best fits your budget and needs.
1. ClickFunnels and Kajabi
Kajabi is probably the most well-known platform for creating membership websites and hosting your paid content.
Both platforms complement each other well because ClickFunnels is used to capture leads and make sales, while Kajabi delivers the end product.
Both platforms can be integrated via API without external software. This means you can quickly and effectively connect your funnels to your courses.
The biggest downside of this combination is Kajabi's price. It starts at $149 per month, which adds up if you already use ClickFunnels ($97 per month).
2. ClickFunnels and Teachable
Much like Kajabi, Teachable is a good software alternative to host your content without any of the downsides of ClickFunnels.
While it does not directly integrate with ClickFunnels, one of the most significant upsides (compared to Kajabi) is that Teachable is more affordable.
It only costs $39 for their Basic Plan, and they also offer a very limited Free Plan.
3. ClickFunnels and Mighty Networks
Unlike most standard membership sites, Mighty Networks is an online community platform.
It allows you to host your content and create articles, posts, polls, free/paid groups within your community, etc.
Combining ClickFunnels with Mighty Networks is another viable option if you value hosting your content and building a strong community with your members.
Mighty Networks' pricing starts at $39 per month on their basic or "Community Plan."
4. ClickFunnels and Thinkific
Thinkific is a course-building platform that hosts and supports a variety of digital products. Its primary use is to create online courses.
Unlike previous options, there is no direct integration option for ClickFunnels because these two platforms compete with each other.
At a similar price point of $99 per month on their Pro Plan, Thinkific offers a wide variety of tools to deliver a great customer experience in the membership area.
However, it is not as good of a funnel builder compared to ClickFunnels.
5. ClickFunnels and Facebook Groups
If you're looking for a service that's easy to use and free, you might consider creating a Paid Facebook Group to host your content. It has many benefits, such as:
People have access to your content directly from their Facebook account.
Great engagement and communication options between members.
Works well on desktop and mobile devices.
They can host all of your content for free.
The main downside is that it doesn't integrate with ClickFunnels, so adding new members is a manual task.
It also has the same issue as the ClickFunnels membership site when it comes to subscription-based products.
In Summary
If you want to host your paid content cheaply and efficiently, the ClickFunnels membership area is the easiest way (if you already have a ClickFunnels account).
However, it has limitations and is not the best option for some business models.
If you are looking for better options to host your content, there are many services that you can combine with your ClickFunnels account so you can improve your member's experience.
Deciding which service is the best for you depends on the foundational aspects of your business and your budget.