If you're like me, when you first started out in online marketing, it was confusing and time-consuming trying to figure out how best to put together your landing page. There are many ways to design a landing page, and one option is to use the templates on Clickfunnels.
ClickFunnels landing page templates are available in any of their paid plans. The purpose of these templates is to give the user a guide with the elements of high converting landing pages. This way, ClickFunnels users can follow a proven model without building their landing pages from scratch.
This article will explore the many different landing pages templates available on ClickFunnels, how you can create your own templates, and how you can import other funnel builders' templates for free.
ClickFunnels' Most Common Landing Page and its Templates
The most common type of landing pages you will see in ClickFunnels are Opt-In Pages.
When you create your first sales funnel, your main goal is to build up your list of contacts/subscribers.
Opt-In pages allow you to add new leads to your list in exchange for a free download or trial.
Now let's discuss the landing page templates you will find inside ClickFunnels and how to use them.
1. Simple Landing Page Template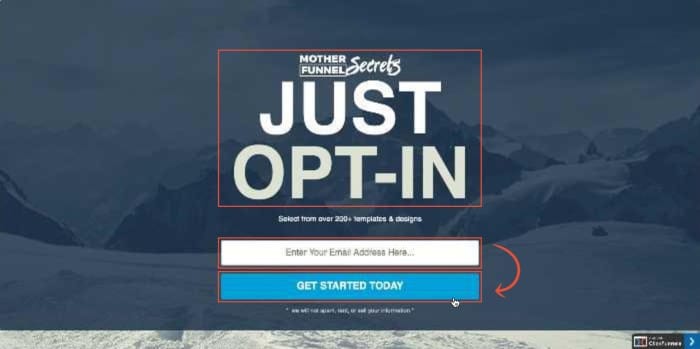 This is the simplest template you will find. As you can see, there's not much to it other than:
A big headline
A small description
A submission form
This type of landing page works when you don't need to explain much about your free offer.
This simple template is also helpful if the traffic is bringing warm/hot prospects.
2. Survey Landing Page Template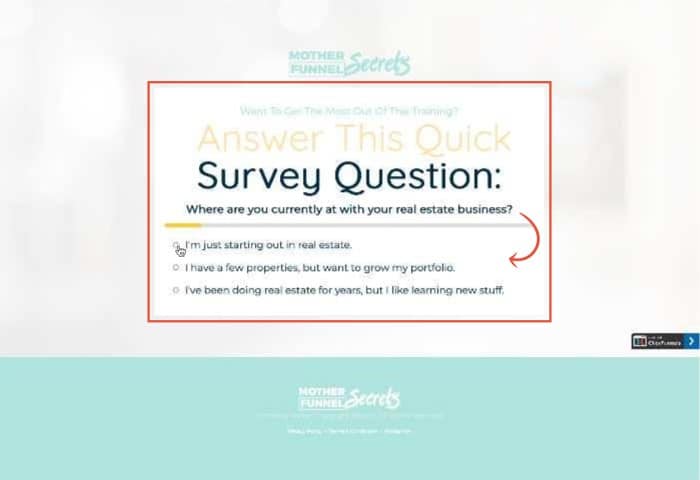 This template consists of:
A qualifier eyebrow above the headline
A survey headline
A curiosity-based subheadline
A survey form
This is a very common landing page template for conducting market research to learn more about your leads or customers.
You can easily edit the survey inside of ClickFunnels, but the input you will receive is limited to multiple-choice questions.
If you need a more in-depth survey, you might want to embed an external form from other online tools like Typeform.
3. Case-Study Landing Page Template
This is a two-column template. On one side, we will see:
The case study title
A subheadline explaining what the case study is about and implying a benefit for the prospects
Three or four curiosity-based bullet points to tease potential leads into opting in
On the other side, we will usually find:
A static image or a video
A button with a call to action
For this template, using a video will increase the engagement of your prospects and allow you to deliver another call to action to your visitors.
According to a study conducted by Eye View Digital, "Using video on landing pages can increase conversion by up to 80%".
4. Deadline Landing Page Template
This template consists of:
A headline explaining the closing and final date to opt-in
A count-down timer so the prospect can see exactly how much time they have left
A subheadline describing what they will get after they opt-in
A pop-up with an input form will appear after leads click on the button
Urgency is one of the most powerful marketing principles because it forces prospects to take action before the deadline.
Just be careful not to add fake scarcity for the sake of getting more conversions.
Once prospects catch up to these fake tricks (and they will), your brand will lose credibility, and your business will be affected.
5. Article Landing Page Template
Most people use a two-column template to disguise their sales letters as articles. It's also known as an advertorial template.
On one side, you have an article format with:
The article headline
Date of posting
The body of the article
The Facebook comments add-on (it can't be seen because of my privacy configurations)
On the other side, we can find:
An image or video which explains what they will opt-in for
An input form with a CTA button
6. Free Report Landing Page Template
This is one of the most common templates. It consists of two sections, and it's used to generate leads in exchange for an exclusive report or guide.
This template consists of:
Section #1
An eyebrow explaining the nature of the lead magnet (free guide, free report, free book, etc.)
A headline explaining what the lead magnet is about
A product picture (usually a pre-designed mockup for e-books)
A submission form where prospects would enter their name and email
Section #2
Benefit-crafted headline
A product description
Curiosity-based bullet points to intrigue the reader
7. Four-Lesson Template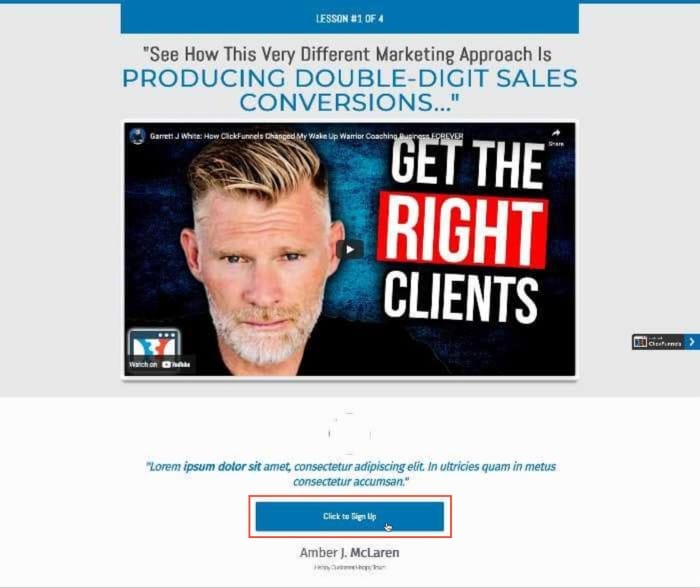 This is a type of template used to create Product-Launch Funnels. It was popularized by Jeff Walker.
This template consists of:
An eyebrow with the lesson number and the number of lessons left
An explainer headline for what's inside of day one
A video with lesson #1 (This usually sets the rules for the whole funnel)
Social proof elements
A CTA button to sign-up
After clicking on the button, a pop-up will appear, which will prompt prospects to input their contact information.
8. Physical Product Template
This template resembles the "Free Report Template," but it's more focused on physical products.
It consists of two sections. In section one, we will find:
A header that includes the logo and the business contact information. This is especially useful because prospects might have questions about ordering physical products.
A product hero image
A benefit-based headline
An instruction subheadline asking people to fill in their contact information
An input form
A CTA Button
In section two, we will find:
A notice subhead to input benefits or promotions like free shipping or 2×1 offers
A hero image of the owner or creator
A headline introducing the owner
Subheadline with the owner titles
Some bullet points to highlight the owner's achievements
9. Enrollment Closed Template
This simple template is often used after a deadline has passed to let prospects know they missed out on an offer. It includes:
A closure notice headline
An explanation headline
A CTA button to generate leads for a future event or program
Creating Your Own Landing Page Templates
You might find yourself using the same restructures, elements, and sections over and over again for your different sales funnels.
For this reason, the ClickFunnels page builder has an option to save your own funnels as templates.
As explained in the research paper, Consumer driven innovation in website design: structured experimentation in landing page optimisation:
Consumer research should be a central part in planning an innovation process to optimise website experiences. Structured experimentation allows for more reliable detection of consumer preferences, particularly in web page design.

Alex Gofman, 2011, Consumer driven innovation in website design: structured experimentation in landing page optimisation, Pace University, Lubin School of Business, 1 Martine Ave., White Plains, NY 10601, USA.
Regardless of the template, all landing pages should provide information, produce an action, and turn visitors into leads if possible.
Follow the next steps to create your own template:
1. Open the sales funnel you want to use for your template.
2. Open the editor by clicking on "Edit Page".
3. Open the editor settings and click on the "General" tab.
4. Click on "Save Page As Template".
And that's it. A new page will open up where you will have a list of all your saved or imported templates.
Importing Landing Page Templates
Looking around the web provides an excellent opportunity for you to increase the number of templates you have at your disposal.
You can use Google or YouTube to find people offering their own templates and designs for free.
In the ClickFunnels world, it is also common to find affiliate marketers offering their own funnel templates as a bonus for joining with their affiliate links.
Importing these templates is simple. You just need to find the links for their shared funnels and click on them.

After clicking on any of these links, they will open a new window asking you which account you would like to add this funnel to.
Select your account of choice, and that's it! You will now see the funnel inside your "Shared Funnels" tab!

Afterthoughts
Now that you know about the different types of landing page templates, it's time for you to get creative and start using them in your own business.
You can also find all sorts of templates online and import them into your ClickFunnels account in just a couple of clicks.
While the design of these templates is not perfect, it is important to remember their purpose is to set the foundations and layout that you'll use to create a customized page.