The lifeblood of any company is sales. Your business will quickly dry up and die without a consistent flow of leads and customers. This is why it's so important to have a system to help you capture leads and close sales. There's no better software to do this than ClickFunnels.
ClickFunnels features include a drag-and-drop editor and page builder, which can be used to create custom funnels. The software also allows integrations with different systems, so you can add third-party features. ClickFunnels also focuses on capturing leads through automated processes.
This system gives you all the resources you need to create and publish funnels. There's a lot to explore, so let's look at the best ClickFunnels features and how they can benefit your business.
The Best ClickFunnels Features
1. Page Builder
ClickFunnels makes it easy to create high-converting landing pages with their drag-and-drop editor and pre-built templates.
But ClickFunnels doesn't stop there. You can easily create an entire funnel with multiple pages using the page builder.
This is a valuable tool if you want to design a complete customer journey from start to finish. You can use the page builder to add:
Sections: These make up the structure of your page. You can add rows and columns to arrange your elements.
Rows: A horizontal element that contains one or more columns.
Columns: A vertical element that contains your content, images, videos, etc.
Elements: The individual items on your pages, such as text boxes, images, videos, forms, etc.
You can easily add and remove elements from your pages with a few clicks. You can also rearrange them to create the perfect customer journey.
It is easy to create custom pages without any coding or design experience. You can add your logos, brand colors, and fonts to your pages to match your brand.
In addition, you can include pop-ups, motion text, and different color gradients to add flare. You can use the page builder to create:
Order Forms
Thank You Pages
Upsells
Downsells
The Basic ClickFunnels Plan allows you to create 100 pages. On the other hand, you can design unlimited pages with the Platinum option.
2. Page Templates
Are you creating a landing, sales, or thank you page? ClickFunnels has pre-built templates for all of these and more.
You just need to add your images, videos, and text to personalize the pages. You can also change the colors and fonts to match your brand.
The platform has thousands of templates to choose from. Therefore, you're sure to find the perfect one for your business.
The flexible page builder makes it possible to select a suitable design for your industry.
For example, you can use the "Coaching" template if you're in the coaching industry. If you're in the real estate industry, you can use the "Real Estate" template.
3. Opt-in Forms
You can add opt-in forms to capture a lead's information, such as their name and email address. Then, you can use these forms to build your email list.
Sometimes you may need to offer a freebie in exchange for a lead's information, but these forms can help with that!
ClickFunnels allows you to add opt-in forms to your pages with a few clicks. You can also customize the forms to match your brand.
In addition, if you want to create pop-ups or exit-intent forms, the option is available.
However, you should avoid forms that are a nuisance to potential customers when using this feature.
Your intention should be to provide information that helps clients decide whether they are the right target for your products or services.
Always have this in mind: a long contact list doesn't equate to high conversion. Therefore, you should try to get the most relevant leads for your business.
4. Order Forms
ClickFunnels allows you to create order forms that are short and easy to fill out. You can add multiple products to your forms and customize the layout.
You can also add upsells and downsells to your forms to increase your average order value.
ClickFunnels allows you to include order summary, ApplePay, and order bumps to boost your sales.
The feature will help you to avoid cart abandonment at the checkout. Most buyers will leave your website at this stage.
Therefore, you should make filling out your order forms as seamless as possible.
5. Drag-and-Drop Editor
The ClickFunnels drag-and-drop editor is one of its most powerful features.
With this editor, you can easily create custom funnels without any coding or design experience.
Add the elements you want in your funnel and arrange them as you see fit. You can also use the editor to customize the look and feel of your funnel pages.
The tool allows you to customize your pages to mobile and desktop modes separately.
With Google's mobile-first approach, you need this feature to optimize your mobile-friendliness. Different elements may look different on mobile and desktop.
Therefore, you should always check the appearance of both before publishing.
This feature comes with unique templates that you can use as a starting point for your funnel. With just a few clicks, you can add:
You can also save your funnel designs to create new ones in the future.
6. Payment Gateways
Most online sellers struggle with finding a reliable payment gateway. ClickFunnels has you covered with the built-in payment gateway integration.
With ClickFunnels, you can accept payments from major credit cards and other online platforms. The software is compatible with:
Paypal
Stripe
Authorize.Net
WePay
Clickbank
Keap
Recurly
JVZoo
WarriorPlus
BlueSnap
InfusionSoft
You can even set up recurring billing to automatically and regularly charge your customers.
What if your products or services target one-time and subscription-based customers? ClickFunnels provides options for all payment differentiations.
The software also allows you to create coupon codes so you can offer discounts to your customers.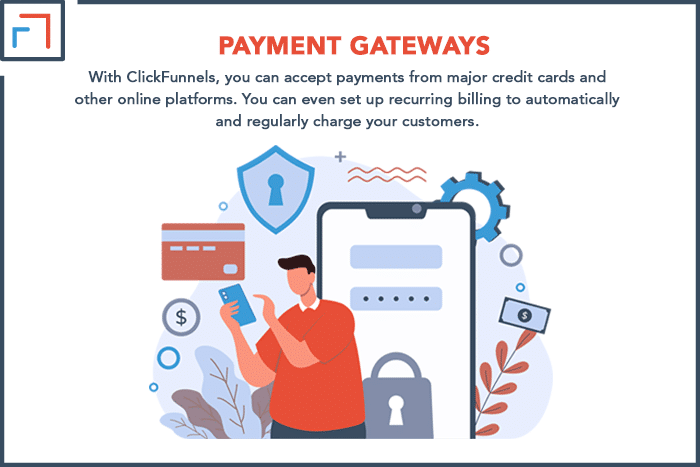 7. A/B Testing
It is difficult to identify the strengths and weaknesses of your website without data. This is where A/B testing comes in.
A/B testing assesses two versions of a web page to see which one performs better. ClickFunnels allows you to set up A/B tests with the built-in tool.
Create two versions of your page, and ClickFunnels will track the metrics for you. These metrics can include:
Page views
Unique visitors
Time on page
Bounce rate
Conversion rate
You can use the results of your A/B tests to determine which version of your page is more effective.
You can then make the necessary changes to improve your conversion rate.
8. Digital Assets
ClickFunnels dashboard allows you to upload and manage digital assets in one place.
The tool comes in handy when you need to keep all of your images, videos, and other files organized.
You can easily add these assets to your pages with just a few clicks. You can also preview them before you publish your pages.
9. Funnel Templates
The first time I tried to create a sales funnel, I was lost. I didn't know where to start or what to include.
If you're new to creating marketing funnels, ClickFunnels has pre-built templates. The templates come with everything you need to create a successful funnel.
So whether you are organizing a webinar, launching a product, or running a membership site, ClickFunnels has a template for you.
All you need to do is add your images, videos, and text to personalize the pages in the funnel. Some of the elements of the templates include:
Sales pages to sell products and services
Survey funnels to collect customer feedback
Squeeze page funnels to capture leads
Order forms to collect payments
Upsell pages to increase your average order value
Downsell pages to offer discounts
Thank you pages to show your appreciation
Select the template that best suits your needs and edit it to create a unique funnel for your business.
10. Domain Integration
Have you ever dealt with long and complicated URLs? They're a big turn-off to potential customers.
With ClickFunnels, you can create a vanity URL for your business. A vanity URL is a short and simple URL that is easy to remember.
For example, if your business name is "Example," your vanity URL might be something like "example.com."
If you already have a domain, you can easily add it to ClickFunnels. You can also use a subdomain if you don't want to change your primary domain.
For example, if your primary domain is "example.com," you can use the subdomain "go.example.com."
The process is simple and only takes a few minutes to set up. You can also buy a domain from ClickFunnels if you don't have one.
11. Auto-responders
You can add third-party autoresponders to send emails to your subscribers when they opt into your list.
The email service will also store your subscriber's information for segmentation into different lists.
Some of the autoresponders that work with ClickFunnels include:
AWeber
MailChimp
GetResponse
ActiveCampaign
ConvertKit
Drip
iContact
The software also has a built-in email service called Actionetics. With Actionetics, you can send emails, create campaigns, and automate your email marketing.
Apart from that, Actionetics helps you to manage SMS with Twilio integration. You can send text messages to your subscribers and customers.
The tool allows you to assess your customer's behavior and take action accordingly.
12. Email List Management
The email list management feature helps you add, remove, and segment your subscribers. You can also send broadcasts to your entire list or a specific segment.
Segmenting your list is especially helpful if you have a large collection.
For example, if you have a list of 100,000 subscribers, you can segment them by location, interest, or purchase history.
This way, you can send targeted emails to specific groups of people. Have you ever received irrelevant emails from a company? It can be annoying.
ClickFunnels helps you avoid this by segmenting your list to send messages that resonate with your audience.
The broadcast feature allows you to send one-time emails to your entire list.
This is helpful for announcements, special offers, or time-sensitive information. Assume you are launching a new product.
You can create a sequence of three broadcasts. The first email could be an announcement about the product launch.
The second email could be a special offer for early bird customers. And the third email could be a reminder that the product is launching soon.
This way, you can build excitement and anticipation for your new product without bombarding your customers with too many emails.
13. Sales Analytics
The objective of any business is to make money. ClickFunnels helps you track your sales to see what's working and what's not. Their analytic software tracks:
Funnel conversion rates
Total revenue
Number of sales
Average order value
Refund rate
You can also see which products are selling well and which ones are not.
This information is valuable because it helps you make decisions about your product line.
If you see that a particular product is not selling well, you can discontinue it or make changes to improve its sales.
On the other hand, if you see that a product is selling well, you can invest more money in its marketing.
The sales analytics feature is also helpful for tracking the progress of your business.
For example, you can check the software to see how much revenue you've generated in the last month.
You can use this information to create reports or presentations for investors.
14. Affiliates Dashboard
Are you running an affiliate marketing program? ClickFunnels helps you manage your affiliate sales through the Backpack feature.
The Backpack feature is an affiliate management system. It allows you to:
Create affiliate sign-up forms
Send promotional emails to your affiliates
Track clicks, sales, and commissions
Manage payments to your affiliates
The Backpack feature makes it easy to scale your business while reducing your workload. You can use it to promote other people's products as an affiliate.
The software comes with a built-in affiliate marketplace. You can track the performance of different partners and their commissions.
It is also easy to add new or remove commission plans.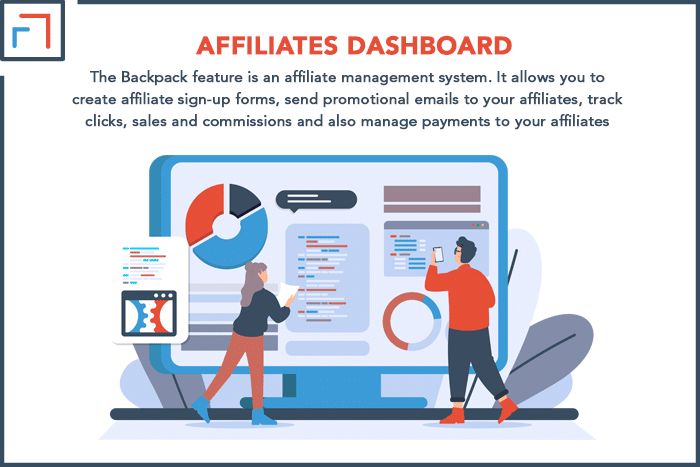 15. Membership Area
Are you selling products or services that require a login? If so, ClickFunnels can help you create a membership area for your customers.
The membership area is password-protected and only accessible to paying customers. Inside the membership area, you can host:
PDFs
Videos
Downloadable content
This is a great way to deliver premium content to your customers. It also helps you to upsell customers on higher-priced products or services.
The membership area builds relationships with your customers. By providing them with valuable content, you can create a bond of trust and loyalty.
As a result, the membership area increases a customer's lifetime value.
16. Affiliate Program
ClickFunnels has its own affiliate program that allows users to earn a commission for referrals. The program is optional and free to join.
You can start promoting ClickFunnels right away. You'll be given a unique link to share with your audience.
You'll earn a commission when someone clicks on your link and buys a product from ClickFunnels.
There is also a link on the pages you create, but you can hide it if the program doesn't interest you.
The software also has a 100-days affiliate boot camp where you can learn how to be a successful affiliate marketer.
The boot camp includes training videos, tutorials, and templates. You will learn how to generate traffic, build an email list, and create funnels through the training.
You'll also learn how to find affiliate programs and products to promote.
The ClickFunnels affiliate program is a great way to earn passive income. And the best part is that it's free to join!
Wrapping Up
ClickFunnels is a powerful software with many features that can benefit any business.
It's easy to use and comes with various templates that you can use to create your funnels.
The software also includes valuable features such as segmentation, automation, A/B testing, and integrations.
ClickFunnels is an essential tool for any business that wants to increase its sales and grow.