The introduction of powerful sales funnel builders has led to the widespread use of sales funnels. These funnels capture more leads and thus boost conversion rates. Since every business aims to make sales, many people wonder if ClickFunnels can replace their websites.
ClickFunnels can replace your website since it can build sales funnels and webpages. However, the role of ClickFunnels is to serve as a complement to your website rather than act as a full replacement. ClickFunnels makes websites better and improves the online shopping experience for customers.
This post will discuss the differences between ClickFunnels and a website. In addition, you'll be able to decide whether or not ClickFunnels can fully replace your website. This is an important decision for any business owner to make, so let's get started!
ClickFunnels vs. Websites: What is the Difference?
ClickFunnels and websites have several differences that set them aside in terms of purpose, sources of traffic, domain, and the creation of sales funnels.
To decide whether ClickFunnels can truly replace your website, it is crucial to compare the differences between the two.
1. Purpose
The core purpose of a website is to create awareness about the existence of your business.
Consequently, a website thrives on addressing your audience's questions, such as information about your business location, hours, products, and other aspects that address their pain points.
Due to options, ads, and other items on the website, users can get easily distracted. In the end, visitors may leave a website without taking any action.
Imagine that visiting a website is similar to the way that you walk into a supermarket.
You may plan to buy a single loaf of bread and leave but end up buying a bunch of other things and forgetting your original purpose.
On the other hand, ClickFunnels' core purpose is to build converting sales funnels. These sales funnels direct leads through a series of purchase-focused steps.
Ultimately, the goal is to ensure that leads make it through the purchase stage.
Since sales funnels have specific actions visitors need to make to go to the next step, they have fewer distractions.
Subsequently, they are a perfect model for promoting and selling products online.
2. Sources of Traffic
Traffic can be inbound or outbound. It can also be paid or organic. Websites thrive on inbound sources or traffic.
These sources generate traffic when people find your website through a Google search.
After getting search results, users tend to click only on the top 10 results while ignoring the rest.
The top inbound and organic traffic tactics that are used include search engine optimization and search engine marketing.
If you optimize your website for specific industry keywords, this helps your site to rank higher.
This aspect makes websites perfect for inbound marketing since they are search engine friendly.
On the other hand, sales funnels draw traffic through outbound or paid means. These include Pay Per Click advertising, Google Adwords, Facebook ads, and more.
Paid advertising requires that you place your ads in front of the right audience to help them convert.
Ultimately, websites mainly use organic traffic sources, while sales funnels use paid advertising.
So, whether or not you choose ClickFunnels over your website will depend on the sources of traffic you want to leverage.
3. Domain
Owning a website gives you the right to own a domain that is specific to your business.
For example, if your business is called GreenTree, your domain would be something like www.GreenTree.com.
With your own domain name, you can capitalize on SEO, hence better engaging your audience.
However, when you buy a domain name, you will also need to purchase hosting from a reputable provider.
After doing so, you can start building your website. On the other hand, using ClickFunnels does not require you to buy a domain name or hosting.
For instance, with ClickFunnels, your domain would be something like www.yoursbusiness.ClickFunnels.com.
However, this domain will restrict you from using most SEO tactics.
On the same note, while you can't brand your domain, you can engage in aggressive campaigns while protecting your actual domain name.
4. Marketing Funnels
ClickFunnels is a sales funnel builder by design. The program makes it easy to build sales funnels quickly.
All you need to do is select a template, edit it using their drag and drop editor, and publish your funnel.
In short, ClickFunnels is all you need to create, edit and optimize a funnel. On the other hand, websites are a series of web pages meant to provide more information.
This makes it challenging to build sales funnels on websites. However, it is doable if you have the right plugins for the job.
5. A/B Split Testing
Split testing allows page creators to modify page content so it can better resonate with visitors.
ClickFunnels has a split testing feature that helps you figure out which version of your pages has a higher ROI.
You can also make as many changes as you wish until you see an improvement.
It is difficult to use split testing effectively when it comes to websites. If you have to test the pages, you will usually need to use a third-party tool.
Why You Might Need a Website?
If you want to show brand authority and demonstrate credibility, you will need a website.
While sales funnels are excellent at converting leads, they do not boost your brand image. Customers need to know they can trust you.
They also need a go-to source to visit to get all your business information. That's where a website comes into play!
Since the customer is now empowered with access to information, they need a place they can reliably trace you back to.
Besides, Google needs to categorize your business as legitimate before you can run Google ad words.
Another reason to use a website is if you are aiming to rank well on search engine result pages.
A website allows you to optimize your site's content for search engines. This increases your brand's visibility by ranking you more highly on search results.
In turn, your website will gain more organic traffic. Lastly, you need a website if you want to provide informative content to your audience through blogging.
Most consumers look for informative content before they decide to buy.
They read guides, reviews, and feedback from industry experts. A website positions you as an expert, hence attracting leads to your site.
Why You Might Need ClickFunnels?
If your main goal is to boost sales, ClickFunnels allows you to add a call to action on each page of your sales funnel.
When leads take these actions, they move closer to the purchase stage. The funnel also allows you to nurture leads until they are ready to purchase.
In the end, more leads convert. You will also need ClickFunnels to run email marketing campaigns.
ClickFunnels enables you to capture your leads' contact information through lead magnets.
Using these email addresses, you can build an email list to start marketing to your leads regularly.
Better yet, you can use the ClickFunnels email autoresponder or integrate a different one to automate your email sequences.
Finally, you might need ClickFunnels if you are an affiliate marketer. The software enables you to manage all your programs from one section.
For instance, you can categorize your affiliates and assign them commission rates.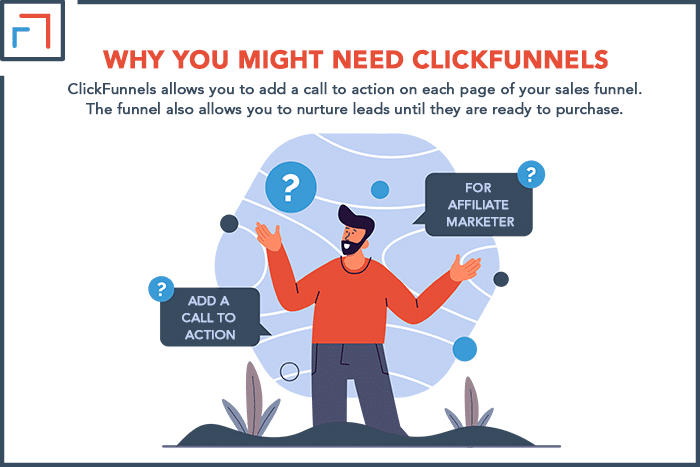 Can You Build a Website With ClickFunnels?
You can build a simple website with ClickFunnels since it is both a sales funnel and page builder. The platform allows you to build websites with ten or fewer pages even if you don't have any coding skills or web expertise. Limiting the number of pages you can add to your website makes it easy to link them.
The website will generate traffic and represent your business. The sales funnel portion will convert the traffic leading to more sales.
Therefore, building a website using ClickFunnels allows you to enjoy the benefits of a website and those of a funnel.
However, building a website on ClickFunnels is not a one-size-fits-all process.
Some enterprises (especially large ones) will need more pages and content than ClickFunnels can support.
In this case, building a website outside ClickFunnels may be an excellent choice.
Moreover, if your business is blogging-oriented, a website in ClickFunnels isn't a viable option either.
At the end of the day, ClickFunnels wasn't designed to create websites.
There are several affordable programs that you could use to create a more personalized and effective website.
Benefits of Building a Website with ClickFunnels
Using ClickFunnels website builder has its perks. Here are some you should keep in mind:
ClickFunnels enables you to create a website and merge funnels under one roof, thus saving you time.
You can create precise yet powerful blog posts.
It allows you to identify and replace non-performing pages through the A/B split testing feature.
ClickFunnels allows you to build an eCommerce store without using the third-party apps you would have to use on sites like WordPress.
Enjoy beautiful and high-converting websites.
You can track and analyze reports from your dashboard using the Actionetics feature.
Limitations of Using the ClickFunnels Website Builder
It is not the best solution for search engine optimization.
You will have to create each website page individually then link them in the end. This is a lot of work compared to using website builders like WordPress.
It is not worth investing in it if you don't plan on building sales funnels with it.
You cannot create big or detailed websites.
ClickFunnels is quite expensive compared to many website builders.
Commonly Asked Questions: ClickFunnels and Websites
1. Does ClickFunnels Host Your Website?
ClickFunnels hosts your website to simplify the process necessary to start and run a website. You will find an all-in-one suite of tools (including hosting) to enable you to build web pages. When you pay for ClickFunnels, the software will host everything for you.
With this setup, all your pages will be on one server. These pages include your sales funnels, email servers, split testing software, etc.
In addition, you will not incur extra costs for hosting. The fee is included in the usual monthly subscription.
Since hosting goes hand in hand with domain names, ClickFunnels will offer you a specific subdomain when you register.
The subdomain is the address to your pages and helps people to find you. If you already own a domain name, you can easily integrate it as well.
If you decide to purchase your domain from sites like NameCheap, Godaddy, or Google Domains, ClickFunnels allows you to do so.
You can buy the domains from within the ClickFunnels interface. Ultimately, you have the freedom to use your own domain within the hosting.
2. Do You Need a Website to Use ClickFunnels?
You don't need a website to use ClickFunnels. You can use ClickFunnels on its own since it comes with hosting.
Additionally, ClickFunnels is used to create landing pages and funnels.
Generally, the software provides everything it needs for itself without requiring access to a separate website.
3. Do You Need ClickFunnels If You Have a Website?
You should think about getting ClickFunnels if you already have a website. Using your website alongside ClickFunnels will enable you to reap the two platforms' benefits. For instance, you can get both organic and paid traffic that will take your business to the next level.
However, adding ClickFunnels to your website will depend on the kind of traffic you are interested in.
Similarly, your choice of platform depends on your needs and budget. Choose one that best suits your needs.
For example, it can be challenging to attract traffic to a website when you're starting out.
You may opt to start with ClickFunnels to test the situation in the market and earn revenue on the go.
Once you establish the best opportunity, expand on it and create your website.
On the other hand, you can start with a website if you are targeting organic traffic through SEO tactics.
This can save you on advertising fees since organic traffic from search engines is free.
4. Can You Use ClickFunnels With Your Website?
You can use ClickFunnels with your website in two ways. First, you can add your ClickFunnel pages to your website domain. Second, you can add your sales funnel link to the product you are selling on your website.
For the first method, you will need to log in to the control panel of your hosting account.
A way to implement the second method is to add something like a 'Buy Now' button to a product.
When a prospect clicks on the button, they will be redirected to your sales funnel in ClickFunnels.
5. What Would Be The Perfect Time To Replace Your Website With ClickFunnels?
ClickFunnels can replace your website, if you are just starting out in digital marketing.
Since ClickFunnels is easy to use, it can help you boost your sales and scale your business faster than a website would.
It is also perfect if you want to use social media and paid ads for traffic.
However, if your business is already established and you want to maintain brand authority, you may want to stick with site builders like WordPress, Joomla, and Drupal.
Similarly, you could miss out on organic traffic if you don't use your website.
As seen from the comparison above, most functions of ClickFunnels are not in line with those of a website.
Therefore, rather than replacing your website, ClickFunnels is better off as a complement. That way, you can leverage the benefits of both tools.
Final Thoughts
In a nutshell, ClickFunnels can replace your website if you are a start-up and want to start making sales right away.
You may also skip a website if you do not need organic traffic or a blog.
Conversely, if SEO is your number one marketing forte, you will need a website.
Similarly, if your business is large, a website is crucial for maintaining brand authority and providing a source for informative content.
Ultimately, combining a website and ClickFunnels is the best option as it leverages the benefits of both platforms.