There are several ways to gain affiliates and keep them happy. But an affiliate sales funnel is one of the best ways to drive cold traffic to your affiliate offer. So, what are the best practices for an affiliate marketing sales funnel?
The best sales funnels for affiliate marketing define their target audience. They have a valuable lead magnet offer, an opt-in page, bridge page, and a thank you page. Afterward, the funnel includes lead follow-up using an email campaign. Finally, an effective funnel is regularly optimized.
In this post, we will cover the things you can do to create a successful funnel. We've also got some of the best real-life examples of affiliate funnels to provide examples and inspiration.
How To Create An Affiliate Marketing Sales Funnel That Converts?
An effective affiliate marketing funnel is one of the best ways to generate a steady stream of income online. Follow the steps below to create the best sales funnel for your affiliate needs.
Step 1: Specify Your Target Audience
For your affiliate marketing sales funnel to be successful, you will first need to identify who your target market is.
This is because people in various age groups and demographics have varying needs, tastes, preferences, and pain points.
In order for you to sell to them, you need to understand them. So, begin by finding out as much as you can about your target audience.
Some of the key areas to look into include commonly asked questions, pain points, setbacks, desired results, etc.
If you try to market to everyone, your message will become vague and diluted. Identifying a few core groups you want to appeal to will help you narrow your focus and create better content.
You can discover some of the challenges that your audience faces by following relevant discussions in communities and forums. Ubersuggest and Quora are also good sites to look into.
Once you create your ideal customer profile, you can start working on your lead magnet.
Step 2: Create A Valuable Lead Magnet
Another important component of a funnel for affiliate marketing is a lead magnet.
After specifying your target audience and understanding their pain points, you should create a lead magnet that addresses these issues.
The lead magnet needs to be a freebie that you offer your visitors in exchange ‌for their email addresses. Lead magnets can also convince leads to enter your sales funnel and engage with your business.
Fortunately, most affiliate partners will provide the lead magnet for you, thus you only need to offer the link or code to your prospects.
For instance, funnelsecrets.us uses Russell Brunson's free web class as their lead magnet.
However, in some cases the product you want to promote may not come with a lead magnet. In this case, you will have to make your own offer.
You can either create it yourself, hire a freelancer to create it, or make use of private label rights (PLR) resources. You might have to rebrand the latter to suit your brand.
Step 3: Create An Opt-In Page
Once your lead magnet is ready, you will need to create an opt-in page for your affiliate marketing sales funnel. The opt-in page is usually the first landing page of your sales funnel.
It's also the place where you will direct traffic from various sources.
Therefore, you need to design this page in a way that persuades visitors to join your mailing list. Ensure it is convincing and that its message hits the nail on the head.
It should also be compelling enough for readers to offer their email addresses.
Once you have an email list, you have better chances of building relationships with your audience‌.
You can create rapport through messages and this will make it easier to promote your affiliate product because the leads trust you. Trust leads to an increase in sales!
Let's say you are using TikTok to drive traffic to your opt-in page. On the channel, you might provide educational videos about your affiliate product.
Next, you could ask your viewers to click the link on your bio to learn more about your product.
After clicking on the link, they will land on your opt-in page. At this point you should present them with the freebie from step 2 to convince them to fill in their email address.
To make your opt-in page more powerful, you could also list some of the best benefits and back them with a strong call to action.
For example, Michael Spencer, a great affiliate marketer offers free affiliate marketing training ‌ in exchange for your email address.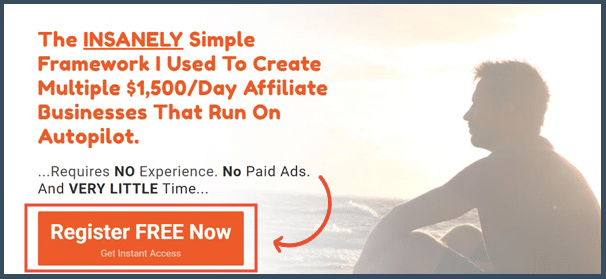 Clicking on the "Register Free Now" button redirects the visitor to fill a simple opt-in form.
Step 4: Create A Bridge Page
The bridge page can help ‌ fuel the desire for your product and also communicate scarcity and urgency. The role of the bridge page is to provide more clarity/information about your product.
You can also tell a little about how the product changed your life and the lives of other users.
Video content works well for this page because it's a great way to demonstrate the product's benefits. To increase credibility, you can also include reviews and testimonials.
Use the bridge page to show your audience how the product can help them too. If you can trigger their FOMO, even better!
The bridge page is usually the last page where you send your audience before they proceed to the sales page.
It also comes in handy when you want to convert cold traffic who may not be on your list of email subscribers.
Once you have demonstrated the product benefits, write a compelling call to action. In your call to action, include your affiliate link to direct the prospect to the vendor's sales process.
This is the page where the sale happens and you will earn a commission.
See how Buildaprenuer uses their bridge page below. Immediately after watching the video, viewers are presented with an "I am all in" button that redirects them to the vendor's sales page.
Step 5: Create A Thank You Page
This is a brief page where you show appreciation for your leads. In some cases, you might want to create a couple thank you pages; one for joining the mailing list and one for making a purchase.
Keep the page simple and make it easy for the subscriber to download or access the freebie. Here is an example of a thank you page that meets the above description.
Although it may not seem necessary, the thank you page is vital to your affiliate marketing sales funnel. It helps you build trust with your audience and makes them feel appreciated.
Again, increased trust leads to more sales.
Step 6: Conduct An Email Follow Up
The good news about the affiliate marketing funnel is that you can automate some processes such as the email sequences.
If you use an automated email series alongside your opt-in page, you will ‌ capture more leads and convert them.
The thing is, not all leads will be ready to commit when you present your offer. Some will need time to look for the money or to learn more about the product.
But just because they do not buy instantly, it doesn't mean they will never buy. It is therefore important to keep sending these emails since most subscribers do not immediately convert.
That is where email follow up comes in. It enables you to communicate with ‌leads until they are ready to make their purchase.
The email campaign hastens the decision process by keeping the product and its benefits fresh in their minds.
For new subscribers, the email series will help them catch up quickly and learn about the product.
Step 7: Test and optimize your affiliate marketing sales funnel
Although this last step is not a one-and-done, it is crucial to your process. The best way to test the performance of your sales funnel is by performing A/B split testing.
This test allows you to compare different variations of your sales funnel elements.
For example, you can split test your landing pages by creating two or more versions of the page. Once everything is set up, drive traffic to the landing pages then pick the variant that performs best.
Some of the landing page elements to consider include headlines, lead magnets, page layout, and sales copy.
After testing your sales funnel, you will identify the underperforming elements. You need to keep testing and improving these elements to establish a sales funnel that converts highly.
Below are some ‌ways you can optimize your affiliate sales funnel to perform better.
Optimize Your Website To Rank Higher On Search Engines
Your website is a crucial tool that helps you raise awareness about your affiliate product. However, you cannot create awareness if your target audience cannot find you online.
So, in order to increase visibility, you need to optimize your website to rank higher on SERPs. When performing an online search, most people will only look at the first few results and ignore the rest.
By ranking well on search engines, you increase the chances of people visiting your website, thus giving you a chance to direct them to your sales funnel.
The best way to appear in the top search engine result pages is by researching and writing about the keywords used by your target audience. When people search for those keywords, they will find you.
Other ways to rank higher include building backlinks and performing on page optimization through internal linking and using keywords in meta descriptions.
Create Quality Content To Establish Credibility
It is not enough to just have a beautiful website. You need quality and informative content to help propel leads down your sales funnel. The content needs to be informative, engaging and shareable.
Your audience will view you as an expert in your area and will be more willing to buy from you. Also, remember to write content that suits the funnel stages.
For instance, if you are creating content for the desire stage, a whitepaper or a video will do better than a blog post.
Optimize Your Landing Page To Help Build Trust
Your landing page can either attract leads or repel them. So it is important to ensure your landing page is well designed to ensure your brand looks professional and credible.
Use high-quality videos and images to break up large blocks of text. Ensure your call to action is powerful and appropriately placed on the page. This will maximize its chances of being clicked on.
Additionally, check on your opt-in forms. Ensure the forms are brief and easy to fill out. This makes it easier for leads to join your email list.
Why Is An Affiliate Marketing Sales Funnel Important?
Although the affiliate sales funnel is not a magic bullet that will turn you into an overnight success, it is an effective strategy that will help you boost conversions.
Below are some ‌reasons why an affiliate funnel is crucial to your process.
1. Helps Build Trust With Your Audience
Since affiliate marketing is all about getting a prospect to buy, trust is paramount. Unfortunately, most people are skeptical about purchasing things from brands they do not know.
For this reason, ads alone cannot convince prospects to convert. This is where a sales funnel comes in handy. It nurtures leads until they are ready to convert.
The funnel is a gradual and friendly way to introduce your brand. For instance, during the early stages of the funnel, leads will take time to learn about a product before they decide to try it.
With a sales funnel, you will be able to provide the right content for leads in the early stages. Eventually, leads will begin to trust you.
2. Helps Boost Conversion Rates
The sales funnel encourages more leads to convert, hence increasing your conversion rates. A sales funnel converts more leads because it is straightforward and free from distractions.
Think about it. A traditional website comprises several pages with multiple links that do not lead anywhere in specific.
As a result, users are often left confused and may end up leaving the site without taking any action.
A sales funnel, on the other hand, uses a sequence of landing pages with each page containing a single call to action.
Subsequently, landing page visitors are compelled to click on the CTAs. As a result, there is less confusion and more action.
3. Offers You A Chance To Re-Market To Non-Converted Leads
Most leads aren't ready to purchase the first time they hear about your affiliate product. If you use a traditional website, visitors may simply read about your offer and then leave.
With a sales funnel, you can create and grow your email list. Using an email list, you can re-market to those leads who did not convert the first time.
Additionally, you can use the list to send traffic to a new post or affiliate product.
Key Takeaway
A good affiliate marketing sales funnel will help you build trust with your prospects and boost conversions.
It also enables you to continually communicate with your warm leads (even if they do not buy the first time).
To create converting sales funnel for your affiliate process, ensure you have the opt-in, bridge, and thank you pages.
For the opt-in page, create a high-quality lead magnet that entices visitors to enter your funnel. Finally, keep testing and optimizing your funnel for peak performance.